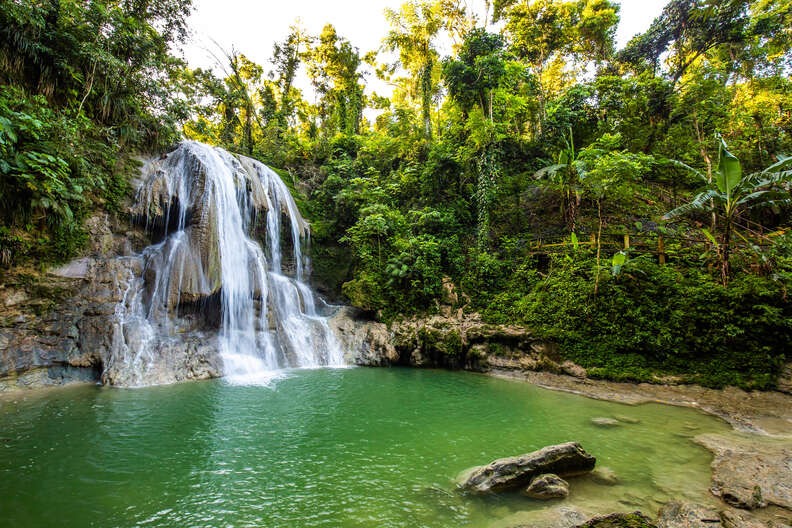 Gozalandia Waterfall in San Sebastian

| Photo Spirit/Shutterstock
Gozalandia Waterfall in San Sebastian

| Photo Spirit/Shutterstock
If you're even thinking of being in Puerto Rico, check out the rest of our DestiNATION Puerto Rico travel guide. It's stacked with expert advice from locals on what to eat, where to go, and what to do on the Island of Enchantment.

San Juan is a wonder unto itself, but to truly experience Puerto Rico's vibrant culture, get out of the comforts of the metropolitan capital and take in all the island has to offer. Road trip down the famed Pork Highway, anyone?
Measuring about 110 miles long and 35 miles, it'd take about six hours to traverse the island, but why rush things? Linger over a glowing ocean at one of three world-famous bioluminescent bays. Stuff your face with Borinquen fried goods from pork rinds to plantains. Get airborne over the United States' only rainforest in the national park system. Launch yourself above crystalline Caribbean waters in some of the world's best surfing swells. In Puerto Rico, it can all happen.
At Luis Muñoz Marín International Airport (SJU) and Rafael Hernández Airport (BQN) in Aguadilla, you'll find all the major car rental operators with competitive pricing. Do your homework ahead of time to reserve by the hour or by the day. While you're at it, opt for a jeep or four-wheel drive to navigate rough terrain and coastal roads—though city bus lines, ferries, cabs, and private cars (including Uber) are on-hand, road conditions around the island vary, so better safe than sorry.
Puerto Rico isn't called the Island of Enchantment for nothing. Why limit yourself?
Kayak through an enchanting natural phenomenon
1-2-hour drive (and boat ride) east of San Juan
Puerto Rico has the distinct honor of having not one, but three bioluminescent bays, a natural nighttime phenomenon when microorganisms light up to create a starry sky in calm waters. Whether you head to Laguna Grande at Cabezas de San Juan near Fajardo, Mosquito Bay in the nature reserves of Vieques (a tiny island home to about 10,000 residents), or La Parguera farther in the southwest region of Lajas, you're in for a magical treat, as the waves and wakes kick up eerie-yet-calm bluish light. The brightest, Mosquito Bay, has the strictest protections—no swimming!—while La Parguera suffers from light pollution and fewer microorganisms in the water. It's a matter of convenience—visiting Vieques' waters requires an overnight stay, as the ferry stops running early evenings. In each of the bays, mangrove trees grow in abundance, with on-site environmentalists working to protect these special areas.
Marine biologists-turned-tour guides like Alelí near La Parguera advise visiting during a new or crescent moon in the evening for smaller crowds, the brightest sights, and the least disturbance to the area. In Mosquito Bay, kayak tour operators help ensure the bright waters are minimally disturbed for maximum effect. Consult the lunar cycle before you visit, and bring bug spray.
Hang 10 in some of the world's best surf spots
2-3-hour drive west of San Juan
Thanks to 80-degree year-round temperatures and notable big wave competitions, beachgoers and surfers dominate the northwestern coastlines of Puerto Rico in and around Rincón. Head two hours west of San Juan for a day at Surfer's Beach and Crash Boat in Aguadilla, Jobos Beach in Isabela, or Tres Palmas in Rincón. While the turquoise waters can get choppy, waves range from waist level (ideal for beginners and boogie boarders) to contest-level swells. Whether you're a newbie or a pro, experts at surfing schools like Surf 787 and Rincón Surf School will have you hitting the waves in no time, providing everything from wave forecasts to board rentals and surfing instructions.
While you're at it, follow the northwestern coast south to Punta Borinquen; California nonprofit Save the Waves and local Puerto Rican community leaders work to protect this designated World Surfing Reserve from potentially harmful man-made developments. And if you're not quite into surfing, head along the northern coast two hours west of San Juan to Steps Beach, so-called for the widely Instagrammed concrete steps that sit by the shore. Here, divers can enjoy the underwater serenity of pastel-colored coral reefs, sunken ships, underwater caves, and tunnels, all in relatively shallow waters.
Head to the rainforest for coffee and adventure
1-2-hour drive south of San Juan
You may not have grown up with Café Bustelo, but Puerto Ricans are serious about their coffee and are dedicated to sustaining the island's agricultural roots. Head inland to meet and greet local farmers who prioritize growing, harvesting, and selling coffee 100% hecho en Puerto Rico, resulting in a rich farm-to-cup experience.
An overnight stay in the mountains of Utuado at eco-lodge Hacienda Horizonte includes a tour of the 100-acre working coffee plantation, which proudly grows pesticide- and chemical-free coffee. The perfect energy boost for a next-day hike, horseback ride, or zip line, if you ask us. West of Utuado is the 20-acre family-run Hacienda El Jibarito in San Sebastián. The former sugar cane farm is now a coffee roaster and eco-villa with multiple on-site greenhouses and a sister restaurant. And while you're there, don't skip a swim at the epic Gozalandia Waterfalls, a pair of hidden waterfalls just a 15-minute drive away. El Jibarito provides transportation to and from the falls, but be prepared to hike through craggy paths before rewarding yourself with a rope swing jump into the water below.
Embrace your inner thrill seeker at a zip line park with birds-eye views of El Yunque, the US's only tropical rainforest. The ever-shifting forest floor below speeds by at Toroverde, Guinness World Records' longest zip line on earth. Rather opt out? Get grounded in reforestation efforts volunteering with Para La Naturaleza while you're in town.
Hike through a dry forest then cool off on the beach
About 2-3 hours southwest of San Juan
Part of what makes Puerto Rico such an exceptional destination is the diversity of landscapes. While sandy beaches and tropical jungles are expected on a Caribbean island, the desert-like landscape that encompasses Puerto Rico's southwestern coastline comes as a bit of a surprise. The strong winds that blow across this part of the island have created an arid expanse that stretches from around Ponce West to the ocean—and the best place to soak it all in is at Bosque Seco de Guanica.
The name literally translates to "Dry Forest." Along the handful of trails that make up this 9,000-acre state forest, you'll find thick desert vegetation and creatures that are heard but rarely seen. The go-to trail is the Fort Trail, which'll take you about an hour up an easy path to a "fort" that overlooks the town and ocean below. The small structure is really more of a lookout tower, but it still offers some spectacular views and refreshingly cool breezes. Just be warned, the trail gets hot. Bring about twice as much water as you think you need.
Afterward, you're only a short drive from the beaches of Cabo Rojo, a popular day trip for locals. Post up on the beach at Combate, or cool off with fresh seafood at Annie's Place. Or, if you want to avoid the crowds, check out the beach at Balneario de Boquerón, a Puerto Rican national park where rangers limit the number of people allowed inside.
Take in giant waves and seaside beach shacks
Just over an hour west of San Juan
The Arecibo Observatory was once home to the largest radio dish telescope in the world, a triumph of cosmic exploration. Of course, that dish collapsed last August, and the observatory is still closed to the public—and although it was a major loss for the space community, there's luckily plenty left to discover in Arecibo. Consider Poza del Obispo's wide, golden-sand beach. It's marked by a crystal-clear natural pool, where you can swim while 20-foot waves crash against the limestone rocks that surround it. Just be careful: at high tide, the waves can carry people out to sea if they're not paying attention.
Standing above the beach is the Arecibo Lighthouse and Historical Park, home to the 1898 Los Morillos Lighthouse. On a daily tour, you'll be treated to a lesson in the Caribbean's shipping history, along with panoramic aerial views of the city and the crashing waves below.
Head east out of Arecibo on Route 681 and you'll pass through the little beach town of Islote. It's not so much a town as a strip of funky bars and beach shacks that jut out over the water—an ideal setting for ending the day with a cold beer and a sunset. They're every bit the ramshackle Puerto Rican beach fantasy you're envisioning, and while you won't find a ton of tourists, everyone here is especially welcoming.
Hit the Pork Highway for the best in Borinquen roadside snacks
1-hour drive or less east/south of San Juan
No visit to Puerto Rico is complete without a deep-fried roadside snack. Locals may argue over their favorite kioskos (open-air huts), but you'll also find them eating, drinking, and dancing their way through chinchorro routes on most weekends. As you adventure through fried food heaven, you'll find old-school family joints, Afro-Caribbean traditions, and lively music on deck—the makings of a good time.
For the full circuit, start early at Piñones, a beachfront town 10 minutes outside San Juan airport along Route 187. Stop, snack, repeat. Hop back in your ride and continue 20-30 minutes east to Luquillo on the eastern coast, continue scarfing, and eventually end your day at El Guavate south near the mountains of Cayey. (Of course, if you want to take a snail's pace, you could easily spend all day at each of these spots. The choice is yours.)
Savor plantains in masa dough when biting into alcapurrias and pastelillos, fried dough turnovers stuffed with meat or mariscos (seafood). Grab a pancake-sized bacalaito (salted cod fritter) while overlooking the ocean just a few feet away. Hear the crunch of fritters like chicharrones (fried pork cracklings) or chicharrones de conejo (fried rabbit). See why pernil reigns king as you pass by rows of golden-brown, whole spit-roasted pigs ready to be chopped and served crisp alongside traditional sides like morcilla (blood sausage) and arroz con gandules (yellow rice and pigeon peas). And don't forget to top it all with the island's signature garlicky mojo sauce.
Alisha Miranda is a Puerto Rican-born freelance writer who believes in annual travel sabbaticals, off-season deals, solo trips abroad and making it all happen on a budget. You can follow her travel diaries at bit.ly/alishaintravel.