America's Most Beautiful Springtime Destinations
Note: We know COVID-19 is impacting travel plans right now. For a little inspiration, we'll continue to share stories from our favorite places around the world so you can keep daydreaming about your next adventure.
No matter what's happening in the world, it's always nice to stop and smell the flowers. Literally in spring, when a whole world of color opens up, often overwhelming our senses (and sinuses) and reminding us, forcefully, to see the beauty around us.
As we all think about how to travel responsibly in a pandemic -- or are spending our days daydreaming about being somewhere else -- don't forget about the potentially overlooked destinations in your own backyard. Here, we've scouted out some of the best places to enjoy the outdoors this spring, whether you're looking to get your dose of wildflowers, scope out some hawks, or gaze upon the northern lights in the relative comfort of non-winter temps.
MORE: What to know if COVID-19 is affecting your travel plans
Coachella Valley, California
This Inland Empire valley's eponymous music festival may have been postponed this year due to COVID-19 concerns, but the region makes for a chill visit in and of itself -- particularly in spring, when the flowers are blowing up and the weather hasn't turned into a dry-heat triple digits. Anza-Borrego Desert State Park -- the biggest park in the state -- is once again celebrating an explosive spring bloom of wildflowers, so get you some of that. Not to be overlooked are the oddball artist colony of Slab City, the eerily beautiful Salton Sea, and the burgeoning "desert rock" scene around the Queens of the Stone Age studio Rancho de la Luna, near Joshua Tree. The region is also home to Palm Springs and one of America's best nudist resorts, if that's your thing.
Chena Hot Springs, Alaska
Part hot springs, part resort, part unincorporated community, part alternative-energy research center, Chena Hot Springs -- about 50 miles north of Fairbanks -- is a go-to spot for soaking your tired bones in a natural outdoor hot springs rock lake. While resting in the healing waters and shake off the last bit of winter, look up and you'll be able to enjoy an early spring northern lights display. Be sure to indulge in scenic nature flights over the surrounding glaciers before heading back to the resort to sip drinks in hand-carved ice glasses at the onsite Aurora Ice Bar, located within the year-round Aurora Ice Museum. The area's spectacular spring northern lights shows are best viewed between 10pm and 3am, so you might want to keep that ice drink handy.
Key Largo, Florida
As much as America likes to josh Florida (there's endless material to work with), it's hard to deny the state's easy accessibility to sun and beach when you just want to get the hell out of Dodge. Like Coachella, Miami's Ultra Music Festival has been postponed this year, but Key Largo still offers a funky taste of old Florida without the relentless untz untz untz of South Beach. The largest island in the Florida Keys features the beautiful and always-happening Playa Largo Resort, the first full-service resort built in Key Largo in more than 20 years, featuring private bungalows and a two-story beach house. This is where to loll before June wakes up the subtropical humidity (and kicks off hurricane season).
Antelope Valley, California
Just as eye-popping a SoCal springtime flower destination is the Antelope Valley California Poppy Reserve, about 80 miles north of LA near the town of Lancaster. Picture expanses of brilliant color -- even in down years -- exploding out of the parched desert, thanks to that, winter deluges. Sandwiched between the Tehachapi and snow-capped San Gabriel Mountains at the western edge of the Mojave Desert, the stunning vistas can be taken in via eight miles of dirt trail that wind through gentle rolling hills. No matter how tempting, do not go frolic in them Wizard of Oz-style… unless your spring travel plans also include a trip to the ER to treat rattlesnake bites. The poppies enter their full bloom at the end of March and will be best viewed through the first half of May. And stay on the damn trails if you go! Appreciate the pretty flowers, but don't ruin them for the rest of us.
MORE: Seriously, though, stay on the trails when you're at the Poppy Reserve
Texas Hill Country
In the vast expanse of "real Texas" extending west from Austin and north from San Antonio, the rolling terrain of Texas Hill Country truly pops in spring when the bluebonnets come into full bloom. Peep the bright blues, whites, yellows, and purples sprouting up from the grassy hills along endless miles of two-lane Texas tarmac, passing through dusty old cowboy towns with scenic caverns, rivers, and swimming holes up along the way. Muleshoe Bend Recreation Area is a prime spot for bluebonnet peeping, or you can pair your flower-gazing with a glass of vino on a Wine & Wildflower winery tour between March 27 and April 12 (tickets start at $45).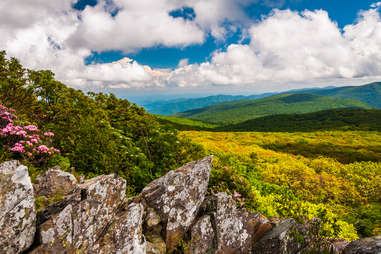 Brockway Mountain, Michigan
If your idea of a crazy spring break involves observing migrating hawks on a remote stretch of mountain road at the northern tip of Michigan's Upper Peninsula, Brockway Mountain Drive is calling your name. Running along the ridge of Brockway Mountain, with panoramic views of Lake Superior extending all the way to Isle Royale National Park on a clear day, this scenic road is shut in winter but comes roaring back to life in the spring for bird migratory season. The area also boasts its fair share of spring wildflowers as well, with over 700 species, including rarities found nowhere else in the state. Stargazing and getting away from it all are key activities here, with the biggest town along the road being the bustling metropolis of Eagle Harbor (pop. 76).
MORE:Isle Royale is one of the country's most underrated national parks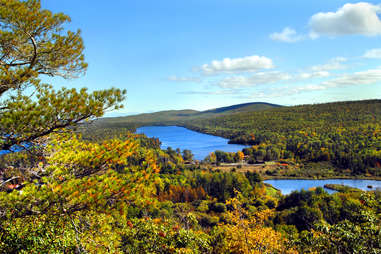 Shenandoah National Park, Virginia
After Washington, DC's famed cherry blossoms have already peaked, you can still get your flower fix in the DC area with a trip to Northern Virginia's stunning Shenandoah National Park, with its 850 species of wildflowers. While the park nestled in the Blue Ridge Mountains is most famous for its spectacular fall foliage, its fantastic springtime displays have flown more under the radar. The park hosts a "wildflower weekend" May 9-10 with guided hikes to some of its best flower-spotting sites. You can also take in the scene by driving the picturesque 105-mile Skyline Drive, but the best part about this park may be its close proximity to the town of Charlottesville -- home to University of Virginia and a punching-seriously-above-its weight food and drink scene. Hell, you might just come to this gorgeous town as a base to explore the park and decide to just stay here instead. Which would be quite alright too.
Breckenridge, Colorado
Long known as one of the best, most charming small towns to visit in Colorado, and one of the best Denver getaways, Breckenridge is famous for skiing but is also delightful at any time of year -- especially spring, when lodging is at its cheapest. This year, ski season at Breckenridge has been extended, with some trails remaining open all the way through Memorial Day. Don't miss Breck Pride Week from April 1-5 and the Breck Spring Beer Festival on April 11. Plus you can check out live music in the historic downtown, head out to Boreas Pass for panoramic mountain vistas over the water, or take a short trip to visit the funky nearby towns of Alma and Dillon.
MORE:In case you wanted to partake, here's a list of Colorado's best dispensaries
Park City, Utah
Spring shoulder-season deals make this time of year the cheapest to visit Utah's most well-known resort town. While it has a reputation for celebrity sightings during Sundance, in spring, it's just another laid-back mountain town up for pretty much anything. Strolling or riding the free trolley down its picturesque Main St. is a must, and there is perhaps no finer activity than basking in the spring sun over a few pints of craft beer on the rooftop of local hangout No Name Saloon. Nearby Salt Lake City is one of the most underrated (and cheap) destinations in America, while the surrounding Wasatch Mountains are as good a place as any to lose yourself in nature.
Santa Fe, New Mexico
Spring in Santa Fe is the time to celebrate all of life's nice things. April 18-19 sees the return of an outdoor weekend market where you can browse -- and buy -- the work of local artists. Can't take your vacation quite yet? Catch vendors from the Northern New Mexico Fine Arts & Crafts Guild on May 22-25. From May 29-31, it's time for the New Mexico Cocktails & Culture Culinary Festival (tickets start at $30). And to say goodbye to winter in the very best way, there's one more chance to hit the slopes. Yeah, you'll probably get wet, but who cares?
Savannah, Georgia
On April 30, Savannah will cut the ribbon on the Plant Riverside District, a 4.5-acre, $330-million entertainment hub on the banks of the Savannah River. You'll be greeted by LED-lit swings, rooftop bars you can exit via slide, garden speakeasies, live outdoor music, and an extremely large animated chrome dinosaur. Savannah's already a dream in the spring. This is just a little extra incentive to experience it firsthand.
MORE: Check out Savannah's massive new entertainment district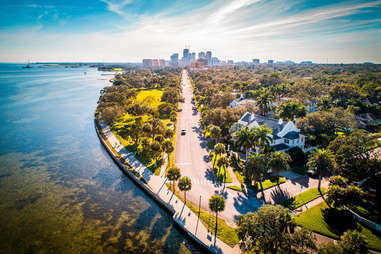 St. Petersburg, Florida
We've mentioned Florida is lovely this time of year, yes? Yes. But if you can swing a visit later in the spring season, May 30 marks the official unveiling of St. Pete's long-awaited new pier -- a state-of-the-art affair where you can eat, drink, shop local artisans, catch live music, play some volleyball, go fishing, cool down on a splash pad, and enjoy the finest view of the St. Pete skyline to be found.
MORE: St. Pete is unveiling the biggest waterfront playground in the Southeast