Perast, Kotor bay, Montenegro

| Olena Z/Shutterstock
Perast, Kotor bay, Montenegro

| Olena Z/Shutterstock
This Stunning Country Is Like a Tiny Italy That Americans Overlook
So there I was, driving up the Adriatic coast in a beat-up white panel van. My friend's band had broken up midway through a European tour, and she found herself in sudden need of a driving buddy to relay-race the rusted thing all the way back to Brighton. That was the plan, to drive across Europe. It was hot, and we both wanted to swim, but many of Montenegro's beaches are private, with public strands few and far between.
I tried to keep one eye on the road as I scanned the beach below. Somehow, something on the side of the road caught my eye: a couple in their 30s, thumbing their way up the coastal highway. I pulled over and invited them on board.
"You like party?" the woman asked after a few moments of silence. "Is great beach party near to here, you love it, good for young people, good party." I raised my eyebrows at my friend. "Free entrance," the hitchhiker continued. "Nothing to lose."
One muttered joke about famous last words later, we were on our way to Ploce Beach, the Balkans' answer to Cancun. And it turned out to be just as loud and sloppy and good for young people as the hitchhiker said it would be. We bumbled into Montenegro, and I'm glad of it. But this beautiful country should be on your radar well in advance for a Euro trip one day. You've got nothing to lose.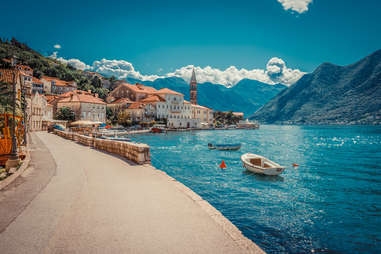 Montenegro is a tiny country that feels huge
Currency: Euro
Capital city: Podgorica
Price of a beer: €1-2
Price of a meal: €5
Room in a hostel: €10-20
First, orient yourself. Montenegro is slightly smaller than Connecticut, with as many people as Oklahoma City proper. It sits on the Adriatic a short flight away from the calf side of Italy's boot. The locals call their country Crna Gora (or Црна Гора in the local flavor of Cyrillic, though both Latin and Cyrillic alphabets are used). Like many countries in the Balkans, Montenegro's name might bring back vague, Clintonian memories of green-tinged reportage of fighter jets and refugee lines. These days, you're most likely to pat yourself on the back when you pick it out of a blank map on a Sporcle quiz.
But it's very much worth getting closer to this little nation vying to join the European Union. If you remember nothing else about it, consider Montenegro ideal for some specific activities. Namely, chilling on the beach, exploring ancient cities, hiking, raging all night, swimming in pristine mountain lakes, and even skiing.
Let's go on a little trip through Montenegro -- southern Europe's party capital, Europe's Wild East, and the ancient land of the Black Mountain.
The beaches quietly challenge for the title of Europe's best
As I learned from my hitchhikers, one of the most visible parts of tourism in Montenegro is the beach and party scene. Montenegro's parties skew heavily Russian, oozing that especially tacky 1990s Eastern European vibe we all know and maybe even love. These are the best places to visit if you want to zonk out on a piece of sand somewhere, possibly in a state where you shouldn't be allowed near heavy machinery.
Sveti Stefan
If you've ever seen a picture of Montenegro, it was probably of Sveti Stefan. The city's timeless visage is a proven seller. That said, enjoy the picture, because the entirety of the 16th-century city is now a high-class resort, hard to reach for us commoners.
In the 1960s, the town's dwindling population was evicted by Yugoslavia's communist government and resettled on the nearby coast. In those free-wheeling decades it became a hangout of classic Hollywood stars like Sophia Loren and Marilyn Monroe. After a brief decline in the '90s, it's been revived as the ultra-lux, highly exclusive Aman Sveti Stefan resort. Only guests have access to the island, and you'll likely pay close to $1,000 per night for the privilege. Even entry to the nearby beach costs about $60.
So what's a humble traveler to do in Swanky Stefan? Answer: Enjoy a meal in one of the beachfront restaurants that boasts a view of the island's ancient walls. That's really why you came here in the first place, isn't it?
Budva
Among the Venetian towns of Montenegro (those built during the 1,000-year Venetian run of the sovereign state of Venice), Budva is blessedly apart from its upscale cousin. Surrounded by ostentatious resorts and failed developments, the tiny old town rests on a spit of land jutting out into the beautiful water of the city's bay. But what really sets Budva apart is its nights: It vies with Croatia's Hvar Island for the title of Ibiza of the Adriatic, frequented mostly by Serbians, Russians, and others from around Eastern Europe. It's the tourism capital of Montenegro, with all that comes with it: bad food, high prices, beautiful people, and great parties.
Ploce Beach
If you're really looking to turn it up, head just south of Budva to the tiny Ploce Beach. Something of a water park built into a rocky beach, this combination swimming pool and nightclub boasts hot and cold pools, water slides, floating platforms in the sea, and multiple bars and dancefloors in and out of the water. Grab a cocktail and watch as boats from Budva and other cities offload troops of bikini-clad partiers already holding drinks. Wear your swimsuit and be sure to stick around for their famous foam parties, where revelers are doused with soapy suds because everywhere thinks it's South Beach these days.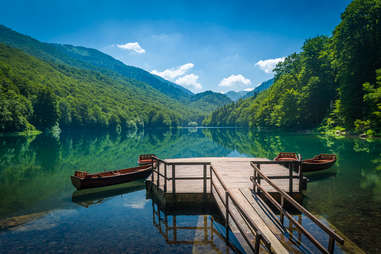 Once you dry off, head to the mountains
Sure, there are some great parties, but what about something healthier? Montenegro's got you covered here as well: National parks cover about 10% of the country's area. If this were the US, that'd be the equivalent of having national parks the area of Texas and California put together. Of course, this isn't the US, and you can legitimately aim to soak up the best of all these spots during the same long trip.
Biogradska Gora National Park
Montenegro's less-traveled east is home to parks, mountain ranges, and wild forests. Arguably none are superior to the outstanding Biogradska Gora National Park, mountains that support one of Europe's few rainforests. In the summer, this biodiverse area is stacked with great hiking and mountaineering opportunities. During winter, the park's south is home to some of Europe's most affordable and underappreciated ski slopes. Stop by the friendly town of Kolašin, well off the beaten track, for hearty mountain fare, Montenegro-style. That means cheese. Lots and lots of cheese.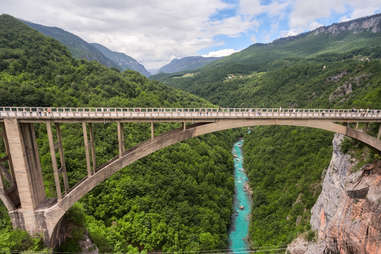 Tara River Canyon
Really looking for some white-knuckle, adrenaline-pumping fun? The Tara River Canyon, Europe's deepest at 4,300 feet deep, might just be what you're looking for. A rafting hotspot that boasts more than 40 waterfalls and cascades runs with thickly blue water (you have to see it to believe it) -- a frigid motivation to stay on that raft! In the calm spots, lean back and see if you can spot the top of the canyon walls thousands of feet above you.
Explore a millennium of history in rad old cities
We'd be amiss if we said Montenegro was all about partying and nature. As one of the oldest countries in the Balkans, it has -- waaaaait for iiiiiit -- yes, a rich history. On the coast, Venetians built tile-roofed fortified towns, while in the interior, Montenegrin ancestors built mountain fastnesses atop lofty peaks, all great for visits. Here are the top cuts for spectacular day trips.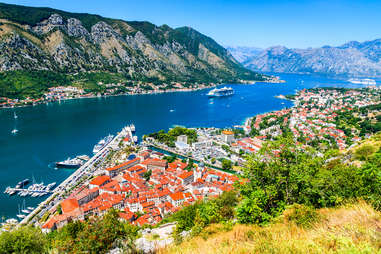 Kotor
The most prominent of Montenegro's Venetian cities are behind the massive walls of Kotor. Nestled in the farthest reaches of the stunning Kotor Bay, its huge 15th-century walls enclose a warren of medieval streets rich with restaurants, churches, pubs, hostels, and backpackers. The charming UNESCO-protected old town is perfect for lazy strolls. When the day cools down, hike the 1,350 steps up to Kotor Castle, which clings impossibly along a mountain ridge high above the city. The exercise will help you metabolize all the beer you drank the night before, and the view from the top, with the bay stretching out thousands of feet beneath you, might be one of the best vistas in the world.
Perast
Crowds in Kotor getting to you? Don't worry, you don't have to give up on Kotor Bay entirely. Just a short, implausibly scenic drive along the bay's shore from Kotor lies blink-and-you'll-miss-it Perast, the perfect antidote to Kotor's high-season chaos. This sleepy bayside town lacks walls; historically it was protected instead by a number of towers constructed during the (you guessed it) Venetian period. It also boasts 16 Baroque palaces and 19 churches as well as boat trips to Kotor Bay's two famous islands, St. George Island and Gospa od Škrpjela (Our Lady of the Rock), an artificial island built over centuries by the citizens of Perast.
Cetinje
Lovely Cetinje, Montenegro's historic capital, is tucked behind the Lovćen National Park, home of the dark berg that gave Montenegro its name. These winding streets gave birth to the Montenegrin nation, the tiny statelet nurturing a national identity strong enough to stay independent for centuries, against overwhelming odds. No longer the political capital of Montenegro, it remains the nation's spiritual and cultural center; the president's official residence is still here. Visiting Cetinje is about getting to know Montenegro and its history, so do that: walk through the old streets, visit a museum or two (the Ethnographic Museum gets our vote), and drink some Crmničko, traditional red wine.
Sign up here for our daily Thrillist email and subscribe here for our YouTube channel to get your fix of the best in food/drink/fun.

Conor is a freelance writer and translator living in Berlin. He likes traveling, bikes, rap music, and tacos. His work has been published on Matador Network, Serious Eats, Sprudge, and others. Find more of his work at conororourke.com.