For anyone thinking about going to New Zealand, it won't take long to realize a majority of the country is divided between two large islands, each with their own pizzazz. The North Island offers more urban adventures in big cities like Auckland and Wellington, plus hot springs, geysers, and a seemingly never-ending number of gorgeous beaches.
On the South Island, outdoor adventure reigns supreme, from skiing to bungee jumping to heli-hiking on glaciers. Here you also have the Southern Alps that run down the island and the stunning fjords -- both of which provide many jaw-dropping landscapes.
I'll be honest and say that as someone who feels an intense urge to see and do everything in New Zealand, deciding how to divide my time between the North and South Islands was tough as I was gearing up for my yearlong stay under a working holiday visa. Then, arriving in the country I quickly realized that these two main islands aren't even the only islands you can, or should, visit.
As if New Zealand needed any more help proving itself as a paradise on Earth, there are a number of other smaller islands dotting its waters that demand to be visited. Chances are you're putting in a good chunk of time and money to get to New Zealand in the first place, so why not make the most of it and explore some of these other amazing locations? Perfect for day trips or weekend excursions, here are some other places in New Zealand to pencil into your itinerary.
MORE: This story might make you want to move to New Zealand -- here's how to actually do that.
Recommended Video
Debatable: It's Fine to Recline Your Seat on a Plane
Waiheke Island
Does an "island of wine" sound like your dream come true? New Zealand is turning dreams into reality with Waikehe Island. About a 40-minute ferry ride from downtown Auckland, Waiheke has more wineries dotted across its 36 square miles than you can reasonably visit in a weekend (there are more than 20).
The island has an easy-to-use bus system and bike rental options, so it's not difficult to make your way around and drink award-winning wines all day. If you need a break from wine tasting, relax a little at one of the island's beautiful sandy beaches like Oneroa Beach, a popular choice conveniently located in the main village, or Onetangi Beach, the island's longest beach and notable for its white sand. Waiheke is also known for its art community, so check out some of the galleries while you're there. Or, you could spend all your time drinking wine -- no judgment here.
Rangitoto Island
For one of the easiest day trips from Auckland, hop on a ferry from the city's downtown terminal and just 25 minutes later end up at Rangitoto Island, a volcanic island that emerged out of the water around 600 years ago. The main highlight here is hiking the summit track, which takes you through native pōhutukawa forest -- the largest of its kind in the world -- to the peak, where you'll get great panoramic views of the Hauraki Gulf from 259 meters above sea level. As a fun little side trip, follow the signs to break off the walk and explore some lava caves -- just remember to take a "torch," which is "flashlight" in Kiwi slang.
Since there are no shops to be found on this little island, be prepared and pack your own food and water as well. There's very limited accommodation that needs to be booked in advance, so keep an eye on when your return ferry departs.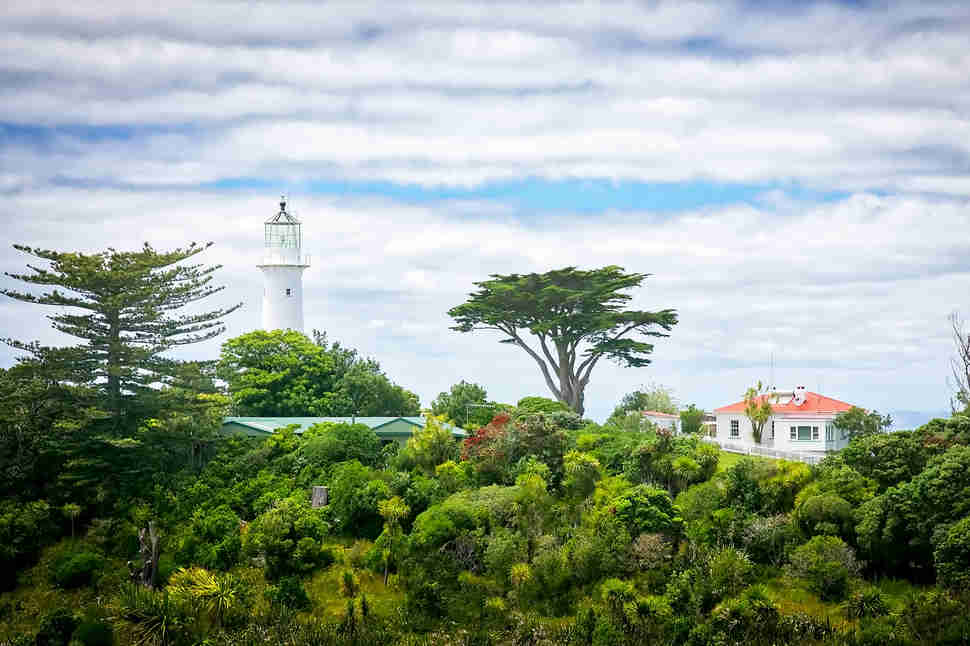 Tiritiri Matangi Island
Attention all bird lovers: This one is for you. Tiritiri Matangi, or Tiri for short, is an open wildlife sanctuary that offers a chance to see some of the country's most endangered birds in the wild -- all just about a 75-minute ferry ride from downtown Auckland. The island has been restored after decades and decades of farming, thanks to the eradication of all the introduced pests and the replanting of hundreds of thousands of native trees. That brings us back to the birds: This conservation work helped make it possible to release threatened native bird species back on the island to great success.
Some birds to look out for include the takahē, korimako (bellbird), kōkako (blue wattled crow), tīeke (saddleback), hihi (stitchbird), and pāteke (brown teal). Tiritiri Matangi is also home to some little blue penguins, which are officially the smallest species of penguins in the world and absolutely adorable. Bring your binoculars, enjoy the birdsong, and see how many different birds you can spot!
Poor Knights Islands
Exploring Poor Knights Islands, a protected marine and nature reserve, is a little different ballgame, given the fact that it's forbidden to step foot on any part of them. Instead, all the adventure and fun takes place under the water. World-renowned for its diving and snorkeling, the Poor Knights earned itself a spot on famed French oceanographer Jacques Cousteau's top 10 dives in the world.
Ancient volcanos have left a complex wonderland to explore underwater, made up of caves, tunnels, and cliffs. There's the incredible biodiversity with over 125 different kinds of fish, plus all the other amazing marine life like corals and sponges that inhabit the area. The easiest way to get to the Poor Knights Islands is to take the 35-minute boat ride from the Tutukaka Harbour in the country's Northland region. Dive! Tutukaka can set you up with a memorable diving adventure.
Great Barrier Island
Making the trip out to Great Barrier Island/Aotea delivers you to a remote, rugged paradise, a majority of which has been named a protected reserve. Seriously, the island runs on solar and generator power and there's limited phone/internet connection. While you're on your mini digital detox on the island, enjoy the great outdoors with activities like hiking, fishing, horseback riding, paddleboarding, kayaking, surfing, and diving. Great Barrier Island is also currently just one of 10 certified dark sky sanctuaries in the world, which means that it's an exceptional place to stargaze.
To get there, catch a cruise from Auckland, which will take around four and a half hours. If being on the sea for that long isn't your idea of fun, go for a scenic 30-minute flight from Auckland instead.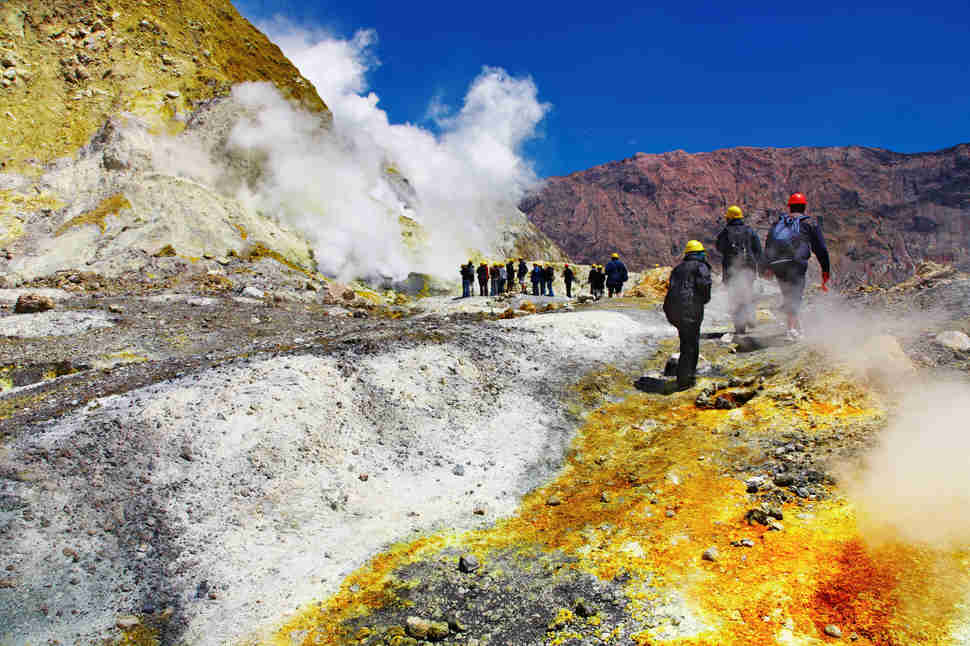 White Island
It's not every day you get the chance to explore an active volcano. White Island, also called Te Puia o Whakaari in Māori, is a live volcano and privately owned scenic reserve in the Bay of Plenty that's open to visitors. You can't go on your own, though. To get access, you'll need to be on a guided boat or helicopter tour, which you can get on starting from Tauranga, Whakatane, or Rotorua.
"But what about safety?" you might ask. Yes, there's always going to be some level of risk involved with visiting a live volcano. Generally speaking, however, its eruption alert level hovers around just one or two out of five according to the official tourism website for New Zealand. Oh, and you'll get a hard hat and gas mask for your tour, too.
If it all seems worth it (it is!), you'll get to see some otherworldly landscapes and awesome geothermal activity like steam vents, volcanic streams, bubbling mud pools, and a vivid acidic lake. You'll also get the rare opportunity to walk inside the actual main crater. If you really want to incite some travel envy in your friends back home, this island should do the trick.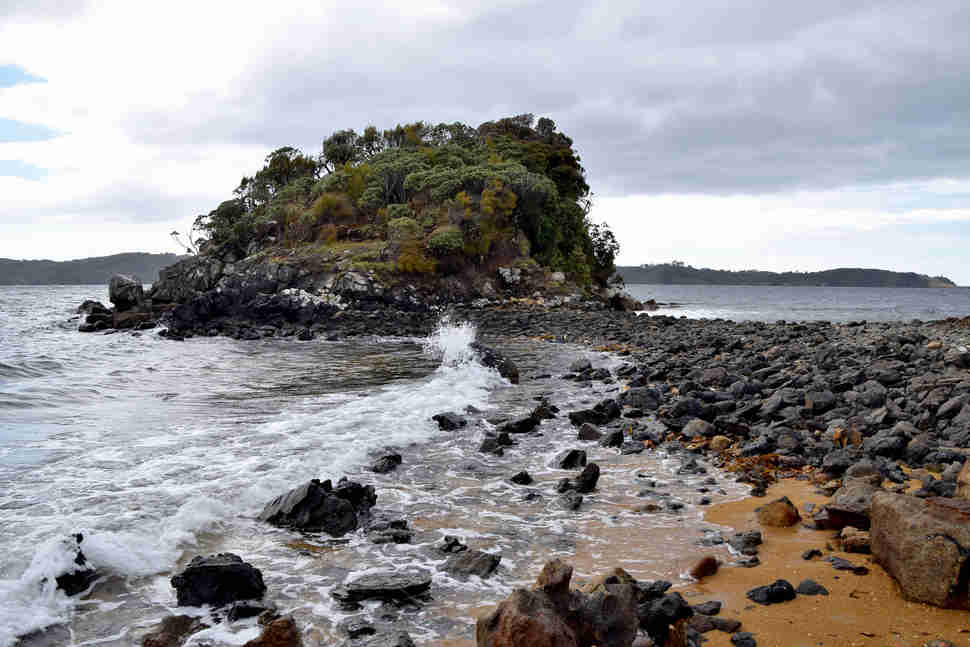 Ulva Island
A visit to Ulva Island (or Te Wharawhara) is like stepping back in time to a land seemingly untouched by humans. A pest-free open sanctuary, the place is alive with birdsong and its unspoiled rainforest lets you spot a variety of birds, including, potentially, the Stewart Island Brown Kiwi. Despite the kiwi being a symbol of the country, spotting one in the wild is no easy feat, but they have been known to wander around Ulva Island during the day.
Because of the pristine nature of this small, forested island, it should come as no surprise it takes some effort to get here. Ulva Island is located in an inlet that's part of Stewart Island (or Rakiura), which is New Zealand's third-largest island found all the way down south. You'll first need to take a ferry or flight to Stewart Island, and then grab the 10-minute water taxi to Ulva Island. Well-maintained tracks around the island make it easy to explore, or you can book walking tours in Oban, the main settlement on Stewart Island.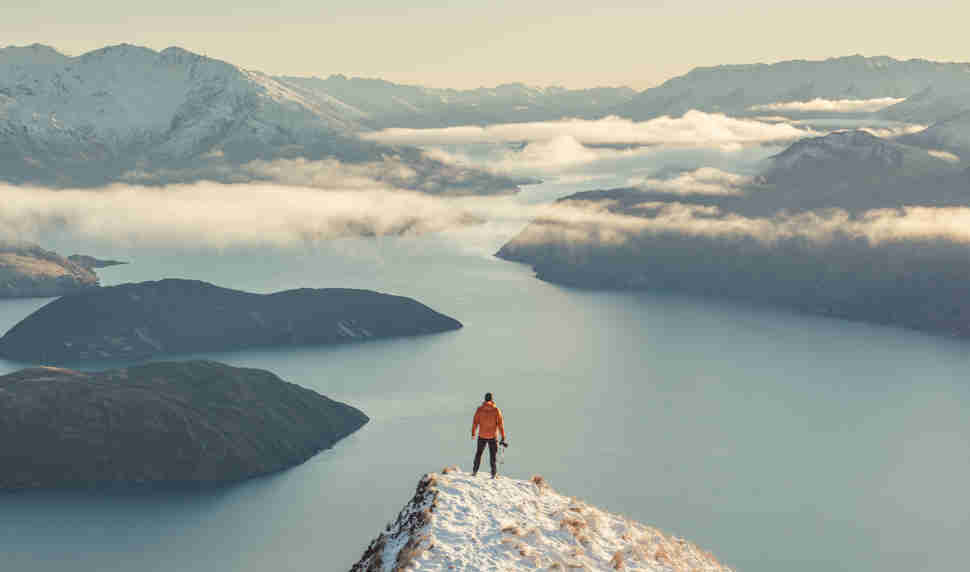 Mou Waho Island on Lake Wanaka
OK so, there's an island in a lake on an island in a lake on an island in the ocean. I'll let you sit on that for a minute. Here's how it all breaks down: In the South Island of New Zealand, on the picturesque Lake Wanaka, there's Mou Waho Island. Then, near the peak of Mou Waho Island, there's a small hidden lake left by glacier activity also called Arethusa Pool. And finally, in that little lake is a small rocky island. Got it?
To see this unique, hidden natural wonder for yourself, first take a water taxi or tour cruise to Mou Wahu Island from the town of Wanaka. When you land, go on the short bush walk to the top where you'll be able to snap a picture of how all these islands and bodies of water fit together. The mountain and lake views you get aren't too shabby either. As a protected nature reserve, the island also gives visitors a good chance to see weka, which are large, flightless, famously curious birds native to the country.
MORE: Wanaka is one of the most beautiful small towns in the world