Castles of Valle d'Aosta, Italy

| leoks/Shutterstock
Castles of Valle d'Aosta, Italy

| leoks/Shutterstock
The 15 Best Places in the World to Take a Big Trip in 2017
You're not going to stick to most of your resolutions this year, for the same reason you'll be writing 2016 on your checks at least till February: The calendar changed, but you're the same person you've been for a while now. One way to fix that -- and to make a resolution you'll actually keep -- is to follow through on your perennial promise to see more of the world.
Where to go? Anywhere cheap. Somewhere your Midwestern twang counts as a semi-exotic accent. Or, to hell with it: Hawaii is never, ever the wrong answer.
But you also have the chance to chart something completely unexpected. We asked our writers for the places on the planet they'd recommend to someone who could only take one big trip this year, because, let's face it, most years even one is pretty damn good. They sent dispatches on lush beaches, urban crannies, and far-flung mountain hideaways. These are their best spots for making memories. Make 'em yours, or get moving boldly toward your own.
Peru's Sacred Valley
A quieter wonder of the world, just down the road from Machu Picchu
About nine miles north of Cusco is the Sacred Valley, a lush landscape fed by the winding Urubamba River and flanked by a stand of glacier-capped mountains, many of which rise even higher than Machu Picchu. And yet Machu Picchu still tends to be the only reason that tourists scurry, heads down, through this marvel. Yet at such a loss! Back in the 1400s, the Incas built royal estates in the area. They knew what was up. This, my friends, isn't a place to pass through. It's a place to hunker.
Lousy with Incan ruins, some of the most stunning views of your life, badass women's textile collectives, cobble-stoned towns where you won't be trampled by tourist hordes, and all the giant-kerneled choclo corn your heart will soon know it desires, the Sacred Valley is, soles to donuts, the perfect place to get your adventure and your relaxation on, with radically different vistas to be seen within the span of a short drive.
Quick aside for the insane: Book a night in a transparent capsule hotel hanging off a mountainside and sleep 400 meters off the ground. Or opt for less hyperventilation and check out Inkaterra's Hacienda Urubamba where you can stay in a luxury casita built into a hillside and stroll the on-ground gardens that provide much of the produce for the restaurant. -- Onnesha Roychoudhuri, Thrillist contributor
Antarctica
The planet's last, most astonishing place
Our Earth's polar underside -- a crystallized otherworld -- overpowers you with colossal, sculpted baby-blue icebergs drifting past stadium-height glacial citadels. Whales breach, seals snooze, and penguins return your stare. Once the playful penguins' kazoo/quack soundtrack melds with whimpering seals, yapping gulls, pleading terns, thundering glaciers, and the geyser-sighs from whale blowholes, you've arrived.
The UN-sponsored 1959 Antarctic Treaty is a global law declaring that this continent can only be explored with peace for all in mind: no to hunting, fishing, industry, exporting, oil drilling, or weapons testing. The only time you can visit Antarctica is during its short summer (the coldest part of our winter). Unless you're part of a sanctioned scientific group on a research base, the only way to get there is by an ice-piercing ship, which means braving the two-day (each way) roller-coaster journey across the typically raging Drake Passage. This might be the most expensive vacation of your life, but you'll never look back with anything but pride. One way to cut costs in half is sailing last-minute standby (old, rich people get sick or miss connecting flights) from Ushuaia, Argentina, the tail-tip of South America and the launch point for most Antarctic cruises.
If going standby fails, Ushuaia, part of Argentine Patagonia, is a worthy destination in itself. As a veteran travel writer who roams for a living (140 countries, blah blah), Antarctica (been twice) is, hands down, the most amazing place I've ever seen. -- Bruce Northam, American Detour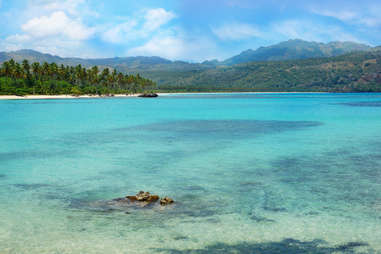 Samaná Peninsula, Dominican Republic
A rustic beach paradise at the height of tranquility
There may be no place in the Americas with more untapped tourism potential than this 30-mile peninsula that reaches into the Caribbean Sea from the Dominican Republic's northeast. A small band of French expats settled into the peninsula in the 1980s, mainly near the beach town of Las Terrenas, but the peninsula has remained largely forgotten by foreign tourists since then, save for a smattering of Europeans who come to Samaná for its lush, natural beauty and an abundance of remote beaches that fit the Caribbean ideal of white sand, azure water, and swaying coconut trees. Samaná is visited every winter, however, by the entire Atlantic population of humpback whales, who have flocked to the Samaná Bay for thousands of years to mate and to give birth, making this one of the best places in the world for whale watching from late January till mid-March.
Las Terrenas is the peninsula's tourism center, with plenty of restaurants, a bit of nightlife, and a European feel that blends effortlessly into the local island culture. The remoteness of the peninsula means scant infrastructure -- think limited internet, grocery stores carrying mostly non-perishables, and just one major paved road that runs the length of the peninsula. But in Las Terrenas you can still sit down in the evening to a fine French or Italian meal, and rent immaculate tropical bungalows for unbelievable prices. To find the most remote Caribbean experience possible, go to the literal end of the road to the sleepy hamlet of Las Galeras, where there are beaches so isolated it's possible to spend an entire day resting in the sand without encountering another soul. Officials in the DR have their eyes on Samaná as the country doubles down on its rapidly expanding tourism industry, which means there may be little time left to experience it in its current state of timeless, untouched serenity. -- Bison Messink, Thrillist deputy editor
Hay-on-Wye, Wales
A bibliophile's paradise set in Britain's finest natural scenery
On the Wales side of the English border, along the River Wye, sits Hay-on-Wye, a mecca for bibliophiles the world over. The town of roughly 1,600 book-loving souls inspired Lonesome Dove author Larry McMurtry to collect thousands of antiquarian books in the empty buildings of his rural Texas hometown. Hay-on-Wye's biggest local annual event, the Hay Festival, is one Bill Clinton once described as "Woodstock of the mind."
In turn, the booksellers in this little town celebrate language and knowledge from around the globe -- mysteries, crime dramas, historical romances -- with a fervor that makes the whole place a veritable open-air library. Not so long ago, more than 60 bookstores thrived here. That's a ludicrous number. New York City, no literary slouch, has roughly one bookstore for every 10,000 residents. Hay-on-Wye still supports about two dozen such stores, which works out to one for every 70 townsfolk.
When you visit, you'll also find antique stores, pubs and restaurants, and some wonderful family-run B&Bs where you can preface your daily book-browsing with a hearty, full Welsh breakfast. If somehow you tire of the dusty stacks and eccentric locals, Hay-on-Wye is also flat-out pretty. It sits between the ruins of two Norman castles and at the edge of Brecon Beacons National Park. There you can hike, bike, or take a train through some of Britain's most beautiful scenery. I recommend bringing along a good paperback. -- Mike Mooney, Thrillist contributor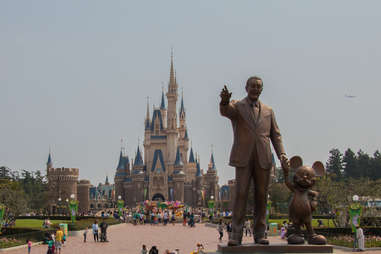 Tokyo Disney Resort
An engineered utopia in its ideal form
People know Walt Disney World as the "the happiest place on Earth." But compared to Tokyo Disney Resort -- with its quiet, well-mannered children, delightful groups of teenagers carrying matching stuffed animals, and impeccable cleanliness -- it's a hellhole. The Japanese truly can claim the most pleasant, brain-soothing set of theme parks you'll ever visit. Tokyo Disneyland, done in the likeness of Florida's Magic Kingdom or Anaheim's OG park, feels like an oasis from the loud, frenetic locations back home. Meanwhile Tokyo DisneySea, its neighboring eye-popping expanse, brings together the tales of Jules Verne and sirens of the seas to create an amalgamation of submarines, Venetian canal boats, and a Teddy Roosevelt-themed cocktail bar inside an old-timey steamship that somehow just works.
Let the sights and sounds of an underground mermaid lagoon, pitch-perfect Fantasyland, or fire-breathing volcano melt away your worries. Even nominal joys like merchandise and food offerings are cartoonishly fun here, allowing you to load up on pizza egg rolls, matcha-flavored popcorn, and Mickey-shaped steamed buns before blowing your yen on bizarre take-homes like Toy Story-inspired toilet bowl brushes. The park is a simple subway ride in from Tokyo proper, making it the ideal day trip. -- Carlye Wisel, Thrillist contributor
Montreal, Quebec
The perfect, just-French-enough international weekender
For about 12 hours last year, I found myself in the one city that is impossible to screw up. Naturally, it took a feat of true duncery to get there: I'd arrived 22 hours late for a flight out of Newfoundland (two hours early for my traveling companion's flight, though!). The only reasonable route back to New York included an overnighter in Montreal. Twist my arm, why don't you.
So here's your idiot's guide to doing Montreal not merely on the cheap, but on zero notice. Aim to stay near Mount Royal -- as the only extinct volcano in town, it isn't hard to find -- and within walking distance of the euphoric drag of bars and venues on Boul Saint-Laurent. Check literally any calendar, and you'll find some kind of cultural blowout nearby. (In summer, when days are long and nights soft, Montreal congregates outside for music and art and cigarettes. In winter, when night arrives early and frigid river gusts peel your face like a tomato, Montreal congregates outside for music and art and cigarettes, in peacoats.) Then take a walk.
I booked a $45 hostel online, bought a $10 transit ticket from the airport, dropped off my stuff, and meandered to a low-key bar called Divan Orange. Outside, the street was cleared for art installations, chatty drinkers, and the occasional skateboarder. Inside, a $5 cover was all it took to hear a lovely, Radiohead-esque set by a local band that sang in 100% English and bantered in 100% French.
On the way back to the hostel, along Rue Saint-Denis, I happened on a line of massive canvas hammocks. (Canada never fails to max out its precious summers.) Couples were nuzzling in most; I found an open one and flopped out in the open air. After a few minutes of lazy bliss, a young man approached and bashfully offered me 10 bucks if he and his lady could take their turn sprawling in the hammock. With a dawn flight to catch, I gave it up freely and kept moving. But lesson learned, that in Montreal it pays to stop. -- Sam Eifling, Thrillist Travel editor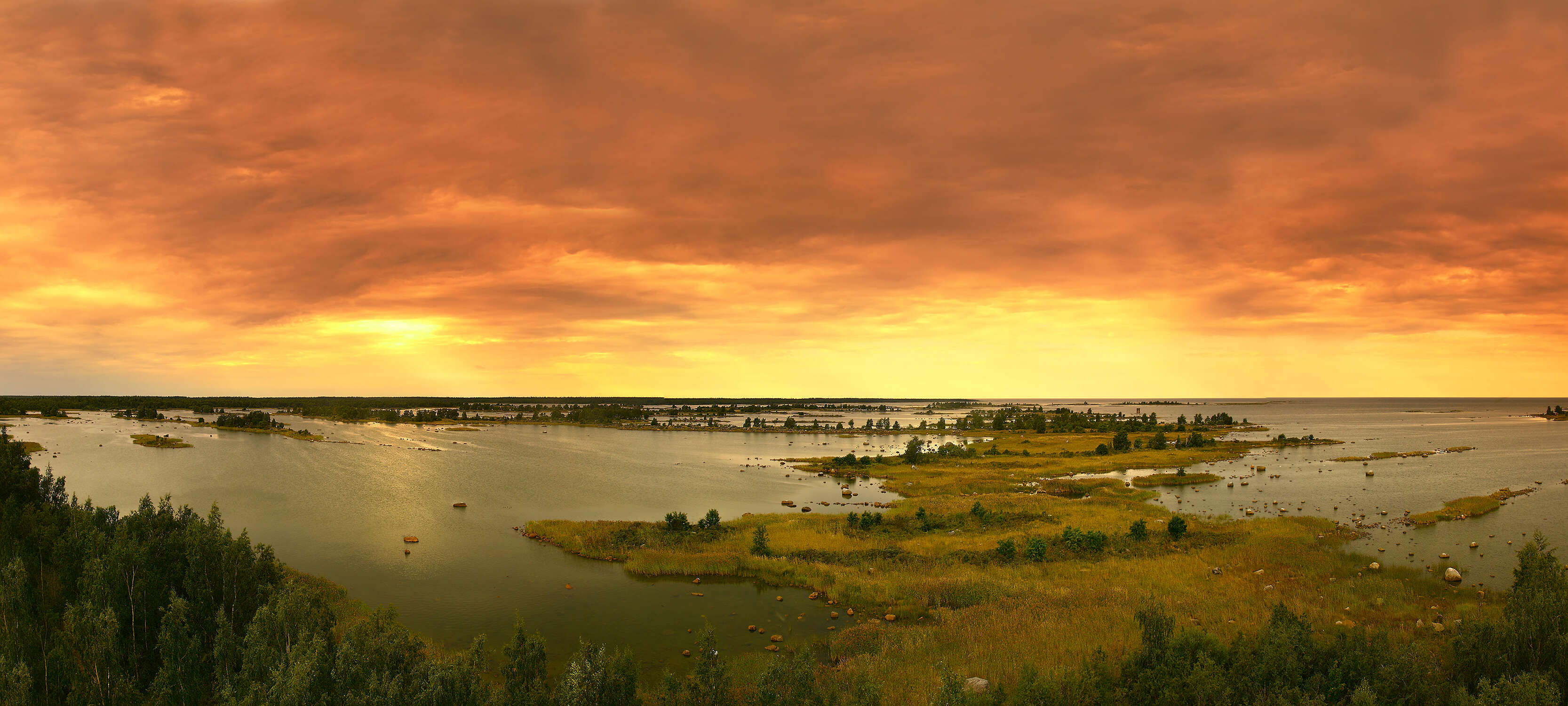 Sweden's Bothnian coast
Rugged Nordic nature at its most dreamlike
The Swedish landscape that cushions the country's eastern coast is a paradise of riches. Wooden falun-red houses, pine trees, and blueberry bushes set a gorgeous backdrop to some of the most dramatic sunsets possible -- that is, during the part of the year when the sun actually does set. The Bothnian coast seems almost fictional, a static canvas of striking backdrops with rugged cliffs, valleys, and towns decked with medieval churches. Starting in Stockholm, it's an hour north to Uppsala, the region's southern edge. From there you can drive, or follow the coastline up to the Arctic rim with the North Bothnian rail line, stopping off at Gävle, Hudiksvall, and Lulea.
I was introduced to this natural paradise by an old girlfriend. In early spring we would go sea kayaking, relax in a secluded wooden sauna, and then cool off in the crystal-clear, bitter-fresh waters. The coastline is full of sheltered little villages like the one where we stayed, a blissful and total respite from the world. You'll find isolated locales where you can walk through pine and birch wildernesses and pick berries, with an abundance of rich wildlife all around you. And bears. So beware. Bears. -- Daniel Cole, Thrillist contributor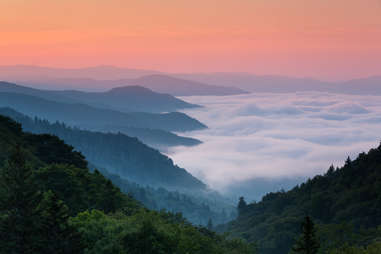 Great Smoky Mountains National Park, Tennessee
The fire is out, and it's time to play in the Smokies.
Wildfires ravaged Tennessee in autumn 2016, spreading through the eastern part of the state and into Great Smoky Mountains National Park. Officials, fearing the worst, shut down the park indefinitely as fires raged. The resort town of Gatlinburg evacuated residents just as one of its heaviest tourism seasons, Smoky Mountain Christmas, was ramping up.
Some 2,400 buildings in Sevier County were damaged or destroyed before, at last, the rains came. The firefighters won. Life returned to the Smokies, just in time for the holidays.
Gatlinburg will be a different place this year, but it's still one of the finest weekend-sized road trips from the likes of Nashville, Atlanta, or Charlotte. And chances are that in 2017 the locals will be ecstatic to see you. Buy a national parks pass, book a hotel room in Gatlinburg, go hiking in the park, ride a roller coaster at Dollywood, do a little camping, shop, eat in the many restaurants of Sevier County (Sevierville, Pigeon Forge, and Gatlinburg), or just drive around the Great Smoky Mountains to enjoy the view. If you want something really special, plan a trip in June when the firefly migration takes place, one of the only spots to see synchronous fireflies (those that can sync up their light patterns) in the country. -- Keryn Means, Thrillist contributor
Sofia, Bulgaria
Europe's rising hipster darling doesn't try too hard.
As far as European hipster enclaves go, Sofia is privy to a homegrown cool factor that hasn't hit the tourist radar just yet. Take the nightlife -- one side of the scene is artsy and reclusive, tucked into Communist relics. You might spend an entire day and night sipping homemade raspberry wine at A:part:mental, a former embassy that's now a labyrinth gallery-cafe-bar, or hole up inside Hambara, a candlelit den where beatniks and intellectuals once congregated.
Sofia's post-USSR exterior is charmingly gritty, but lately spruced up with street art, proliferating everywhere from power boxes to shopfronts. But there is also startlingly beautiful architecture here too, as one of the continent's oldest cities. Besides an eclectic mix of Ottoman mosques and tenacious Red Army monuments, you'll stumble across plenty of ancient ruins downtown (including ongoing excavations peppered between shopping malls and busy streets). Then there are truly unforgettable sights such as the teal-fringed Alexander Nevsky Cathedral and Sofia's hypnotizingly patterned Central Mineral Baths, neither of which gets their due among Europe's most fascinating architecture. -- Barbara Woolsey, Thrillist contributor
Dominica
The waterfall-infested, sweet-smelling Caribbean isle of adventure tales
I have been to exactly two places in my life that put me completely in awe of nature. One was the Grand Canyon. The other was the entire island of Dominica. It's a place where you hike up and down steep cliffs through ferns, banana plants, and calling birds to 200ft waterfalls pouring out of an emerald gorge. Then in the afternoon scuba dive through a reef over a volcanic spring, where tiny bubbles tickle your body and make you feel like you're slicing through Champagne.
Go with a guide and he'll take you to hidden swimming holes you were pretty sure only existed on the set of Tarzan. Or trek up a river through a Rastafarian commune to another booming tropical waterfall. As the most undeveloped island in the Caribbean, it's the closest place to the United States you can go and fully escape into the jungle. It's safe, once you're there it's cheap, and the entire island is covered in gum trees and smells like a spa. And it's an experience that will remind you that no matter what the human race does, nature will always thrive. -- Matt Meltzer, Thrillist staff writer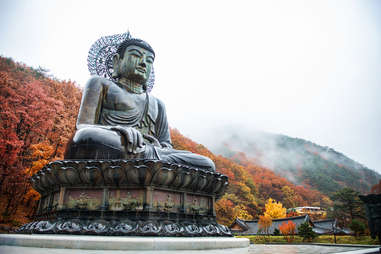 Gangwon Province, South Korea
A mountainous, giddy getaway on the verge of Olympics mania
There's a yin to South Korea's neon-megalopolitan, party-hardy yang: the pristine mountains and sparkling sea coasts that earned the country its nickname of the Land of the Morning Calm. At its pinnacle is Gangwon Province, an all-seasons playground for nature-chasers situated some 65 miles east of Seoul.
Prepping for its Olympics close-up is Pyeongchang, the craggy county in Central Gangwon that abounds with snow-capped resorts slated to host the 2018 Winter Games. Hit up spots like Alpensia or Yongpyong (whose name translates amazingly to "Dragon Valley") to take on the vertiginous slopes destined for the world's greatest athletes -- then bliss out over a magma-like Korean stew that will warm you to your core.
At any time of the year stop at Seoraksan National Park, the beloved, awe-inspiring peak that inspires pilgrimages by jubilant hikers. And this just barely scrapes the surface of Gangwon. Be sure to leave time for the windswept beaches, the romantic lakes of Chuncheon (aka heaven for K-drama fans), and gustatory delights like fiery, hurts-so-good dakgalbi chicken stir-fry, freshly harvested sea urchin, and earthy, comforting buckwheat noodles. -- Hannah Bae, Thrillist contributor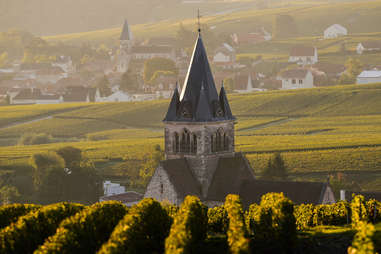 Champagne, France
The fanciest wine region in the world that you can visit on the cheap
Drive an hour and a half outside of Paris to this region sprawling with hundreds of picturesque 17th-century French towns all known for one export: sparkling wine. The only 76,000 acres in the world certified to make legit Champagne are broken into five districts, each of which has distinct character and charm to make your trip feel like multiple trips to European villages.
Visiting the Champagne producers whose labels you recognize may be tempting (Veuve Clicquot, Moet & Chandon), but to stick to a tight budget, head to the local, smaller wineries for free tours and tastings and inexpensive bottles you can bring to dinner or just drink in the quiet city centers at night. Though getting buzzed on bubbly should take up most of your trip, you can also check off some marvelous landmarks in the region, including the French Gothic cathedral the Notre-Dame de Reims, the château fort at the Ardennes Mountains, and a handful of notable art museums, in case you wanted to infuse some European high culture into this drinking trip. -- Melissa Kravitz, Thrillist contributor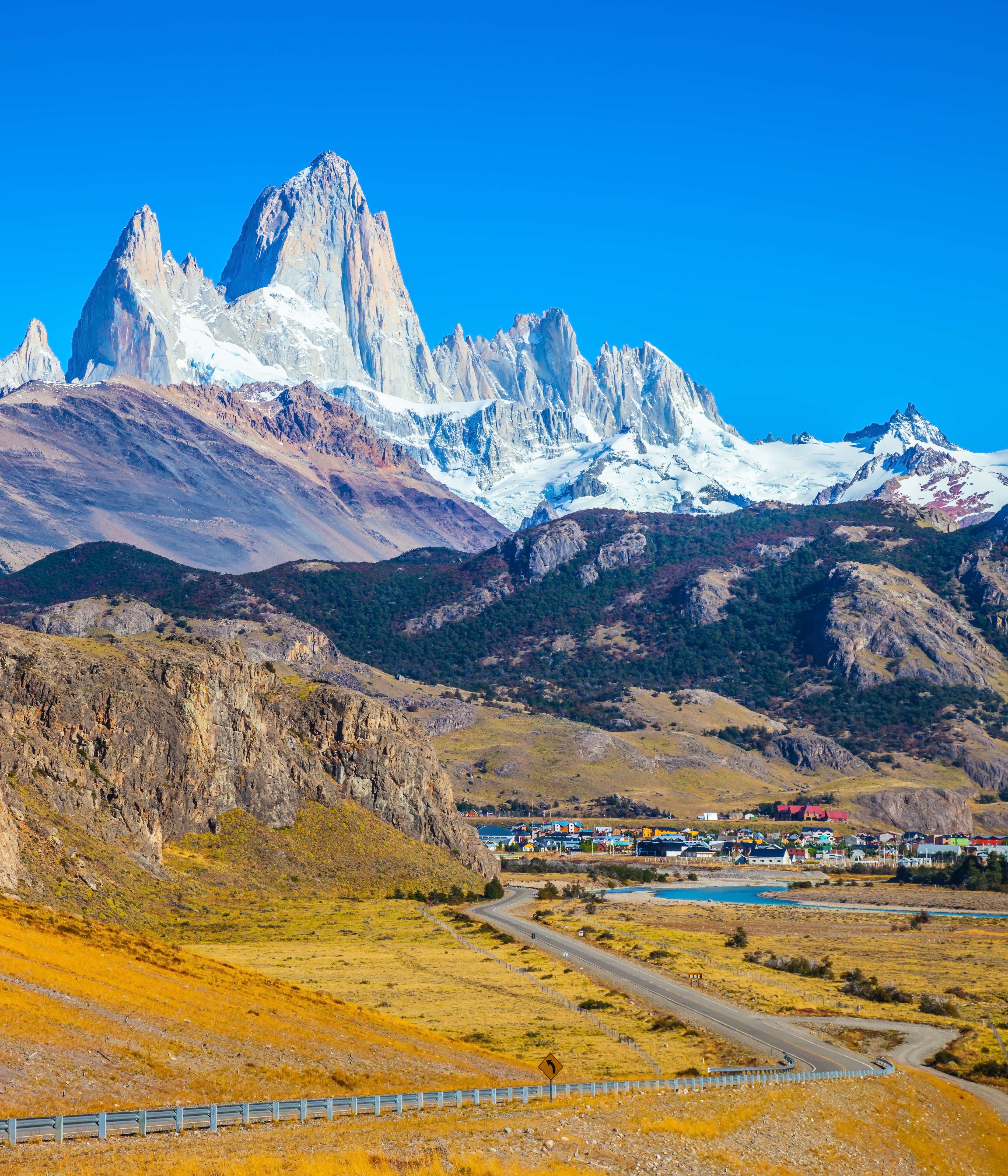 El Chaltén, Patagonia, Argentina
A spectacular launch point for the world's greatest hiking
This little town is often referred to as the trekking capital of Argentina, and as such its reputation as a hiker's destination is world-class. Even novices can find a trail with views of Patagonia's epic glaciers and snowcapped Andes Mountains. But it has also stopped the best: El Chaltén has been a launch pad for professional climbers and explorers, many of whom have died trying to reach the granite peaks of the Fitz Roy mountain range.
If you don't want to tempt fate, find a guide or ranger for recommendations. Experienced trekkers will spend months preparing for rigorous overnight hikes such as the Paso Marconi expedition. For an easier day hike, try the Laguna Torre trail, which puts you at the base of a crystal-clear glacier pool overlooking Cerro Torre, the highest peak in the Fitz Roys.
Whichever hike you decide to do, use El Chaltén as your home base of operations for the essentials: a warm bed, hearty stew, cold beer, and free Wi-Fi. But, of course civilization has its limits. You can leave that all behind as soon as you exit the town and embark on one of the dozens of trailheads that lead deep into the Patagonian wilderness. -- Tim Ebner, Thrillist contributor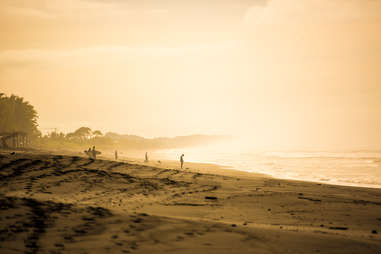 Jacó and Playa Hermosa, Costa Rica
Where surfers live in harmony with nature, beer
The best advice I received before making a two-week trip to Costa Rica was, don't try to see it all -- you'll spend all your time driving (the roads aren't always, well, roads!), and not enough time embracing the hell out of this spectacular country.
The hard part is deciding where to start -- rainforests or beaches (and you need to do them both); in my research, Jacó either received slams (traffic! Grime! Hookers!) or raves (parties! Bars! Hookers!). But we chose right. Jacó 's rustic charm lies in the way it lures you in: It's rough around the edges, and full of hammock-lined porches, pro surfers, and non-pros who chucked their old lives to surf anyway. Life here revolves around waves, zip lining, canyoning, and downing beers.
A 15-minute cruise down the road is the incredibly serene Playa Hermosa. I swear, once you step foot on the six-mile strip of light gray sand on the clear Pacific -- sandwiched between lush greenery, mountains, and cliffs -- you're hypnotized. And if that doesn't do it, watching the surfing there will. While Jacó has beginners and advanced rippers alike, Hermosa is solely for the latter -- expect some serious breaks and swell action here. Your best move is to hit up the beachside spot Sandbar for fish tacos, grab a few Imperials (the local brew) to go, and set up camp on the sand. It's never too crowded. A day here can feel like a year -- and I mean that in the best way possible. -- Liz Newman, Thrillist contributor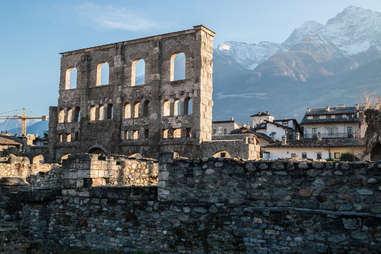 Aosta Valley, Italy
An overlooked Roman taste of the Italian Alps
Aosta is distinct from the gas-lit streets and skiing families of the alpine French towns just minutes away. Rather, once you arrive here, fresh from a drive that includes a seven-mile tunnel drive beneath Mont Blanc/Monte Bianco, you'll notice the mix of cozy chalets and austere medieval ruins on the narrow streets. This is where modern France, modern Italy, and the Roman Empire collide in the mountains and then serve you dinner.
This region of Italy is known for its spectacular meats which gave rise to the local specialty, carbonada: a hearty, wine-based stew of chopped beef and pancetta cooked in butter and served over creamy polenta. Fontina cheese also hails from the valley; try fonduta valdostana, a velvety volcanic fontina best served with fresh bread. The valley also produces excellent red wines, but the drink is genepì: a sweet, herbal liqueur made from alpine wormwood (warning: it's a cousin to absinthe).
When (if ever) you're done feasting, walk it off in the verdant Parco Nazionale Gran Paradiso or explore the ruins within the city limits. Among the pervasive carved wood sculptures, crumbling Teatro Romano (Roman Theatre), Arco di Augusto (Arch of Augustus), and remnants of the old city wall, the coolest site is the 1,500-year-old Cattedrale di Santa Maria Assunta, with its stunningly ornate, Hagrid-sized doors and explorable catacombs.
If you're here at the end of January, enjoy the Fiera di Sant'Orso (Saint Ursus Fair), which began more than 1,000 years ago, a celebration of Aosta's history with local artisans and traditional cuisine, music, and folklore. Because in Italian orso means bear, the locals pun gently on the saint's name with a saying: If the weather's nice on Sant'Orso Day (Saint Ursus Day), hibernating bears will sleep another 40 days. Bears. -- Gabrielle Van Tassel, Thrillist contributor
Sign up here for our daily Thrillist email, and get your fix of the best in food/drink/fun.