Paid Content For
The Best Public Bathrooms in America in 2016
Paid Content For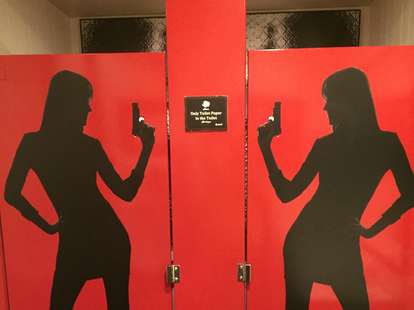 Courtesy of Safe House
Courtesy of Safe House
The greatest bathroom in the world is the one that appears at the moment you absolutely need it. If we're getting fancy, maybe we can wish for a door that closes, a roll of toilet paper (multi-ply, please) and, who knows, maybe even a lock. Take it two or three or 20 steps further, though, and bathrooms can become downright artistic, a point of pride for many a bar, restaurant, or abandoned rest stop.
To honor the best of the best, the Cintas Corporation has recognized the best public bathrooms in America for the past 15 years. If you snoozed on this prestigious award, you can see all the past winners right here. None of those took home the trophy this year (there is no actual trophy; they win $2,500 worth of cleaning services) since previous winners are DQ'ed. The finalists were selected based on cleanliness, visual appeal, innovation, functionality, and unique design elements. Then people voted for their favorites. Here are the results of this democratic movement.
10. Urban Ecology Center
Milwaukee, Wisconsin
You wouldn't expect this environmental protection and education center in the middle of Milwaukee to have some crazy-chic neo design. And you'd be correct in that expectation. But what this unassuming loo lacks in pizzazz it more than makes up for in environmental features. The bathrooms might be the most environmentally engineered in the nation, constructed out of reclaimed and recyclable materials, and using water collected from a 350-gallon rain cistern on the roof. The men's room uses flushless urinals that Koehler donated, and throughout the bathroom little green and yellow signs educate users about how the bathroom is saving the planet one flush at a time.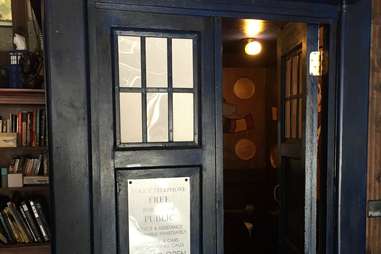 9. The Way Station
Brooklyn, New York
Fans of the cult classic Doctor Who both literally and figuratively lost their shit when they learned there was an actual TARDIS at this Doctor Who-themed saloon in Brooklyn. The bathroom is hidden behind blue wooden doors with translucent windows that fog up to signify someone is inside. The interior has a Jonathan Fritz mural covering the walls, and a night sky painted on the ceiling. Doctor Who luminaries Matt Smith, Steven Moffat, John Barrowman, and Karen Gillan have all paid the famous TARDIS a visit.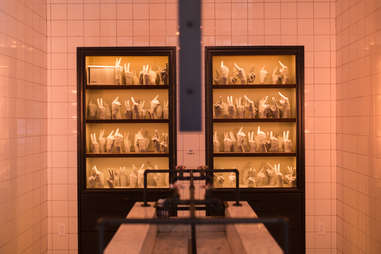 8. The Vine
New York, New York
This Laurent Tourondel venture in Lower Manhattan has a fantastic interior even without the bathrooms, decked out in minimalist tables, floor-to-ceiling windows, and hanging ropes. But the semi-shared restrooms feature an almost-apocalyptic common area. Under dim lighting, mirrors and a cement sink stand in front of a case featuring small sculptures of human hands in various positions. The men's and women's stalls sit off to either side; the center makes for an outstanding conversation piece.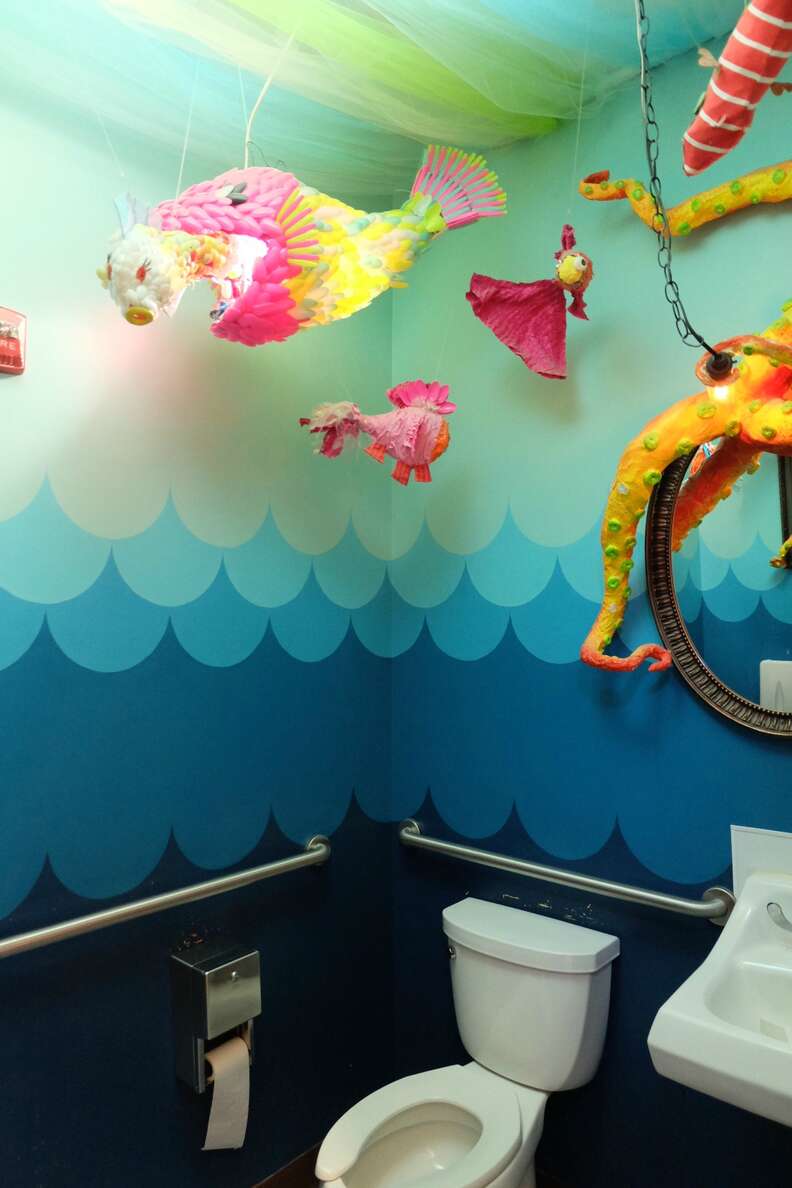 7. The Charmery
Baltimore, Maryland
As if kids needed another reason to go to Baltimore's most beloved ice cream parlor, the undersea-themed bathrooms make it a theme park with waffle cones. The walls are painted a deep-sea blue, with sculptures of sea creatures made of ice cream spoons dangling from the ceiling. Add in an octopus mirror and this is basically a little kid's fantasy of living The Little Mermaid, plus mint chocolate chip.
6. Swift & Sons
Chicago, Illinois
When your goal is to transport guests back a hundred years, to a time when men in heavy suits smoked cigars and ate steak with a blissful ignorance of cancer, your restroom needs to reflect that same sense of invincible strength. So the bathrooms in this Near West Side steakhouse are decked out with marble sinks, stainless steel doors, and tile floors. The art-deco design gives it an artistic touch, for the most period-appropriate finalist of 2016.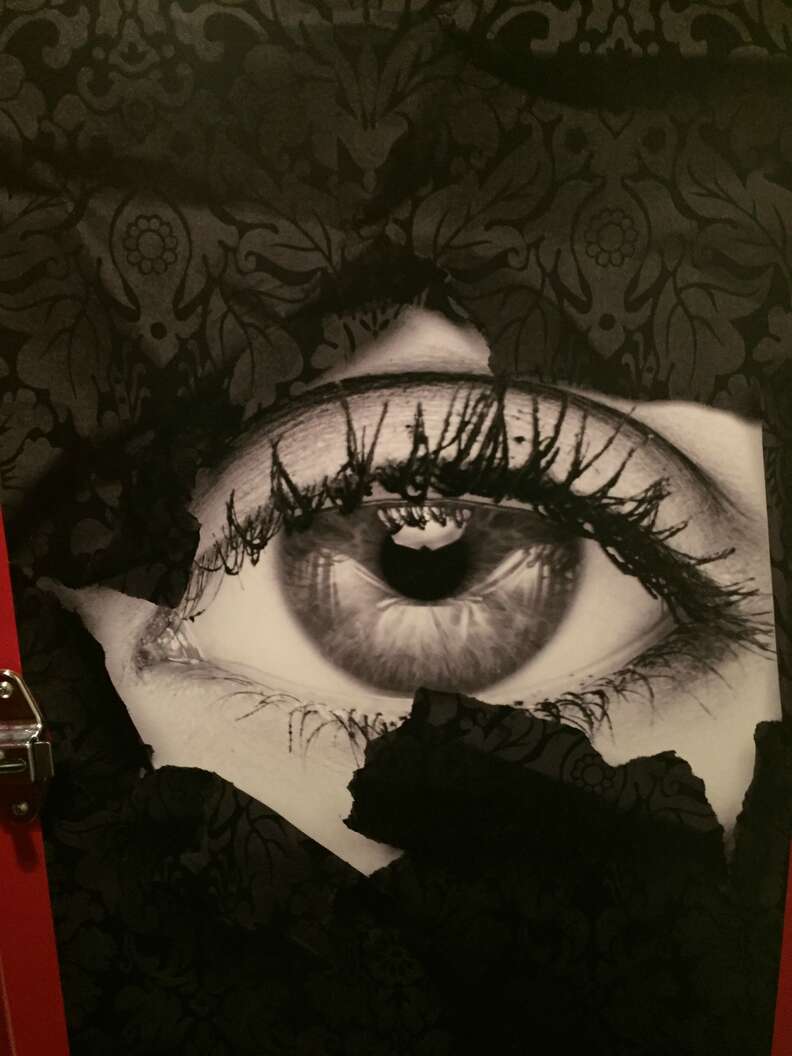 5. Safe House
Milwaukee, Wisconsin
We can all appreciate a good spy-themed bar. Of course, when you've just finished your fourth pint of Milwaukee's Best and are in a hurry to find the bathroom, having to navigate a maze and a trick bathroom door isn't quite so charming. It doesn't seem to matter much to the patrons of the Safe House, though, where the bathrooms -- once you find them -- feature Bond-like spy silhouettes on the outside of the stall doors and creepy giant eyeballs on the inside. The bathrooms also have a bird's eye view of the entire bar, complete with a peephole to spy on customers while you're there.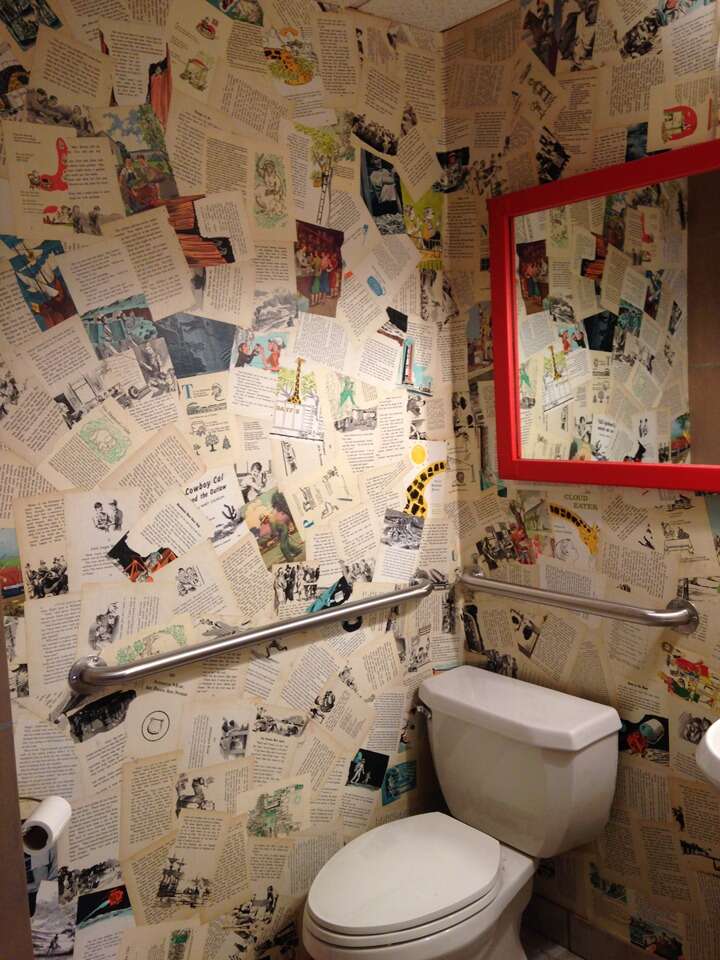 4. The Novel Neighbor
St. Louis, Missouri
Reading is a basic human function. At least that's the working theory at this St. Louis adult and children's bookstore. When old books fall apart, they become wallpaper, and while you're perched on the porcelain throne you can also catch up on the latest adventures of Curious George. It also eliminates the chances of anyone smuggling merchandise into the bathroom as reading material, much like another George we all know and love.
3. Leña Brava
Chicago, Illinois
Doing your business outside in Chicago in the dead of winter can lead to people literally freezing their asses off. But step inside Rick Bayless' new Mexican joint (three mere blocks from Swift & Sons) and you'll feel like you're relieving yourself in the middle of a Mexican agave field. The wall murals depict south-of-the-border agricultural settings, and with frameless mirrors above floating sinks, it almost looks like the agave plants are sprouting porcelain fixtures with faucets.
2. Coca-Cola Park
Allentown, Pennsylvania
Perhaps Billy Joel was a little hard on old Allentown. Sure, the highlight of the city might be the bathroom at the baseball stadium, but the home of the Lehigh Valley IronPigs has perhaps the ultimate guy invention: a hands-free video game you can play at the urinal. (A sensor on the porcelain moves a character based on where the stream hits.) Once your turn winds down, you can enter a custom code into your phone to compare scores with others throughout the stadium. Perhaps the only time in history it's ever been acceptable to stand at a urinal and actively compare yourself with the guy next door.
1. Minneapolis-St. Paul International Airport
Minneapolis, Minnesota
Your 2016 Bathroom of the Year is at the MSP airport, so hopefully the next time you've got a layover here you'll have time to go check it out. The bathrooms are in the middle of a 10-year renovation, in which each area of the airport with restrooms will include mood lighting to help guide passengers along the way. Inside, guests will find tile mosaics depicting different aspects of Minnesota life, as well as automatic doors, sensor-operated sinks and toilets, and pretty much everything else one needs to never touch a surface in the bathroom. This germaphobe's utopia will soon be in every bathroom at the airport.
Sign up here for our daily Thrillist email, and get your fix of the best in food/drink/fun.
Matt Meltzer is a staff writer for Thrillist. There are absolutely no pictures from bathrooms -- not even ab selfies -- on his Instagram @meltrez1.