Pubs, Whiskey Dens, & Cocktail Bars: The Coolest Places to Drink in Dublin
In the pantheon of world-class bar cities, Dublin has been holding court in the hall of fame for a solid millennia. And while its classic pubs have found their place in history books and spawned homages the world over, the bar scene has continued to evolve, with slick cocktail bars, innovative gastropubs, hidden speakeasies, and more living in symbiosis with the centuries-old stout-slingers where Irish history continues to be made.
Hitting a pub (or 20) in Dublin is an essential experience for any visitor, but with so many options, it can be hard to navigate, avoid the tourist traps, and get a real feel for the city. With that in mind, we tapped our Dublin bar experts to lay out the essential stops, from can't-miss legends to whiskey dens and cocktail joints bridging the gap between centuries-old traditions and modern flair.
Parnell Square
Located around north Dublin's historic food markets, Bar 1661 is leading a resurgence in poitin, Ireland's answer to moonshine. With its slick leather-top stools, dark green wall paneling, and a centerpiece communal table, 1661 and its berkeep, Dave Mulligan, have become the go-to place to learn about and appreciate the once-long-lost spirit.
Named for the year poitin was banned, 1661offers a full spectrum of cocktails, though the Belfast Coffee -- a riff of the Irish Coffee made with Bán Poitín, cold brew, cream, and nutmeg -- is a showstopper, even for folks like me who hate coffee. If poitin doesn't do it for you, there's a wide selection of Irish whiskey and gin, plus a stellar craft-beer selection. Every detail here is on point, right down to the bathroom sink: a handmade beaut made with oak bark and marble. -- Yolanda Evans
Temple Bar
If you fancy going to a proper Irish pub in Temple Bar, skip the ones along the main drag of the district. Sure, with the cobbled streets outside and the strains of trad music through the doors, they might look legit. But they're as touristy as they come, and some of them sneak up the price of a pint after 11pm (when you're less likely to be checking your bill).
Your best bet? Head to The Palace Bar, right at the end of Fleet Street. This spot is the real deal, a boozer beloved by Dubliners for almost 200 years. Inside, the bar is divided by carved wooden partitions, perfect if you want to have a sneaky gossip about your fellow drinkers. If you want to be part of the action, grab a seat at the back, under the skylight and stained-glass windows, where impromptu sing-alongs often kick off. It's a great place for whiskey lovers too -- they have over 100 varieties available, including their very own Palace Bar whiskey. -- Nicola Brady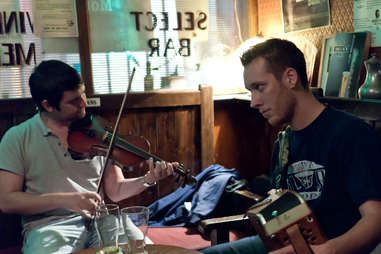 Smithfield
Old-school Dublin mainstay The Cobblestone advertises itself as "a drinking pub with a music problem." This little gem is not some tourist trap, but rather where locals go to tap along to the best live trad music with some of Ireland's finest musicians seven days a week. No pre-planning necessary: Stroll in, order a pint, and watch on as musicians form a circle and unleash sonic bliss. Being that it's so renowned, it's best to get to the bar early if you want a seat, otherwise you'll be leaning by the bar most of the night -- which, frankly, is pretty alright too. -- YE
Glasnevin
Located by the Glasnevin Cemetery, John Kavanagh -- better known by its nickname, "The Gravediggers" -- has been slinging the black stuff since 1833, when the first of eight generations of Kavanagh started pulling tap handles.
So just how did it get its morbid nickname? The pub is built into the wall of the cemetery, making it a prime post-dig stop for cemetery workers. With its worn wooden tables and weathered bar, this Victorian era pubs transport you back in time when people actually had conversations in bars. There's no singing or dancing allowed; no TV blaring the football match. All modern conveniences are left outside the door. That's the way the locals like it in this bar where time seems to have stopped. -- YE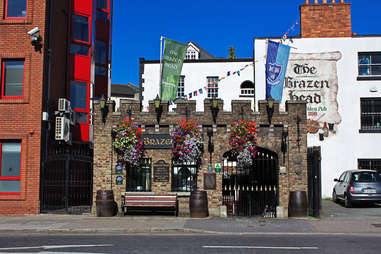 Merchant's Quay
The Brazen Head is Ireland's oldest operating pub, dating back to 1198. It's the literal prototype of a traditional Irish bar, complete with superb traditional and modern contemporary dishes like their famed Beef and Guinness Stew. It's been an essential part of Irish history for centuries, with a strong literary connection with Irish writers like playwright Brendan Behan and James Joyce -- the latter even gave it a shout out in his famed book, Ulysses. If you close your eyes and imagine an Irish bar, this is what you're likely seeing. Cavernous and gloriously musty, it's worth outing yourself as a tourist for a pint. -- YE
The Liberties
Perfect if you're heading to a show on Vicar Street, Lucky's is a chilled-out pub where you might find an art market in the afternoon and a group rugby screening just a few hours later. They have a good selection of beers (I love the Liberties Pale Ale) as well as wines on tap, and whiskeys made right here in this neighborhood (this part of the city is a hotbed for distilleries).
But what sets Lucky's over the edge is tucked in the little pub garden, where you'll find Coke Lane Pizza. This tiny hatch is the home of some of the best pizza in the city, with a charred, blistered crust and killer toppings (the Scarface comes with spicy salami, chili, and Irish honey). Even better -- if you get there before 7pm Sunday to Thursday, any pizza and a pint or glass of wine is only €13. It's one of the best bargains in Dublin. -- NB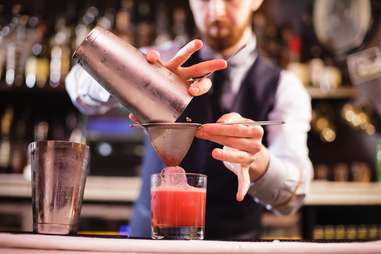 Temple Bar
Opened in 2014, The Liquor Rooms is the first Irish bar to score a nomination for Best New International Cocktail Bar at Tales of the Cocktail, near instantly giving Dublin's cocktail scene a shot in the arm. That nod alone stamped this bar as a destination for cocktail lovers: Here, cutting-edge cocktails incorporate herbs, infusions, homemade tinctures, and high-end spirits into wholly unique concoctions.
Located in the basement of the Clarence Hotel, this late-night drinking den is divided among four main rooms: The Black Rabbit, a burlesque circus den; the Boom Room, a bandstand-fronted dance area; the Mayflower, a conservatory reserved for swanky private parties; and the Blind Tiger, the complex's ornate main room. This is very much a place where stopping in for a drink can result in a night-long party where expectations and innovations dissolve as quickly as a sugar cube in an old fashioned. -- YE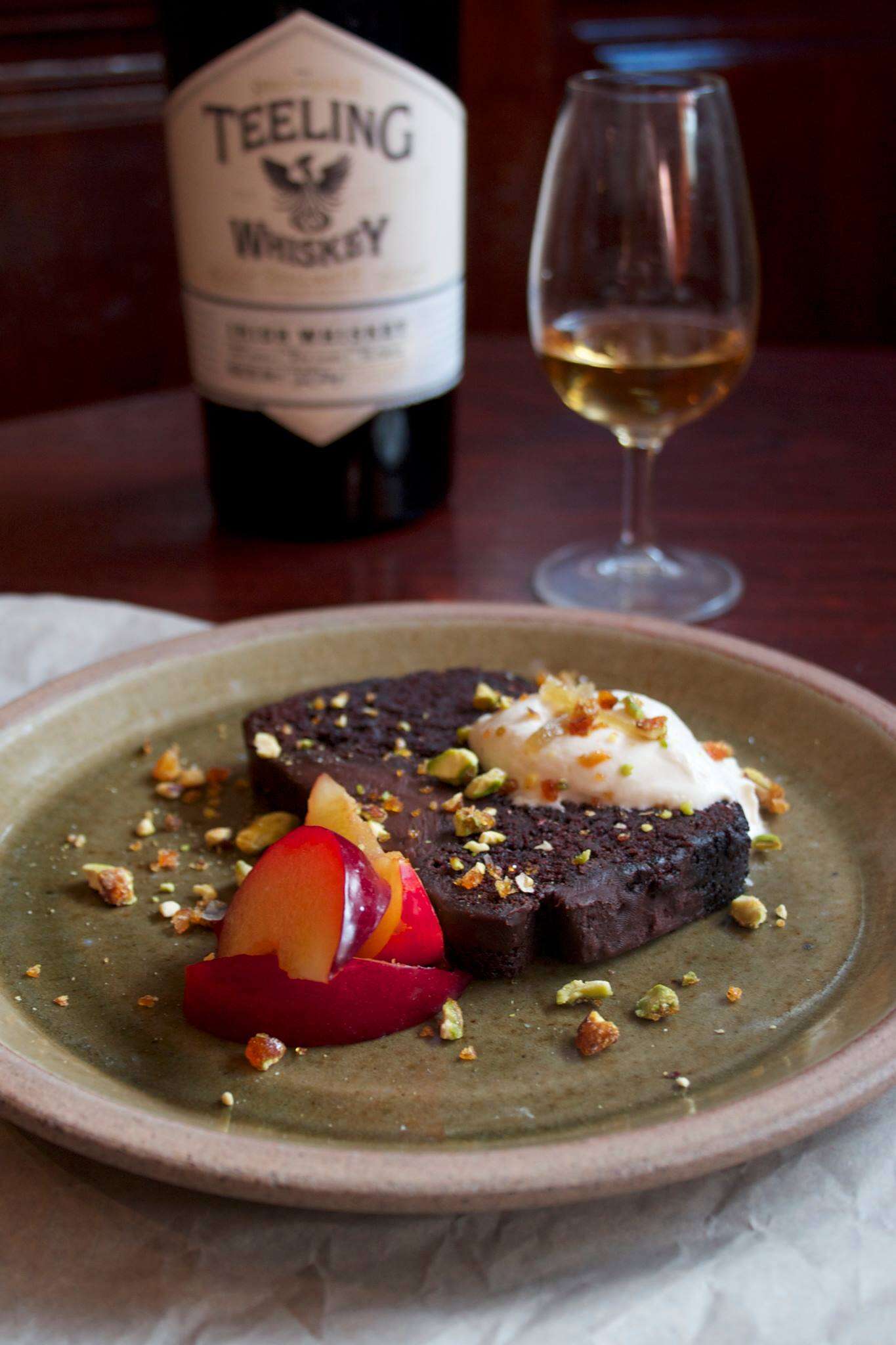 Stoneybatter
A gastropub with an old-school bar vibe in the ultra-hip Stoneybatter neighborhood, L. Mulligan. Grocer. charms with little touches like menus tucked into old books and bills delivered in vintage tins with candy. But the food takes it to the next level, with fare like a killer Scotch egg and a venison pie standing out. If you're looking for a Guinness, you're out of luck: This is one of the only Irish bars without the black stuff. Instead, choose from 24 craft taps and 150 bottles on offer, or dive into the 200-deep whiskey list, which could inspire you to go buy a full bottle at Mulligan's nearby shop in Powerscourt Centre, one of the best places to spend a rainy day in Dublin. -- YE
Docklands
This legendary Irish pub on Poolbeg Street is a cultural institution that Judy Garland, Seamus Heaney, James Joyce, and John F. Kennedy have graced for a few pints. It's the original shebeen (unlicensed drinking venue), and has been around since 1782, when it became a legal watering hole. It's truly a traditional Irish pub as it serves no food nor is there music: just pints and a good time. Instead of a Guinness, try Mcardle's Irish red ale, best enjoyed in a dark corner hidden behind the confessional screens. There's no better, more intimate place to plan your next move on a bar crawl. -- YE
Temple Bar
Look for a tiny VCC sticker on a nondescript door in bustling Temple Bar and you'll find the entry into Vintage Cocktail Club, a hidden gem in the most literal of senses. Ring the doorbell and you'll gain entry into a low-lit, cozy living room of a cocktail den.
The cocktail menu can be a little overwhelming -- there are over 80 options all divided by different eras from the early 1400s to modern times -- but rest assured there are no wrong choices. Try the Sherry Cobbler made with 1840 Tio Pepe dry sherry, orange slices, and fine caster sugar on crushed ice with fresh fruit to get your night going. This candlelit bar is the right spot to savor your cocktail in peace without loud music in the background: the perfect antithesis to the average Temple Bar experience. -- YE
Creative Quarter
P Mac's is the kind of place that's almost impossible to resist when you walk past its door, the spot where you can't help but peek through the window just to see what the craic is like inside. Right in the middle of town, between the tangle of bars of William Street and George's Street, P Mac's has that perpetual "meeting place" vibe. There's a great selection of craft beers on tap, and the candles on each of the tables give off a supremely flattering light (an important thing to note when you're a couple of beers in). The mishmash of squishy seats and grandmother-esque furniture adds to the cozy vibe. -- NB
Stephen's Green
One of the absolute best cocktail spots in Dublin, Peruke & Periwig. looks teeny tiny when you first walk in, but there are three floors to explore, each with a cool, courtesan boudoir aesthetic. Upstairs, you can snuggle up on velvet armchairs underneath oil paintings, but I prefer to nab a seat on the couch downstairs, so you can watch the mixologists do their thing. The cocktail menu isn't as overwhelming as it can be in other places, but I still prefer to leave things in the hands of the bartenders, telling them what I like (Sours! Citrus! Bitters!) and leaving the decision making up to them. -- NB
City Center
Walk into The Long Hall, and you'll be wandering into a space that's barely changed since 1881 (though it's been around even longer than that). This classic Victorian pub is one of the most inviting spots in Dublin, all carved mahogany and red leather banquettes. But the best thing about it? When it gets busy enough, they do table service, so you don't even need to get out of your seat (which is just as well, because there's always a swarm of vultures waiting to pounce on an empty table). -- NB
Temple Bar
The Bison Bar is a Texas cowboy-themed BBQ joint smack in the middle of the ever-bustling Temple Bar neighborhood. The menu (which, truth be told, I haven't sampled) includes requisite bites like pink-ringed brisket, pulled pork, and burnt-end beans. But it's the whiskey that truly stands out: with more than 150 kinds on offer from throughout the world, allowing you to create a flight spanning Japan, Ireland, the US, and beyond.
If whiskey is not your thing, you might be in the wrong country. But you'll still find more than 50 tequilas as well as a robust cocktail menu and craft beers. Oh, and the seats are shaped like saddles. For Americans, it's likely to give you the same feeling a Dubliner might have in a shamrock-bedecked "Irish" bar shilling corned beef in Austin. Just go with it! -- YE
Yolanda Evans has spent the last 20 years living in and traveling to Ireland. Her work has also appeared in Zora, Forbes, Travel & Leisure, Wine Enthusiast, Lonely Planet, The Cocktail Lovers, and . She also contributed to Savoring Gotham: A Food Lover's Companion to New York City, a comprehensive reference book about New York City culinary and drink history. She travels the world to drink and seek out obscure booze knowledge. It's a hard life, but someone's gotta do it.
Nicola Brady is a travel writer living in Dublin, who spends far too much time thinking about sandwiches (and even longer talking about them). She writes for the Irish Independent, Condé Nast Traveler, the Evening Standard, and more, and hopes that if she spends enough time writing about Ireland, people won't notice that she's actually English (apologetically). Follow her @nicola_brady