Underrated New England Towns You Should Spend More Time In
Portsmouth, New Hampshire

| Jo Ann Snover/Shutterstock
Portsmouth, New Hampshire

| Jo Ann Snover/Shutterstock
For most people, the terms "quaint" and "New England" are interchangeable, and even in the cases of some of its busiest tourist locations, this can still ring true. But there's something special about hitting the road and discovering the historic towns locked in time, low-key beach communities without insane traffic, and sleepy hamlets with gorgeous mountain views. Dodge the crowds at the Cape, Portland, and Newport -- these are New England cities just far enough from the beaten path.
Marblehead, Massachusetts
Why it's so great: If Salem is the North Shore's magnet for witch tourism (a thing!), then consider Marblehead the calmer companion that can win you over without a gimmick. Founded as a fishing town that has had its hand in every aspect of the boating business at some point (including a claim to be the birthplace of the American Navy), Marblehead's tight, winding streets between historic homes are a time warp for anyone walking them. To get the full effect, it's worth a trip out on the Neck to Chandler Hovey Park for views of the Marblehead Light and panoramic views of the surrounding rocky shores, or up to Old Burial Hill for sweeping harbor vistas (especially when there's fall foliage involved).
Must-eat food:The Landing is a great spot for anyone looking to eat (literally) right on the water, and breakfast at Driftwood is a great way to brush elbows with locals while feeling like you've stepped into the town's nautical past. If you make enough local friends there, follow them to Maddie's Sail Loft for a seafood dinner and drinks.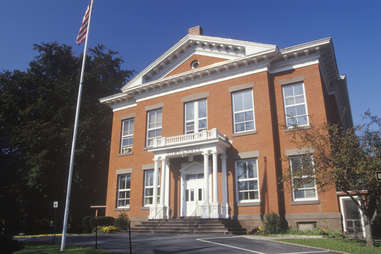 Great Barrington, Massachusetts
Why it's so great: Calling Great Barrington the "big city" of Southern Berkshire County would be a stretch, especially considering that the town has a population of 7,000. But there's plenty going on here, including shows, movies, and concerts at the Mahaiwe Performing Arts Center, locally owned shops and galleries, and a ton of restaurants and cafes. Also, you won't forget you're in the Berkshires: it's part of the Appalachian Trail Community, and you don't even need to leave town for skiing or snowboarding in the winter at Ski Butternut.
Must-eat food: Prairie Whale has become a hit thanks to its fried chicken and cocktails. If you ask locals, they'll probably tell you that the inventive menu at Allium makes it their go-to spot for great dinners (especially the pizza or gnocchi).
Northeast Harbor, Maine
Why it's so great: When planning a New England bucket list trip to Acadia National Park, anyone looking to avoid the insane summer crowds of Bar Harbor will appreciate the more quiet, laid-back across-island "suburb" of Northeast Harbor. There you'll find more mom-and-pop stores and antique shops than tourist traps hawking tchotchkes. If the stunning harbor views were good enough for residents like the Rockefellers and Astors, it can't be half bad. Plus: low traffic.
Must-eat food: The Docksider is as New England as it gets with seafood selection, and to no one's surprise, the chowder is fantastic. The Colonel's Restaurant is the best way to get in a quick lobster roll or a solid breakfast, especially with its donuts (little-known fact: Mainers love donuts).
Bath, Maine
Why it's so great: This town of roughly 8,000 people gets around 20,000 visitors a year, which should speak volumes of its appeal in comparison to heavily trafficked Maine spots like Boothbay Harbor, Ogunquit, and Old Orchard Beach. Once big in the iron, brass, and shipbuilding industries, the town is packed with well-preserved 19th-century architecture, a maritime museum, popular beaches and nature preserves, and beautiful views of the Kennebec River. If you've got good weather, don't think twice about jumping on a boat to check out Seguin Island and its lighthouse (the state's second-oldest).
Must-eat food: The breakfast at Mae's Cafe is not to be missed, unless passing up a life-changing lobster omelet is your idea of a successful trip to Maine.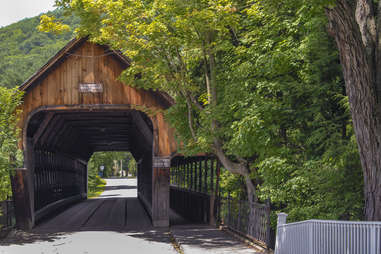 Woodstock, Vermont
Why it's so great: Calling something a "small town" in Vermont is essentially a blanket statement, which makes it all the more difficult to find something considered truly overlooked. But Woodstock truly passes. It's a town filled with bucolic charm (it still passes information around town via a chalkboard known as the Town Crier) and that famous Vermont natural beauty. No massive ski resort here; instead the draws are hiking, fishing, rock climbing, museums, and an outsized restaurant scene. It also puts you within striking distance of easy side trips, including the impressive Quechee Gorge.
Must-eat food: For a town that qualifies as "quaint" even on the Vermont scale, there's more to eat than you'd ever expect. Worthy Kitchen is a perfect spot for casual eats like wings and brisket (along with a killer beer selection, but then again, this is Vermont), and the farm-to-table options like Keeper's are a must-do for anyone driving through the area.
Milford, New Hampshire
Why it's so great: Maybe what makes Milford a lesser-known town is that most of what you can see here are direct relics of the past. You can spend the day exploring the "ghost town" of Monson, catch a movie at the local drive-in theater, or take a walk across the century-old Swing Bridge which leads right to the low-key Downtown area. The shops and restaurants along Main St and throughout town are locally owned (and proud of it), so expect to cross paths with plenty of longtime locals as you go.
Must-eat food: The casual dining around town is among some of the best in the Granite State, including Papa Joe's Humble Kitchen for burgers and poutine, the Riverhouse Cafe for pancakes or eggs Benedict, or the locally adored Red Arrow for diner food galore. If you're looking for a fancier dinner, head to the Mile Away for higher-end fare before finishing the night with a dessert run to Hayward's Ice Cream.
Westerly, Rhode Island
Why it's so great: If you ever lose it on a map, remember that it lives up to its name as the literal westernmost nub of Rhode Island jutting into Connecticut. While it slowly gains notoriety as a travel destination, the beaches, parks, and shops remain nowhere near as crowded as Newport or Mystic, Connecticut. Beer geeks will go nuts for the taproom at Grey Sail Brewing (seen by many as the best beer made in the state) and wine fans can stop into Langworthy Farm Winery's tasting room (yes: they make wine in Rhode Island) for tasting flights. You also won't regret tacking on a quick trip through equally charming and neighboring Stonington, Connecticut, just across the state line.
Must-eat food: Breakfast and lunch needs are best met at the Cooked Goose (especially the lobster Benedict), seafood and solid vegetarian options are the name of the game at the Bridge (especially with the outdoor seating), and Oak Street Burgers & Breakfast will not disappoint your beef craving (especially the namesake burger).
Portsmouth, New Hampshire
Why it's so great: For a lot of New Englanders, Portsmouth acts as the small city they can visit to feel like a traveler in their own region. There's a smattering of great breweries (including Earth Eagle Brewings and Portsmouth Brewery, Smuttynose's sister operation), some of the most outstanding seafood options in New England, a picturesque Downtown with independent shops during the day and lively bars at night -- and all with a fraction of the tourists crawling the Cape or in Southern Maine. The coastal views only improve if you take a trip out to the Isles of Shoals.
Must-eat food: Having a pint and a delicious sandwich for lunch at Ceres Bakery might be the best way to unwind on the road between Boston and Portland, and the burgers at Lexie's Joint are top-notch. But if you can find a more pleasing New England experience than eating clam chowder and sipping a beer while watching tugboats pass at the River House, let us know.
Tiverton, Rhode Island
Why it's so great: Tucked into the eastern shore of Narragansett Bay in the easternmost corner of Rhode Island, Tiverton represents a very different feel than the anything in the surrounding area. Separated from the rest of the state (along with adjacent town Little Compton), Tiverton feels blissfully underdeveloped, where you can ride along bike paths to take in historic buildings, breathe in the sea breeze on the beach (both in town are popular for windsurfing), and meander through tiny shops and galleries.
Must-eat food:The Boat House is known in and around town as much for its seafood (duh) as its epic views of the bay. Gray's Ice Cream is also a statewide favorite for anyone with a sweet tooth.
Putnam, Connecticut
Why it's so great: Antiquers know this tiny town, where abandoned mills and storefronts along Main St are hosts to some of the least picked-over stores in all of New England. But there's also a locally operated restaurant scene, non-touristy modern shops, and friendly locals who won't mind chatting you up. It doesn't hurt that there's plenty of nature to take in on the drive into town, either.
Must-eat food: The American fare at 85 Main is as popular with the locals as it is with visitors (especially the sushi and raw bar). If you're getting into town to hit the shops early or you're looking for breakfast after spending the night, Bill's Bread and Breakfast is a must-do.
Sign up here for our daily Thrillist email, and get your fix of the best in food/drink/fun.
Zach Mack is a Thrillist travel and beer contributor who gets pretty excited when he wakes up to flight-booking confirmations he forgot he made. He also writes about beer from time to time. Oh, and he's a born-and-bred New Englander who wishes he could spend his entire summer in all of these locations. Follow him @zmack.