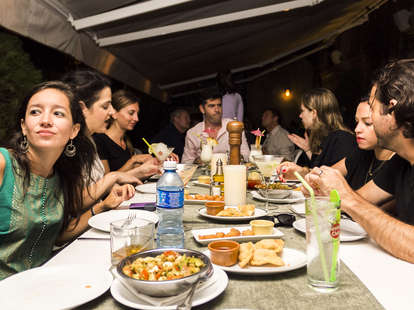 You want to go to Cuba. Our editors have been to Cuba. And they'll tell you everything you need to know, right here in The Havana Club.
There are two types of restaurants in Cuba: those that pretty much only serve monumental piles of meat/rice/beans, and those that... um, don't. Traditional Cuban food is inescapable in Havana's restaurant scene, but with the emergence of paladares -- privately owned restaurants (as opposed to the traditional Government-run eateries of the past) -- and enterprising young chefs putting fresh spins on classic dishes, Havana dining is getting hotter than Tony Montana at a K-9 convention.
Since travel restrictions from America to Cuba have eased, I traveled to La Isla Grande personally, and sampled the cream of Cuban cuisine. Here are the spots you need to know about. Also, please note: Cuban sandwiches are actually American, and Al Pacino is definitely not a national icon (trust me on this one).
Vedado
Situated in the same abandoned factory as the outrageously fun club/bar/concert venue/art gallery La Fabrica in the trendy Vedado neighborhood, El Cocinero would fit like an Etsy-sequined glove in any hip 'hood in the States (here's looking at you, Williamsburg). Look for the 50ft brick smokestack atop the rooftop dining room. Follow it to rum and meat. Rejoice.

Vedado
Spanish for "the orange tree," this paladar feels like entering someone's trendy house that has been converted into an even trendier restaurant -- which is exactly what happened. It's your standard Vedado mix of Cuban fusion in a chic, neon-lit setting, but what sets it apart is an elaborate and nuanced menu that expands upon traditional dishes. Couple that with frequent live music, and an unbearably hip crowd that would put any Brooklyn scene to shame, and you've got one of the crown jewels of the Cuban dining landscape.
Old Havana
Just off Plaza de la Catedral, you'll fine delicious Cuban fare in the original design of the eponymous founder, whose portrait still resides above the entranceway. Expect a basic choice of pork, chicken, or beef, and what has to be one of the most delicious frozen mojitos on the entire Island.
Doña Eutemia is just steps from the artist collective Experimental Graphics Workshop, so grab a few prints, dodge the overaggressive touts trying to get you to eat in more touristy paladars, then walk off your massive portion of ropa vieja and mojito buzz on the streets of Old Havana.

Miramar
Visitors looking for a Cuban eatery that eschews tradition should look no further than this sleepy little bistro in the heart of the Miramar neighborhood, known as the the purveyor of the finest Italian food in Havana (which frankly, isn't much of a competition... but still). Fresh pasta of almost every variety is served up here -- but at a price. This is one of the more expensive options on this list. What? Did you expect a plate of tagliatelle al fungi alla marinara to come cheap in the middle of Cuba?
Miramar
Here's the thing about Cubans and dining out: because so many restaurants serve variations of what they would have at home anyway -- and, many Cubans lack the disposable income needed to eat out frequently -- the most popular restaurants in Havana either a) serve something radically different than what they'd cook at home, or b) serve massive portions of cheap food. La Chucheria hits both quotas. It's a simple pizza and sandwich joint, set up like a traditional Western diner. Stop in here if you are short on cash, or just a little homesick for some good ol' American-style grease.

Barrio Chino (Chinatown)
There's a surprising amount of Chinese history and influence in Cuba, and it's centralized in Havana's Barrio Chino (Chinatown). Tien Tan is spot that won't blow away your taste buds, per se -- it's pretty close to a less-flavorful American-Chinese food restaurant -- but it's cheap, and relatively close to something an American would eat back home. Still, there's something special about eating American-leaning Chinese food in the heart of Havana.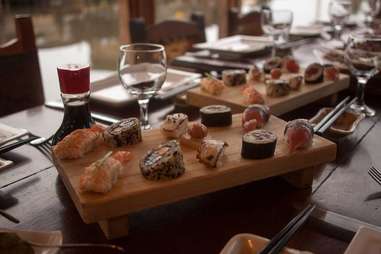 Alameda del Siboney
A decidedly un-Cuban venue in Havana, Santy is an open-air, palatial Mediterranean/sushi restaurant on the docks of the Rio Jaimanitas. It's technically "hidden" (if you don't look up the address on Google Maps, that is) but that doesn't mean the house isn't packed with tourists and locals alike any given evening. Don't expect VIP service here: it's quick and laid-back. Who hasn't dreamed of munching California rolls 3ft away from Cuban boats and fishermen?

Vedado
A Parisian-style cafe in the midst of Havana?! Hemingway's head might explode at the prospect, but it's real. And it's spectacular. Caviar, duck, an overpriced wine menu -- it has all the tenements of a traditional French restaurant. Sensitive lighting, a quiet ambience, and an air of European class make this one of the more unique paladares in all of Cuba, and a truly rare dining experience overall. Plus, all snooty French waiters are replaced with genial Cubans. Magnifique!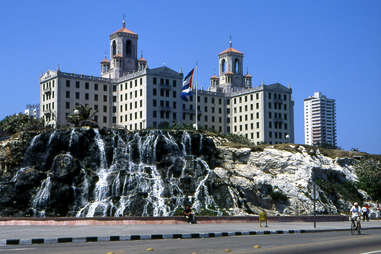 Hotel Nacional
Inside what is probably the most renowned building in all of Havana lies the most well-trodden (for tourists, at least) Government-owned restaurant in Cuba. Giving off some serious late-'50s glamour, this upscale eatery is inside Hotel Nacional's lush gardens on a cliff overlooking the Atlantic Ocean. Snack on Cuban-infused Creole, and hold your breath if you aren't into a side dish of cigar smoke.
Vedado
Another entry in the trendy Vedado dining scene, Atelier has a distinctly idiosyncratic layout, as it resides within an antique mansion littered with rustic typewriters, sewing machines, and sprawling couches that make it scarily easy to indulge in one-too-many Cuba Libres. Atelier aspires to bring a new level of excitement to Cuban dining, and offers dishes like conejo al vino (rabbit in wine) and duck confit, in addition to more traditional fare.

Central Havana
Quintessential Cuban charm seeps from the cluttered walls of this Central Havana restaurant, powered by chef Carlos Cristóbal Márquez Valdés. All that TGI-Fridays-esque wall flair manages to dodge chintz and remain charming, though. The restaurant looks like someone's house, because it is someone's house. The upstairs is an actual living space, while the downstairs hosts San Cristóbal. If you want upscale desserts in Havana, this is a safe (and delicious) bet.
Miramar
One of the most famous restaurants in all of Havana (and by extension, all of Cuba) La Guarida is NOT an airport serving the greater-NYC area. It is, however, an upscale eatery on the top floor of a dilapidated building that has become a tourist dining destination actually worth its salt. Celebrities like Sting, Jack Nicholson, and Prince Albert of Monaco (!) all stopped by on their trips to Cuba, and you can, too, so long as you make a reservation. Serving contemporary Cuban-fusion, La Guarida could be considered Havana's premier paladar.

Miramar
If you want a distinctly upscale dining experience during your Havana nights (dirty dancing is optional), Cafe Oriente may be as classy as it comes. This government-run restaurant is where local politicians take visiting dignitaries and diplomats, but you can go here, too.
The digs look like a set piece from Midnight in Paris, your waiter will be wearing a tuxedo, and your bill will probably hit triple figures. Traditional bougie dishes like filet mignon and lobster thermidor are served while a live piano player (also in a tux) serenades.
Sign up here for our daily Thrillist email, and get your fix of the best in food/drink/fun.
Wil Fulton is a staff writer for Thrillist. He did have a Cuban sandwich... in the Miami airport. Follow him: @wilfulton.