Frituras at Lote 23

| Cole Saladino/Thrillist
Frituras at Lote 23

| Cole Saladino/Thrillist
11 Dishes & Drinks You Absolutely Must Try in Puerto Rico
If you're even thinking of being in Puerto Rico, check out the rest of our DestiNATION Puerto Rico travel guide. It's stacked with expert advice from locals on what to eat, where to go, and what to do on the Island of Enchantment.
Sunshine, beaches and a laid-back lifestyle get all the credit for luring visitors to the Caribbean. Puerto Rico is no exception, offering attractive weather, abundant stretches of sand and diversions fitting for every traveler. But there's one facet that helps the Island of Enchantment stand apart from the rest: the food.
Puerto Rico has a distinct culinary prowess, thanks to its cultural and geographical diversity. A strong blend of European, African and Pan-American influences define the island's cooking, like sofrito -- a blend of onion, garlic, local peppers, and herbs like cilantro and culantro -- which marks a dish as typically Puerto Rican. While the island has long relied on importing its food (even more-so after Hurricane Maria) there are plenty of purveyors promoting the home-grown, whether selling wild-growing tropical fruits; fishing from the Atlantic and the Caribbean; cultivating coffee from the mountainous central corridor; or farming tubers, vegetables, and livestock. Then there's rum, that essential warm-weather refresher. All of it encompasses the island's distinct Criollo flavors.
When you visit, let your appetite dictate the itinerary. Exploring the island via these 11 dishes (and drinks) is a tasty place to start.
What to Eat and Drink in Puerto Rico
Grab the hot sauce and your stretchy pants: Here's the lowdown on some of Puerto Rico's most signature dishes.

The first thing visitors will notice is that Puerto Ricans love their pig. Every. Single. Part. Of. It. Lard was the preferred cooking fat for centuries, whether making a simple rice or for deep-frying. Chunks of jamón are often found in a pot of beans while chicharrones -- pork rinds -- are a favorite snack. The beast truly shines when given center stage, like during a pig roast, the perfect excuse to gather family and friends for a day-long social event. Called lechón, whole roasted pig is considered Puerto Rico's national dish, so much so that there are even "pork highways," lined with lechoneras where locals will spend the day hopping from one pork palace to another. It doesn't stop with lechón, though, as locals will devour all parts -- stewed, grilled, stuffed in a sausage casing, piled on a sandwich -- any which way they can.
Aguas Buenas
Locals consider Luis "Apa" Ramos the pope of pork for good reason: He's honed his craft over nearly four decades. Rightfully, his rancho is something of a shrine for porcine-loving pilgrims. Apa's "ranch" consists of a line of cinder block roasting pits surrounded by tables and chairs under a corrugated metal roof, where loyalists line up as early as 9am to savor his prized, impeccably-seasoned pigs. His proprietary blend of seasoning -- which includes salt, garlic, oregano, adobo and a slew of family secrets -- is slathered onto each 90-pounder before it's roasted slowly for six hours. When ready, the master himself butchers each beast. The succulent meat, complete with crackling skin, comes served with all the traditional sides -- rice with pigeon peas, blood sausage and pickled green bananas -- a feast you won't soon forget.
San Juan
Coming second only to whole hog cooking, pernil (pork shoulder) is probably Puerto Rico's favorite cut. And this kiosk -- or, rather, Airstream -- in al fresco food park Lote 23, proffers a mouth-watering example of just how tender pernil can be. The "Revolución es Orden" sandwich stacks slow-roasted pernil, radish, carrot, plantain chips, cilantro and spicy mayonnaise in soft brioche. Grab one for strolling the park, catching some live music, or watching a sporting event.
Rincon
Supper and sunset are an unbeatable combination, and the pairing is readily available at one of the west coast's favorite locales since the 1970s. Here, the pork tenderloin is the star. Glazed with tamarind and crusted with coriander, it is grilled until the sour-herbal flavors infuse the meat. A batata (sweet potato) mash completes the cheffy presentation.

It's almost laughable that some consider garlicky, salty, hearty and homey mofongo a side dish. Generously garnished with meat or fish, it's a meal unto itself. Made with fried green plantains mashed in a pilón (a traditional wooden mortar and pestle), the resulting edible vessel is speckled with pork cracklings, moistened with sauce or broth, and then topped with chicken, or pork, or shrimp.
Cataño
This restaurant includes a subtitle on its social media: La Casa de los Rellenos. Altogether, its name translates to "The Tasty Point, House of the Fillings." The house specialty, a variety of volcanes (volcanoes) get their name for the carefully-prepared fillings erupting from mofongo mounds topped with shrimp, land crab, chicken, pork or steak. All that's left to pick is your sauce: The tomato-based Criollo or a garlic-broth. The Cataño location is also convenient for a pre-or-post Casa Bacardi visit.
San Juan
Here you can try variations on the mash, including a trufongo, classic mofongo scented with truffle oil, or a yucafongo, made with yucca instead of plantains. The yucca version is delightfully drenched with garlic sauce. Enjoying it all on trendy Loiza Street, especially when on the outdoor terrace, represents one of San Juan's most atmospheric experiences.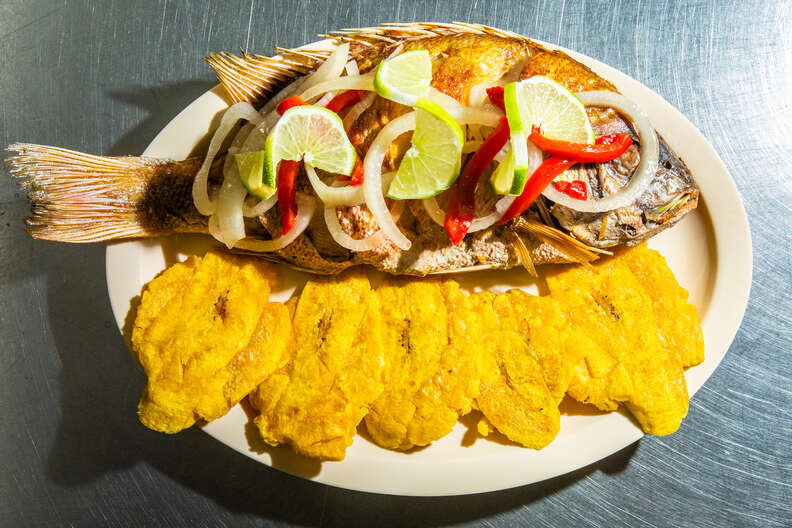 The Caribbean Sea and the Atlantic Ocean provide plenty tasty bounty for Puerto Rico. When ordering fish, order it whole and deep-fried -- in his cookbook, Puerto Rico True Flavors, chef Wilo Benet says deep-frying fish is the "most reassuring" way of preparing it. Whole catch snapper -- red, yellowtail and queen -- is the most common found on menus. Simply seasoned with adobo, fried until crispy, it is often served with lime, garlic butter or garlic oil. The crunchy tail is an especially coveted bite.
Arecibo
Though the catch of the day changes daily at this coastal restaurant, pray that the queen snapper is available, especially if you are with a group. The meaty fish is large enough for a crowd, its flesh scored for easy removal (and sharing). The whole fish is dramatically presented fresh to diners before cooked, then served on a platter, sprinkled with cilantro and garnished with lime wedges. The oceanfront setting and the stunning sunsets, meanwhile, are a whole show in themselves.
San Juan
James Beard Award nominee Jose Enrique Montes's deep-fried yellowtail is a sight to behold: golden-hued, curling, its rigid tail upright. Cubes of avocado and papaya add color, and a sweetly smooth counterpoint to the delicate, salty fish -- deboned, which is a major plus. And it's not the only whole fried swimmer on the menu. If you're feeling nibbly, go for the minutas, an appetizer plate of small deep-fried snappers, meant to be eaten bones and all.

Essential. Obligatory. Expected. Arroz con habichuelas (rice and beans) are the archetypal staple of Puerto Rican cuisine. The rice, usually white, is either short or medium grain; beans can be red, white, pink or black, stewed in sofrito-scented broth, sometimes with a touch of tomato, often dotted with calabaza, ham and olives. This ubiquitous side dish can be served separately or a caballo (on horseback), meaning a dollop of beans smothering the rice. Meanwhile, mamoposteao is a stew of rice and beans cooked together. No matter what form it takes, expect to have a little r & b with every meal.
Las Croabas
This atmospheric east coast BBQ joint, set inside a former service station, provides equal-opportunity for non-meat eaters with a vegetarian version of rice and red colorado beans braised in Medalla, Puerto Rico's local light beer. The dish is a great enhancement to chef Kevin Roth's other specialties, like grilled whole lobster or the pitmaster sampler of ribs, brisket, ribeye, and Cornish hen.
San Juan
A one-stop spot for all of Puerto Rico's staple dishes, the rice and beans at this hacienda are always on point. Diners might go the regular route of a bowl of soupy beans alongside a mound of ivory rice, but the mamposteao de mar y tierra ("surf and turf") is next-level: a rich stew of rice, mussels, white beans, chorizo, vegetables and fried plantains topped with chorizo foam.

If someone offers you "algo para picar," take them up on it. It means you're about to enjoy deep-fried snacks, the ultimate island appetizers. Puerto Rico's myriad frituras are a huge part of the island's beach culture, best enjoyed with a waft of ocean breeze. The kiosks of Piñones and Luquillo are built upon treats such as tostones (twice-fried green plantains); chewy discs of codfish, known as bacalaitos; and almojábanas (rice flour and cheese fritters). Each region of the island has its specialty -- such as rabbit pastelillos (turnovers) in the mountains and land crab-stuffed alcapurrias (root vegetable fritters) on the coasts. A dash of pique (vinegary hot sauce) or a slather of mayo-ketchup (exactly what it sounds like) always maximize enjoyment.
Piñones
After a sun-drenched day cruising the Laguna de Piñones, tie up your boat to the wooden dock and take a shady seat under a palm-frond umbrella. From inside, you'll smell an enticing aroma wafting from the canary yellow casita. Over a cauldron of bubbling oil, cooks are frying up arañitas (shredded green plantains) and sorullitos (cornmeal fritters). Crack open a cold, cold Medalla beer -- why complicate matters with anything else? When your order arrives, toast to the perfect Puerto Rican moment.
San Juan
No trip to Puerto Rico is complete without tasting the iconic alcapurria, and there's no better San Juan spot to do it than this friendly corner just off the lively Placita Santurce, where there's a salsa party in the streets practically every night. The green plantain and taro root fritters, scented with achiote oil, are stuffed with beef, bacalao, pork or corned beef in traditional oblongs, or in round bolitas form. They're essential fuel for dancing the night away.
San Juan
No one classes up fritters like chef Juan Jose Cuevas, who has an especially deft touch when it comes to croquettes. His codfish version comes whipped with a touch of béchamel and flecked with green onion and shaped into rounds, fried until delicately golden. They are the embodiment of the chef's pedigreed experience and love of local cuisine.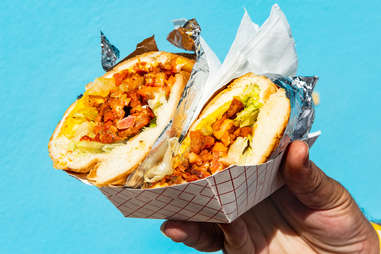 When it comes to these distinctly Puerto Rican sandwiches, three meats are better than one. Deep breath: A classic tripleta combines chicken, beef and ham, piled on French bread and capped with lettuce, tomato, onion, and potato sticks for crunchiness. The whole shebang is doused with mayonnaise, ketchup and mustard for moistness. Known for their power of staving off hangovers, tripletas are sometimes griddled, especially if Swiss cheese is slipped into the mix. Usually served from a cart or food truck, these are the favorite late-night indulgence for students, stoners and bar-hoppers.
Various locations
This popular food truck first parked outside the Interamerican University in San Juan 21 years ago, and since then has fed generations of students. Though known for its 4am closing time, the truck has over a dozen locations these days, and now boasts a brisk daytime business. Though the menu has grown to include various combos, the original "mixto" is the gold standard for tripleta purists.
Caguas
A fast-food spot that anoints itself "La Casa de la Tripleta," its ample seating makes it a popular destination for families. The "Divo's Special" helps the tripeltas here stand-out, thanks to finely-chopped chicken, beef and ham, rolled in soft French bread, drizzled with the house "Divolicious" sauce -- either sweet or hot.
Ponce
For when three meats aren't quite enough, the special "cuartetas" here steps up the game with any combination of four meats, such as pastrami, pork, beef and salami.
Puerto Rico's history of coffee dates back to the mid-18th century, and it was once a vital part of the island's economy. By the late 19th century, its popularity grew astronomically, thanks to the endorsement of the Vatican and several royal courts, making Puerto Rico one of the four top coffee producers in the world at the time. While no longer a major world exporter, its quality remains. Robust, deep and sweet flavors and an intense aroma, distinguishes it from a regular cup of joe -- order it black (espresso), with a little bit of hot milk (cortadito), or mixed generously with steamed milk (café con leche). Though hurricane Maria did a number on the island's coffee crops, it didn't kill coffee culture, which continues to thrive throughout the island.
San Juan
Café Regina originated as a kiosk at the food collective Lote 23, instantly becoming a destination for morning and post-meal klatches for its specialty coffee. A second location in Santurce is particularly well-located, just between artsy Loiza Street and the beach. In addition to the usual coffeehouse quenchers, offbeat offerings include chocolate chip cookie milk iced latte -- a cup of cookie milk, espresso and chocolate shavings. Owner Kali Solack is a founder of Beans for Puerto Rico, a post-Maria initiative that collects donated coffee beans and distributes them to cafes on the island.
Rincón
The surf set loves this cart, dedicated to serving only local coffee, for a foamy grab-and-go boost before tasting the waves. The lauded lattes can be enhanced with over a dozen syrups, from coconut to mint mocha to marshmallow.
San Juan
The Cuatro Sombras family has been harvesting island coffee since 1846. Owner Pablo Muñoz carries on the tradition of his forebears today not only by continuing to plant and harvest the single-origin coffee in Yauco, but also by promoting it in a charming café in Old San Juan. A micro-roaster on site fills the space with seductive aromas; that alone often encourages visitors to stay for lectures, cuppings and workshops, while sipping generations of flavor.
This soupy rice is the island's definitive comfort food. It is a traditional cold remedy, and a savior from a hangover, say pro-tipplers who will down a bowl before bedtime after a night of revelry. Whether chicken, shrimp, or pigeon pea-based, it is always soft and emboldened with a potent broth scented with sofrito. Just ask any local: their abuela makes the best.
Rincón
It makes sense that one of the oldest restaurants in Rincon would be known for an island signature. Since 1965, this spot within the Villa Cofresí Hotel has dished up an iconic chicken, shrimp and lobster asopao. Just as recognizable as the dish: is the restaurant's 1970 mural of Puerto Rican pirate Roberto Cofresí, a Robin Hood-esque legend of the island, known for distributing his loot to the poor.
San Juan
This mom-and-pop shop offers a refreshing refuge from too-hip Loiza Street. Once inside, lose yourself in a steaming bowl of asopao from the daily menu. Whether it's packed with chicken, pigeon peas, or bacalao, it's always a good bet. Eat it slowly, and relish the small touches of charm -- the smiling staff, the vase of fresh flowers on the bar -- along with the dish.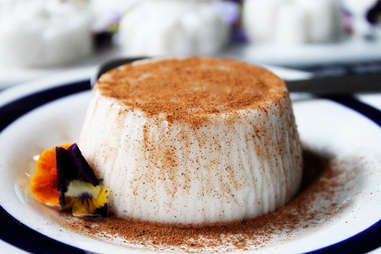 Smooth yet jiggly, tembleque (the word literally means "trembler") is a stiff pudding traditionally made with coconut milk, sugar and cornstarch. A simple sprinkling of cinnamon on top completes the classic. No holiday dessert table is complete without it.
San Juan
Barack Obama ate here, an occasion marked on a plaque on the table which he graced. The former president enjoyed a medianoche sandwich, which no doubt was perfectly fine, but he definitely missed out by not ordering the bakery's luscious tembleque squares, prominently displayed in the pastry cases -- as straight-up and true-to-form as it gets.
San Juan
Chef Gabriel Hernandez is known for his locally-sourced menu, and for being long-listed for the James Beard Foundation Awards. His charming, tin-ceilinged Old San Juan restaurant is especially lauded for being vegetarian and pescatarian-friendly. There are only one or two desserts on offer, and you can count on one of them being tembleque. Wholesome and super creamy, the pudding is cut into half-moons, graced with starry dabs of cream, adorned with candied orange peel and sumac, it's a wonder why more people aren't talking about that.

Puerto Ricans scarf these puffy, sweet, spongy bread rounds for many a breakfast. Whether eaten with a simple sprinkling of powdered sugar, or fashioned into an egg sandwich, the buttery spirals originated in Spain but are a purely Boricua obsession. Every family has their preferred local Mallorca bakery.
San Juan
Since 1902, fresh-baked Mallorcas have made this Old San Juan lunch counter/coffee shop a landmark, so much so that it caused a mild panic when it closed for four years. Newly-refurbished, the site still retains its Old World charm, down to the bow-tied waiters. Watching the staff assemble the buns, whether simply buttering and griddling with a flourish of sugar, or quickly yet painstakingly stuffing them with meat or cheese or eggs (or all), is part of the draw.
Cayey
A daytime favorite for this mountain town, artsy Café Patrio is known for baristas with mad design skills, a friendly vibe and a prime perch right on the town plaza. Mallorcas are the key breakfast order here, available simply buttered, spread with Nutella, or stuffed with ham and cheese or turkey and Swiss.

Spirited rum makes the island go "Wepaaaa!" Puerto Ricans didn't invent rum -- that distinction belongs to Barbados, who discovered that molasses, the residual of sugar cane, could be fermented and distilled. Puerto Ricans, however, can be credited with perfecting the process as far back as the late 16th century. Puerto Rico is currently the world's largest producer of rum, aka the favorite poison of pirates. Its varieties -- gold, silver, dark, and aged -- are ripe and ready for mixers, or sipped straight. What else would you expect from the home of the piña colada? (Which has its own spirited history.)
Cataño
The world's largest rum distillery first started producing rum in Cuba in 1830. Today it resides just a quick ferry ride from Old San Juan, and its recently-renovated visitor center provides four tiers of experiences for all levels of rum lovers. The Basic History ($15) features a welcome cocktail and a 45-minute distillery tour. The Rum Tasting ($50) bumps up the history tour with a tasting of five rums. The Mixology Class ($60) primes patrons for the bar, teaching guests how to make three classic rum cocktails, while learning the story of each concoction. Finally, during the Bottle Your Own Bacardi experience ($160), each guest receives a personally-engraved bottle to be filled at a select barrel of special reserve double aged rum. It is sealed with wax, labeled with the guest's name, then engraved. The bottle is then recorded with the guest name and bottle number in the Casa Bacardi Puerto Rico registry.
San Juan
One of the capital's best watering holes happens to feature a monthly Rum Club meeting, especially designed for aficionados. Each month, ambassadors from participating brands conduct tastings at the Taino-tropical bar -- don't call it "tiki." Club member or not, Jungle Bird is a prime stop for rum cocktails, a laid-back but grooving space with indoor and outdoor hangs. Try the classic piña colada, or try the Boriken Green Swizzle, a rum punch with lime and fresh sugar cane.