The Freakishly Beautiful Southwestern Town to Hit When You're Serious About Relaxing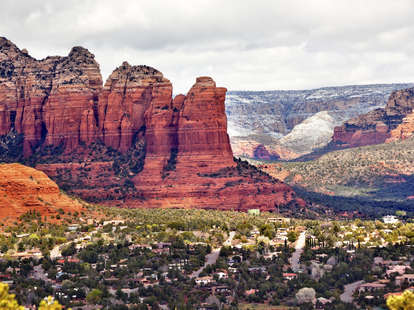 Look, I'm going to be straight with you: Nature appalls me. For 26 years, I've been known to take extensive lengths to find the indoor bathroom closest to the Girl Scout campsite, invent reasons to cling to the ski lodge rather than hit the slopes, and read at a Starbucks while the family snorkels in the ocean. I know, I'm terrible. You can't take me anywhere.
When my girlfriend wanted to spend her 30th birthday road-tripping through Arizona, I knew that hiking and gawking at the world's most famous death hole (i.e., the Grand Canyon) wouldn't be my first-choice trip. But some new hiking boots and some (many) deep breaths later, I was the one pushing for one last hike in the Sedona sunset, just one more outdoor adventure in this red-rock playground. Sedona, Arizona -- a mountainous eco-tourism nook between Phoenix and Flagstaff -- wasn't a place I ever saw myself swooning for. Then I found that ruby-hued Martian terrain, the friendly-if-wacky locals, the practically Mexico Mexican food. Go there and you'll love it, down to the last particle of vermillion dust that coats your clothing and luggage weeks after you've left. That is, if you can bring yourself to leave.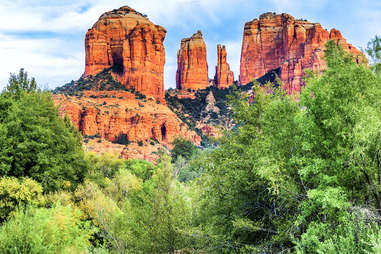 What to do
Tackle the outdoors. Clambering through valleys and over hills is one of Sedona's main attractions, and residents' favorite pastimes. You'll find trails for all skill levels, from walking on flat ground to scaling rocks, all labeled by difficulty before you embark. Pack hiking boots or shoes with traction, plus socks that won't suffer after being dyed red by the dust. Parking at all Red Rock State Park hiking trails is $5 per day or $15 for a seven-day pass. Look for two iconic sights, Snoopy Rock and Bell Rock, from flat trails. Cathedral Rock is another favorite, though the steep climb will require some stamina and appropriate hiking attire.
Amitabha Stupa and Peace Park: This 36ft-tall tribute to Buddha set to a background of red rocks offers a peaceful place for all people to congregate, or wander solo, across the trails throughout the 14-acre property. If you want to spend time outdoors but not attempt anything strenuous, this relaxing religious spot is a must.
Tlaquepaque Arts & Crafts Village: Souvenir obsessives or those who just like to look at things to buy and memorialize them in an Instagram will enjoy a leisurely stroll through this artisanal strip mall of sorts. Turquoise jewelry, slightly overpriced outdoor gear, Southwestern home decor, and plenty of homemade knickknacks should all be on your shopping list.
Chapel of the Holy Cross: This tall, boxy, flat-topped structure built into the buttes above Sedona some 60 years ago is among the most architecturally significant buildings in Arizona. The chapel echoes the colors and shapes of the Sedona red rock and is worth at least a drive-by, though the views from inside the chapel are downright stunning.
… Then get a massage. Sedona is known for its spas, and though some are only available to registered hotel guests (Mii amo and Hilton are a few exclusive spa properties), the spa at the Amara is open to anyone who books an appointment (pro tip: you can use the pool and hot tub before your treatment, even if you're not a registered guest). Treatments start at $80 for a guided half-hour meditation and include unlimited time in the steam room as well as luxury products to use when you rinse off. If you're not into being firmly rubbed, perhaps check out Sedona's other relaxing pastime: reiki.
Where to eat
Sedona is where to find the best Mexican food you'll eat outside of Mexico, with the best sunset scenery you'll see outside of some sci-fi flick. Budget about $35 for dinner with drinks at a sit-down restaurant, and maybe $10 for a hearty lunch of slow-roasted meats and fresh-made salsas that will put you right after a long hike.
Even if you're not spending your days scaling rocks, the fresh tamales, inventive vegetarian feasts, and Southwestern cuisine should lure you to this small city. Mostly it's laid-back, but as Sedona is an early-to-rise, early-to-bed town, dinner may fall between 5 to 7pm. (Retirees.) If you plan to eat during the rush, make reservations, or eat closer to 8pm. Most restaurants (and bars!) close by 10pm, if not sooner, so stock up at the liquor store if you're partial to nightcaps.
The Hudson
Recommended by locals as the "best restaurant in Sedona," this industrial bar and dining room could easily have been plucked out of Brooklyn and placed -- with spectacular red-rock views! -- in Sedona. On the menu are New American small and large plates like Fireball whiskey-coated chicken wings, a signature pot pie emblazoned with a pie crust "H" on top, a triple-blend beef burger, and fresh fish flown into the landlocked town. Expect generous portions with some homemade flare, or as one Sedonian pointed out to me, "it's not gourmet, but it's great."
Elote Cafe
Another local favorite, this upscale, copper table-adorned Mexican restaurant serves excellent margaritas (visit early for the daily special) and a wide range of refined Mexican and Southwestern dishes. Come hungry, but beware of filling up on creamy elote corn dip when platos grandes like carne asada topped with melty Point Reyes blue cheese and smoked brisket enchiladas, all with made-to-order flour or corn tortillas, await.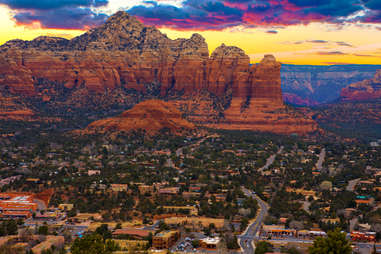 SaltRock Southwest Kitchen
If Top Chef were to host a gourmet Southwestern-inspired elimination challenge, these are the types of dishes you'd see. Break out your inner Padma Lakshmi and dig into wild mushrooms with smoked pine needle and Mexican chocolate, a DIY guacamole kit, and ancho chili-braised short rib tacos topped with beer cheese. Don't forget a margarita, or several, to wash it all down.
Wildflower Bread Co.
Bearing an uncanny resemblance to Panera Bread, this not-at-all-related mini-chain serves up healthy breakfasts, as well as larger meals, at under $10 in a fast-casual environment, complete with views and a fireplace. For a quick, satisfying meal that's not a splurge, this cafe is your best bet.
Tamaliza Market
Some of the best tamales north of the border, these homemade tamales are stuffed with massively flavorful pork in guajillo pepper sauce, chicken in tomatillo sauce, and other tantalizing daily options. Steamed to order, tamales are also available "supreme" style with black beans, fresh spinach, cheese, pico de gallo, sour cream and salsa, but eating them naked (perhaps smothered in avocado salsa) is totally legit, too.
Tortas de Fuego
Looking to fill up on a massive plate of Mexican food? This no-frills Mexican spot offers plastic platters loaded with tacos, enchiladas, and, of course, tortas. A bar of homemade salsas spices up the whole deal, and you'll want a brightly hued Jarritos to cool it all down.
How to get around
Rent a car. The drive from Phoenix is about two hours, only 45 minutes from Flagstaff (which has a small airport), and about four hours from Vegas or Tucson. The splurge on 4WD might turn out to be worth it if you're the type to go turning up rough desert roads.
Where to stay
Accommodations in this low-key, outdoors-obsessed town run the gamut from luxury resorts to bungalows, inns, and guesthouses (both Airbnb and HomeAway have homes and cabins at under $100/night) as well as RV camping starting at $49 per night. The City of Sedona doesn't allow tent camping, but various sites in neighboring towns are happy to let you pitch a tent.
If you want amenities without a second-mortgage price tag, the Kimpton Amara (rooms start at around $240) offers a spacious backyard with red-rock views, an infinity pool, a hot tub, lawn games, and a patio serviced by the hotel's restaurant, SaltRock. Free coffee and yoga classes are available in the morning, plus a daily complimentary happy hour from 5 to 6pm offers wine, a special cocktail, and oftentimes small bites. Rooms are nicely sized (don't bother paying for a view; you should spend all daylight hours outside anyways), and you'll have complimentary valet parking and free shuttle rides.
Sign up here for our daily Thrillist email, and get your fix of the best in food/drink/fun.