The Absolute Best Restaurants in Glasgow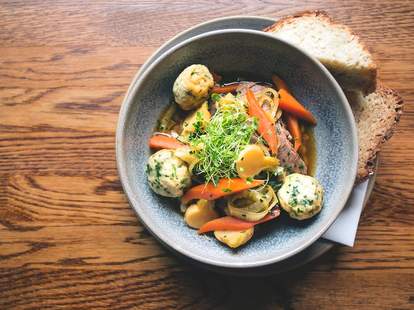 <strong>Porter &amp; Rye</strong> | Courtesy of&nbsp;Good Mint Media
Glasgow's restaurant scene is bursting at the seams these days; from the city centre's mixed bag of cultural influences to the east end's relaxed comfort-food vibes, there have never been more options for every possible taste and occasion. Truth be told, though, all that choice can be a bit of a headache -- and that's why we're here, to walk and talk you through the 12 best restaurants Glasgow's got to offer. Aren't you lucky!
Best burger: <a href="http://www.thrillist.com/venues/buddys-bar-diner-grill-g41-2ab" target="_blank">Buddy's
South Side
Whether you go for a shredded chicken burger, a Creole fish burger, a veggie patty, or good old-fashioned beef, there are no bad decisions here. That said, take our advice and get the Bubba: a double cheeseburger with pulled pork, Carolina mustard sauce, and slaw. It's the best kind of messy goodness. The sides and fries are also amazing; make sure to try the sweet potato waffle fries with maple syrup. Yes, maple syrup.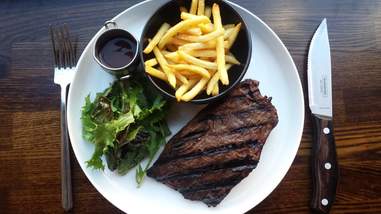 <strong>Porter &amp; Rye |</strong> Courtesy of&nbsp;Good Mint Media
Best steakhouse: <a href="http://www.thrillist.com/venues/porter-rye-g3-8nd" target="_blank">Porter &amp;&nbsp;Rye
Finnieston
Mixed in among the porterhouses and rump roasts on the menu, you'll find outlandish terms like "smoked bacon foam" and "foie gras emulsion," more at home in modern-style kitchens than a traditional steakhouse. That said, it's the dry-aged meat that really shines in this ornately tiled restaurant -- the fridges are in full view, and each piece is labeled so you can see exactly what you're choosing. Pro tip: go for the 10oz onglet with a side of salt-baked mash, or the 10oz rump with pickled artichoke, fennel, and mandarin salad.
Best vegetarian option: <a href="http://www.thrillist.com/venues/saramago-cafe-bar-g3-7dl" target="_blank">Saramago Cafe Bar
City Centre
You'll find Saramago within the Centre for Contemporary Arts (CCA); it's one of the few purely vegetarian cafes/restaurants in Glasgow, and one of the even fewer spots whose offerings are good enough to be enjoyed by carnivores and herbivores alike. Try the beetroot & lentil kofta sandwich -- a flatbread topped with a fresh mint and cucumber yogurt, spring onion & mixed greens -- or opt for a linguine main with broccoli, hazelnut pesto, and mushrooms. Then, go and catch one of the exhibitions or shows at the CCA.
Best fancy restaurant for when the parents are paying: <a href="http://www.thrillist.com/venues/number-16-restaurant-g11-5" target="_blank">Number 16
West End
In an area of Glasgow with no shortage of places to eat and drink, Number 16 has long been a standout. Seasonal, local produce is the order of the day here, so depending on when you visit, the menu will likely have changed. When we visited, there was a partridge starter with poached pear, rhubarb, and artichoke, while the star of the show was a venison main with Brussels sprouts, potatoes, and celeriac puree. If you're able, snag a table on the mezzanine level -- it's the perfect vantage point to watch your food being prepared in the open kitchen.
Best date spot: <a href="http://www.thrillist.com/venues/lucky-7-canteen-g2-4tb" target="_blank">Lucky 7 Canteen
City Centre
The booth seating at Lucky 7 grants you and your date a certain degree of privacy, while the great tunes and relaxed service should mean that you'll always have something to chat about. Cleverly, some of the main courses cost £7.77 -- like the fish & chips, breaded chicken burger, and chili dog -- but the slightly higher-priced dishes (like fillet of sea bass or steak & ale pie), mean that there should be something to suit you both. Plus, the varied selection of wine and beer means that if the date's going well, there's no need to move from this romantic little spot.
Best comfort food: <a href="http://www.thrillist.com/venues/the-winged-ox-bar-and-kitchen-g40-2jz" target="_blank">The Winged Ox Bar and Kitchen
Gallowgate
Located inside St Luke's, a beautifully restored church-turned-venue, The Winged Ox is open seven days a week and turns out an impressive range of stick-to-your-ribs fare. It's all about indulgence here -- the mac & cheese comes with fries (!) -- and while the "two hands sandwiches" will no doubt catch your eye, it's the gumbo that's truly got us hooked. The Creole chicken, chorizo & prawn stew with spicy Cajun rice is perfect for those days when you just need a food-based hug.
Best pizza: <a href="http://www.thrillist.com/venues/soho-g1-1dt" target="_blank">Soho on Miller Street
City Centre
Although there are non-dough-based options here, pizzas are the go-to (obviously): they're super thin, crispy, and baked in a traditional stone oven. Try the Flaming Scotsman (haggis and jalapeños on top of the usual tomato & mozzarella base), or for something a bit spicier, go with the Chicken Dragon: sesame & soy chicken with fresh chilies, mozzarella, and hot Sriracha sauce rather than tomato. Also check out the Sunday brunch -- the all-day breakfast pizza, veggie or otherwise, is incredibly popular (for obvious reasons).
Best brunch: <a href="http://www.thrillist.com/venues/the-bungo-g41-2a1" target="_blank">The Bungo
South Side
Another South Side favorite, Bungo thoughtfully serves brunch from 10am to 4pm every damn day -- none of this "weekend-only" nonsense. If you're feeling upmarket, try the Super Deluxe: scrambled eggs and wilted spinach on toast with truffle oil. Or, if you're feeling a bit more adventurous, go for the Lebanese breakfast: shakshuka (poached eggs in a tomatoey chili sauce), harissa halloumi, batata harra (fried potato & peppers seasoned with chili, coriander & garlic) with toasted pita. Whatever you try, have a Bloody Mary, breakfast martini, or Buck's Fizz for the full brunch experience.
Best cheap eats: <a href="http://www.thrillist.com/venues/republic-bier-halle-g1-3pl" target="_blank">Bier Halle
City Centre
Descend the dark stairs to an underground haven of hot dogs, sandwiches, salads, and (most importantly) two-for-one pizzas. That's right: you can grab any two pizzas from the menu, most of which are also available as gluten-free options, for less than a measly £8 each. Go for the black pudding and poached egg pie, or try the caramelized onion and bacon "white" pizza -- the latter uses ricotta, rosemary, and mascarpone sauce in place of the normal tomato base.

And then, of course, there's the matter of the 90+ different beers on offer from around the world.
Best late-night food: <a href="http://www.thrillist.com/venues/opium-g2-2ul" target="_blank">Opium
City Centre
Serving food 'til 10pm during the week and 11pm on the weekends, Opium's dimly lit ambience and fusion-style food are perfect for a late-night meal after a show, or between cocktail venues. Start things off right with some dim sum: the scallop, asparagus, and carrot dumplings served in a classic steam basket (with a chili paste on the side) are excellent, and for our veggie friends, the cordycep flower (a type of fungi), edamame, and tofu dumplings with truffle dressing make for an unusual and delicious combo. Oh, and while you're there, try the Qi Gong cocktail -- it's tequila and guava juice, and it is SO good.
Best sandwich spot: <a href="http://www.thrillist.com/venues/piece-g3-8ly" target="_blank">Piece
Finnieston
Named after a Scot's slang word for everyone's favorite bread-based snack, Piece's... well, pieces, are available on baguettes, ciabattas, bloomers, and flatbreads -- or, you can go outside/inside the box with a salad box. The Fat Boy -- hand-cut ham, egg mayo, mature cheddar, garlic & Dijon mayo, and pickles is a great meaty choice, while the Falafarama is our veggie choice, coming with baked falafel, salsa, Asian slaw, toasted seeds, harissa, yogurt & mint dressing!
Best breakfast: <a href="http://www.thrillist.com/venues/cafe-gandolfi-g1-1ny" target="_blank">Cafe Gandolfi
Merchant City
The great thing about breakfast at Gandolfi is that there's something for everyone: from a healthy bowl of muesli to a cholesterol injection with the full Scottish breakfast. At last count, the cafe had a choice of seven different egg-based breakfasts, like egg-white omelet on sourdough toast, poached egg with smoked haddock and toast, and eggs "Hebridean," which comes with delicious Stornoway black pudding.
Sign up here for our daily Thrillist email, and get your fix of the best in food/drink/fun.
Jane Ferguson is a UK-based writer and a big fan of cocktails, great bars, and wonderful food around the world. Follow her to keep up with her adventures: @janefwrites