While this Yorkshire capital is certainly no London, it's also not the culinary wasteland some make it out to be. Beyond builder's tea and mum's Yorkies, there are plenty of neighborhood restaurants that are quietly kicking tastebuds' asses and demanding you come back for more. From cheap, cheerful curry to exclusive, experimental brunch, Leeds is catching up -- here are the 11 restaurants you need to know.
Recommended Video
This Restaurant Gives Brunch a Punjabi Twist
Best high-volume tapas: Pintura
City Center
Welcome to four floors of basque-inspired chow right in the center of town. This is Spanish tapas for the masses, from the team that brought you Neon Cactus and Oporto -- a perfect spot to stuff your face with a million small plates like Bacalao (crispy fried cod cheeks with aioli and gremolata), Albondigas (Spanish meatballs with tomato and roast chili) and Costillas de Cerdo (Iberico pork ribs, PX glaze, and crispy potato). The massive menu makes this a great spot for when you just can't decide what you want.
City Center
Tharavadu had been doing its thing for a while now, and by "thing," we mean turning out classic, family-style curries. While not quite as modern as Bundobust next door, the portions here are massive, tasty, and ridiculously cheap -- the lunch "express" menu will have you fighting a food coma for a fiver. Known for its seafood and veggie options, this place is always busy, so reservations are recommended.
City Center
While it doesn't look like much from the outside, Little Tokyo has been a Leeds sushi and bento staple for years. With lowered seating -- meaning you feel a bit like you're sitting on the floor -- and simple-but-cozy decoration, the atmosphere here isn't going to change your life, but when you're a few drinks in (or just craving bento box), this place will hit the spot like you never realized you needed.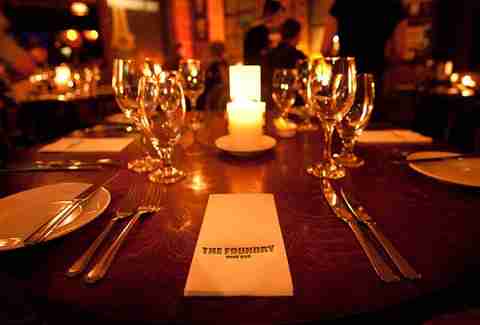 City Center
It's easy for wine bars to fall firmly into pretentious territory -- not so at The Foundry, where comfortability and accessibility are the name of the game, despite a pretty sizeable menu of options. All the dishes are old favorites, but the well-mixed crowd gather in numbers to pack the dining room, looking to start their night out or celebrate life in general. Plus, there's an outside courtyard that's perfect for when sunny skies roll around -- hey, anything's possible!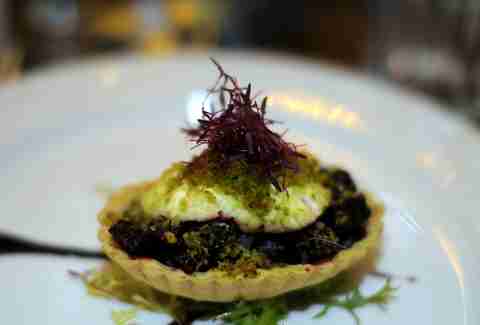 City Center
When you want to wine and dine the hell out of someone, Kendell's should be your port of call. It just ticks all the boxes with easy french fare, a million little candles, chalkboard menus (there's even binoculars if you're seated slightly further out), and staff that will totally play wingman for you. If you want to roll through early, you can scrape out for around £20 for food, leaving your well earned pennies for liquid courage to aim for that home run.
Best place for groups: Sukhothai
City Center (& other locations)
With a few locations dotted around Leeds, this Thai staple has a huge menu that will leave you wishing for extra stomachs to eat it all -- of course, if you bring some friends, you actually CAN eat it all. The big booths are perfect for groups, the decor's includes crazy intricate wood-carving statues and staff who will bend over backwards to make sure you have a great time.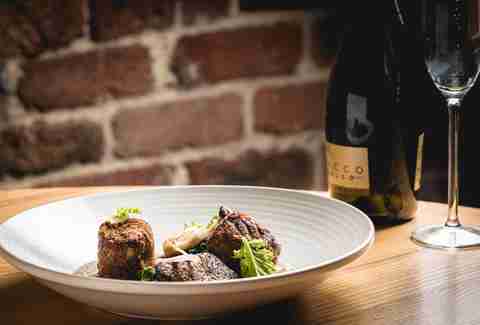 The Calls
High ceilings, exposed Edison lightbulbs, menu items with ingredients like "snow," "soil" and "bits;" this is relaxed fine dining at it's best. From the same crew as the Arts Cafe, the acclaimed Yard likes to play with its food, changing the menu constantly to keep people on their toes with dishes that look as good as they taste. There's also a bottomless brunch that's worth getting out of bed before noon for, and not just because it's bottomless. Okay, that's a big part of it.
City Center
This quirky, Michelin-starred tasting menu experience feels better suited to Brooklyn than Leeds, hidden upstairs through an upscale dress shop, but the people have spoken -- and booked the place out for almost the next year. Chef Michael O'Hare has created a 12-course feast with ingredients like edible pearls and cling film, intertwining the familiar and exotic with dishes like salt & vinegar ox cheek. It might be easier to break into the Royals' residence than get a weekend reservation here, though.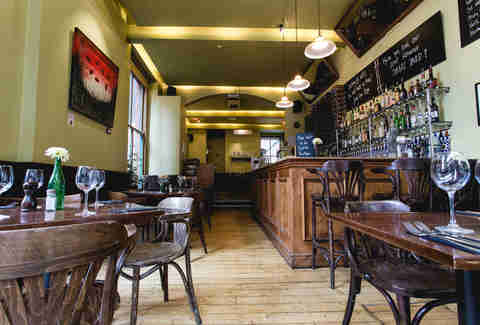 Best gallery/restaurant: Art's Cafe
The Calls
People get pretty opinionated about Art's: either it's their go-to spot for simply prepared, high-quality eats in a chilled out space, or it's "totally overrated" and "trying too hard." It really depends on how you feel about dishes like smoked duck, guacamole, soy & chilli dressing, or seared venison haunch, carrot & ginger purée, with a star anise jus. Having won several Olivier awards, they keep the surroundings pretty simple and gallery-esque with eclectic art on the walls thats all available to take home, should you take a fancy to it while masticating.
Headingley
After winning Best UK Neighbourhood Italian Restaurant by Gordon Ramsay on Channel 4's the "F Word," you might think this spot would have changed -- but you'd be wrong. Besides having to deal with longer queues and tougher reservations, this is still the best restaurant to get amazing Southern Italian chow with a smile, just like how Salvatore Dammone did when he opened shop over 40 years ago. Now in the next generation's hands, this place is taking all the awards and accolades in stride and making sure you leave fat and happy.
Best place for cured meat fanatics: Friends of Ham
City Center
There's a tiny ground floor bar space here, but that's only just a teaser -- it's actually the basement that's about to become your new place of worship of treats like Serrano Gran Reserva, aged 18 months and lovingly hand-carved, Lardo di Colonnata, Finocchiona and more. If cheese is more your thing, don't worry: there's a cornucopia of types, textures, and milks available, sourced from as near as Lancashire and as far as Spain. And, of course, there's an ample selection of wines to pair with all that meat and cheese.
Sign up here for our daily Thrillist email, and get your fix of the best in food/drink/fun.
Haley Forest is a writer who pretty much lives on very strong tea, a product of hanging out with bartenders from Yorkshire and learning their ways, even if she couldn't understand them about half the time. Follow her at @HCForest.