Juliana Fisherova/Maso a kobliha
You've likely heard about the beautiful architecture in Prague, like the historic Charles Bridge or the astronomical clock, but the city's food scene deserves some love as well. In addition to traditional, meaty, oh-my-gosh-this-goes-so-well-with-beer fare, you'll find plenty of trendy hipster options as well -- and speaking of beer, the sudsy stuff here is so incredibly cheap that you'd basically be losing money by not ordering a pint.
<em>Malá Strana</em><br />
The classy menu here is guaranteed to have something for everyone, making it the perfect place for people-watching -- and the ornate, chandelier-bedecked ceilings make it perfect for ceiling-watching, which is definitely a thing. Go for the French toast at breakfast: it always ends with a deep sense of shame and guilt, but it's utterly delicious. Also, don't leave without trying the venecek, vetrnik, and laskonka, three classics of the Czech patisserie tradition.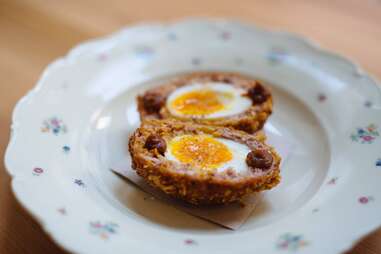 <em>Nové Město</em><br />
Run by the owners of Sansho and the Real Meat Society butcher shop, this place specializes in the two best things this country has to offer: meat and beer. Food-savvy locals head here to eat themselves happy after a bad day: the food is juicy, salty, and definitely not the healthiest, but when you're downing Scotch eggs and vanilla custard donuts, who cares?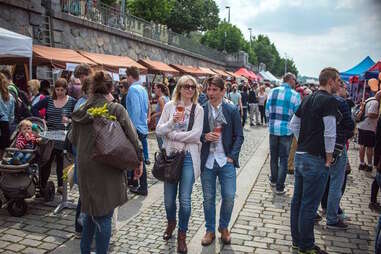 <em>Podskalí</em><br />
Locals love to start their weekend at the Naplavka farmers market on the Vltava's riverside, so don't be surprised to see crowds here. However, between the seasonal fare, hot meals for breakfast, great coffee, and riverside views of the Prague Castle as you listen to live bands perform, what's not to like? Try the "Moravian Geisha" coffee cocktail at the Brewbar stand: it's the perfect boozy and caffeinated start to the weekend.
<em>Staré Město</em><br />
The team of young, apron-clad, sneaker-wearing chefs here (headed by Mr Sahajdak) serves classic Czech flavors in a sleek, modern format. The six- or 11-course prix fixe menu can be paired with local Czech and foreign wines (or juices, if you're not a wine person), and while the modern interior (dominated by the "consomme" chandelier) may scream high class, the atmosphere is surprisingly casual.
<em>Písnice</em><br />
Prague has a sizeable Vietnamese community thanks to the shared Communist past, and the Sapa market is the best place for authentic Vietnamese food. Sure, it might not be beautiful or welcoming, but it is home to a ton of great hole-in-the-wall Vietnamese eateries that serve delicious (and cheap) food. This is your place for a proper bowl of pho or banh cuon steamed rice rolls in Prague. And fake purses. For adventurers only.
<em>Karlín</em><br />
Located in a former factory in the hip Karlin district, this new addition to Prague's dining scene takes classic ingredients of traditional Czech cuisine and puts a modern spin on them. The lunches and dinners are fantastic, but where Eska truly shines is its weekend brunches: start healthy with the granola, dehydrated red beets, and yogurt, continue with poached eggs and fermented wheat berries, and finish sinfully with some Czech pancakes. Bonus points for the specialty coffee served on site by apron-clad baristas.
<em>Staré Město</em><br />
The chlebicek, the classic Czech open-faced sandwich, is getting a modern remake by the Czech Martha Stewart in this small, unassuming bistro. As fast foods go, this one is the least guilty: it's not deep-fried or sugar-coated, and uses fresh, quality ingredients. While it might not be your first choice, the classic potato salad-and-ham version is still the one to have.
<em>Nové Město</em><br />
Recommending a non-vegetarian restaurant for vegetarians may sound strange, but in a country where vegetarian cuisine is generally represented by fried cheese, this is what you get. The Asian-fusion dishes served family-style at communal tables in this hip, casual spot will satisfy both carnivores and vegetarians -- come for the a la carte lunches, and stay for the prix fixe dinners. We recommend the pumpkin sambal for vegetarians, and the pork belly for carnivores.
<em>Staré Město</em><br />
Seafood in the Czech Republic? You can skip it. Meat, on the other hand, is a very good idea. No wonder the Nase maso butcher shop attracts Disney World-caliber lines during rush hour: order the Prague ham cracklings, a selection of the three wieners, or the dry-aged beef burger, and you'll understand. Pre-book the seven-course dinner for a full-throttle meat bonanza. With open hours until 10pm, this is perfect for before-drink snacks, too.
<em>Karlín</em><br />
Veltlin basically started the entire natural wines trend that's sweeping the hipper establishments in Prague, distributing beautiful and interesting Moravian wines to many popular restaurants and wine bars around the town. Come to the Karlin district for interesting, organic wines from the former Austro-Hungarian Empire, and stay for tastings with local winemakers. Combine with the locally sourced charcuterie and pâtés for the perfect evening.
<em>Karlín</em><br />
Forget Texas-style kolache and jalapeño sausage: the original, sweet-only kolache comes from the Czech Republic, and Prague's best are served by Simply good in the Karlin district. The bake is nearly as good as our grandma's, so your only question is the filling: plum jam, farmer's cheese, or poppies? The interior of this spot is slightly uninspiring, so we recommend grabbing a few to go, pairing them up with hipster coffee at Kafe Karlin two blocks away and enjoying them on the bench of the Karlin square park.
<em>Vinohrady</em><br />
If you're in dire need of a great burger, head to the Dish for a Smoky Dish with a side of "fitness fries" (fries with maple syrup and bacon), and you'll die happy. Because you probably will, soon. Burger joints tend to be popular in Prague so make sure you book early, otherwise you may not get a seat in this rather diminutive spot full of young locals. Wash it all down with the local Unetice lager.
<em>Staré Město</em><br />
The Czechs have the highest consumption of beer per capita, and an evening at Lokal, spanning over the length of a city block, will explain why. You simply drink more when the fresh, cold Pilsner (brought in stainless-steel tank trucks from Pilsen) is this good and cheap, especially when you actually don't have to order it: they just keep refilling it until you opt out. Combine it with the Prague-ham-and-horseradish-cream combo, or a proper schnitzel with potato salad for a truly immersive (and fattening) cultural experience.<br />
<br />
<em><a class="vortex-open" data-campaign="5708" href="https://signup.thrillist.com/&quot; target="_blank">Sign up here</a> for our daily Thrillist email, and get your fix of the best in food/drink/fun.</em>
Zuzi and Jan, aka "Taste of Prague," have been forcing travelers to overeat in Prague since 2011. They run foodie tours and publish the Prague Foodie Map. Follow them for Prague food tips: @tasteofprague.