Eating is a national pastime in Italy and the rules are clear: arrive hungry, and forget any special requests -- the Roman chef always knows best. Rome has been perfecting its food scene for a few thousand years, so the best approach to dining in the Eternal City is to forget calories are a thing and just dive right in. Embrace Rome's eclectic mishmash of old and new traditions with 14 of the best restaurants in the city. More Stuff You Will Like
Recommended Video
Have Dinner Dangling More Than 150 Feet in the Air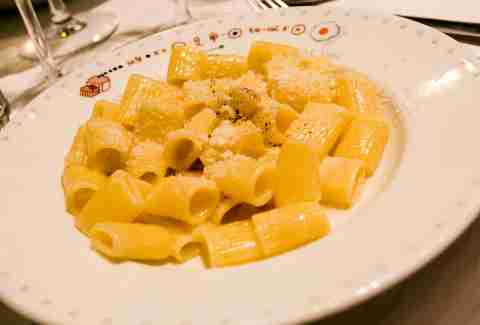 Centro Storico Wood-paneled walls encircle this small-but-elegant dining room around the corner from the Pantheon. The family-run restaurant has been a part of Rome's dining scene since the 1960s, when it began serving up lunches and wine by the liter to day laborers. Now a more refined affair, you can find some of the best takes on classics like amatriciana and cacio e pepe.
  Esquilino Regoli is a Roman pastry shop that has been creating some of the best baked goods in the city for a century -- it's actually turning 100 this year! Split across two areas, you can browse giant tarts and crostata (jam cakes) to take home, or sidle up to the coffee bar for breakfast on the spot. For your morning meal, don't miss the maritozzi: large sweetened buns piled high with whipped cream. Continue Reading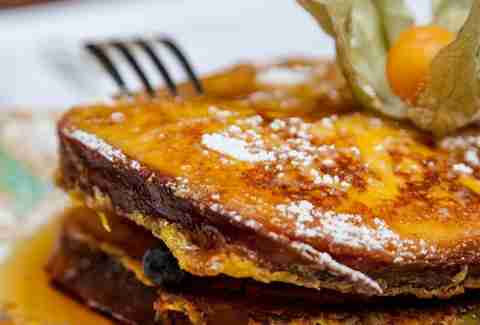 Centro Storico Italian breakfasts tend to be short and sweet, but you can satisfy brunch cravings with a trip to Coromandel. A few steps from buzzing Piazza Navona, this charming café offers classics like pancakes (with Nutella, naturally) and eggs Benedict on dainty china. The quirky décor and tasty bites set the perfect mood for Sunday brunching.
  Balduina Pizzarium serves up
pizza
al taglio
(by the slice) that you have to taste to believe. With options stuffed with slow-roasted pork, topped with octopus, or even pizza-lasagna amalgams, the combos imagined by Gabriele Bonci change daily and are all borderline life-changing -- or at the very least, diet-changing. Be prepared to take a number and stand while you eat; this no-frills shop near the Vatican focuses on flavor rather than comfort, but is more than worth the wait.
Best food-coma date night: Roscioli
  Centro Storico Snag an upstairs table at Roscioli and settle in for a date-night feast. Split burrata with semi-dried tomatoes or vanilla-buttered anchovy bruschetta before moving on to the best carbonara in the city. A great wine lists rounds out the offerings at the popular ristorante.
  Centro Storico A few minutes on foot from the Spanish Steps, this small neighborhood shop serves freshly made pasta and a bit of wine for a whopping €4. Every day, Pastificio whips up two hot pasta dishes for the lunch and dinner crowds. Expect to eat between shelves of dried spaghetti while you sip your small plastic cup of vino.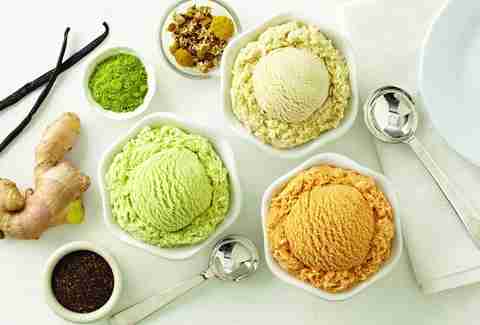 Monti In Rome, every meal should end with gelato. Steer clear of the monstrous piles of neon ice cream you may see in some shops, and head straight to Fatamorgana: don't miss the banana-lime, chocolate-rosemary, basil, or coconut rum. We did say to forget about calories, remember?
  Ostiense In the back corner of the Testaccio market, a butcher-turned-panini-master transforms simple sandwiches into an art form. Located in Rome's former slaughterhouse district, Mordi e Vai sandwiches are heavy on the offal, specializing in tripe and slow-stewed beef. These portable Roman classics are a popular on-the-go lunch for locals, and are best enjoyed while strolling around the market stalls.
Best when someone else is paying: Marzapane
  Pinciano Don't be shy -- always go for the tasting menu at Marzapane. This upscale restaurant is unassuming, but does not mess around when it comes to perfectly plated dishes. Gorgeous risotto with candied ginger, sirloin with thistles, and chorizo sprinkled on sweetbread spaghetti will tempt you into taking selfies with your meal in no time.
  Flaminio For vegetarian fine dining in the heart of Rome, head to the artsy and ivy-draped street of Via Margutta. Nestled between galleries and workshops is Il Margutta, which serves high-end vegetarian and vegan dishes exclusively. For a break in price point, you can pop in for the €15 lunch buffet.
Best late-night eats: Trapizzino
  Ostiense Romans love to stumble out of nightclubs and hit up... the pastry shop. If savory midnight snacks are more your style, fork out €3.50 for a trapizzino -- pizza bianca cut into a triangle and stuffed with slow-simmered meats and vegetables. Think of it as the best pizza/pita/meatball sub hybrid you'll ever eat.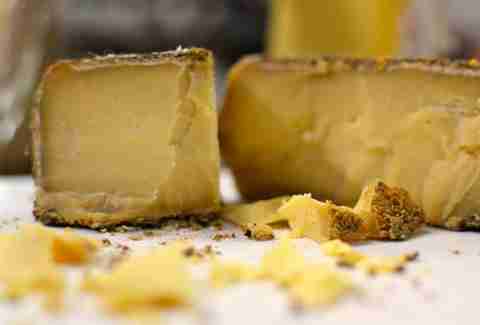 Centro Storico You'll know you're in the right place by the mouthwatering cheese smell outside this glorious shop. Pick your wine, then ask the friendly guys behind the counter to surprise you with a range of stinky, sharp, soft, or aged cheeses from Northern Italy. There's also some excellent charcuterie on offer, if you'd like to add some meat to your menu.
  Ostiense It's taken Rome a while to figure out how to perfect a burger, but Hopside (in the increasingly trendy Ostiense neighborhood) has finally nailed it. The build-your-own-burger model allows you to add as many toppings as you like to the savory patty. Plus, with a rotating selection of Italian craft beers on tap, you can always find the perfect brew to pair with your burger of choice.
Best literal hole in the wall: Pianostrada
  Trastevere After a bus ride or two, you may notice that personal space isn't really a thing in Rome. Embrace it, and squeeze yourself into Pianostrada: a small garage along a tiny backstreet that has been converted into a galley-style kitchen and dining area. Fresh pastas and panini are filled with seasonal ingredients like crispy artichoke hearts and squash blossoms.
Sign up here for our daily Thrillist email, and get your fix of the best in food/drink/fun.
Natalie Kennedy is a Rome-based writer who fully embraces carbs. Follow her excessive consumption: @natalierae.