Your Guide to the Perfect Day at Disney's Epcot
Even in the fantasyland of Walt Disney World, Epcot stands out as truly bizarre. Envisioned by Walt himself as the Experimental Prototype Community of Tomorrow, Epcot was supposed to be an actual, fully functioning city on the company's property. The idea was shelved after the old man died in 1966, but in 1982 the park finally opened with a fresh purpose: to celebrate new technology and showcase innovations in urban development. Now it's bigger (twice the size of the Magic Kingdom) and better than ever -- the best rides include a NASA shuttle launch simulator, and the chance to test-drive the car of your dreams.
But most of you know Epcot for the World Showcase, that cul-de-sac of 11 model countries notable for serving a bevy of native alcoholic beverages. "Drinking around the world" is stupid fun, but there's more to do in Epcot than getting hammered on strawberry margs in Mexico or steins of lager in Germany. (If you're looking for a more Disney-related touring, check out our guide to Disney World's best eats.)
Spaceship Earth
Get back to the future
The iconic Epcot geosphere is a dark-ride through the history of technological innovation. It's kind of tired, and glosses over slavery's role in the Civil War, but it does make excellent use of the gigantic interior space with a gorgeous star field. At the end of the experience, you'll make a hilariously-dated cartoon (like, Jetsons-esque) of your glorious, high-tech future lives.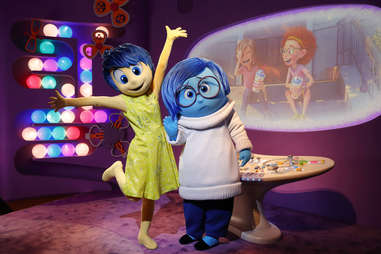 Meet Baymax, Joy, and Sadness
You know you've always wanted to
You think meeting Disney characters -- aka people wearing animal suits -- is super dumb, right? I thought so too, until I met Baymax from Big Hero 6, and Sadness and Joy from Inside Out. Even though most Disney performers remain non-verbal, they more than make up for their lack of speech in mannerisms and all-encompassing bearhugs. Telling big, blue, tear-shaped Sadness that she was my favorite character in the movie caused her to rest her head mournfully on my shoulder, melting my twisted Grinch-sized heart. If you want a souvenir photo without paying Disney's photographer, you can hand your smartphone to the character wrangler for some candid snaps.
Living With The Land
Marvel at super-sized fruit and sustainability
The main attraction at this agriculture-focused space is a nice-and-gentle ride through a gigantic indoor farm and garden. You'll see horticultural oddities, such as nine-pound lemons and Mickey-shaped pumpkins, and learn about sustainable agriculture and hydroponic farming. Afterwards, feast on the fruit of someone else's labor -- produce grown on-site is harvested for its two restaurants. Mmm, the sweet taste of innovation.
The Seas with Nemo & Friends
Find Nemo and swim with dolphins
Manta rays, sea turtles, sharks, dolphins, and 3,996 more animals live in the Epcot SeaBase aquarium, making it a gigantic and cool respite from the heat. Time your visit for 10am or 3:30pm to watch the fish feedings. Certified scuba divers can explore the aquarium's coral reef, or if you want to, ahem, splash out, you can go swimming with the dolphins. Before heading out, hit the Observation Deck to a) spot Mickey hidden on the sea bed and b) squeal at stupidly adorable cuttlefish hatchlings.
Animated movies in 3D
Pixar movies are more than just fine on their own, but here, they're ramped up to 3D for an 18-minute package of film shorts. Visual effects aside, the Film Festival gives you an overview into the Pixar animation process, which might be even cooler than the shorts that follow.
Kinda weird and kinda wonderful
This totally wackadoo dark-ride featuring Figment the purple dragon has been running for 15 years and has its own ardent community of fans -- there's even a dedicated Figment section in Epcot's MouseGear merch shop just for them. Here, you'll explore the five senses in madcap fashion -- keep an open mind! It might not be everyone's favorite, but you have to do this ride, if for no other reason than to ask each other, "What the hell was that?" when you're done.
Club Cool
Not always Coca Cola
Ignore the "Presented By Coca-Cola™" branding on this Future World exhibit and take advantage of the free soda and air conditioning. Club Cool is pretty much a glorified soda fountain, but instead of your usual Sprite/Dr. Pepper/Coke lineup, you can taste soft drinks from around the world. South Africa's kiwi and mango-flavored Bibo is perfect for cutting the Florida heat and quenching thirst. And then there's the divisive Beverly from Italy, a bitter liquorice-flavored aperitif that has everyone going "yum" or "yuck."
World Showcase
Tour 11 countries in an afternoon
There's lots to do in the World Showcase besides eating and drinking (but if that's what you're into, here's our guide). Each country zone has a talented group of native citizens running the shops, restaurants, and performing for guests. At the very least, say check out our suggested trio:
France's Serveur Amusant: This is a chef/waiter double act, who juggle wine bottles and do handstands on dining chairs stacked 20 feet high. The real MVP is the chef's referee whistle, blown constantly to direct the action or berate his waiter buddy.
China's Jeweled Dragon Acrobats: There's being in shape, and then there's this group of men and women. They make stacking themselves into a human house of cards look way easier than a typical gym routine. Fancy-feet juggling and ridiculous hula-hooping round out this very physically impressive act.
England's British Revolution: A great opportunity to hear this four-piece band perform solid covers of The Who, Queen, The Rolling Stones, and more. Also, this is a welcome break from Disney tunes! The band plays in a cute garden gazebo, where you might also spot Mary Poppins.
Lisette Voytko is a journalist living in Brooklyn, New York. Her work has been published by The Video Game History Foundation, Museum Hack, Task & Purpose, xoJane, and Femsplain. You can find her at lisettevoytko.com, on Twitter, and on Instagram.