Plop your backside into an inflatable tire, relax, and crack open a cold one, 'cause it's summer, and you're going tubing. This annual rite of passage is particularly popular in the Mid-Atlantic states, where the rivers run cool and calm from the Appalachians.
A few of these river routes are essential for hot weather and languid day-drinking. (Officially, frowned upon. Unofficially, you might not be the first person to tow a beverage alongside.) Whether it's a trip on the mighty Shenandoah, the scenic Potomac, or the lazy Delaware, these are your essential tubing destinations around the Mid-Atlantic region.
James River
Richmond, Virginia
Near Richmond, the James River turns into a raucous affair where party-going tubers float their way into Virginia's state capital. Most tubers opt to start their journey at Pony Pasture Rapids Park. If the river is high, the ride will take two to four hours to reach Richmond, near Belle Isle or Brown's Island. There can be a few Class II rapids to watch out for, but all considered, this is an easy ride into Downtown.
Delaware River
Milford, New Jersey
Few tubing trips involve a pit stop at a riverside hot dog stand, but that's exactly what you get on a trip down the Delaware. With every rental, Delaware River Tubing serves you a "river dog" that you can eat at picnic tables stationed at the midway point down the river. This tubing trip is about 90 minutes from both New York City and Philadelphia, making it an easy day-trip destination for city dwellers.
Shenandoah River
Harpers Ferry, West Virginia
Near the border of Maryland, Virginia, and West Virginia sits Harpers Ferry, a tuber's delight if you're looking for a relaxing river run near DC or Baltimore. Tubing companies dot the river; River Riders and Harpers Ferry Adventure Center are two popular spots. Just be sure to wear water shoes or sandals because this riverbed is notoriously rocky and most float trips will require them. For all your beverage needs, many of the tube companies will supply you with a floatable cooler that you can tie and tow to your tube. Be on the lookout for riverbank rope swings, where you can hurl yourself out and into the water.
Stonycreek River
Johnstown, Pennsylvania
There's no better way to spend a summer afternoon than with a trip down the scenic Stonycreek River, a tributary in Southwestern Pennsylvania, just a few hours from Pittsburgh. Before you go, be sure to check the water level; if the river is below 3ft, the route can be cut short. The tubing trip takes about two to three hours -- or even longer, for those unhurried folks who opt to set up small flotillas of tubing parties. Coal Tubin is the preferred rental company if the water levels are up and running.
Potomac River
Maryland Heights, Maryland
Just south of Harpers Ferry sits the confluence of the Shenandoah and Potomac Rivers. This is also where tubers can cruise at a pretty decent pace between the borders of Virginia and Maryland. This river is a bit more active than the Shenandoah -- with Class II and III rapids -- but there are also long stretches for lazy relaxation in the sun.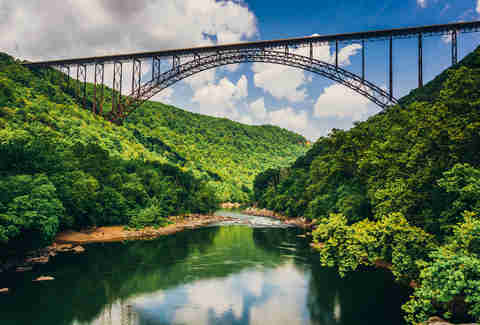 New River
Blacksburg, Virginia
Don't let your guard down completely -- the New River can get pretty wild, especially around the upper portions, which are popular for whitewater rafting. But in the slower stretches by Blacksburg, the water is noticeably calmer, a perfect tubing launch point. Head to the New River Junction for cheap tube rentals and a free shuttle that gets you back to the launch. And pack a cooler: at a free grilling service in Big Falls Park, the staff provides the grill, utensils, and lighter fluid -- you just BYO barbecue fare.
Sign up here for our daily Thrillist email, and get your fix of the best in food/drink/fun.