18 Essential Apps for Your Big Summer Road Trip
Find your next clean bathroom, campsite, photo-op with a giant dinosaur, and more.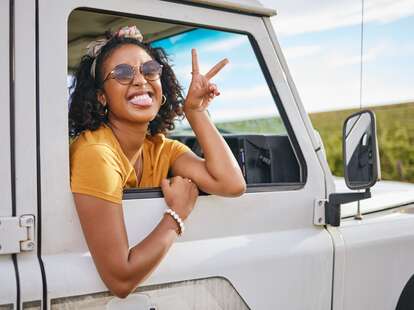 There's an app for this.

| PeopleImages.com - Yuri A/Shutterstock
There's an app for this.

| PeopleImages.com - Yuri A/Shutterstock
Back in the summer of 2020, the unthinkable occurred: We turned into our parents. What innocently began as "just going for a drive" and rediscovering Steely Dan turned into parking at drive-in movies and carhop restaurants until suddenly, we went full Clark Griswold: traversing America in RVs, seeking out cheesy roadside attractions, and crossing National Parks off our bucket lists.
But two things give us a distinct advantage over our parents compared with when they roamed the roads: our extremely advanced smartphones, and how much easier they make it to explore both our own country and those beyond our borders. 2023 is shaping up to be yet another summer full of incredible road trips, whether you're planning to traverse the American West or fly to Laos for the motorbike road trip of a lifetime. With these apps in hand, you'll be amply prepared to find the best last-minute hotels and campsites, the nearest toilets, and even the most convenient places to charge your electric car.
We've pulled together 18 essential road trip apps to help you expertly navigate your next summer adventure. Safe travels!
Areas supported: 200+ countries worldwide
Cost: Free
Often, the goal of the road trip is to disconnect. But just as often, the goal is to dash off a slew of work emails, post killer photos to Instagram, and download some maps on the road. WiFi Map connects you to a crowdsourced list of free hotspots around the world, including passwords if they're needed, so you're able to keep your affairs in order and track down wherever it is you parked your car.
Areas supported: Worldwide
Cost: Free
When you've had one too many Big Gulps, Flush finds the closest public restroom from a database of over 200,000. It also details the level of accessibility—like whether a key is required (the worst) or if you have to pay a fee. This is objectively the most essential app on this list.
Areas supported: The US, Canada, New Zealand, Australia
Cost: Free
This trip planning app lets you plug in your start and ending locations and discover cool stops along the way. Get inspiration from pre-planned guides, or curate your own itinerary by searching for parks, museums, old-school diners, historic sites, scenic overlooks, and more. You can also check live traffic conditions and take maps offline when you're sans Wi-Fi.
Areas supported: 180 countries worldwide
Cost: $3.99
Ditch that bag of emergency granola: HappyCow makes sure those with vegetarian or vegan dietary needs can always find something decent—perhaps even extraordinary!—to eat during their travels. In addition to searching for the best restaurants nearby, you can also create a personal profile, message other users you find intriguing, and never have to eat alone again.
Area supported: US only
Cost: $1.99-$6.99, depending on included regions
Imagine driving through Kansas and NOT stopping to look upon The World's Largest Collection of the World's Smallest Versions of the World's Largest Things. An absolute must for fans of animatronic roadside dinosaurs and kitschy rest stops, the mobile version of everyone's favorite website is fun to peruse even if you're not actually going anywhere.
Area supported: US only
Cost: Free
Think of Reserve America as a hotel booking site but for federal and state lands, and private campgrounds across the US. Put in your desired dates and filter over 100,000 locations. When you find one you like, book straight from the app. And if you need a hunting or fishing license on-the-fly, you can do that too. Look how outdoorsy you are.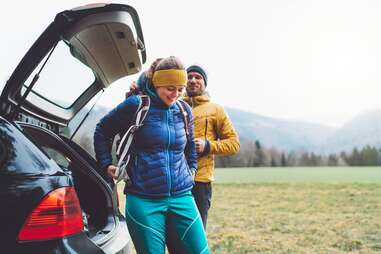 Areas supported: Worldwide
Cost: Free
Live that #hikelife with AllTrails, which offers over 400,000 trail maps for hikers, bikers, and runners. Filter for options like dog- and kid-friendly, stroller and wheelchair-accessible, and spectacular views. Read reviews, see photos from other users, and download offline maps so you can keep track of the trail—and whether or not you're still on it—even when cell service gets dicey.
Areas supported: The US and Canada
Cost: Free
GasBuddy not only finds you the closest gas, but the cheapest gas using crowdsourced data from over 150,000 gas stations across North America. This way, you have more money for snacks, which we all know is the best part of any journey.
Areas supported: The US, Canada, New Zealand, Australia, the UK, France
Cost: Free
Hipcamp works with landowners so you can book overnight stays on private land. Search for RV parks, tent camping, glamping, treehouses, or cabins and get truly unique results, like this campsite in Scotland, where you share the land with a slew of fuzzy alpacas (!).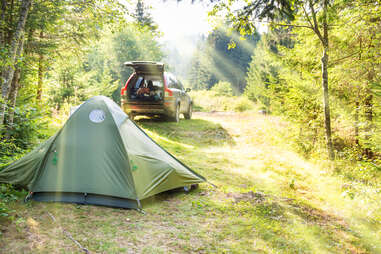 Area supported: US only
Cost: Free
You'll need to stop for food and sleep eventually, but getting off at any random exit is how people end up driving endlessly looking for restaurants that just aren't there. iExit shows you which interstate exits have the gas, the Starbucks, and the lodging—and which do not. Because if there's a Whataburger somewhere out there, you owe it to yourself to find it.
Areas supported: Worldwide
Cost: Free
You can't always predict what will happen on the road. Maybe you never made it to your intended destination. Maybe there was a change of plans. Whatever happens, if you're looking to book a last-minute hotel for the night, you'll want to check the aptly named HotelTonight, which offers last-minute deals on same-day, high-quality hotel bookings all over the world. The app vets its hotels carefully, so you can be sure they'll beat spending the night wild camping in your car (unless that's your preference to begin with).
Areas supported: US only
Cost: Free with in-app purchases
Sick of podcasts? Mix it up with Autio, an award-winning storytelling app that serves up beautifully narrated tales based on your precise geolocation. That means rolling from coast to coast while effortlessly getting the inside scoop on whatever city, town, highway, or curious attraction you stumble upon along the way. The app—backed by Hollywood icon Kevin Costner, no less—comes stocked with more than 10,000 stories and weekly new additions means there's always something unexpected around the corner. Your first five stories are on the house, followed by the option to sign up for a 30-day, year, or three-year subscription.
Areas supported: Worldwide
Cost: Free
Need to know what that plant or animal is? As long as it stands still long enough to scan or take a pic, Seek can help you identify it. Before you head out, practice tiptoeing softly. Birds are not known to pose for paparazzi.
Areas supported: Worldwide
Cost: Free
The ultimate campfire app, Star Walk 2 displays a real-time map of the sky above you. Just point your phone up and play with 3-D models of constellations, learn about celestial bodies and sky events, and even get the latest astronomical news. You're basically an astronomer now.
Areas supported: The US, Europe, and beyond
Cost: Free
Road tripping in an electric vehicle (EV)? That's rad as hell, but it also introduces a new logistical conundrum: How can you stay charged up on the road? If you're in the US or Europe especially, but also in some other countries around the globe, you should definitely download Plugshare. The app details more than 450,000 charging stations around the world and assists with navigation to each one. Users can add charging stations that aren't on the map yet (including personal home charging stations they're willing to list for public use), leave reviews, and just generally keep other EV drivers apprised of everything they need to know to keep their engines running.
Areas supported: Worldwide
Cost: Free
If you're planning on sleeping in your vehicle, Park4Night shares free places to park at night, from campsites to parking lots. It works in a range of countries all over the world, but seems to have particularly robust coverage in Europe. The base app is free, but the paid version allows for offline use.
Area supported: US only
Cost: Free
This handy app will guide you to the nearest rest area, welcome center, or service plaza from whichever Interstate, US highway, or state highway happens to have inspired a need to rest.
Area supported: US only
Cost: Free
The official app of the National Park Service offers over 400 parks to explore. Find tours, interactive maps, amenities, trails, and things to do and download it all in the (likely) event there's no internet access.