Between sibling battles in the back seat, Dad refusing to turn on the A/C, and trying to spot all 50 state license plates (damn you Hawaii and Alaska), road trips as a kid kinda sucked. But then you learned to drive, and realized that replacing your younger sisters with a couple of college buddies changes everything. 
Road trip season might be winding down (game-day excursions excluded) but that doesn't mean you can't keep dreaming about adventure. From retro diners and German castles, to epic waves and glacier lagoons, here are 10 of the world's wildest treks. 
Garden Route -- South Africa
The route: South Africa's Garden Route is the "it" destination for the adventurous Outward Bound crowd. This 150mi stretch along Africa's southernmost tip is jammed with high-energy activities, including bungee jumping, cage diving with sharks, casinos, a bizarre monkey world, caving, and an ostrich ride, to name a few. 
 
Pit stop: Don't miss Bloukran's Bridge. This spindly overpass straddles a slip of river 790ft below, and boasts the highest commercial bungee jump in the world.
Icefields Parkway -- Canada
The route: Just when you thought the best of Canada involved maple beer and Montreal's strip clubs, they up and deliver one of the world's most spectacular drives. This 144mi tarmac ribbon connects two national parks and winds past limestone cliffs, gorgeous valleys, and some of the bluest water this side of your local putt-putt course. Watch out for mountain goats, bighorn sheep, and elk.
 
Pit stop: Stop off at the Glacier Discovery Centre and board a pimped-out school bus to explore the Athabasca Glacier. This behemoth ice cube won't be around forever.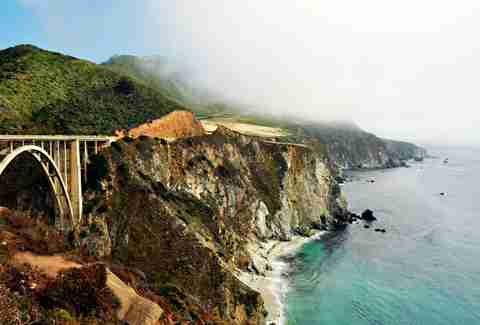 California Route 1 -- United States
The route: This prime 655mi stretch of motorway sandwiched between the mountains and ocean of California's western coastline can only be described as the quintessential road trip. Turns out SoCal and NorCal are connected by more than an affinity for kale, as Route 1 runs all the way from Los Angeles to San Francisco, or San Fran to LA, depending on you perspective. Either way, expect to pay out the roof if you're renting a convertible. 
Pit stop: Check out Big Sur (the town, not just the region), specifically the Big Sur Tap House. Here you'll score a mix of friendly locals, tasty brews, and some insider travel tips, like the season's best camping spots.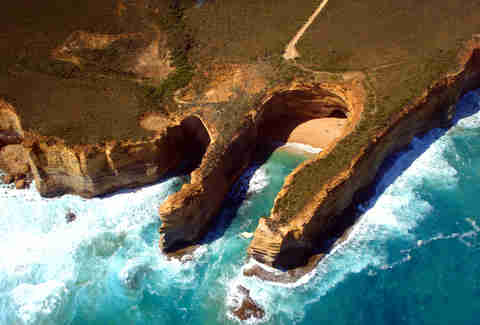 Great Ocean Road -- Australia
The route: Leave it to the Aussies to forego bronze statues in favor of "The World's Longest War Memorial" as a tribute to their WWI veterans. This 151mi motorway along Australia's southeastern coast bypasses monstrous surf, cascading waterfalls, pristine rain forests, and a couple of whale lookout points, plus the odd koala bear and kangaroo.
 
Pit stop: Don't miss the Twelve Apostles. While only eight of the craggy limestone pillars remain (there were only nine originally), they still deliver a stunning "behold-the-power-of-nature" effect.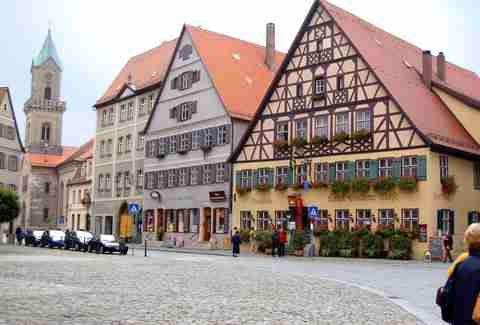 Romantic Road -- Germany
The route: Despite an embarrassing performance on the world's worst lovers survey (yes, Germany, there are times when it doesn't pay to come in first), the country has a romantic streak after all. Or at least a romantic road. This inspiring 220mi route winds through medieval towns, castles, and wine country, and offers more than a few places to stop for German beer served by women dressed like the St. Pauli Girl.
 
Pit stop: Spend a few extra days in Munich and clank steins with fellow wayfarers at the famed Hofbräuhaus brewery. Or, venture over to the English Garden for pretzels the size of your head and a bona fide beer garden experience.
Guoliang Tunnel Road -- China
The route: It took a dozen villagers six years to hand-carve this .8mi tunnel road out of the mountainside. It'll take you all of 10 minutes to drive it. Go slow to savor the views afforded by the "windows" they carved into the tunnel walls but forget about the drive-by iPhone shot -- one swerve could send your rental car careening into a gorge hundreds of feet below.   
Pit stop: Still haven't had your fill of white-knuckle driving? In an effort to keep up with the Joneses (or would it be the Wangs?), neighboring villages Kunshan and Xiyagou decided to etch out their own mountainside thoroughfares, making it a trifecta of roadside terror.
Route 66 -- United States
The route: We're not about to leave this tarmac testament to 20th Century America's wanderlust off the list. The 2,400mi "Main Street of America" crosses eight states (from Illinois to California) in a salute to all things Americana, from open road and kitschy tourist shops, to retro gas stations and diners packed with vinyl booths -- plus three of the country's surviving wigwam motels.
Pit stop: What better way to commemorate your country's heritage than with a 72oz slab of heart-attack-inducing red meat? Stop by Route 66 institution the Big Texan Steak Ranch in Amarillo, TX, and tuck into one of the country's most famous eat-it-or-buy-it binge contests. Too full to finish? Be warned your glutinous gamble will set you back $54.13, tax included. 
Ring Road -- Iceland
The route: Iceland's 832mi "Ring Road" (aka Route 1) circles the entire country and takes travelers past fjords, geothermal pools, black-sand beaches, volcanoes, glacial lagoons, and other scenery you haven't seen since the last season of Game of Thrones.
Pit stop: Check out Jökulsárós, a lagoon filled with hundreds of icebergs that was featured in Batman Begins. For a particularly otherworldly experience, travel between August and April to catch the Northern Lights doing their thing.
Trans-Andean Highway -- Chile, Argentina
The route: The 226mi drive from Santiago, Chile, to Mendoza, Argentina, packs in 29 switchbacks as it climbs the Chilean Andes, affording spectacular views and, undoubtedly, a serious case of car sickness. Survive the climb, and you'll be treated to a two-mile tunnel that spits you out into Argentina.
 
Pit stop: When you exit the Argentine side of the tunnel, look out for Cerro Aconcagua, the southern hemisphere's highest peak. 
Overseas Highway -- Florida, United States
The route: The southernmost leg of US Route 1 is a concrete-and-steel monument to our forefathers' "we-can-pave-over-everything" attitude, including the ocean. This 113mi stretch of "magic carpet" connects Miami to the Florida Keys via a series of 42 bridges, including the whopping, and very accurately named, Seven Mile Bridge.  
Pit stop: Pull off on Big Pine Key for a beer at the No Name Pub, an 80-year-old watering hole with walls that're covered with signed dollar bills. If you're passing through in July, don't miss the offbeat Underwater Music Festival.