America's Best Rodeos, According to Pro Cowboys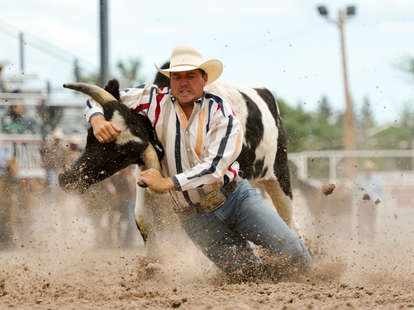 In the big untamed middle of America, summer is rodeo season. It's the greatest time of year for anyone who loves watching broncos buck, or eating funnel cakes, or seeing linebacker-sized cowboys wrestle steer with their bare hands, or just watching fireworks reflect off metal grandstands for four straight nights.
The American rodeo competition circuit is divided into two main associations -- PRCA for men and WPRA for women -- that organize athletes across eight separate events. All that cowboy-sport takes place in stadiums that attract food vendors and rides and miscellany that share a lot of DNA with county fairs. In many towns each year, the rodeo is the biggest week on the calendar, by far.
Literally hundreds of these take place from California to Florida. The athletes who criss-cross the country might be lucky to recoup their gas money -- or they can score mid-five figures in cash prizes from a single event. So every year the top riders drive almost literally nonstop to rack up rodeo appearances by the dozens. We spoke with several top riders to get their favorites and to get a view from the open road.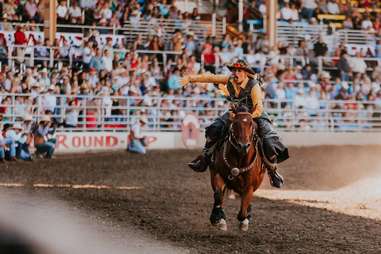 The best for a low-key great time
Pendleton Round-Up (September 13-16, 2017)
Pendleton, Oregon
Pendleton is a small town that lives for Old West culture and its annual massive rodeo. Beyond the 100+ years of competition history and old grass track, riders love the Let 'Er Buck Room (read: bar) under the main grandstands. "Everyone lets loose," says J. Tom Fisher, part of a family of successful riders. Asked for specifics, multiple riders declined to offer further details of the bar, so take that as you will. As Fisher puts it, "Later in the week, there's no telling what's going to happen."
The best place to lose a fortune
Days of '76 (July 25-29, 2017)
Deadwood, South Dakota
"Deadwood is the prettiest place we'll rope all year," Fisher says. It also happens to be a dangerous one for the ol' pocketbook. "I lost a large part of my college tuition there," he says, describing the Old West town where gambling is very legal. "In 2006/2007, they'd still hand you a check right after winning. I went to a casino (after the rodeo) and lost 21 hands of blackjack in a row. I had to call my grandmother and have her wire me money so I could get home. As I left, the table dealer handed me two decks of cards and said 'go practice.' I threw these decks around to some fellow riders and to this day people still have those decks."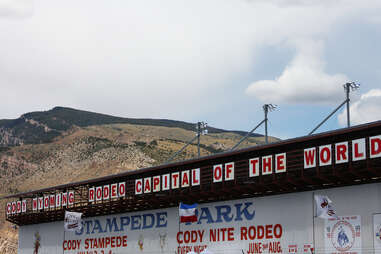 Within roping distance of a national park
Cody Stampede (July 1-4, 2018)
Cody, Wyoming
"Winning this rodeo made me feel like I belong," says Tammy Fischer, who has competed in the National Finals Rodeo (see below) six times and has been a member of the WPRA since 1993. Cody has the highest one-run payouts, making it an efficient stop for riders, but it's also just an hour from Yellowstone, offering a welcome break for riders during the Independence Day busy season known affectionately as Cowboy Christmas for its abundance of big purses. It's the perfect one-two-three punch: Take it some top-notch roping in town, catch the fireworks, then head out to the park for a little R&R.
Best beach vibes
Rancho Mission Viejo Rodeo (August 26-27, 2017)
San Juan Capistrano, California
"You can go to the ocean right after the events," says Jeremy Buhler, part of last year's roping heeling champion team. The central California coast in late summer is a perfect place to get a break from the heat while enjoying top-tier talent in a small community. The city of 36,000 really gets behind the two-day series and with a purse of more than $250,000, the money at stake makes it an attractive stop for competitors.
The best way to experience old Texas
Pecos Rodeo (June 27-30, 2018)
Pecos, Texas
No one is surprised that the oldest rodeo on record is in Texas. "It's one of the most prestigious to win because it's the first one (as the rodeo claims)," Fisher says. The event becomes a celebration of everything West Texas, including possibly the best-named food event on record: "The Sheriff's Posse BBQ."
Breakaway Roping at the California Rodeo Salinas
The best multi-track action
California Rodeo Salinas (July 20-23, 2017)
Salinas, California
Another central coast option that's as popular for the weather as it is for the hospitality. "The organizing committee puts out fresh strawberries from the region for the riders each day," says Sherry Cervi, a 25-year veteran of the rodeo circuit. The Salinas Sports Complex has one of the few arenas with a dual layout, meaning that multiple events are happening at any given time -- rodeo sensory overload. The winner also gets this amazing buckle.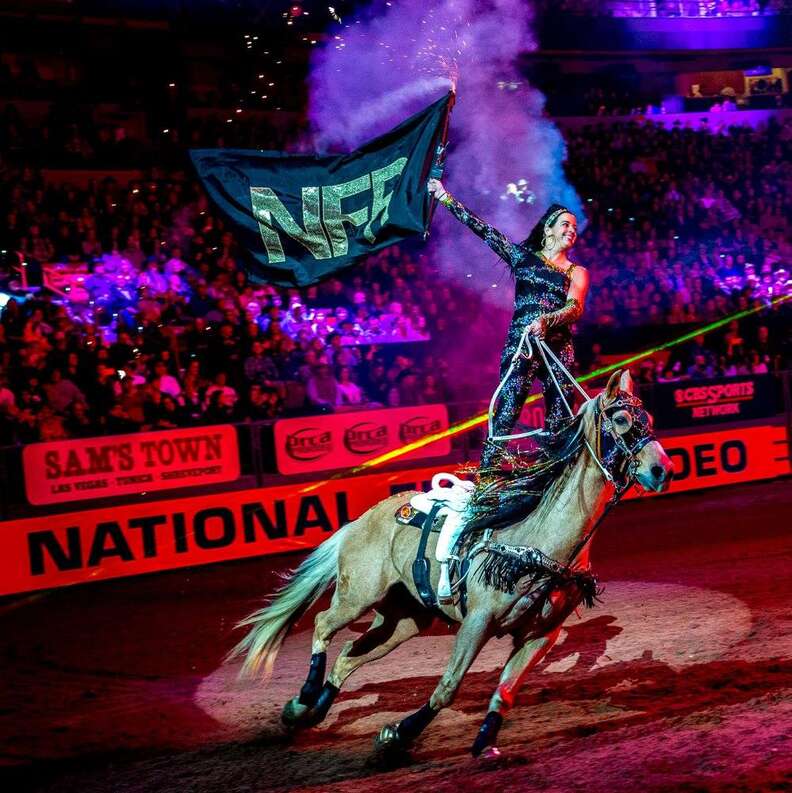 The best competition
Wrangler National Finals Rodeo (December 7-16, 2017)
Las Vegas, Nevada
Consider this the Super Bowl of the rodeo circuit. The top 15 competitors (by accumulated winnings during the season) in each rodeo event wind up competing in Vegas across 10 nights when fortunes are won and champions are minted. The total purse tops $8 million, and a good showing on a given night can move a rider quickly up the ranks. "I ended up top 5 in the world (after steer roping) at the Finals," says Junior Nogueira, a Brazilian rider who is one of the top current athletes in the sport. "I will carry that with me forever."
Best place to soak up history
Cheyenne Frontier Days (July 21-30, 2017)
Cheyenne, Wyoming
One of the most respected events on the circuit has been a full-fledged rodeo since 1897. Multiple riders told us that they make sure they compete in this event because it's a bigger rodeo and earning a place in the 100+ year ranks makes quite the statement. Some riders will even stick around to enjoy Wyoming's capitol. For cowboys to take a day of rest in a place, with the open road (and more paydays) calling? You know it has to be special.
Sign up here for our daily Thrillist email and subscribe here for our YouTube channel to get your fix of the best in food/drink/fun.
Geoff Nudelman is always up for a good challenge and a great hike. Whether it's running a cocktail festival in Los Angeles or soaking in the politics of soccer at the Euros, his passion for storytelling has always been a constant. His work can be seen at: Travel Channel, Bloomberg Pursuits, The Manual, American Express Essentials, Robb Report, and many more. You can follow his adventures @NVDEL.