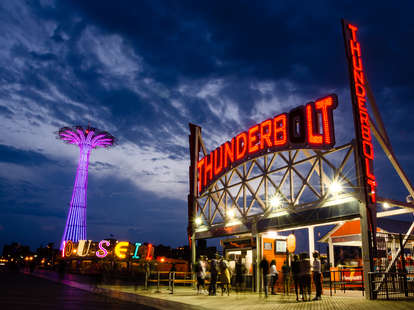 For all that America has done to make roller coasters our own, we actually owe the invention to adventure-seeking Russians. The original coaster is thought to be a 16th-century St. Petersburg ice slide that took riders on a high-speed journey through a series of colorful lanterns. Over the years, as the tech advanced ever so slightly, coasters were used as mine shaft transportation, elevated railways, and, towards the end of the 19th century, actual amusement rides. Today the great coaster evolution has led us to wait in line for three hours to have our stomachs yanked into our throats for 87 seconds.
Even if we didn't invent roller coasters, Americans are hard at work perfecting 'em. Throughout the country we have some spectacular specimens of the form, be they jittery wooden reminders of yestercentury or masochistic steel monsters with 300ft drops. Some are fast, some are scary, but all are rides that give us three or four minutes worth the trip. Here are the 15 most iconic coasters in the country.
Lightning Rod
Dollywood; Pigeon Forge, Tennessee
Wooden coasters, typically known more for retro scares than pure speed, have to bow down to the Lightning Rod. With a top speed of 73mph, it's the fastest wooden roller coaster in the world, edging out Magic Mountain's Goliath by 1mph. After an initial 20-story climb, riders drop 165ft before heading up an immediate second summit (here come the Dolly Parton jokes) and subsequent second drop. The up-and-down turbulence gives riders about 20 seconds of airtime throughout the ride, another superlative figure for a wooden coaster.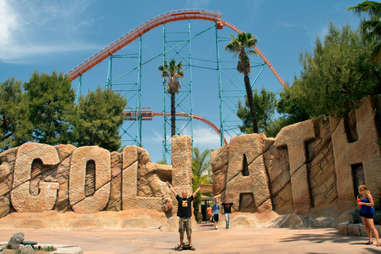 Goliath
Six Flags Magic Mountain; Valencia, California
So close to Hollywood, Goliath naturally has the most photo-friendly signage of any ride on this list. Once riders take their requisite snapshot with the 165ft rise, concrete sign, and palm trees, they're sent on one of the best first drops in the world. Heralded as the longest and fastest when it opened in 2000, Goliath's first drop takes riders up 165ft, then shoots them down 255ft into an underground tunnel at a blistering 72mph, blasting through the 120ft tunnel in less than a second. The coaster has no inversion, but because of the high speed and turn frequency it's notorious for making riders "gray out," when blood drains from their heads from the 4.5 G's. And when driving to Magic Mountain on the 101 Freeway, nothing screams "we're here" like Goliath's welcoming red and blue peaks.
Millennium Force
Cedar Point; Sandusky, Ohio
This classic coaster is kind of like the Draymond Green of Cedar Point. Anywhere else, it's probably the best coaster in the park, but surrounded by such all-world talent, it might not even be the third-best at Cedar Point. That said, the coaster leverages height, speed, and duration better than possibly any other in America, combining nearly 6,600ft of track with a 300ft drop and speeds past 90mph. It's the most noticeable coaster here, a towering icon in the best coaster park in the land. If nothing else it makes for a nice, long, fast, and bumpy ride.
Leap-The-Dips
Lakemont Park; Altoona, Pennsylvania
It is the oldest operating roller coaster in the world, and even if it appears on no other list of impressive statistics, that at least warrants some respect. Built in 1902, this National Historic Landmark is what's known as a side-friction coaster, which means it's basically held on the tracks by gravity and physics, with nothing clasping onto the rails. Don't worry too much, though: the coaster goes only about 40ft up and won't exceed 18mph, so you're probably pretty safe, even if the whole trip sounds like you're chewing a handful of gravel. Leap-The-Dips actually closed from 1985-1999, but reopened after a massive fundraising campaign. And even though it's more history than thrills, it's definitely worth a ride.
Fury 325
Carowinds; Charlotte, North Carolina
Though it might not be familiar outside the Carolinas, this high-speed steel coaster is the tallest and fastest giga-coaster in the world, soaring 325ft up and propelling guests at speeds up to 95mph. The football field-length first drop gets the momentum going, plummeting riders at the very beginning, followed by nearly two minutes of unbridled speed and painful turns. All that probably made it worth the $30 million price tag, and is definitely why it won Amusement Today's 2015 Golden Ticket Award for Best New Ride.
The Cyclone
Luna Park; Coney Island, Brooklyn, New York
Charles Lindbergh was once to have said a ride on the Cyclone was scarier than flying an airplane -- and back then, that meant something. The wooden coaster, built in 1927 during Coney Island's heyday, is the only amusement ride with a minor-league baseball team named after it. And if those facts don't scream "iconic" to you, perhaps you should re-examine your definition. Other coasters have come along -- like Coney Island's spiffy new Thunderbolt pictured at the top of this story -- but the Cyclone is the enduring classic, a relic that never feels out of date, even after watching Coney Island's rise and fall and rise. Gosh, if this ol' gal could talk, right? Except knowing her, she'd sound like the deafening clatter of old metal careening along rickety timber, probably pretty hard to understand.
Magnum XL-200
Cedar Point; Sandusky, Ohio
That constant roller-coaster arms race -- of who's the fastest, tallest, or most vomit-inducing something -- effectively began in 1989 with Magnum's debut. This steel coaster was born as the tallest, fastest, and steepest in the world, and the first coaster to top 200ft in height. Its top speed of 72mph seems like some serious right-lane driving in 2016, but at the time this twisting, turning coaster with three distinct drops helped Cedar Point set attendance records. Now a legitimate classic in its own right, Magnum remains a top attraction at America's roller-coaster mecca.
The Beast
Kings Island; Mason, Ohio
The paradox of high-speed roller coasters is obvious to anyone who's stood in line for an hour, only to finish the actual ride in less time than a hockey penalty. Not The Beast. The world's longest wooden roller coaster has nearly a mile and a half of track, and takes over four minutes to complete. In that gantlet, you'll jet through an underground tunnel, meander through the treetops of rural Ohio, race skyward for spectacular views of the countryside, and generally enjoy every one of the 35 acres this behemoth covers.
Thunderbolt
Kennywood; West Mifflin, Pennsylvania
Kennywood's open! And now that the yinzers among you have finished examining your zippers, it's time to wax nostalgic about a coaster that is equal parts engineered thrill and real-life terror. This old-school wood coaster doesn't bother with seat dividers, meaning you full-on body slam your seatmate when you race into the first hard turn after the initial plunge into a ravine. As if the sensation of being crushed to death weren't enough, the Thunderbolt then dips perilously close under Phantom's Revenge, inspiring a momentary fear of decapitation. Though it's the best roller coaster at America's best park for woodies, the attraction built as Pippin in 1924 isn't even the oldest one at Kennywood (Jack Rabbit dates to 1920). But it's still the sixth-oldest roller coaster in America.
Giant Dipper
Santa Cruz Beach Boardwalk; Santa Cruz, California
Cali doesn't quite do beach-town boardwalks the way the East Coast does, but its shining example is in Santa Cruz, where the Giant Dipper headlines the amusement park in one of America's best beach cities. This historic 1924 wooden coaster, constructed over just 47 days, has cradled more than 60 million butts since it first opened, and has appeared in commercials, TV shows, and movies (Dangerous Minds, Sudden Impact). It's as much a part of the California coastline as Big Sur or Santa Monica, and in a state full of theme parks it's still the most recognized ride around. And while it's not going much over a city-street speed limit at 45mph, it's still a classic part of a day on the beach in Santa Cruz.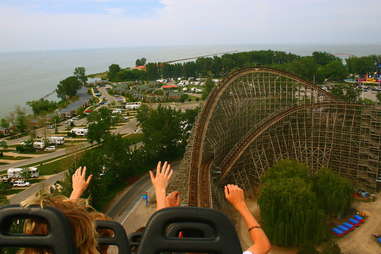 Mean Streak
Cedar Point; Sandusky, Ohio
Cedar Point brings the heat in every category of roller coaster. You like lumber? Well, here's 1.7 million board feet of pine, reaching 161ft high. It's got the sixth-largest drop of any wooden coaster in the world at 155ft, and despite its epic size still manages to push along at an impressive 65mph (eighth-fastest in the world). When lit up at night, it's one of the grandest sites in Ohio, a retro ride that stands up against its high-speed steel neighbors. While it might not be the nastiest coaster in the park, it adds a little bit of throwback charm among the steel sculptures, and gives the place a woodie that's just as iconic as the rest.
Phobia Phear
Lake Compounce; Bristol, Connecticut
The youngest coaster on this list, Phobia Phear has a rider experience that flat-out hasn't been seen much before. It holds no records or distinctions, and its lasting influence has yet to be determined, but it may well change the way designers approach roller coasters in years to come. The ride utilizes momentum -- not unlike the galleon rides at old small-town carnivals -- to accelerate the fear on this one. Riders first creep up one side and are momentarily held weightless, then shoot to the bottom and creep up the other side, not quiiiiiiite making the top, held weightless again. The cycle continues until the coaster finally builds enough momentum to topple over the first drop, and into a series of corkscrew turns that scatters the memory of your departed stomach across four directions. Novices, you've been warned. Everyone else, this is the summer's must-ride.
The Incredible Hulk
Universal's Islands of Adventure; Orlando, Florida
Roller-coaster snobs may roll their eyes at the inclusion of a comic-book theme-park ride, muttering something along the lines of, "It's not even the fastest coaster named after a SUPERHERO." (Magic Mountain holds that distinction with Superman: Escape From Krypton.) But it is the icon of the coaster enclave in America's theme-park capital, and for that, it belongs squarely on this list. It was one of the first US coasters to use a launch system, accelerating riders from 0 to 40mph in only a couple of seconds. And while the ride doesn't last two minutes, it's a nonstop series of drops and twists, the roar of which can be heard through nearly the entire theme park. Enticing.
Kingda Ka
Six Flags Great Adventure; Jackson, New Jersey
As if people from New Jersey needed more reasons to brag about being from Jersey, since 2005 their state has been home to world's the longest, tallest steel roller coaster. This accelerator coaster holds you at the bottom for a painfully long time -- so long you begin to wonder whether the ride has malfunctioned. Just as you're wondering whether you ought to phone someone, you're shot back into your seat, and immediately up a terrifying 456ft lift. Just as quickly, you're shot straight down 418ft, at speeds reaching 128mph. It's hard to say what's scarier -- that anticipation itself or the face-peeling speeds -- but insofar as knowing how to thrill your brain, this is the best coaster in America.
Top Thrill Dragster
Cedar Point; Sandusky, Ohio
Top Thrill Dragster actually was the first coaster to employ the gut-wrenching anticipation, followed by breakneck speed concept, which Kingda Ka perfected upon opening two years later. This drag race-themed ride at Cedar Point uses almost the same sequence of thrills (not surprising, since they share a manufacturer), and held all those records Kingda Ka does now from 2003 to 2005. But such is the game of roller-coaster competition, and even though this ride is 36ft shorter and 8mph slower, it's still taller, faster, and freakier than nearly every other ride in America.
Sign up here for our daily Thrillist email, and get your fix of the best in food/drink/fun.
Matt Meltzer is a staff writer with Thrillist. You can find him on these coasters on weekdays in the fall, or on Instagram: @meltrez1.