What's better than drinking inside? Drinking outside. And what's better than drinking outside? Drinking outside with stunning, sky-high views of mountains, and skylines, and not the entrance to the Barnes and Noble at the Holyoke Mall.
Which is why we've rounded up 11 of the most incredible rooftop bars in the world, with dramatic panoramas that include everything from the Sydney Opera House, and a pro baseball stadium from 25 floors up, to pretty much all of Singapore.
If you're outdoorsy in the sense that you like drinking outdoors, this grassy rooftop with a manicured lawn and trimmed hedges is your spot. Overlooking landmarks like St Paul's Cathedral, the Gherkin, and the Bank of England, it's meant to resemble ploughed fields and will, no doubt, evoke the feeling of drinking in the English countryside. Except, you know, with giant buildings all around.
It's so nice, they built it twice. Literally. First constructed in the 1880s, this beloved Aussie institution was rebuilt across the street when the Sydney Harbor Bridge went up in 1923. Now, it blends an authentically retro vibe with incredible views of said bridge, as well as the Sydney Opera House.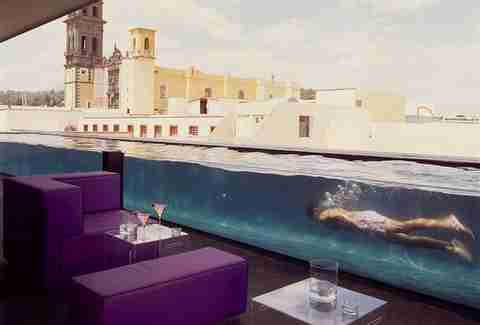 Totally pretend you're not staring at women under water as you sip your cocktails next to the glass-walled pool that sits atop a UNESCO World Heritage site.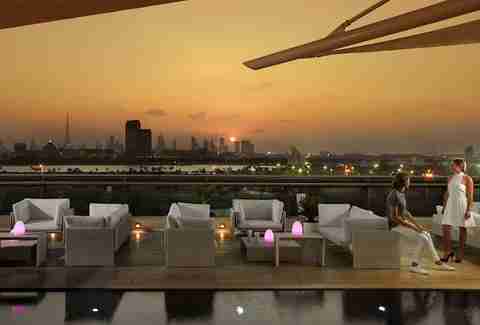 Cu-ba -- Dubai, United Arab Emirates
After enjoying a glass elevator ride to the top, you'll be treated to rum, cigars, and stunning views of Dubai's glittering skyline, not to mention an 82ft pool with private cabanas.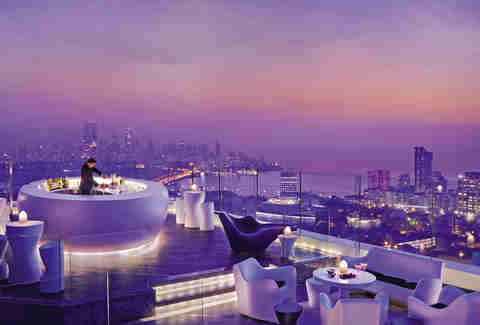 Sky Bar -- Bangkok, Thailand
Recognize this shot from The Hangover Part II? No? Of course not, that movie was terrible. If you had seen it though, you'd know that Sky Bar (at 820ft high high, on the Lebua Hotel's 63rd floor), promises vertigo even without booze. One of the highlights here is a glass staircase (with jaw-dropping views) that leads from a castle-like dome to a flashy LED-lit bar. 
Three Sixty -- St. Louis, Missouri
Enjoy a birds-eye view of the Cardinals game (not to mention shots of the Gateway Arch and Mississippi River) at this hotel sports bar perched above Busch Stadium.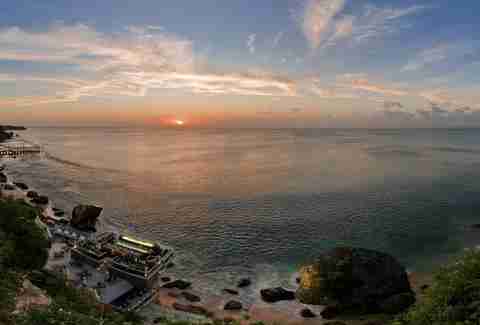 Rock Bar -- Kuta, Bali, Indonesia
Okay, so it's on a rock and not a roof, but overlooking the Indian Ocean from 46 feet ain't too shabby. And nothing screams exclusivity like long lines, limited seating, and having to take a four-person cable car to get there. Right on the water's edge, you might even be able to hear the waves crashing at your feet if it weren't for the DJ kicking it in a booth carved into the cliff face.
It's no surprise that a bar on top of the world's most expensive building (the Marina Bay Sands Resort, worth $4.7 billion) would also be considered one of the world's best. Since it's on the highest building around (656ft above the ground), this famous, 40,000sqft party bar/club/poolside terrace has an unrivaled 360-degree view of Singapore, boasts the world's greatest hotel pool, and features a nightly laser show. Also, wagyu mini burgers.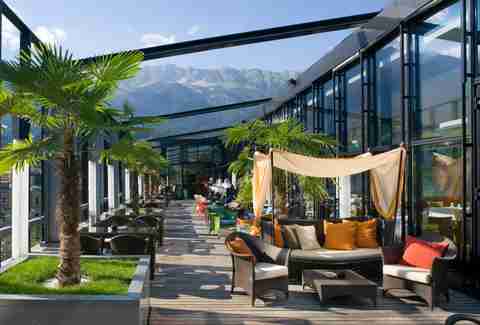 It might be no higher than your fifth floor walkup, but there's something pretty amazing about drinking in the shadows of the Alps. The 100 different whiskeys offered on the menu are an added bonus.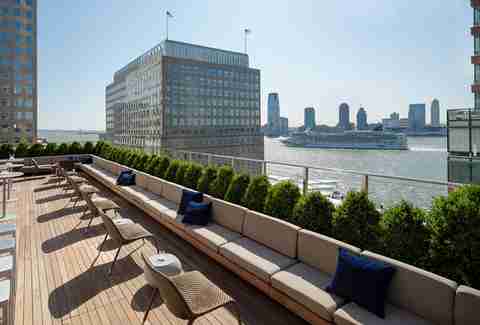 It's as fun to say as it is to drink their signature Boozy Ice Pop & Prosecco Cocktail, which is made with Brooklyn-based People's Pops and Prosecco (on tap!) Oh, and the view of the Statue of Liberty isn't too bad either.

Sophie-Claire Hoeller is Thrillist's über-efficient German associate travel editor, and she enjoys drinking outside. Follow her @Sohostyle.