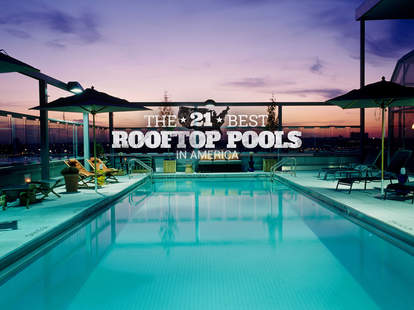 The 21 best rooftop pools in America
Rooftop pools are the greatest monuments to man's awesomeness this side of the Pyramids, and they tend to throw way better parties. We nailed down the 21 best, complete with info on features, events, and, in some cases, the possibility of diving in without checking in.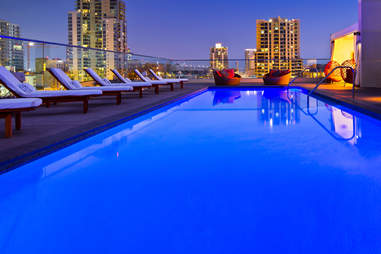 Courtesy of Hyatt Hotels & Resorts
Why It's On Here: Offering one of the best panoramic views of America's Finest City, RoofTop600 gets all new digs for Summer 2014, meaning your butt might be the first to lounge in the refreshed cabanas. Bookend your pooling at the adjacent resto, which throughout the day/night transforms from a bottomless mimosa brunch spot into a bottle service club.
When You Should Be Here: July Fourth and Labor Day for DJs, drinks, and pool toys.
Access: If you want to lounge poolside, you're gonna need a room, but all that you need for their parties is a ticket.
Courtesy of Viceroy Hotel Group
Why It's On Here: The 15th floor, 300ft long infinity looking out over Biscayne Bay can nearly accommodate two simultaneous Olympics, while the oversized whirlpools can accommodate two simultaneous recovery sessions from record-setting Miami shenanigans.
When You Should Be There: Sunday Confession, their weekly 12-8pm party at FIFTY, their rooftop club (which is, of course, another pool on the, of course, 50th floor). Try to do something worth confessing about.
Access: The main 300ft long pool is only open to hotel guests, but any ol' clubgoer can hit up FIFTY.
Advertisement
M.A.
Why It's Awesome: Cooling off taste buds with pool water -- even fancy pool water -- is not a great idea. Summer Ice Pop Tic Tac® mints combine cherry, berry, and lime flavors, which taste way better than chlorine. Plus, the jangle of a full box is the ultimate poolside mating call.
When You Get It: Right now, because these guys are only out for a limited time. Check their Facebook for updates and info.
Dan Gentile
Why It's On Here: The pool sits atop a 3-story restaurant, lounge, and club. While Austin isn't exactly a bottle service town, if you're gonna do it, this is where you do it, chilling in three feet of water, surrounded by bikinied staff, and drinking champagne. (Which is also avail by the glass.) (And also they have beer -- this is still Austin.)
Why You Should Linger: DJ'd parties in the lounge start kicking when the pool closes at 9pm.
Access: Open to the public (and there's no cover).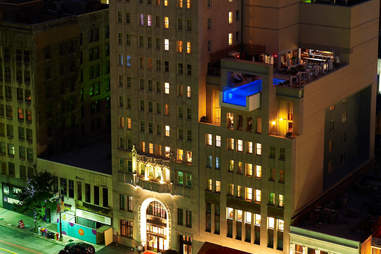 Courtesy of Preferred Hotel Group
Why It's On Here: One of Dallas' most historic buildings, The Joule rocks a neo-gothic style that's nicely out of place. Also out of place? You, as you float above the freaking street in their cantilevered, saltwater, heated pool.
Don't Overlook: The lawn across the street showcases enormous outdoor art installations fully visible from the pool area, brought in by the hotel and its partner, the Nasher Sculpture Garden. Currently on view: a 30ft tall eyeball that appears to be staring right back at you.
Access: Hotel guests only.
Courtesy of The Gansevoort
Why It's On Here: This year-rounder was possibly the very first rooftop pool to pump up the jams while simultaneously pumping chlorine via crystal-clear underwater speakers. The gorgeous view provides one of the few opportunities to say, "God, the Hudson River is beautiful" without someone immediately making a joke about dead bodies, which everyone knows are mainly in the East River anyway.
When You Should Be There: Weekend brunch, Thursday night events, or anytime you want to be slightly more awesome than the girls at Plunge, the adjacent, open-to-the-public rooftop lounge.
Access: Hotel guests only.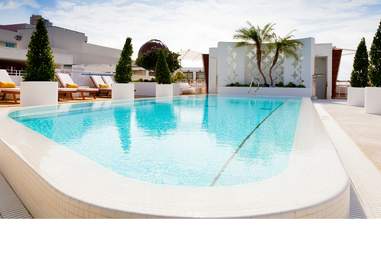 Courtesy of Dream Hotels
Why It's On Here: Dripping with art deco panache and a finish of pure all-white everything '70s style, this pool might be 70ft from the ocean, but who needs the ocean when you've got cocktails with watermelon in them?
When You Should Be There: July 4th, because the only way that you could be closer to the fireworks is if you were lighting the fuses yourself.
Access: Hotel guests only.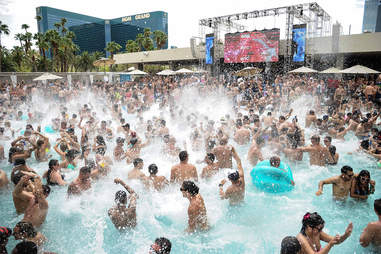 Why It's On Here: Even though they have one of the most gargantuan pool complexes in Vegas (53,000ft of water!), you'll still be bumping shoulders with the beautiful at their sprawling ragers. Also, they have waterfalls, and a Lazy River. You can't beat Lazy Rivers, you just can't.
When You Should Be There: Every weekend when they open up the pool with resident DJs like Tiesto and Steve Aoki.
Access: Every Thursday through Monday from 11am to 6pm, if you pay the cover charge/werk it.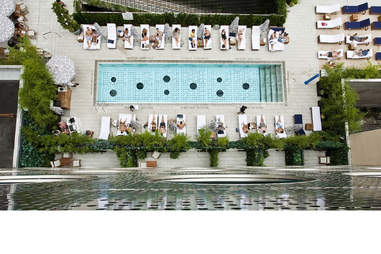 Courtesy of Dream Hotels
Why It's On Here: Because you can look down into the lobby through the bottom of the pool at every fool not in the pool -- it's a lot easier to discern envy from that vantage point than by squinting at some speck down on the sidewalk.
Don't Overlook: A 4800 sq ft sand beach that'll make you think you're in a… Dream.
Access: Hotel guests only.
Courtesy of The James New York
Why It's On Here: One of the best skyline views in the city and you get to watch very attractive people using the outdoor showers. Those not wishing to look like perverts can pretend to read a guest-curated, waterproof e-reader.
When You Should Be There: Every Saturday and Sunday starting at 3pm for their JIMMY Summer Weekend Pool Party, when the pool and rooftop club, JIMMY, mesh into one, glorious, custom frozen-cocktail-serving, David-Burke-catered super soirée.
Access: Hotel guests only, but the public can get in on action during those aforementioned pool parties.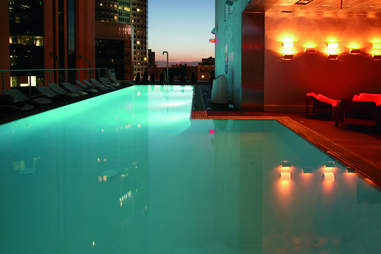 Courtesy of Standard Hotels
Why It's On Here: Loaded with slick, modern charm, and outfitted with two (two!) bars, a private garden, and a ping-pong lounge, nobody will blame you if the last thing you notice is the striking view of downtown.
When You Should Be There: June 14th for their Disco Dive Pool Party. No offense to the '90s, but sometimes it's more fun to party with DJ Harvey than PJ Harvey.
Access: Dive in from 9am til 1am Sunday through Thursday, but if you want to get down with their Saturday parties, you're gonna have to get down with a room.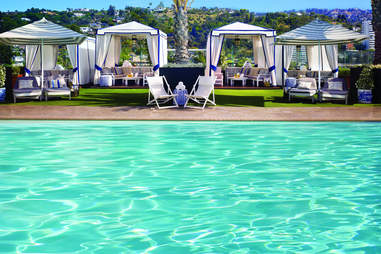 Courtesy of The London
Why It's On Here: The landscaping's astonishing for something so high above land, and they have a dedicated "Pool Concierge" who'll attend to your every desire (insofar as it's related to the pool, except for the pool's gutter, which you should get your mind out of).
What You Shouldn't Be Ashamed To Do: Take advantage of that concierge's willingness to constantly resupply you with complimentary fruit and smoothies, or something off Gordon Ramsay's menu (Lobster Coconut Soup seems pretty right on). Reserve a cabana and he'll also hook you up with a massage. Or just a million more smoothies.
Access: Book yourself a cabana and you and up to five friends can soak in the pool or soak up a movie on one of the cabana's flat screen tvs, all without having to book a room.
Courtesy of Starwood Hotels & Resorts
Why It's On Here: Because New Orleans gets bonkers hot and this is a pool. Still need convincing? Sundays between 12pm and 5pm are Adult Swim, where they provide the DJs, drinks, and the food, and you provide the childlike behavior.
When You Should Be There: The first Sunday of each month, at which, thanks to a partnership with Fashion Week New Orleans, you'll party with models. Good lord models love pools.
Access: Hotel guests only except during the aforementioned fashion parties.
Courtesy of TAO Las Vegas
Why It's On Here: This is not the pool to go to with your family/any family/the concept of a family. One of the wildest parties in Vegas may be decked out with all kinds of Buddhist iconography, but it's also decked out with toplessness.
When You Should Be There: July 12th, when "The World's Largest Bachelorette Party" takes over the pool and "hundreds of brides-to-be and their friends will be celebrating their nuptials with one last wild weekend!" Here's hoping you become "whatever happens in Vegas…"
Access: Total -- they're open 7 days a week.
Courtesy of The Revere
Why It's On Here: This is Boston, so it's no surprise the 7th floor pool is indoors and heated, though the windowed view is still great. Step outside on the enormous deck to find a slick bar serving up tropical drinks (this is Boston, so obviously!) and… really weird monkey sculptures!
When You Should Be There: Party with models every Wednesday at 6pm, or get with a stellar good time on Sundays starting at 11am with their Sun & Moon parties.
Access: Anyone can jump in from 11am to 5pm, but it will run you $20 during the week and $30 on the weekend.
Courtesy of The Cosmopolitan Las Vegas
Why It's On Here: Here, it's not pool, it's pools. Each of the seven cabanas lining the pool proper comes outfitted with its own dipping pool, or you can rent out a three-floor bungalow equipped with an exclusive plunge pool. Come on!
When You Should Be There: June 18th-20th when Electric Daisy Carnival takes over Vegas and the Cosmo starts putting up artists like Sander van Doorn, who pay for their lodging by playing the pool(s).
Access: Hope you're ready to party 7 days a week from 10am to sunset, because they are.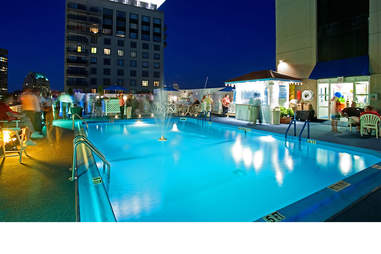 Courtesy of The Colonnade
Why It's On Here: Boston's only outdoor rooftop pool is getting a slick new renovation slotted to debut this summer. What hasn't changed are the stunning South Boston views, the kicked back atmosphere, and the total absence of dudes in Scalabrine jerseys.
When You Should Be There: Any date their summer concert series is rolling -- Fitz and the Tantrums is next up, and in the past they had Robin Thicke, though it's cruel to demand "everybody get up" when everyone's in a lounge chair.
Access: It's open to the public Monday through Friday, but only hotel guests get it on Saturday and Sunday.
Courtesy of Four Seasons Hotels & Resorts
Why It's Awesome: This heated infinity seems to drop off directly into Elliott Bay, and offers views of the Olympic Mountains (which might be where Olympia beer comes from) and of the night sky above and below (it's mimicked by a bottom-of-pool lighting display).
What About Winter? Hot tub and outdoor fireplace trump winter any day.
Access: Hotel guests only.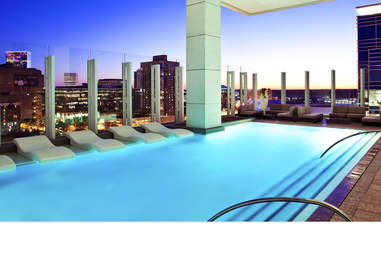 Courtesy of Starwood hotels & Resorts
Why It's On Here: Atlanta's only all-weather rooftop pool resides under the total coverage of a stone awning. DJs spin all Saturday night and Sunday afternoon, so that stone doubles as a sound-dampener for guests too soft for hard beats.
Why You Should Befriend An Atlantan: Because they might know CeeLo. Also, they get 20% off their W stay.
Access: Book the W's Sounds of Summer package and have access to the pool and the parties all season long.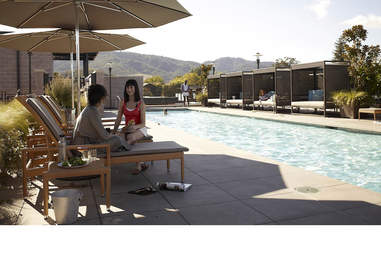 Courtesy of Bardessono
Why It's On Here: The unstoppably beautiful views of Napa Valley from this heated lap pool are absolutely... unstoppable. Also, the green construction will make you feel better about the fact that you are currently contributing absolutely nothing to the world.
When You Should Be There: The last Thursday of June, July, and August for Dive Bar, when they open their pool to mixologists, vintners, and bikini models.
Access: Hotel guests only, except during Dive Bar! Then it's open to the public.
Courtesy of NYLO
Why It's On Here: The first hotel opened in South Dallas since 1946, NYLO Southside leans into its historical mantle by keeping original architectural elements of the 100-year-old building. They're not total purists, though -- the number of hotels that had wicked infinity pools in 1946 is the opposite of infinity. After dark, drop into the adjacent SODA Bar, gaze in wonder at the Green Building, and don't even bother asking, "So what's up with that green building?".
When You Should Be There: For the summeriest raffle ever, June 12th's NYLO Pooloza, where potentially winning rubber ducks are purchased for $5 and then tossed into the pool.
Access: Hotel guests only.
Courtesy of Kimpton Hotels
Why It's On Here: Standing on its ipe wood deck you can almost certainly see important national monuments just blocks away, but unlike most DC walking tours, this pool offers Asian tacos inspired by chef Jennifer Nguyen's trip to Austin, and Jon Harris-designed tea-based cocktails like the excellently named 1910 Hong Kong Country Club Special, available in "full towers" that serve 16-20.
How You Should Post Up: They just installed a giant outdoor screen, which is perfect for viewing World Cup games and July 4th fireworks. Take in the jumbo-est of trons, and hang out at the bar 'til 1am. You might need the extra time to finish off that tower.
Access: Daytime swimming is limited to hotel guests, but they trade towels for tipples when the DNV Rooftop bar opens to the public at 4pm Monday through Friday and at 7pm on Saturday and Sunday.