Black's Beach

| SDBEST/iStock/Getty Images
Black's Beach

| SDBEST/iStock/Getty Images
Whether "going to the beach" means catching the perfect wave, picnicking near an oceanfront cliff, partying with friends, or sharing a spectacular sunset with your crush, San Diego's 70 miles of coastline has the perfect place for your sunny day adventures. Here, our lives revolve around the water—conversations are peppered with surf reports, shops sell sandwiches and burritos named after local waves, long and short boards spill from garages and bob on the heads of the hardcore out for dawn patrol. Our culinary landscape is dominated by our proximity to the ocean, from mariscos served from a food truck in a parking lot to our devotion to finding the definitive fish taco. We work, play, and live in not just a beach town but arguably the finest beach town anywhere.
But before we guide you on where to beach bum around America's Finest City, here are some ground rules:

Different beaches operate by different rules, even within the San Diego Park System, so be sure to read all the signage when you enter the beach or parking lot.
Parking: Some beach lots close at sunset, some at 2 am, and others really don't close at all. Be sure to check the signs for your particular lot so you don't walk back to your car only to find it behind a locked gate. If you're parking on a residential street and block a business or resident's driveway, you will be towed, so don't even consider it. While most of San Diego's parking meters accept credit cards and other electronic forms of payment, such as Apple Pay, be sure to carry some change for those random areas that still have coin-only meters.
Alcohol, tobacco, cannabis, vaping of any sort, and glass are not permitted on any beaches in San Diego County, and that's been the case since 2008. Sorry.
Dogs are only allowed on a few beaches in San Diego. Even then, poop bags may not be available, so bring some, just in case. Some beaches allow leashed dogs before 9 am and after 4 pm from November to March or after 6 pm from April to October.
Bonfires are only permitted in fire rings. Some beaches have bbq grills, but personal bbq grills are generally allowed at most beaches, and many provide containers for discarding hot coals. Never dump hot coals in the sand; even if you cover them, they can still be red-hot hours later for some unsuspecting soul to step on.
Lastly, the Golden Rule of Beachgoing—leave things cleaner than you found them!
Mission Beach sits on a narrow peninsula, bordered by Pacific Beach at Pacific Beach Drive on the north, and ends at a stone jetty with Ocean Beach to the south. It's adjacent to Mission Bay Park, the country's largest manufactured saltwater aquatic park. Mission Beach has two parts, Mission Beach and South Mission Beach, each with its own vibe. It's one of San Diego's most popular beaches on any given day and can get packed on weekends and holidays.
Know before you go:
Mission Beach is a wide stretch of soft sand home to some of the best amenities in the county, including year-round lifeguards, biking, boogie boarding, surfing, whale watching, sport fishing, and scuba diving. Bathrooms and showers are located near the lifeguard towers, and there are several grassy areas with picnic facilities. A limited number of wide-tire beach wheelchairs are free to use; check with a lifeguard for availability. If you plan to scuba dive, call the lifeguard beach information line at 619-221-8824 for surf information before coming to the beach; you won't be allowed to dive without this step.
A highlight of Mission Beach is Belmont Park amusement park, where you can enjoy rides of all levels, including the historic Giant Dipper Roller Coaster, a swimming pool, surfing wave pools, a putt-putt golf course, and a game arcade.
South Mission Beach runs from the south edge of Belmont Park to the jetty. It's one of the widest beaches in San Diego and is a haven for the sports-minded, with numerous volleyball courts and basketball courts. Although you can find waves all along Mission Beach, the most consistent surf is near the jetty and is best suited to more experienced surfers. Fishing without a license is allowed from the jetty as long as you follow catch requirements. A permanent lifeguard is on duty, and there are grassy areas to relax and picnic on with restrooms nearby.
The Ocean Front Walk boardwalk begins at the jetty, running all the way to Pacific Beach, and is popular for walking, jogging, bike riding, skateboarding, and rollerblading.
Leashed dogs are allowed on both parts of the beach before 9 am and after 6 pm from April to October and after 4 pm from November to March, and fire rings are available on a first-come basis.
Mission Bay Park hits all the right notes for a day-off getaway, with 27 miles of shoreline, including 19 miles of powdery sand beaches and dedicated areas for swimming, water skiing, and personal watercraft, plus 14 miles of bike and walking paths. Plan ahead if you want to bring your dog, though, because while some parts of the park are leash-free, other areas don't allow dogs.
Parking in the residential areas of Mission Beach is notoriously difficult, but there are free public lots on either side and across the street from Belmont Park, at Santa Clara Place or El Carmel Place north of Belmont Park, and at South Mission Beach Park. There are numerous paid parking lots, and enterprising homeowners sometimes sell expensive parking spaces in their yards during holidays. On weekends and holidays, your best bet might be to use a rideshare service and avoid the parking nightmare entirely.
Where to eat/drink: At Sandbar, cocktails run from fresh and fruity margs and agua frescas to its slap-you-awake Big Ass Bloody Marys. Foodwise, the award-winning TKO fried fish tacos are the correct choice. A little further up the road, Miss B's Coconut Club pairs Caribbean-inspired favorites like Cuban sandwiches, jerk chicken, and coconut shrimp with potent tiki drinks or spirit-forward choices like Tortuga Heater made with barrel-aged rum, rye whiskey, mandarine Napoleon, sherry, house bitters, and maple syrup. Belmont Park is home to Cannonball, Draft Mission Beach, and Beach House, in addition to 10 spots to pick up a quick bite, ice cream, or coffee.
Moonlight State Beach got its name in the early 1900s when it was a popular destination for midnight picnicking. It's still one of the all-around best beaches in San Diego for a family-friendly, all-day excursion, especially for a big group with varied interests. It's an especially popular destination and can be crowded on weekends and holidays.
Know before you go: The wide beach is easily accessible and slopes gently into the water, so you can ease in as slowly as you want. It's good for beginner-to-intermediate surfers, short board enthusiasts, boogie boarding, and body surfing. There's a large, marked-off swimming-only area with year-round lifeguards and an array of amenities, including ADA accessibility, a kiddie playground, fire rings, picnic tables, volleyball and tennis courts, a snack bar, and a large grassy area for spreading out.
Where to eat/drink: A short walk along the Highway 101 corridor is where you'll find options like Culture Brewing's hazys, seltzers, and sours or Modern Times Far West Lounge for 30 taps of tasty beer and plant-based cuisine. Blue Ribbon Artisan Pizza delivers wood-fired pizzas and a killer butterscotch pudding, while Buona Forchetta dishes upscale Northern Italian entrees, including vegan options.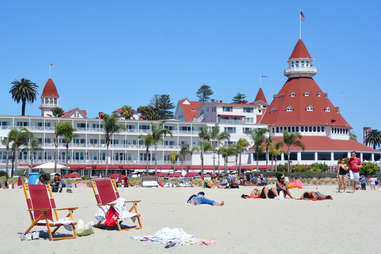 Home to the iconic Hotel del Coronado, Coronado Beach is long and wide, with some of the best amenities around. While lounging on the soft, glittery sand, you'll be treated to views of Point Loma, Mexico, the Islas Coronado, and naval ships and aircraft carriers coming in and out of the base, which also sits on Coronado Island.
Know before you go: The relatively calm, shallow waters at the north end of Coronado Beach are perfect for swimming, boogie boarding, skimboarding, or romantic walks at sunset. It's also popular with surfers. Central Beach has tidepools to explore at low tide, and plenty of volleyball action all day. Dogs are welcome on North Beach at Dog Run Beach near Sunset Park, where you'll also find a foot shower and free litter bags. Portable fire pits/bbq grills are permitted and fire rings are available on a first-come basis. Hot coal containers are available on both North and Central Beaches, as well as restrooms and showers. Free street parking along Ocean Avenue near Central Beach tends to fill up quickly, so the next best option is to scout out the residential areas since there's no time limit to how long you can stay. Parking along Orange Avenue is metered, so you'll have to plan on feeding it every two hours.
Where to eat/drink: While a visit to "The Del" is necessary, and several options from snacks and drinks to full on dining are available there, take an hour or two to stroll into the lively town just steps from the beach. A big breakfast at Clayton's Coffee Shop is a great way to start your day. The classic '50s diner opened as a coffee shop called Jerry's in 1939, and still boasts the original horseshoe-shaped counter. MooTime Creamery is a Coronado institution, and once you try their handcrafted ice creams, yogurts, and sorbets, you'll understand why there's a line out the door most days. Spend happy hour on the cheery patio at Miguel's Cocina while you sip a juicy margarita and demolish that basket of chips with their addictive cheese sauce.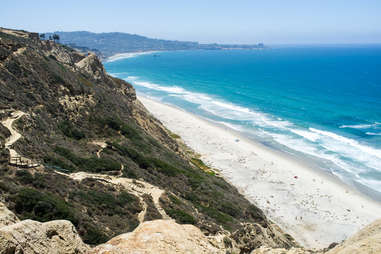 Black's Beach is best known as San Diego's gay and nude-friendly beach, but a visit there will show that all sorts of people, including families with children, enjoy some of the most stunning beach scenery in the county. Nestled under the bluffs at Torrey Pines State Natural Reserve, it offers views of San Diego's coastal towns to the north, La Jolla to the south, and the gliders soaring high above the water.
Know before you go: Black's powerful surf break, caused by deep underwater canyons offshore, is a local favorite and generally considered best for experienced surfers. Snorkeling, swimming, and boogie boarding are popular activities as well. Just be sure to do the "stingray shuffle" when walking in the water. You don't want to accidentally step on any critters lurking just below the surface of the sand. If you plan to bare it all, remember that not all of Black's Beach is clothing-optional. Stay north of the Gliderport trail and in the designated areas. Leashed dogs are allowed on the beach before 9 am and after 6 pm from April to October and after 4 pm from November to March.
There's plenty of free parking at the Torrey Pines Gliderport, where you can access the steep trails that descend to the beach. The Ho Chi Minh Trail, a favorite shortcut for surfers, is a narrow path down rocky corridors and slippery sandstone slopes that's not for the fainthearted. The only restroom is a port-a-potty in the Gliderport parking lot, and there are no amenities on the beach itself, so you'll have to carry everything you need down with you and back up, of course.
Where to eat/drink:The Cliffhanger Cafe, a casual walk-up at the Gliderport, can supply you with sandwiches, salads, and drinks before or after your beach session. Down the road is a beautiful luxury hotel, the Estancia La Jolla, where Mustangs & Burros serves up a wide variety of tacos, plus burgers, seafood, and steaks. Besides that, nothing is walkable, but you'll find plenty of options just a 10-minute drive down the road in La Jolla Shores.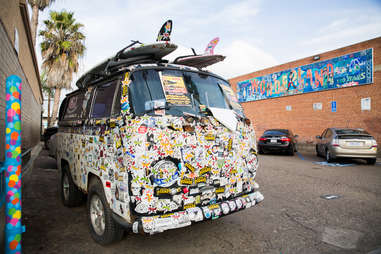 Just north of downtown, Ocean Beach is the classic, old-school California beach neighborhood. Much of the architecture hasn't been updated since the '70s, VW vans dot the sidewalks, stores selling crystals line the main drag of Newport Avenue, barefoot surfers stroll the streets looking for the next best wave, and there's always a rogue guitarist—or five—entertaining the passersby along the beachfront. OB is also home to some of the city's best beers, burgers, and acai bowls.
Know before you go: Experienced surfers head towards the pier, or further north to Avalanche and the Jetty, while newbies prefer the shallower waters at Dog Beach. Low tide provides excellent tidepooling opportunities just south of the pier, while grassy areas along the beach offer space for lounging or picnicking. Dog Beach is a nationally famous no-leash beach where your pups can get their zoomies in with all their buddies, and it's also where you'll find showers and restrooms. Fire rings are available on a first-come basis.
There's free parking along Newport Avenue, as well as free parking lots on Newport at Abbott Street and on Abbott Street at Santa Monica Avenue. The largest free lot is at the end of Voltaire Street, near Dog Beach. The next best free option is the residential areas. Paid parking is available at the CVS store on Santa Monica Avenue and Cable and lots along Newport Avenue.
Where to eat/drink: It couldn't be easier to find great eats in the neighborhood: Azucar's Cuban sandwiches pastries and coffee, burgers at Raglan Public House, and freshly shucked oysters from South Beach Bar & Grille are all just a stone's throw from the OB Pier. Looking for a craft beer or two? You'll find Pizza Port, Mike Hess Brewing, OB Brewery, Kilowatt Brewing, Nova Easy Kombucha, and Two Roots Brewing Co. all within easy walking distance from the beach.
Nestled into a south La Jolla cove, Windansea Beach is marked by boulder outcroppings that offer stretches of wide sandy beaches along smaller, hidden spots nestled between the rocks. With its cliffside mansions and palm trees popping up all around, you'll think you've landed on an island paradise. San Diegans of all stripes find their way to this beach.You'll see retired folks living their best lives alongside longtime locals, surfers, and Instagram-focused tourists.
Know before you go: Windansea Beach has always been a sanctuary for surfers; the surf shack at the south end, built by a group of local surfers in 1947, was designated as a historical landmark in 1998. The strong reef breaks are best suited to those with some experience—while the atmosphere is mostly low key, it can occasionally get a bit competitive. Because of a surprisingly strong beach break at times it's not the greatest place to swim; exercise caution when entering and exiting the water, and young children should be supervised while playing in or near the water's edge. Leashed dogs are allowed on the beach before 9 am and after 6 pm from April to October (and after 4 pm from November to March). There are no restrooms, showers, or other amenities, and the beach is not wheelchair accessible. There is, however, a small, free parking lot at the beach, and plenty of street parking along Neptune Place.
Where to eat/drink:The Nautilus Tavern is a great little dive bar for burgers and beer, and their happy hour that runs from 3 pm–6 pm daily. Just south of Windansea is the tiny hamlet of Bird Rock, where your best bet is to grab brunch or dinner at Beaumont's, award-winning coffee at Bird Rock Coffee Roasters, and Wayfarer Bread & Pastry for gorgeous laminated pastries, sandwiches, and Friday and Saturday Pizza Nights.
Pacific Beach is the quintessential spot for beachside bars and casual fun, largely fueled by energetic 20-somethings and college students. Surfers flock here, too, as the neighborhood's Tourmaline Surf Park has a break that's accessible for all levels. Get started with a stroll up and down the boardwalk to find a class or board rental on offer. If you're not the type to paddle out, just post up and watch the surfers. Pacific Beach is also one of the busiest beaches in San Diego, drawing crowds of locals and tourists, and weekends/holidays can get packed.
Know before you go: Surfers of all levels can enjoy the various breaks at Pacific Beach, especially at the surfing-only Tourmaline Surf Park. Non-surfers can swim, kayak, or body surf along the shore, or bike, skate, walk, or jog on miles of paved paths. There's plenty of restrooms and showers near the lifeguard station as well as around the pier at the end of Garnet Avenue. Leashed dogs are allowed on the beach before 9 am and after 6 pm from April-October (after 4 pm November-March) and fire rings are available on a first-come basis. Parking is free and usually easy to find in the residential neighborhoods, although on busy days you may have a bit of a walk to the beach. There's a number of paid lots scattered through the neighborhood as well.
Where to eat/drink: Dirty Birds has award-winning wings in your choice of 39 different sauces and a solid selection of beer on draft, plus great daily specials; Oscar's Mexican Seafood is a perennial favorite on Best Taco lists, and Tower23 Hotel sits right on the beach for optimal people-watching to go with their excellent cocktails.
This beach north of the city in Encinitas is named after the late Swami Paramahansa Yogananda, one of the fathers of modern yoga. Yogananda's Self-Realization Fellowship sits on the bluffs overlooking the beach, one of San Diego's most famous (and gorgeous) surfing spots. The scene here is eclectic: Devotees of various eastern philosophies smoke up and do acroyoga alongside folks sneaking away from work to catch a few waves. The park at Swami's has shaded areas for picnicking, and is an excellent vantage point to watch the surfers.
Know before you go: Swami's Beach is a world famous surfing mecca with a standout right point break and numerous fun reef and beach breaks. It's considered a challenging spot to paddle and was immortalized in the Beach Boys song, "Surfin' USA." You can find restrooms, a water fountain, picnic tables, and benches scattered around Swami Park; however, dogs and portable grills aren't permitted at Swami's Beach. There's free parking in the lot at the beach and along Hwy 101.
Where to eat/drink: Refuel from your surfing session with manhole-sized pancakes at Potato Shack Cafe (cash or Venmo only, ATM on site); Lotus Cafe and Juice Bar's healthy, hearty all-day breakfasts; or Tijuana-style tacos, paletas, imported beer, and freshly prepared churros at The Taco Stand. Or, just head up the bluffs to Swami's Cafe, an Encinitas mainstay with a varied menu.
If you want to get as close as possible to Mexico without crossing the border, Imperial Beach is the beach for you. Though you can't swim at Border Field State Park, it's worth a visit to catch a glimpse of the borderlands. Five minutes north, IB's expansive main beach and its long pier don't bring in the usual throngs of tourists or college kids but remain popular with military personnel. Look for weekend crowds and the occasional parking lot party based out of a lowrider.
Know before you go: Surfers enjoy the consistent, high-quality breaks from offshore sand bars, particularly around the pier and the areas further south. Swimming is technically allowed, but strong rip currents and runoff from Tijuana tend to keep (non-surfing) people out of the water. Fishing without a license is allowed on the pier as long as you're following all other regulations regarding limits, size, and the like. If you do land a keeper, there's a handy cleaning table available, as well as a convenient bait and tackle shop at the end of the pier. Restrooms are a short walk on either side of the pier. Pet owners take note: leashed dogs are allowed south of Imperial Beach Boulevard and north of Palm Avenue, but not on the pier itself.
Where to eat/drink: Locals swear by The Tin Fish, with its wide array of seafood dishes, and spectacular location at the very end of Imperial Beach Pier, and Sea180 Coastal Tavern hosts a popular happy hour from 2:30 pm–5 pm daily. If a craft beer is calling your name, Coronado Brewing Company and Novo Brazil Brewing Company are both within easy walking distance from the pier.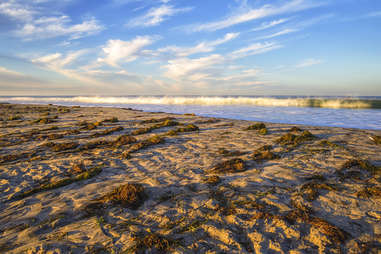 Settled up north near Carlsbad is Ponto Beach is a favorite for families and beachgoers of all kinds. The vistas on this long, rockier-than-usual beach are unspoiled, save for a power plant. Like most San Diego beaches, it's a haven for surfers and boogie boarders but low on amenities, so you'll have to bring your own props. It's also a favorite for nighttime bonfires, but plan to arrive well before sunset to claim your spot. Speaking of sunsets, the southern end of Ponto Beach has high sand dunes that provide secluded areas for lounging and watching the daylight fade.
Know before you go: Surfers love the exposed beach break for its consistency, and when conditions are good it can get pretty crowded (although the small parking lot tempers that somewhat). South Ponto is well known for its strong rip currents, so swimmers and parents with children should pay special attention to flag warnings to avoid dangerous conditions. Restrooms are available at both North and South Ponto, where you'll also find outdoor showers. Dogs aren't permitted at Ponto but leashed dogs are allowed on The Strand and the frontage road. Fire rings are available on a first-come basis, and if you're lucky, you may see a whale from the beach during migration season (from December through April). There's a small, free parking lot at the outer edge of South Ponto Beach and a larger pay lot down at the southernmost end of South Carlsbad. Street parking on the southbound lanes of Pacific Coast Highway is also an option.
Where to eat/drink: After the fire dies out, head into nearby Carlsbad for dinner and drinks. The French Corner offers everything you need for a romantic picnic, but don't wait too long; they close at 4 pm. Also nearby are Primo Pizza and Pasta and Fish 101 Leucadia; both are open for lunch and dinner to go.