A common knock on San Diego is that it's "just a beach town." For ocean lovers, that's a gentle jab at worst. For culture seekers, it couldn't be more of an oversimplification. More than just patches of surf and sand, beaches allow a large part of San Diego's life to revolve around the water. And locals wouldn't have it any other way.
San Diego proper boasts a ridiculous 70 miles of coastline, producing beaches that range from enclaves flanked by cliffs to wide expanses that require you to scale dunes. Certain beaches and their accompanying neighborhoods are better for surfing, some for dining, some for partying, and others for slipping off every stitch of your clothing.
Add in the fact that you have one of the largest cities in the United States just beyond the reach of the tide, and we'll say proudly that San Diego is unabashedly a world-class beach town.
But before we guide you on where to beach bum around America's Finest City, here are some ground rules:
Different beaches operate by different rules, even within the San Diego Park System, so be sure to read all the signage when you enter the beach or parking lot.




Parking: Some beach lots close at sunset, some at 2 am, and others really don't close at all. Be sure to check the signs for your particular lot so you don't walk back to your car only to find it behind a locked gate. If you're parking on the street and you block a business or resident's driveway at all, you will be towed, so don't even consider it. Be sure to carry some cash and change for meters.




Alcohol, tobacco, cannabis, vaping of any sort, and glass are not permitted on any beaches in San Diego County, and that's been the case since 2008. Sorry.




Dogs are only allowed on a few beaches in San Diego. Even then, poop bags may not be available, so bring some with you just in case. Some beaches allow leashed dogs before 9 am and after 4 pm from November to March or after 6 pm from April to October.




Bonfires are only permitted in fire rings. Some beaches have bbq grills, but personal bbq grills are generally allowed at most beaches and many provide containers for discarding hot coals. Never dump hot coals in the sand; even if you cover them, they can still be red-hot hours later for some poor unsuspecting soul to step on.




Lastly, the Golden Rule of Beachgoing—leave things cleaner than you found them!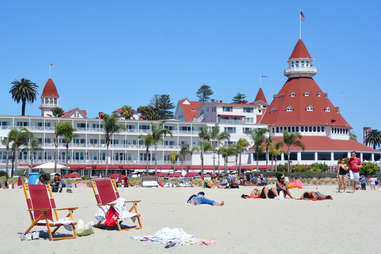 Coronado Beach is home to the iconic Hotel del Coronado—that beautiful red-roofed, Victorian-style hotel that dates back to 1888. The beach on Coronado Island is long and wide, with soft, glittery sand that's perfect for sand castle building. While lounging on the beach, visitors will be treated to views of Point Loma, Mexico, the Islas Coronado, and naval ships and aircraft carriers coming in and out of the base, which also sits on the island.
Know before you go: Surfers prefer the north end of Coronado Beach, and the relatively calm, shallow waters are perfect for swimming, boogie boarding, skimboarding, or romantic walks at sunset. You'll also want to explore the tidepools at low tide on Central Beach. Dogs are welcome on the North Beach at Ocean Ave near Sunset Park, where you'll also find a foot shower and free litter bags. Fire rings are available on a first-come basis, and portable fire pits/bbq grills are permitted. Hot coal containers are available on North and Central Beaches, which is also where you'll find restrooms and showers. Free street parking is available along Ocean Ave right at Central Beach but tends to fill up quickly. The next best option is to scout out the residential areas since there's no time limit to how long you can stay. Parking along Orange Ave is metered, so you'll have to plan on feeding it coins every two hours.
Where to eat/drink: While a visit to "The Del" is necessary, and several options from snacks and drinks to full on dining are available there, it's worthwhile to take a stroll into the lively town just steps from the beach. Poke 123 serves up generous bowls of the classic Hawaiian dish with seafood, chicken and/or vegan tofu and a huge array of toppings. For a cheap breakfast to fuel a day of exploring, you can't beat Clayton's Coffee Shop: a classic '50s diner that seems to always be playing the Top Gun soundtrack.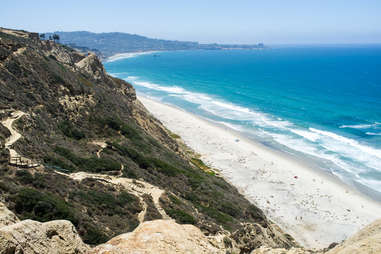 Black's Beach
Black's Beach is known best as San Diego's gay and nude-friendly beach. Yes, it's a haven for Grindr action and lots of swinging dong, but a visit there will show that all people, including many families with young children, come to enjoy some of the most stunning beach scenery in the county. Nestled under the bluffs at Torrey Pines State Natural Reserve, Black's Beach offers views of La Jolla to the south and San Diego's coastal towns to the north as well as the gliders soaring high above the water.
Know before you go: Black's powerful surf break, caused by deep underwater canyons offshore, are a favorite with local surfers. Snorkeling, swimming, and boogie boarding are popular activities as well, but be sure to do the "stingray shuffle" when walking in the water -- you don't want to accidentally step on any critters lurking just below the surface of the sand. Keep in mind that not all of Black's Beach is clothing-optional: if you're planning to bare it all, stay north of the gliderport trail and in the designated areas. Leashed dogs are allowed on the beach before 9am and after 6pm from April-October (and after 4pm from November-March).
There's plenty of free parking at the Torrey Pines Gliderport, where you can also access the steep trails that descend to the beach. The Ho Chi Minh Trail, a favorite shortcut for surfers, is a narrow path down rocky corridors and slippery sandstone slopes that's not for the fainthearted. The only restroom is a port-a-potty in the gliderport parking lot, and there are no amenities on the beach itself, so you'll have to carry everything you need down with you (and back up, of course).
Where to eat/drink: Just off the beach is University of California at San Diego's main campus and a beautiful luxury hotel, the Estancia La Jolla (the spa is a must-visit). Other than that, nothing is walkable, but just down the road is one of San Diego's best, most creative taco spots, Galaxy Taco.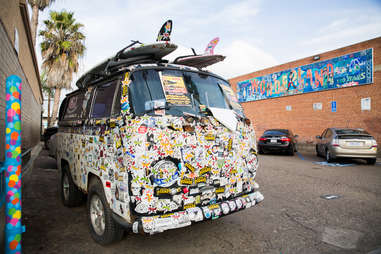 Just north of Downtown is San Diego's home for all things hippie. Ocean Beach is the classic, old-school California beach neighborhood: Much of the architecture hasn't been updated since the '70s, VW vans dot the sidewalks, stores selling crystals line the main drag of Newport Ave, barefoot surfers stroll the streets looking for the next best wave, and there's always a rogue guitarist—or five—setting up shop along the beachfront. "OB," as it's known to locals, is also home to some of the city's best beers, burgers, and acai bowls.
Know before you go: Experienced surfers head towards the pier, or further north to Avalanche and the Jetty, while newbies prefer the shallower waters at Dog Beach. The OB Pier was closed to walking and fishing in January after high surf damaged the railing boards, but the city is hopeful that parts of it will reopen later this summer. Low tide provides excellent tidepooling opportunities just south of the pier, while grassy areas along the beach offer space for lounging or picnicking. Dog Beach is a nationally famous no-leash beach where your pups can get their zoomies in with all their buddies, and it's also where you'll find showers and restrooms. Fire rings are available on a first-come basis.
There's free parking along Newport Ave as well as free lots on Newport at Abbott St and Abbott St at Santa Monica Ave. The largest free lot is at the end of Voltaire St, near Dog Beach. The next best free option is the residential areas. Paid parking is available at the CVS store on Santa Monica Ave and Cable and lots along Newport Ave.
Where to eat/drink: The neighborhood has recently stepped up its craft beer offerings, now proudly boasting several San Diego craft brewery tasting rooms: Pizza Port, Mike Hess Brewing, OB Brewery, Kilowatt Brewing, Nova Easy Kombucha, and Two Roots Brewing Co. If you'd like some food to go with all that beer, legendary Hodad's is always a sure bet for burgers, but locals favor Raglan Public House for its robust burger and beer menus, as well as nice outdoor seating. Oceanfront Wonderland Ocean Pub has a Hawaiian-inspired menu, craft brew-stocked bar, and sprawling, open-air ocean views.
Those looking for more refreshing, healthier options won't have to venture far: the best acai bowls in OB are served at Tiki Port, a coffee shop that also serves pastries, bagels, sandwiches, salads, and smoothies.
Nestled into a cove in La Jolla, just south of town, is this beach marked by boulder outcroppings that offers stretches of wide sandy beaches along smaller, hidden spots nestled between the rocks. With its cliffside mansions and palm trees popping up all around, you'll think you've landed on an island paradise until you remember you're still actually in a city. San Diegans of all stripes find their way to this beach. Note the retired 40-year-olds living their best lives alongside longtime locals, surfers, and Instagram-focused tourists.
Know before you go: Windansea Beach has always been a haven for surfers; the surf shack at the south end, built by a group of local surfers in 1947, was designated as a historical landmark in 1998. The strong reef breaks are best suited to those with some experience—the atmosphere is mostly low key, but can occasionally get a bit competitive. There's a surprisingly strong beach break at times, so swimmers should be careful entering and exiting the water, and young children should be supervised while playing in or near the water's edge. Leashed dogs are allowed on the beach before 9 am and after 6 pm from April to October (and after 4 pm from November to March). There are no restrooms, showers or other amenities, and the beach is not wheelchair accessible; there is, however, a small free parking lot at the beach, and plenty of street parking along Neptune Place.
Where to eat/drink: Just north of the beach is the bustling town of La Jolla, which has countless restaurants and bars to choose from. George's at the Cove is a longtime La Jolla go-to, serving up good ocean-inspired cuisine with unbeatable outdoor views and seating. Just south of Windansea is the tiny hamlet of Bird Rock, in which your best bet is to grab brunch or dinner at Beaumont's.
Known around town as "PB," this is the spot for beachside bars and casual fun, fueled by college students and energetic 20-somethings. Surfers flock here, too, as the neighborhood's Tourmaline Surf Park has a break that's accessible for all levels. To jump in, all you need to do is walk up and down the boardwalk to find a class or board rental on offer. If you're not the type to paddle out, this is the place to post up and watch surfers. It's also one of the busiest beaches in San Diego, drawing crowds of locals and tourists, and weekends/holidays can get packed.
Know before you go: Surfers of all levels can enjoy the various breaks at Pacific Beach, especially at Tourmaline Surf Park, a surfing-only beach, where newbies can find rental boards and lessons at a number of spots along the boardwalk. Non-surfers can swim, kayak, or body surf along the shore or bike, skate, walk, or jog on miles of paved paths. You'll find plenty of restrooms and showers near the lifeguard station as well as around the pier at the end of Garnet Ave. Leashed dogs are allowed on the beach before 9 am and after 6 pm from April-October (after 4 pm November-March) and fire rings are available on a first-come basis. Parking is free and usually easy to find in the residential neighborhoods, although on busy days you may have a bit of a walk to the beach. There's a number of paid lots scattered through the neighborhood as well.
Where to eat/drink: PB AleHouse is your best bet for brews and solid bar food, which you can eat on an oceanfront roof deck. Tower23 Hotel sits right on the beach and has a lively brunch scene with excellent cocktails. Tiki bar The Grass Skirt is still the place to be after dark: it has kitschy decor, a fun soundtrack, better-than-it-has-to-be food, and strong drinks.
Swami's Beach
This beach north of the city in Encinitas is named after the late Swami Paramahansa Yogananda, one of the fathers of modern yoga. Yogananda's Self-Realization Fellowship sits on the bluffs overlooking the beach, one of San Diego's most famous (and gorgeous) surfing spots. The scene here is eclectic: Devotees of various eastern philosophies smoke up and do acroyoga alongside dads sneaking away from the responsibilities of everyday life to catch a few waves. The park at Swami's has shaded areas for picnicking, and is an excellent vantage point to watch the surfers.
Know before you go: Swami's Beach is a surfing mecca with a standout right point break and numerous fun reef and beach breaks. It's considered a challenging spot to paddle and was immortalized in the Beach Boys song, "Surfin' USA." You can find restrooms, a water fountain, picnic tables, and benches to relax on scattered around Swami Park; dogs and portable grills aren't permitted at Swami's Beach, however. You'll find free parking in the lot at the beach and along Hwy 101.
Where to eat/drink: To refuel after a long surf session, head up the bluffs to -- you guessed it -- Swami's Cafe, an Encinitas mainstay with a varied menu. Union Kitchen & Tap has more gussied-up fare, while Fish 101 is serving some of San Diego's best fish tacos.
If you want to get as close as possible to Mexico without crossing the border, Imperial Beach is the beach for you. Though you can't swim at Border Field State Park, it's worth a visit to catch a glimpse of the borderlands. Five minutes north, IB's expansive main beach and its long pier don't bring in the usual throngs of tourists or college kids but remain popular with military personnel. Look for weekend crowds and the occasional parking lot party based out of a lowrider.
Know before you go: Surfers enjoy the consistent, high-quality breaks from offshore bars, particularly around the pier and the areas further south. Swimming is technically allowed, but strong rip currents and runoff from Tijuana tend to keep (non-surfing) people out of the water. Fishing without a license is allowed on the pier as long as you're following all other regulations regarding limits, size, and the like, and if you do land a keeper, there's a handy cleaning table available; there's also a convenient bait and tackle shop at the end of the pier. Restrooms are a short walk on either side of the pier. Pet owners take note: leashed dogs are allowed south of Imperial Beach Blvd and north of Palm Ave, but not on the pier itself.
Where to eat/drink: Locals swear by Doggos Gus for bacon-wrapped hot dogs, burgers, and thick, creamy shakes, and Sea180 Coastal Tavern hosts a popular Social Hour from 2:30–5 pm daily. For something a little quicker, IB Street Tacos folds the best of the beach (and Tijuana) into one taco stand. Since IB is mere minutes from Mexico, fresh seafood—mariscos—served out of a truck is ubiquitous and a must-do before the sun sets.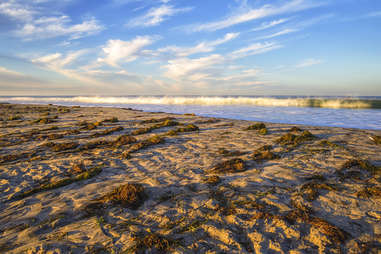 Settled up north near Carlsbad is Ponto Beach, a favorite for families and beachgoers of all kinds. Set on a less populated stretch of Highway 101, the vistas on this long, rockier-than-usual beach are unspoiled, save for a power plant. Like most San Diego beaches, it's a haven for surfers and boogie boarders but low on amenities, so you'll have to bring your own props. It's also a favorite for nighttime bonfires, so make sure to arrive before the sun sets to claim your spot—and speaking of sunsets, the southern end of Ponto Beach has high sand dunes that provide secluded areas for lounging and watching the daylight fade.
Know before you go: Surfers love the exposed beach break for its consistency, and when conditions are good it can get pretty crowded (although the small parking lot tempers that somewhat). South Ponto is well known for its strong rip currents, so swimmers and parents with children should pay special attention to flag warnings to avoid dangerous conditions. Restrooms are available at both North and South Ponto, where you'll also find outdoor showers. Dogs aren't permitted at Ponto, sadly, but leashed dogs are allowed on The Strand and the frontage road. Fire rings are available on a first-come basis, and if you're lucky, you may see a whale from the beach during migration season (from December through April). There's a small, free parking lot at the outer edge of South Ponto Beach and a larger pay lot down at the southernmost end of South Carlsbad. Street parking on the southbound lanes of Pacific Coast Highway is also an option.
Where to eat/drink: As the fire dies down, head into nearby Carlsbad for dinner and drinks. Hit up BESHOCK Ramen for lunch and happy hour specials, steaming bowls of handmade noodles, and an outstanding sake program. Campfire pays tribute to the great outdoors and serves live fire-cooked delicacies within a wooden former Quonset hut. The scene here is suburban, quietly upscale, and laid-back—a Beach Boys' song come to life. It seems the more we talk about it, the worse it gets to live without it.
Sign up here for our daily Thrillist email, and get your fix of the best in food/drink/fun.
Mary Beth Abate is a San Diego-based freelance writer by way of Chicago and Los Angeles. Her hobbies include yoga, pickling and fermenting various vegetables and beverages, reading cookbooks and traveling through Mexico. Keep up with her experiments @MaryBeth_Abate.
Jackie Bryant is a food and travel writer based in San Diego who is best described as a human Roomba: eating and drinking everything she bumps into. Originally from New York, her favorite things about life in her adopted city are border-hopping, practicing yoga in exceptionally beautiful locations, becoming a beer snob, and pretending to be a real hiker. Find her on Twitter and on Instagram.