Seattle is most recognizable for the Space Needle, but any local will tell you the best way to get vertical views is on one of the hundreds of incredible hiking trails within a few hours of the city. While tourists are exploring Pike Place Market and taking underground tours (which locals also love), Seattleites usually book their weekends full of jaw-dropping outdoor adventures.
The popular standby hikes like Rattlesnake Ledge, Mount Si, Lake 22, Wallace Falls and Mailbox Peak are genuinely amazing but tend to be a zoo on the weekends. If you're hoping to get a selfie with only you in the picture, one of these underrated hikes will probably do the trick.
There are plenty of lung-laborious peaks here that will give you bragging rights come Monday, but there are also plenty of trails that have worthwhile features other than how sore your quads feel the next day. We've ranked them on a difficulty scale of 1 to 9, with 1 being a trip that will barely get your blood flowing and 9 being a trip that will probably leave some battle wounds.
Recommended Video
Debatable: It's Fine To Recline Your Seat On a Plane
Distance from Seattle: 48 miles
Difficulty: 6
Best for: Mount Si addicts, hikers who are crowd-neutral
Bandera Mountain is a remarkably apt sister hike to the uber-popular thigh-crusher Mount Si. They're both 8 miles roundtrip and gain a little more than 3,000 feet, but Bandera doesn't get the same mall-on-a-weekend foot traffic as Mount Si (though still popular). Although it starts leisurely, eventually you'll likely use your hands to make your way up the steepest section before being rewarded with views of McClellan Butte and the ever-humbling Mount Rainier. Most people stop at Little Bandera's summit because the trail becomes unruly and the true peak is forested with limited views.
If you're feeling peckish on your way back, make a pit stop at North Bend, a town made famous by the 1990s crime drama Twin Peaks. Gorge on burgers, pizzas, and more than 20 beers on tap at The Iron Duck Public House, or replenish your glucose levels with a cherry pie at Twede's Cafe.
Distance from Seattle: 106 miles
Difficulty: 3
Best for: Families, crazy good volcano views, a winter hike that doesn't require an advanced course in mountaineering
Not every hike has to be brutal, and that's especially true if you're dragging less-than-adventurous kids along. This meandering 8-mile trail along the dam-created Baker Lake offers plenty of forest exposure, rambling creeks, mini waterfalls, and vistas near Mount Baker and the Cascade mountain range. Although it's popular in the summer, it makes for a very quiet winter hike or snowshoe (when there's a rare Snowmageddon) and is accessible nearly all year long.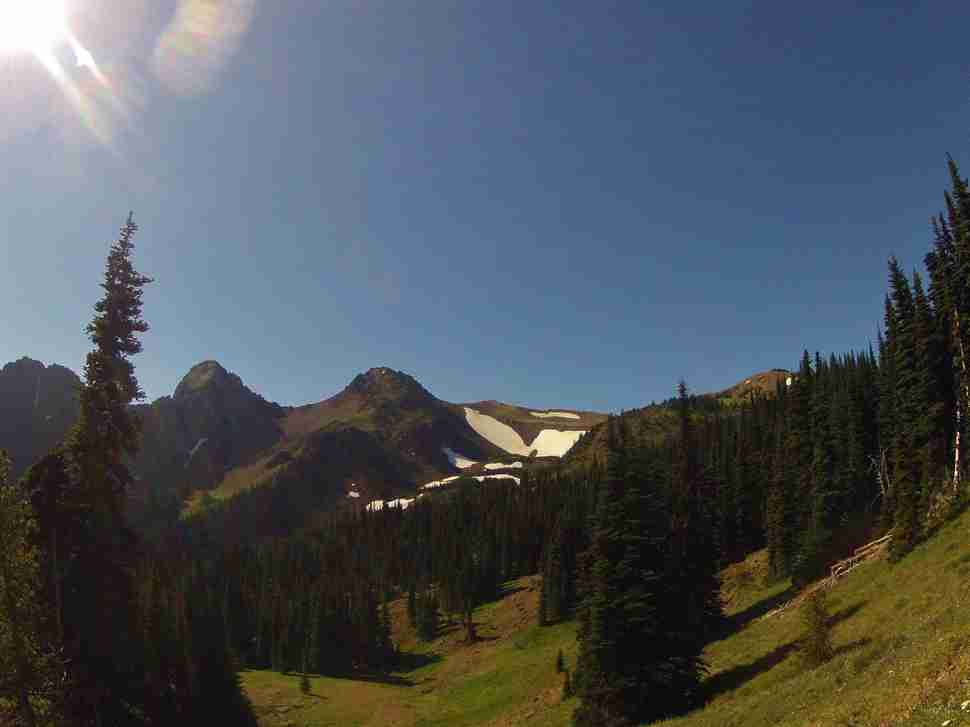 Distance from Seattle: 66.6 miles away (but further than it sounds)
Difficulty: 7
Best for: Olympic and Puget Sound views, an excuse for a ferry ride, and secluded backcountry camps if you want to overnight
Across the Puget Sound, this 11.5-mile trail (longer if you start at the Lower Big Quilcene trailhead) is a Pacific Northwest daydream as you hike next to the Big Quilcene River. It's a few miles before hikers will break through the trees for exposed views of the surrounding peaks, which are often still dotted with snow late into the summer. Conquer the final ass-kicking push to the pass and get sweeping views into the belly of the Olympic National Park and across the Puget Sound. For the masochists among us, take a slow-moving slog up Buckhorn Mountain to gain another 900 feet and even more panoramic views of the area.
After, you'll be hungry, so grab a crepe at J'aime les Crepes Creperie while you're waiting for the ferry in Kingston or Bainbridge since the company has found a following by fueling riders.
Distance from Seattle: 58.6 miles
Difficulty: 2
Best for: Families, forest bathing, trail running
Another easy trail alongside the Boulder River, BRT only gains around 700 feet of elevation over the trail's 8.6 miles. Beside the bumbling namesake river, the trail also features a tall double waterfall that serves as one of the hike's main photo opportunities. Other smaller waterfalls dot the well-maintained path, as well as old-growth trees and numerous types of moss and ferns, all of which are beautiful to behold even on a rainy day. To make a day of it, end your night at The Restaurant at Rhodes River Ranch, which overlooks an indoor horse arena and has regular events like medieval jousting shows.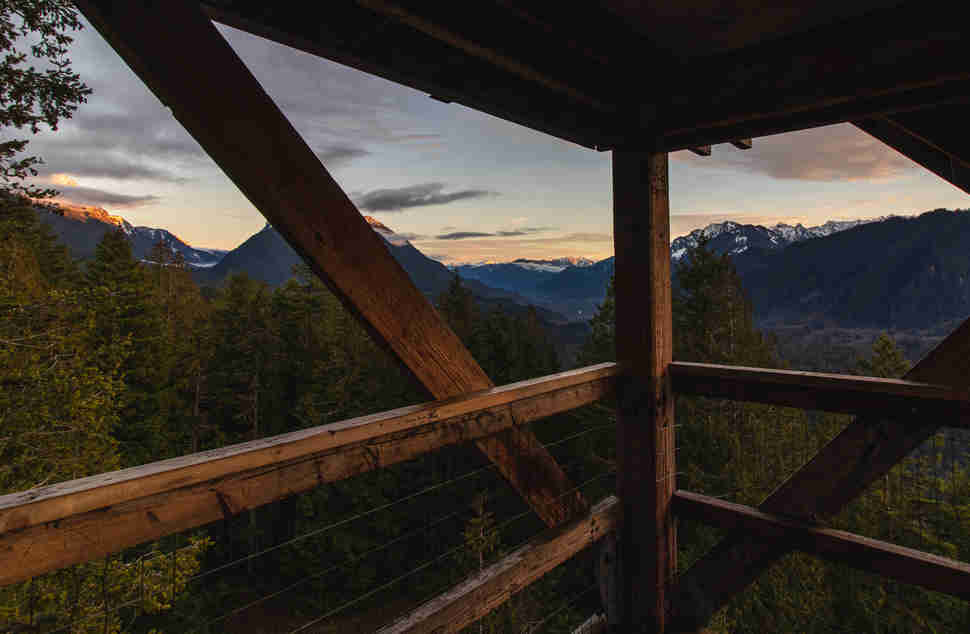 Distance from Seattle: 55 miles
Difficulty: 4
Best for: Stretching your legs on a road trip, a quick heart-pumper, relatively accessible epic views
There are 67 registered fire lookouts in Washington state, and lucky for hikers, a few of them are open to the public. Heybrook Lookout is one of them. The trail is short -- just 2.6 miles roundtrip -- and moderately steep, gaining just 850 feet to the top. Once there, climb the lookout's wooden stairs to an open viewing platform and take in Mount Persis, Mount Bering, and Mount Index. Even after a snowfall, a pair of microspikes are usually enough to make this an accessible hike. The town of Gold Bar has plenty of drive-up coffee stands to fuel your way up the mountain or your drive back to the city. If you don't want to go home yet, tack on another of the area's popular hikes, like Big Four Ice Caves, or take a long detour home going east on Highway 2 to the Bavarian-style town of Leavenworth before heading to Seattle on I-90.
Distance from Seattle: 46 miles
Difficulty: 3
Best for: Lichen lovers, history buffs, families
Mostly located within the Robe Canyon Historic Park, this relatively mild walk is as worthwhile for stretching your legs in nature as it is for the area's history. Sections of the trail are old railroad bed littered with artifacts, and shortly before the hike's turnaround point, a 20-foot tall retired lime kiln rises from the moss. The structure was used in the early 1900s to convert the area's limestone into calcium oxide (aka lime), which was then sent to Everett via railway. Further down the trail is a small access point to the grey-green south fork of the Stillaguamish River. Although it's a mild hike overall, more of the elevation gain is on the way out than the way in, so ration snacks accordingly.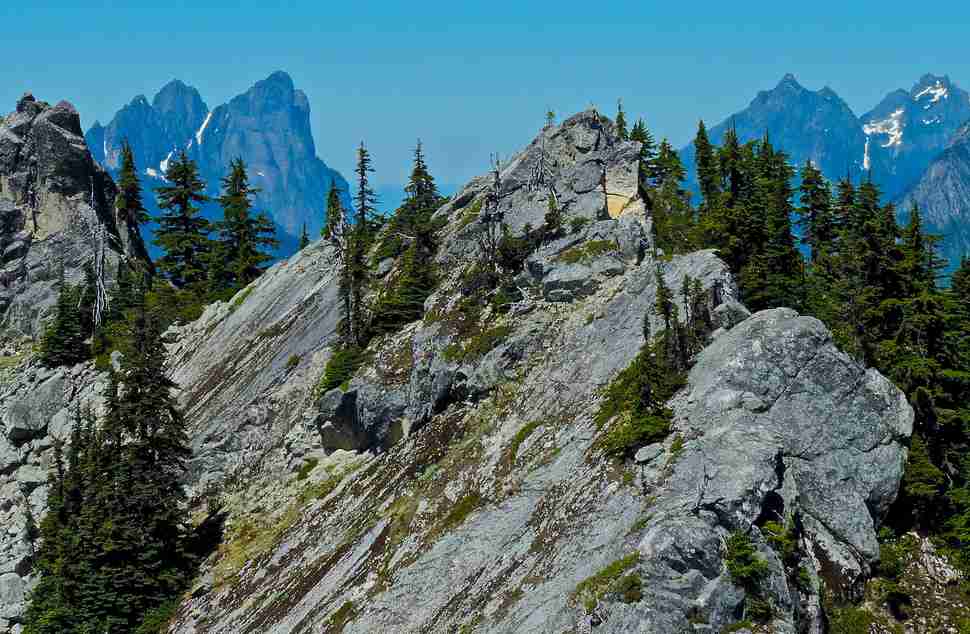 Distance from Seattle: 76.8 miles
Difficulty: 6
Best for: Plant fanatics, peak baggers
Although you gain more than 2,200 feet over the nearly four miles to the top, the switchback grade is so gentle that it doesn't feel as tough as it sounds. Botany enthusiasts will spot several species of fir, hemlock, and red and yellow cedar in this old-growth forest, and in the heart of summer hikers can gorge on red and blue huckleberries. At the top, you'll be staring into the Wild Sky Wilderness Area, with northern views of Glacier Peak, and Mount Index to the west. The summit is a great place to eat lunch, although it's not very big -- only about six hikers at a time will be able to relax there. Luckily, this peak tends to be pretty quiet, even on weekends. Otherwise, refuel at Zeke's Drive-In with a classic burger/onion rings/shake combo, because hey, you earned it.
Distance from Seattle: 109 miles
Difficulty: 9
Best for: Solitude seekers, Washingtonians who have already hiked the popular routes, gymstagrammers who like to say outdated idioms like "no pain, no gain"
Another top-notch fire lookout, Lookout Mountain is pretty savage compared to others. Because of other popular, easier hikes in the area -- like Hidden Lakes Peak and Cascade Pass -- this hike doesn't see nearly as much foot traffic. Well, that and the harsh 4,500-feet of climbing that scarcely let up, with few views to speak of until you break through the trees. Anyway, it's not the kind of hike you'd take a friend who's new to hiking on, at least not if you want to keep your friend. But if you're looking for something, umm, character building, this one would fit the bill.
Distance from Seattle: 56 miles
Difficulty: 8
Best for: Solitude, lake jumping, lakeside campgrounds
Although super fit people can manage the 14 miles in a day, this hike is a great candidate for an overnight trip. You'll have to cross a few creeks, which may require fording -- or waiting -- depending on how much snow melt is happening. Also, keep an eye out for the site of an old avalanche that was so powerful it downed trees on the other side of the valley. Only moderately steep most of the way, the last mile gains about 1,000 feet in elevation, and it's the least maintained part of the trail and may mean you'll have to use route finding skills. But if what you're craving is a wilderness experience, this rugged spot will make you feel far away from civilization -- while still within reach of your car.
 
Sign up here for our daily Seattle email and be the first to get all the food/drink/fun in town.