Honeymoons in the US are great. We've got our Hawaiis, our Floridas, our Californias, our national parks, even our Niagara Falls. The only problem with honeymooning in these destinations is you're also honeymooning with... everyone else. For a little more privacy on your honeymoon you don't necessarily have to spend all your dollars for that (romantic) Robinson Crusoe experience on some isolated private isle. Instead, you just need to check out these under-the-radar honeymoon destinations in the US. All very local, all without every other single person also on their honeymoon.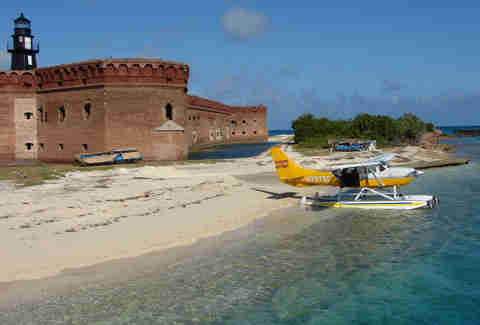 Dry Tortugas islands, FL
And speaking of sex on the beach... 70 miles west of Key West in the Gulf of Mexico lies this seven-island archipelago. What makes it great for honeymoons is its sheer seclusion. You can only access the isles by boat or seaplane. No hotels here, folks. Only the adventurous couples need apply for one of the few available campsites, where sex on the beach can REALLY be a thing.
Don't leave without: Having sex on the beach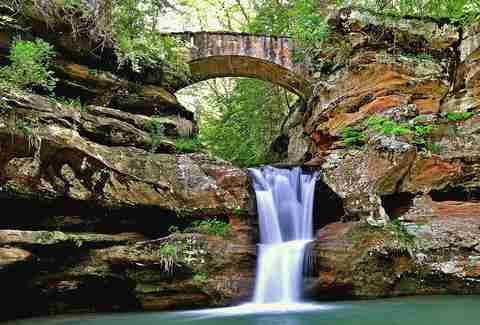 Hocking Hills State Park, OH
Though not typically on Cupid's route, Ohio does have a few surprises in store for lovers. Take, for instance, Hocking Hills State Park. And then there's... well, OK, so that's about it. But it's worth it for the outdoorsy couple. Spanning more than 2,300 acres about an hour south of Columbus, this state park is known for its dramatic waterfalls and beautiful rock formations. It's a beautiful place to explore whether you and your boo are into hiking, biking, fishing, or camping. And even if you're not into all that comes with the great outdoors, like peeing in a bush, there are several cabins in the area available for rent.
Don't leave without: Exploring notable rock formations like Old Man's Cave, Cantwell Cliffs, Ash Cave, and Cedar Falls
Carefree, AZ
Desert honeymoons are all the rage in more beaten destinations like Palm Springs and Joshua Tree National Park. But since you're all about trailblazing, make like the tumbleweeds and head to Carefree, AZ. (With a name like that, how could you NOT honeymoon there?) This Arizona small town has all the elements of a great Southwestern getaway, with red rocks, cacti, and lots of history. Best enjoyed by those with a little money to burn, check into the Boulders Resort for a truly fantastic five-star honeymoon. Tip: Scottsdale is just 40 minutes away, so if your honeymoon calls for an evening of high energy, you won't be disappointed.
Don't leave without: Rock climbing, mountain biking, horseback riding, and then treating yourself to a couples massage at the Waldorf Astoria spa at the Boulders
Woodstock, VT
If you and your lovebird are also part snow bunny, you'll want to trade in the sun and sand for a pair of skis and a ticket to Woodstock, Vermont. Here you'll find charming inns, top ski resorts, and all the food you swore off right before your wedding. To make the most of your wintry tryst, visit between November and April.
Don't leave without: A hot-stone massage, a slice of pie, or a trip to Long Trail Brewing
Chetek, WI
Wisconsin? REALLY? Sure, they know their football and cheese. But neither football nor cheese is particularly romantic (unless said cheese comes with wine; football is never romantic). That said, Wisconsin is home to a romantic secret that will, in fact, have you thinking longingly about the Badger State: Canoe Bay, just outside Chetek. This 300-acre resort is made up of 27 cabins all situated around lakes with foliage and other natural things that are picturesque AF. What's more, the resort was designed with romance in mind, as the property is adults-only and each cottage is designed just for two. Standard features in every room are a king bed, fireplace, private deck, and two-person whirlpool tub. So basically you can do it everywhere. If there isn't sex by a fire or in a whirlpool tub, is it really a honeymoon?
Don't leave without: Having sex in front of your fireplace. Or in your whirlpool tub.
Portland, OR
Portland is just a fantastic vacation destination in general for its breweries, food trucks, parks, and great day trips within a short drive -- all of which are things that today's "hip" young couples enjoy. So why not add a little romance to the equation? Who wouldn't love a day of combining Thai street snacks with the latest IPA with an afternoon of handholding and sex? Not one person!
Don't leave without: Visiting the Portland Japanese Garden, or booking a table at any of Portland's most romantic bars and restaurants
Sanibel Island, FL
While every other canoodling couple you know is knocking boots in the Florida Keys, you want to head to Sanibel Island, where you are less likely to run into... everyone you know. This offshoot of Fort Myers is low-key and quiet, perfect for honeymooners who want to spend time with the sun, sand, and, oh yeah, each other. With a shabby-chic vibe, you'll think you've stumbled into the Caribbean, minus all the other people.
Don't leave without: Indulging in something sweet. Order anything with chocolate pudding fruit. This locally grown fruit is filled with chocolate-colored pulp, which is romantic and sexy and perfect for candlelit dinners and/or eating it off of each other. If you're into that. (It's your honeymoon. You are.)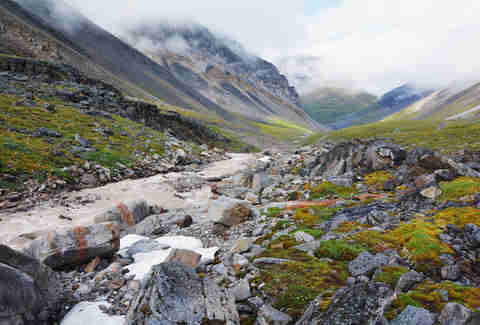 Gates of the Arctic National Park, AK
If you saw The Hunger Games and found it to be really romantic, you'll love this next under-the-radar getaway. A nearly untouched expansive piece of wilderness, this national park spans more than 8.4 million acres in Northern Alaska. When we say wilderness, we mean wilderness. This park has no established roads, trails, or campsites, which means it is a true adventure and not for the couple that's faint of heart. You'll also have to know how to pitch your own tent, but you're married now so tent-pitching is likely a problem you won't have to worry about for the next few years AT LEAST.
Don't leave without: Really experiencing just how untouched this piece of the planet is. Catch the northern lights, take a selfie with a caribou, and learn from the Native Alaskan groups that still occupy parts of the park.
Grand Haven, MI
If someone were to rank all the beach towns of Michigan, this one would absolutely get top billing. And why wouldn't it? It's got beautiful beaches, bars, restaurants, and an affinity for discreet cocktails on said beaches. In fact, said beach was named by AAA as the best in the state. Couples who don't want a honeymoon with bars, restaurants, discreet (romantic) cocktails, and having sex to the sound of crashing waves can certainly look elsewhere.
Don't leave without: Sneaking cocktails out to the lighthouse pier for a romantic boozy picnic.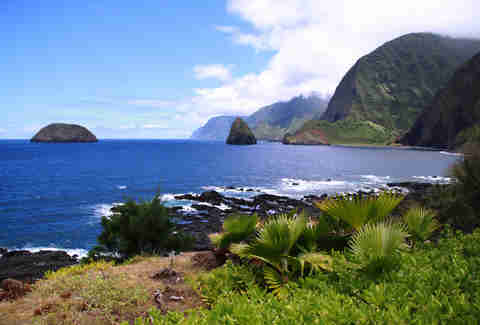 Molokai, HI
If you're looking for beaches to see and be seen, epic surf competitions, and an endless stretch of high-end hotels, you've come to the entirely wrong place. Molokai Island in Hawaii is one of the most untapped, pristine destinations in the state. In fact, it's so off the beaten path that the island doesn't have a single traffic light. No malls here, either, so you'll have to do souvenir shopping elsewhere. It's all about nature, from rainforests to deserted beaches. This is Hawaii as it was decades ago, before everyone else in the world caught on. If sex on the beach is on your honeymoon bucket list, this would be the destination to give it a whirl.
Don't leave without: Visiting Kalaupapa Peninsula, one of the most stunningly beautiful places in all of Hawaii
Portsmouth, NH
For lovers in New England who dream of clams, sea shanties, and Emily Dickinson, a honeymoon in Portsmouth is your fantasy come true. This New England town is the word quaint embodied, but with a very real hipster twist so, you know, "cool." A food revolution has taken the town by storm, bringing with it a bevy of phenomenal dining establishments like Black Trumpet and STREET. The town even has its own beer festival. As far as romantic accommodations, almost every single hotel in the area has the world "Inn" in its name. What could be more cozy and romantic than ANY New England inn?
Don't leave without: Renting bikes and biking the outlying coast to Odiorne Point. It's damn picturesque and you'll feel refreshed breathing in all that briny air.
Rincon, Puerto Rico
One word to describe Rincon? Intimate. Which is quite possibly the best word to use when talking about a honeymoon destination. Not quite the frenetic scene of San Juan (in fact, nothing like it), and not like the luxury of Vieques Island (also nothing like it), Rincon is a far cry from the resort-flanked beaches more popular in other Puerto Rican destinations. What honeymooners will find here are more than eight miles of quiet beaches, lots of backpackers, and a handful of laid-back beach bars and restaurants. It's all about being truly bohemian here (no, but ACTUALLY bohemian), so leave that straw fedora and your Dolces at home.
Don't leave without: Taking in the natural beauty of the destination, whether on a sunset cruise, parasailing, or horseback riding. There are also whale-watching opportunities depending on the time of year.
Phoenicia, NY
If your idea of romance is slowly unbuttoning your flannel while your hatchet rests against a pile of timber, then this small upstate New York town has everlasting love written all over it. About three hours north from New York City is this tiny hamlet at the doorstep of beautiful Catskill hiking and Belleayre Lake, and which plays host to numerous art and music festivals throughout the year. Foodie couples will delight in all things "local."
Don't leave without: Satisfying your inner trucker. Make sure to stop at the Phoenicia Diner, which, amid the upstate cultural onslaught of words like "kale" and "organic," has not lost the art of grease-soaked roadside dining. Oh, and a spa treatment at Emerson Resort and Spa.
Encinitas, CA
Tucked between the urban sprawl of Los Angeles and San Diego is one of the last strongholds of true California surf culture, so if you and your honey get off on the Beach Boys, this is your California dream. Landlubber couples who are just looking for a little sunshine can also make the most out of this SoCal hideaway with attractions like La Paloma Theatre and all the restaurants serving tacos.
Don't leave without: A dinner at romantic Solterra Winery & Kitchen, which will douse your evening in luxurious Rhone- and Italian-style wines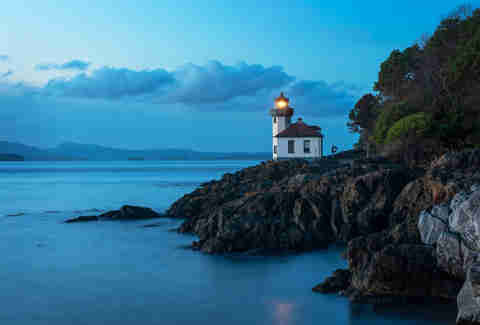 San Juan Islands, WA
Seattle is definitely cool for honeymooners, if you like being, ugh, trendy. But for those looking to go off the beaten path, try the San Juan Islands, located on the west side of Seattle. This cluster of islands is a haven for art lovers, foodies, and outdoor enthusiasts, which is basically Seattle, but minus all the people. Go sea kayaking, eat seafood, and sip a fine West Coast wine at one of the many boutique wineries.
Don't leave without: Tasting cider at Westcott Bay, the oldest cidery in Washington
Texas Gulf Coast, TX
Why are you booking your beach honeymoon here? There are 367 miles of warm water and sandy stretches, that's why. Texas might usually come to mind when thinking about steaks, really big hats, and SXSW, but when it comes to beach destinations you'll be surprised to know Texas is one of the best in the country. With water temperatures that rival the last amazing bath you took (you take baths, right?), cheap and delicious cantinas, and something called the Galveston Schlitterbahn (a massive, and arguably romantic, water park), why WOULDN'T you opt for Texas over Oahu?
Don't leave without: Camping on the beach. Or making out at the Galveston Schlitterbahn. Seriously, it's romantic.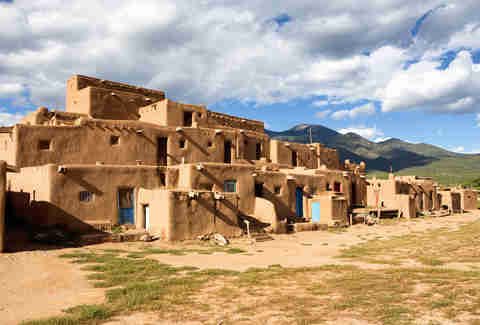 Taos, NM
For a small-town retreat that is rife with Southwestern adobe-colored culture, consider Taos, New Mexico. Not suitable for indoor kids, Taos is a haven for fly fishing, horseback riding, mountain biking, hot-air ballooning, river rafting, or hot springing. What's more, unlike nearby Santa Fe, Taos is incredibly affordable so you might even get to do ALL those things on your honeymoon and still go home with money for that down payment.
Don't leave without: Llama trekking. Because that is a thing.
Truckee, CA
Get the very best of a Lake Tahoe honeymoon without the price or the people. This locals-only alternative to the ridiculously overpriced resorts of Tahoe has all the charm of a quaint alpine town, minus all the douchebaggery. Winter honeymooners will be able to make the most out of the slopes and then retire to a casual spot like Morgan's Lobster Shack for a romantic, laid-back, and butter-soaked meal. If winter's not your thing, opt for a summer honeymoon, which opens the door to all that gorgeous lake-time fun.
Don't leave without: Skiing one of the country's most fantastic slopes at spots like Northstar, Heavenly, or Squaw Valley
Sign up here for our daily Thrillist email, and get your fix of the best in food/drink/fun.
Meagan Drillinger is a contributing writer for Thrillist. Follow her on Twitter, Instagram, and Facebook at @drillinjourneys.