These Hotels Are Hiding Tiny Secret Bars in Their Suites and Lobbies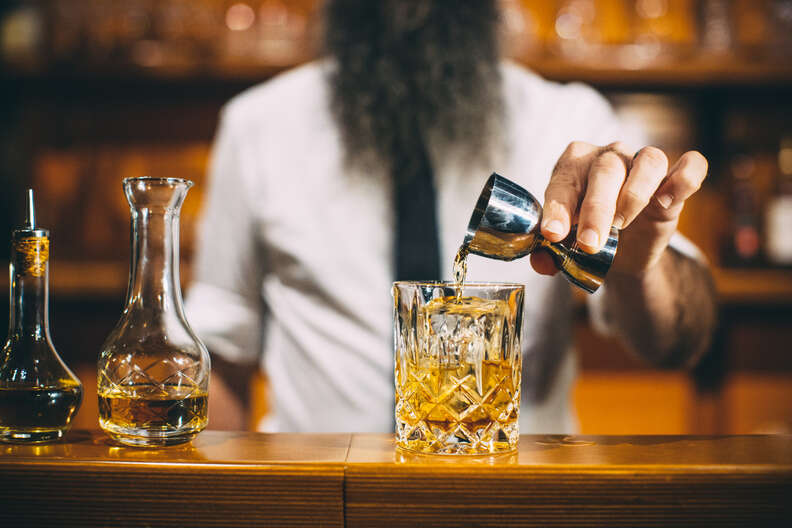 It's been more than a decade since the word "speakeasy" returned to the modern cocktail bar lexicon. Many of these so-called speakeasies have been among the world's worst-kept secrets, but they prove a point: We still love the thrill of an illicit drink.
Among the latest generation of hidden bars, many are secreted away within hotels. It makes sense, since most hotels have bar programs already, and often have unused rooms or nooks in public or private spaces that lend themselves to just a few well-chosen seats. While many of these bars give priority to hotel guests as a perk, they're usually open to all comers -- if they know the bar is there. (But note that reservations are often required.)
It helps to befriend a bartender or hotel staffer, especially for bars that may not be permanent fixtures. For example, NYC's NoMad hotel hosted two such bars for a while, in the spirit of pop-ups: one was nicknamed "Rum Row," a hotel room converted into the tiniest slip of a tiki bar, complete with palm frond wallpaper, a bar with precisely two wicker stools, and outstanding daiquiris. The other was a Suntory tachinomi (standing bar), built in a narrow, alley-like outdoor space to serve Japanese-style whisky highballs. Brigadoon-style, they existed for a shimmering, alcohol-soaked moment, then faded away without a trace.
Hotels across the country are full of such secret drinking spots, hidden behind sliding doors, tucked away in suites, concealed behind velvet curtains. Here are six drinking experiences to be had in hotels right now -- if you can find your way there, of course.
An offshoot of Nacho Jimenez's New York tequila and mezcal bar, finding this bar requires a scavenger hunt through The Cosmopolitan's food hall, Block 16. Find the door marked with Ghost Donkey's unassuming logo, and the reward is large-format tequila drinks and plates piled high with truffle-laden nachos, served beneath the festive glow of red twinkle lights.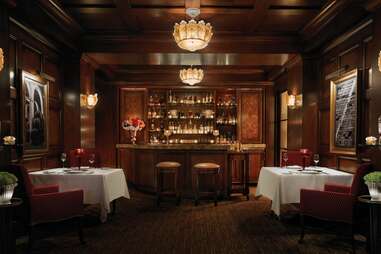 Rare Macallan Scotch at £10 (Beverly Hills)
Sip super-aged single-malt Scotch in a space that was once a private dining room intended for Hollywood's elite. At the Montage Beverly Hills, guests enter through a set of stairs in the back of the restaurant that lead to a kitchen prep area with a single door that simply reads, £10 (pronounced "10 pound"). The bar specializes in rare bottlings from The Macallan: think 65-year-old whiskey (selling for $5K a dram) or a newly-acquired 72-year-old, the oldest whisky ever released by the distillery ($12K for a two-ounce pour), served in Lalique crystal with ice spheres made with water imported from the Scottish Highlands.
Sake at Sushi by Bou (NYC, Miami)
Located in Suite 1001 at Hotel 3232 (NYC) and Gianni's Suite at the Versace Mansion in Miami, the four-seater Sushi by Bou is secreted away in a hotel suite with a view. In both locations, a self-service vending machine dispenses different types of sake, adding a touch of something extra. The hotel-room sushi and sake experiences have been so popular, Hotel 3232 is adding Lost Hours, an eight-seat bar from the team behind Death and Co., in the hotel lobby behind an unmarked door.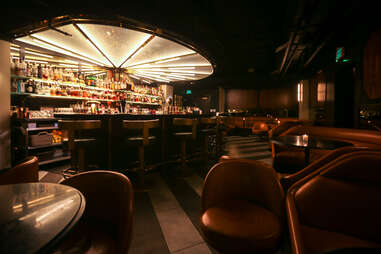 Signature cocktails at B&GC (Denver)
Technically, it's next to the Halcyon Hotel: B&GC was revived from the ruins of the historic Cherry Creek Post Office; head around in back of Halcyon to an unmarked door, and look for an antique-like doorbell to ring for entrance. Although it's a clandestine spot, this bar doesn't aspire to be a speakeasy. Instead, it takes inspiration from 1940s-1960s drinking dens. Cocktails span from classics to elaborate "signature" sips.
Tableside whiskey classics at The Whisper Room (Austin)
The InterContinental Stephen F. Austin Hotel opened in 1924, during the height of Prohibition, so a speakeasy-inspired space makes sense here. The 10-seat, reservations-only whiskey bar is located within the hotel's Stephen F.'s restaurant, behind a red velvet curtain. Look for updated takes of classic cocktails like old fashioneds and sazeracs, prepared tableside.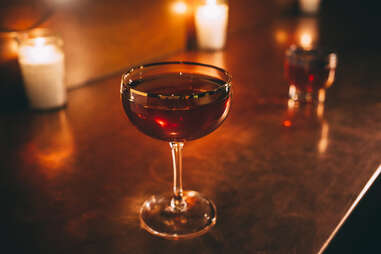 Vintage spirits at Milk Room (Chicago)
The Chicago Athletic Association is home to numerous sprawling, raucous drinking spaces: The Drawing Room, Cindy's, The Game Room. By comparison, the eight-seat Milk Room "microbar" is a hushed oasis for booze nerds. Hosted in an easy-to-miss second-level space once used by club members during Prohibition, Land & Sea beverage director Paul McGee has curated an astonishing menu of cocktails crafted wholly from rare and vintage spirits. Reservations require a deposit, which is then applied to your total bill.