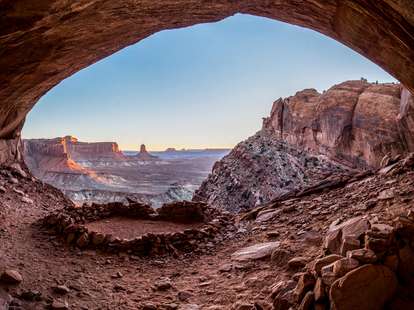 The Best Secret Spots in America's National Parks, From a Couple Who Visited All 59
Each one of America's 59 national parks has its well-known, must-see stops -- you probably aren't going to hit Yellowstone without swinging by Old Faithful. While those sites became musts for a reason, they also have their drawbacks in the form of insane tourist traffic (and, sometimes, insane tourists) and not a whole lot of tranquility. And yet, sometimes they're all a visitor sees.
During the centennial anniversary year of the park service in 2016, we road tripped to all 59 national parks in an effort to cast a brighter light on the beauty of America's greatest natural treasures. Our goal was to explore as much as we could in short periods of time (59 parks in 52 weeks averages out to about six days per park, including travel time), and to give the smaller and lesser-known parks the same treatment we would give to the most popular parks in the system. One of the best parts of the quest? We encountered plenty of unexpected surprises -- out-of-the-way places that made us feel as though we were getting simultaneously closer to the parks and farther from the rest of humanity. Here are 11 of those secret gems that absolutely need to be on your next itinerary.
A "racetrack" full of mysterious moving rocks
Death Valley National Park, California/Nevada
The Racetrack at "La Playa" (the beach) is home to the "sailing stones" -- large boulders of rock that move with the elements leaving a permanent wake on the dried up ancient lake bed. For a very long time, the cause of the movement of the rocks was a mystery to scientists. They have since concluded that a combination of wind, rain, and other effects put the rocks into motion.
The rugged road out to the Racetrack from the Ubehebe Crater is only 26 miles long, but it will take you about two hours to get there. High-clearance vehicles are essential, and not one, but two spare tires are recommended. Once you arrive, we recommend driving about 1 mile past the first trailhead where you can park and walk directly toward the base of the mountain where you will find the highest concentration of stones.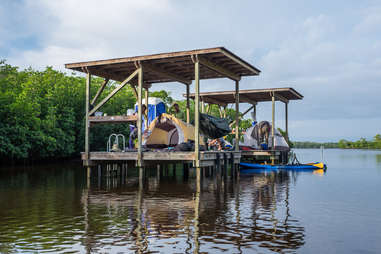 Hidden historic campsites in The Everglades
Everglades National Park, Florida
The Everglades waterways connect freshwater and saltwater ecosystems across 1.5 million acres of wetlands that feed into the Gulf of Mexico. In the fresh water Florida Bay, you will find a labyrinth of wetlands, Cyprus forests, and mangrove trees -- the last of which are constantly drifting (making a nautical guide your tool of choice over GPS systems). Hidden inside the mangroves are a handful of historical "chickee" campsites -- elevated wooden docks with covered rooftops that are accessible only by boat (traditionally, canoe) that have served as stopping points to couriers in the region for hundreds of years. As you sleep, the audio soundtrack of the Florida wetlands comes to life in the waters, the trees, and the sky. If you are looking for a totally unique paddling/camping adventure, this is your move.
An abandoned stretch of Route 66
Petrified Forest National Park, Arizona
It is known as the "Will Rogers Highway," the "Main Street of America," and of course, "The Mother Road." Whatever you like to call it, no great American road trip could ever be fully realized without a stop on America's famed Route 66. It cannot be found on any common map and the original route between Chicago and LA no longer exists, though broken pieces of it can still be traveled. Enter Petrified Forest, the only national park where you can step foot onto remnants of the "Highway of Dreams." Telephone polls that once lined the now-overgrown highway still stand marking its course. Have no fear, all is not lost for photography pursuits -- there is a carved marker on the ground at the Route 66 informational pullout and Route 66 road signs still stand tall along the road.
A forgotten, forever-changed expanse of Yosemite wilderness
Yosemite National Park, California
In the quiet northwest side of Yosemite National Park is a legendary site where you can escape the crowds of the Yosemite Valley while learning an important piece of national park history. Very few visitors to Yosemite ever travel there.
Less than 100 years ago, Hetch Hetchy was, according to John Muir, just as beautiful as the Yosemite Valley and its perfect counterpart. Then, in 1938 after a long legislative fight, the US government passed the Raker Act to green-light the intentional flooding of the valley, turning it into a 117-billion gallon hydro-electric reservoir. Filled by waterfalls and mountain snowmelt, the reservoir feeds millions of San Francisco residents a portion of their water supply. John Muir, often called "The Father of Our National Park System," lost a great love of his life -- a piece of the Yosemite wilderness -- with the passing of that legislation.
In knowing the area history, it is impossible to explore Hetch Hetchy without pondering the area's tumultuous past... one must wonder what it might look like today had it been left alone. However, the blessings of the present state of the area cannot be ignored. It is still a haven for wildlife species and is home to remote lakes, waterfalls, forests, and hiking trails, and unlike its superstar neighbor, the Yosemite Valley, it is full of immaculate peace -- well worth the 38-mile trip from the heart of the park.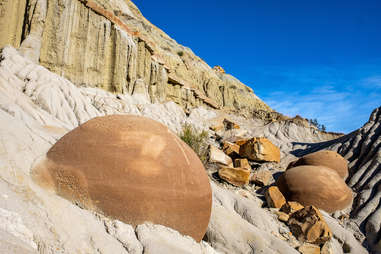 Massive, naturally sculpted stone "cannonballs"
Theodore Roosevelt National Park, North Dakota
The geologic formations in our national parks reveal millions of years of North America's natural history. Arches, badlands, canyons, caves, fossils, petrified wood -- there are endless displays of terrestrial formations to marvel at throughout the park system. At Theodore Roosevelt National Park, you can add to that list of wonders the aptly named Cannonball Concretions that look like enormous cannonballs settled upon the landscape. They are made of sandstone, shale, clay, and mineral compounds and continue to be unearthed over time as erosion weathers away their protective shields. The cannonballs are located just off of the paved park road in the north district of the park, though most visitors stay in the south district and never get a chance to see them. Our recommendation: Make the haul, set up camp at the amazing Juniper Campground, and cross the park road on foot to explore the cannonballs.
Alaska's wildest place to spot brown bears and rare foxes
Katmai National Park and Preserve, Alaska
The webcams perched above Brooks Falls in Katmai capture a surreal scene of bears fishing for their hibernation calories at the end of the Brooks River. It makes for captivating video and the cams have been viral for years. The scene in real life is even more enthralling, but there's much to explore beyond what the camera reveals.
Katmai National Park and Preserve has more than 4 million acres of vast wilderness to explore, and Brooks is just a small dot on that landscape. To get "the real" Katmai experience, head to the Shelikof Strait to immerse yourself in a habitat where coastal brown bears thrive inside a wild natural ecosystem. By boat and on foot, you can learn when, where, and how to spot bears, marine animals, birdlife, fox, as well as the elusive "cross fox" -- a fox with a mutated gene that is charcoal-colored with white speckles.
Fragile rock formations you won't find in guidebooks
Canyonlands National Park, Utah
We include this landmark with some hesitation as it is so fragile and wonderful that we don't want to expose it to over-visitation -- so if you go, be respectful! This is a somewhat secret spot in Canyonlands -- if you ask the rangers about it specifically at the visitor center they will guide you, but it is not included in park literature in an effort to mitigate damage that has, in the past, been caused by careless visitors. There are no marked trails in a traditional sense, just cairns guiding the way to the overlook. The hike gifts outstanding views of the Canyonlands the entire way, and the kiva is nestled inside a canyon cliff overlooking the geologic masterpiece that Canyonlands is. A "kiva" is a manmade structure used for communal and ceremonial purposes -- a common site in ancestral Puebloan cliff dwellings; "False Kiva" at Canyonlands was constructed much later than true Kiva sites found in areas nearby.
A pristine, remote beach in the South Pacific
National Park of American Samoa
When thinking of the US national parks, you probably don't think of an island group located south of the equator. Yet, halfway between Hawaii and New Zealand there it sits, an island wilderness in the South Pacific that protects unbleached coral reefs, tropical rainforest, fruit bats (also known as "flying foxes,"), and the culture of Samoa.
This national park has federally protected land on three islands. On the island of Ofu, you will find a pristine 4-mile paradise beach. Because of its remote location on a relatively unpopulated island, coral ecosystems thrive (please pass the snorkel!) inside of a glittering ocean. Trash on the beach? Not even a gum wrapper. Vendors slinging local goods? Not on your life. Such remoteness limits tourist infrastructure and can present unique challenges in traveling there, which is also part of the draw. This tropical paradise is truly hidden from the world, and you will feel that distance just as distinctly as you feel the powdery sand between your feet.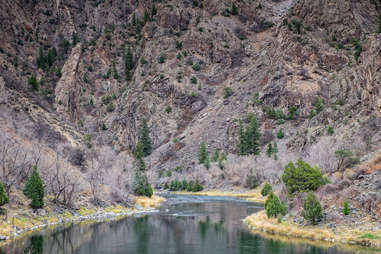 An untouched river running through a hidden canyon
Gunnison National Park, Colorado
In one of America's least visited national parks, a spectacle of imposing stone walls stands up the sheerest, narrowest, and darkest canyon you have ever seen. At its base, you will find the ultra-green Gunnison River where adventurers find their niche. Impassioned anglers cast lines in search of trout and salmon in a scene of peaceful solitude. With protection from the high canyons blocking intense Rocky Mountain winds, it is an epic place for photographers to capture perfect reflection shots. And, there is just something really special about taking in the canyon views from this low-to-the-ground vantage point.
There are only two ways to get there: You can tackle a harrowing hike starting from the top of the canyon (appropriate for experienced outdoorsman); or head down the 16% grade East Portal Road by car, accessible from the South Rim. Whichever way you choose to get there, expect to find great fishing, hiking, and camping areas in the Curecanti National Recreation Area, operated by the US National Park Service.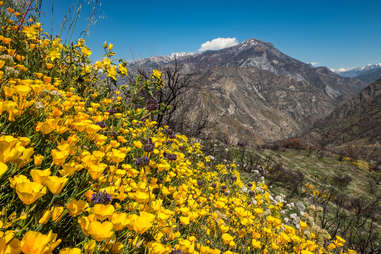 The most remote scenic drive in America
Kings Canyon National Park, California
Kings Canyon is home to one of North America's largest canyons. Its backcountry is so remote that it brings you farther from any road than anywhere else in the lower 48 states... and there is only one road leading into it -- the Kings Canyon Scenic Byway (Hwy 180) -- providing 50 miles of scenic-driving-bliss through the foothills of California's Sierra Nevada Mountains.
After passing through the Sequoia groves in the elevated part of the park, you will descend 2,700 feet to the valley floor where you will find the dynamic Kings River, meadows, waterfalls, geologic formations, and scores of wildlife. It is endlessly beautiful. So beautiful that the great John Muir once called Kings Canyon "a rival to Yosemite"; and so wonderful still that Ansel Adams spent years during the 1930s photographing the area to help earn this piece of rugged wilderness federal park protection. Thank you, Ansel!
Neon blue lakes that reflect the Washington wilderness
North Cascades National Park, Washington
"Welcome to heaven" one hiker said as we arrived at the 4,700-foot ridge line overlooking Washington's sub-alpine wilderness. Heaven... just a few short hours from Seattle. To get there, make way to the Thornton Lakes area of the North Cascades.
The Thornton Lakes Trail is just five miles (each way) with three distinct sections -- flat inroads on well-marked trails (through heavy brush so bring your bushwhacking skills); a climb through technicolor green vegetation to the ridge line at 4,700 feet; and a descending trail crossing over boulders to a neon blue reflective lake that seems to hold a mirror for evergreen trees and snow-capped mountains. Some do this hike in one-day, a strenuous undertaking; and some split it up into two 5-mile days with a fantastic night of secluded wilderness camping in between.
Sign up here for our daily Thrillist email and subscribe here for our YouTube channel to get your fix of the best in food/drink/fun.

Jonathan Irish is a professional outdoor, adventure, and travel photographer based in Washington, DC. In 2016, Jonathan road tripped to all 59 of America's national parks in one year to celebrate the centennial anniversary of the US National Park Service. Learn more on the official project website and Facebook page, and also check out Jonathan's portfolio on National Geographic. One more thing! Keep up with his latest travels on Instagram.
Stefanie Payne works as a Creative Director and communications strategist in NASA human spaceflight at the agency's headquarters in Washington, DC. When not telling the story of human exploration in space, she writes about exploration on Earth. In 2016, Stefanie also road tripped to all 59 of America's national parks. Keep up with her latest writing and travels on Instagram and Twitter.