The Sexiest Ocean Cruises You'll Actually Want to Go On
Bliss Cruise
Bliss Cruise
You've heard all about sex parties. Frankly, you might be even a little tired of hearing about sex parties. They exist. WE GET IT. But what about sex parties at sea? Well, now we've gone and just about blown your mind. Curiosity re-piqued!
Let us paint you a semi-pornographic (to just regularly pornographic) picture: sailing the high seas aboard a luxury ocean liner, whilst carefree half-naked mermaids frolic on deck. Elsewhere, curious couples are engaging in educational seminars on best practices for new sexual positions. And in tucked away, secretive corners other couples and strangers are taking a more hands-on approach to learning -- with themselves, with each other, and a variety of combos in between.
These are sexy cruises -- full, sailing itineraries to glorious destinations, with lots and lots of onboard, naked activities. There's a pleasure cruise, and then there's a pleasure cruise. If you've tried all the sex parties in/on the land, you probably can do with a change of scenery. Sexy cruises aren't for everyone, but they are, evidently, for like, thousands of people every year. And you could easily be one of them.
Are sexy cruises at all similar to regular cruises?
Why, yes! Sexy cruises aren't like television dramas that use serious scenarios as thinly veiled backdrops for pretty people having sex with each other. (You didn't think Grey's Anatomy was just about doctors, did you? Or Game of Thrones just about dragons?) Sexy cruises are still VERY MUCH real cruises. They visit ports of call in cool places like the Caribbean, the Mediterranean, and Alaska. And yes, the passengers do actually put on their clothes and get off (the ship!).
Also, because these cruises are usually chartered and take place on cruise ships that are used to regular itineraries, they still come with all the bells and whistles: multiple restaurants, great pools, fitness centers, nightly entertainment -- though this one tends to be sexually skewed.
So... then how are sexy cruises different?
Erm, well, all the sex? Sexy cruises are often called "clothing-optional" cruises so as to not scare away first-timers by advertising them as orgy cruises. And, truthfully, they aren't orgy cruises. Just because they are sexually skewed doesn't mean that 17 people are piled on top of each other. And lots of people on clothing-optional cruises are on it for just that reason alone. They like to be naked. And sex doesn't even play a factor.
But for the most part, sex is a big factor. Not to mention the fact that the cruise terminology is really just subliminal messaging to get you worked up. Maiden voyage? Repositioning? Tender ports? Come on... gangway?
So of all the cruises offering sexy options (and there are several), which ones are actually worth your time? Meaning, which ones will have people under 60 years old with activities that you will actually want to do? Well, we've found 'em, the best sexy cruises on which to stretch your sea legs. Too much? How about the cruises then on which you're sure to come home with zero to minimal tan lines?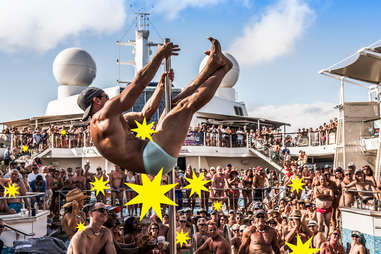 Bliss Cruise
Bliss offers adults-only (um, we hope so) full-ship charters. So don't worry about winding up naked on the buffet line in front of fully clothed passengers who are purely there to see St. Martin. Everyone on a Bliss Cruise is there for the same reason. Bliss Cruise is designed for every level of "the lifestyle," which is basically the overarching semi-secret code for "swingers." Whether you're swapping partners, acting as a guest star, meeting someone new, or testing your voyeur skills, you're welcome on a Bliss Cruise, along with hundreds (yes, HUNDREDS) of other like-minded and/or curious cruisers.
For what we are assuming are your interests and needs, you'd want to register for Bliss' spring sailing. (Bliss does two sailings: one in the spring and one in the fall.) The spring sailing's age demographic goes down by 11 years compared to its fall sailing, with the average age being 39. This cruise runs five days instead of seven and the starting price is $650 per person, so it's cheaper than any other niche cruise. The April cruise for 2019 is already set aboard the Celebrity Infinity and will sail along the coast of Belize and Mexico's Costa Maya.
In addition to sexy theme nights (because what is a sexy cruise without sexy themes?), Bliss Cruise offers educational workshops and seminars, all sexy, geared toward a younger demographic. But beyond that, there is plenty of fully clothed fun to be had, from ruins-hopping in Belize to beach bumming along the coast of southern Quintana Roo.
Temptation Cruise
The soon-to-be-launched Temptation Caribbean Cruise takes the famous topless Cancun experience aboard a luxury ocean liner. The first-ever Temptation Caribbean Cruise is set to sail in February 2020 with ports of call in the western Caribbean. A little more subdued than a Bliss Cruise, Temptation's new aquatic endeavor brings the topless pool scene to ports of call like Grand Cayman and Cozumel. The cruise focuses on being teasingly sexy -- like the lingerie of cruise lines, minus the lingerie. Theme nights, DJ pool parties, and an overall party vibe is what makes this sexy cruise good for beginners. And while sex in public is not permitted and this is not an advertised swingers cruise... what happens at sea (inside your locked stateroom and nowhere in sight of other guests) stays at sea.
Another bonus for the single gentlemen out there: You're totally allowed on. Most sexy cruises are only open to couples or single women.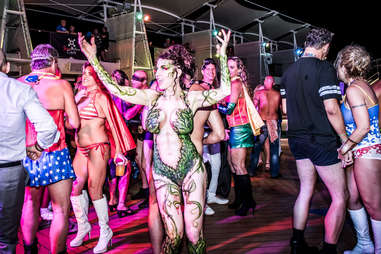 Desire Cruise
Desire is the older, more sophisticated sibling of Temptation. With the same parent company, Desire Cruise has been around the block a few times and knows how to play with the big boys. As such, and unlike Temptation, Desire is a clothing-optional cruise. But also, it's likely one you cannot afford. This changes the demographic and experience considerably, but it's certainly an option for those who don't mind blowing their wad. Of cash, mind you.
This fall Desire is sailing the Med, from Monte Carlo to Portofino to St. Tropez to Ibiza before docking in Barcelona. And for a price tag that starts around $3,000 per person, it's a considerable upgrade in terms of facilities and experiences. Its couture-style sailing, with very little couture. That said, how many 30-somethings do you know who can drop that kind of coin? So take that into consideration.
Naked is naked, so what you're paying for is really the upgraded amenities, dining, and offshore experiences. At the end of the day, fancy pants come off just the same as regular pants. Desire also has a roster of theme nights, a clothing-optional pool, and a steamy playroom. There is also a Jacuzzi Lounge with strategically placed jets for, um, neck massages.
As with all things sex-forward, there are a few rules, and these apply to all the other liners as well. First, no means no. Second, you are not obligated to do anything. Third, privacy is of the utmost importance and if you're caught recording, photographing, or broadcasting anything in any way, you will certainly be made to walk the plank. And lastly, this is a judgment-free zone. People love to get around other like-minded people to express themselves, have fun, and just do them. A sexy cruise is no different. We're all equals onboard, whether you prefer your ride in the bow or in the aft.
Sign up here for our daily Thrillist email and subscribe here for our YouTube channel to get your fix of the best in food/drink/fun.
Meagan Drillinger is a freelance travel writer, and the youngest geriatric in the world, splitting her time between New York City and Mexico, when NYC is less than 75 degrees. Her writing has appeared in
Men's Health
,
Travel + Leisure
,
Travel Weekly
, Refinery29, TimeOut NY, among others. She is also the founder of Vaera Journeys, an entrepreneurial retreat travel company for women that combines building your business with immersive travel experiences. Follow her on Instagram either at @drillinjourneys or @vaerajourneys.