Beautifully Eerie Shipwrecks Near the US You Can Actually Dive In
Until Elon Musk gets his act in gear, scuba diving is as close as most of us will ever come to visiting another world. Submerge yourself, and within two minutes you're surrounded by brightly colored creatures, 50ft fans, corals, and all sorts of other things you'll never see above the surface.
Even more striking is when humanity collides with the underwater realm. And no, I'm not talking about The Little Mermaid (though now you've got "Under the Sea" stuck in your head, and for that you're welcome). I mean wrecks -- ships that were sunk accidentally or intentionally, that have become underwater reefs and a fascinating look at how nature reclaims anything, given enough time. No matter what your experience level, these 14 dives in the United States or only a couple of hours away promise be unlike anything you've seen. What more are you looking for?
The Odyssey
Roatan, Honduras
The sheer size of this 300ft freighter required that it be sunk in a spot called "mud hole." Upon initial descent divers are greeting by a massive 85ft wheelhouse. Inside they find a twisting network of stairs and ladders, and even a bathroom in the captain's quarters that still has its original tile. Since this wreck was sunk only in 2002, it doesn't have quite the marine life presence of its Honduran neighbor, El Aguila. But the wreck itself is set between two coral reefs, so if you don't plan to investigate the wreck too much, you can get your fix of tropical fish on the reef before exploring the ship. The whole thing is hard to take in on one dive, so hit it a few times for the full experience.
Hilma Hooker
Bonaire
Despite inspiring countless "I went down on the Hooker" T-shirts, this 215ft freighter has a decidedly sinister backstory. In 1984 the ship lost power off Bonaire, a small island nation off Venezuela. Upon being towed to shore it was found to be carrying some 25,000lbs of marijuana tucked in a false bulkhead. Since nobody was rushing to claim ownership, the Hilma Hooker sat in mooring until the hull sprang leak after leak. The boat was eventually towed to a permanent anchorage, got waterlogged, and sank. Conveniently, it settled 50ft below the surface, perfectly placed between two coral reefs. Now it's a spectacular dive site for divers of any level, where beginners can skim the outside and enjoy the coral, and experts can go more than 100ft into the wreck.
YO-257
Oahu, Hawaii
The Chance Vought F4U-4 Corsair bomber wreck might be more historic (it's the only war-used wreck open to the public on Oahu), but the largest and most colorful wreck to dive in Hawaii is the YO-257. At 175ft, the old naval oiler is considerably larger than Corsair, and designed more with divers in mind. It was sunk in 1989 as an underwater reef to be viewed by submarine tours. But because it sits in only 110ft of water -- and the top deck is at 85ft -- it has become a worldwide dive attraction. Holes have been cut in the ship to allow a complete swim-through at the stern, inviting an abundance of marine life to move in, including sea turtles, eagle rays, and trumpetfish.
USS Spiegel Grove
Key Largo, Florida
One of Florida's underrated tourist attractions is the "Wreck Trek," nine wrecks spread off the coast of the Florida Keys that together make for a fascinating week of diving. The colossus among them is Spiegel Grove, a 510ft loading ship dock that offers exceptional access to its deep interior. For intermediate divers, the view from the top at about 60ft is lush with star corals and fans, and a short trip to the interior will give divers a sense of the boat's history and life on board. Those with great technical know-how may challenge her inner passageways -- some have not surfaced afterward. The ship is not one to be taken lightly, but for expert divers, it's an absolute must.
Kittiwake
Grand Cayman, Cayman Islands
Though the ship has sat off Seven Mile Beach for only five years, it's already been blanketed in marine life, including an abundance of corals and a 100lb grouper who likes to hang out near the gargantuan propeller. Even without the fish the Kittiwake is an interesting trip into history. This former submarine-rescue vessel (that never actually rescued a submarine) is decked out in photographs of the ship in its heyday. So divers can sit at a mess-hall table and see what that view looked like when the ship was operational. It's one of the more accessible wrecks in the Caribbean, where beginners can dive into the ship's propeller shafts and still have plenty of space to maneuver. And the ship is largely full of ambient light, so it's easy to stay oriented.
SS Daniel J. Morrell
Lake Huron
If you can handle the cold, the Great Lakes offer some of world's best-preserved wreck diving. First, because the ships here actually sank, and secondly, because the fresh, frigid waters preserve the original cargo, wooden fixtures, and, in some cases, bodies. Plenty of wrecks await beginners and intermediates, but for advanced tech divers the best is this 600ft freighter resting 200ft below the waves. The signage, rooms, and moving parts are still intact 50 years after 35ft waves broke the freighter in two. For those willing to take the 20-mile boat ride into Lake Huron, it's an unparalleled experience.
USS Oriskany
Pensacola, Florida
The ship that has been dubbed "the great carrier reef" is a 911ft aircraft carrier sunk 22 miles off the coast of Pensacola -- and constitutes the largest artificial reef in the world. To give you an idea of the scope of the thing, it was sunk in 200ft of water, but can be reached as shallow as 80ft, so it's ideal for recreational divers with some experience. The flight deck sits at about 145ft, meaning that underwater-Maverick selfie isn't really advisable. But the sheer mass of the thing, as well as the feeling of diving through a ship that earned two battle stars in Korea and 10 in Vietnam, makes it a destination dive for anyone serious about the sport.
Felipe Xicotencatl C-53
Cozumel, Mexico
For beginners on a dive trip to Mexico, there is no better wreck than this one, known simply as "The Cozumel Wreck." The ship was originally built for the US Navy and served in World War II as the USS Scuffle. In 1962 it was sold to Mexico and patrolled the Caribbean for 55 years before becoming part of the Cozumel underwater park in 1999. It sits in 82ft of water, but is accessible from as shallow as 20ft, and despite having some strong currents is almost always a fairly straightforward trip. In addition to visiting the completely intact engine rooms, galley, officers' quarters, and radio room, divers will also find themselves swimming with barracuda, eels, grouper, and all sorts of other marine life.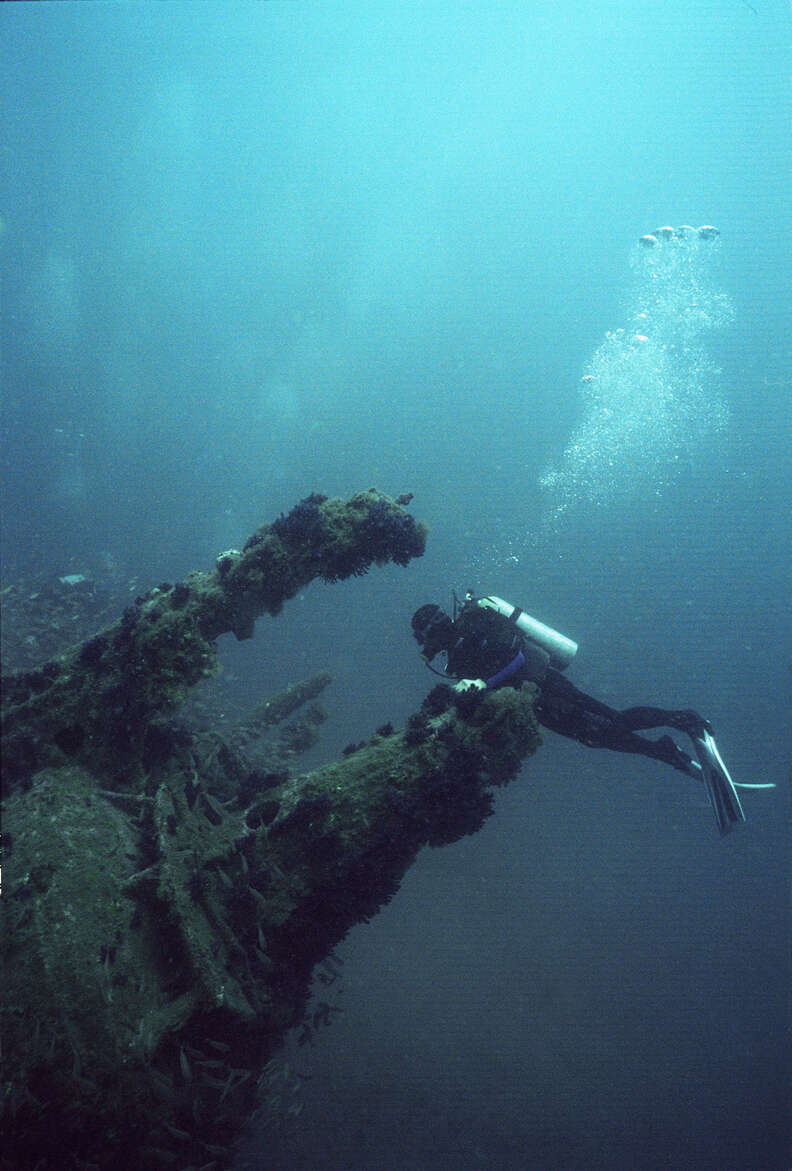 U-352
Morehead City, North Carolina
During World War II, German U-boats were frequent unwelcome visitors off the Atlantic US coast. There, the Navy peppered them with enough depth charges that the waters off the Carolinas are now known as the "Graveyard of the Atlantic." The most popular U-boat to dive is this one, sunk on May 9th, 1942 after it inadvertently fired a torpedo on the cutter Icarus. In 1975 the wreck was discovered about 115ft down, and despite its 45-degree list and an outer hull that's long since disintegrated, it's still one of the best offshore attractions in North Carolina's Outer Banks, where divers often find themselves sharing the swim with an abundance of sand tiger sharks.
Lady Luck
Pompano Beach, Florida
Though the casino-boat industry in South Florida sank years ago, it was just this summer that a casino found its way to the bottom of the Atlantic. This 324ft former New York City tanker has been renamed the Lady Luck. Its main deck is full of sculptures of sharks playing poker, a craps-playing octopus, a mermaid cocktail waitress, giant dice, and original art from Dennis MacDonald. The stack stands at about 80ft, and experienced divers can go as far as 134ft, though most of the fun stuff sits at about 100. It's a unique artificial reef, and as marine life begins to take over the brand-new wreck, it can only get more bizarre as time goes on.
HMCS Yukon
San Diego, California
Despite the Pacific's cold waters, San Diego is trying to put California on the diving map with Wreck Alley. Just off Mission Beach are four wrecks, the most popular of which is this 366ft Canadian warship. It's one of the best-prepared for divers, with dozens of interior bulkheads removed for ease of movement, and holes cut in the side so divers are never more than 30ft from an exit. Just one problem: the ship sank ahead of schedule, and sits completely on its port side. So the dive here is a sideways experience. Adding to the funhouse feel: Keeline Cove, a Deck 5 compartment painted over by artist Mike Keeline, and touted as the world's first underwater art gallery.
RMS Rhone
British Virgin Islands
This one-time British mail ship was thrust into Black Rock Point during the San Narciso hurricane of 1897, killing 123 of the 146 passengers on board and making it one of the deadliest diveable wrecks in the world. The Rhone sits at two distinct depths – the bow at 75-85ft and the stern at 40-60ft. Most divers would recommend seeing it in two dives, the first touring the mostly intact bow and the second swimming through the propeller, drive shaft, and engine box at the stern. The wreck is mostly exposed, meaning it's one of the safer ships with not much in the way of enclosed spaces or darkness. And it's the rare wreck that's also visible to snorkelers, meaning your non-certified friends can make the trip with you.
USNS Gen. Hoyt S.Vandenberg
Key West, Florida
This former troop transport ship, sunk off the coast of Key West in May 2009, is the second-largest artificial reef in the world after the USS Oriskany. It sits as the Wreck Trek's western anchor, a 520ft-long, 100ft-tall ship that might not yet be covered in marine life, but which has plenty of features. Satellite dishes sit chained to the ship's decks and a Conch Republic flag waves proudly from one of the railings. There are structures to dive ranging from 40ft deep all the way to 140ft, and while this is still a young wreck its size and variety make it a destination for Florida divers.
Mary Alice B.
Lake Huron
The Sanilac Shores Underwater Preserve off the thumb of Michigan is one of the most popular spots for wreck diving in North America, as the tumultuous waters of Lake Huron sank many a ship there. And about 16 of them are within drivable waters. Our pick as the best is this 65ft tugboat that sits upright at about 92ft, offering a completely intact wheelhouse and an interior that gives a look into life aboard a 1931 tug. Just be forewarned that visibility can be dicey on the inside, especially on choppy days, so for those less-advanced it might be best viewed from outside.
Sign up here for our daily Thrillist email, and get your fix of the best in food/drink/fun.