Martin M303/Shutterstock
Martin M303/Shutterstock
The Most Dazzlingly Picturesque Villages in Italy
Having traveled to many an Italian town, I confess it's practically impossible to find a particularly crappy one. Quaint villages here are like wines -- always abundant, rarely disappointing. Still, there are always standouts. And after taking into account scenery, activities, food, and characters, I'm offering you these nine Italian small towns. Each is spellbinding enough to make you rip up your ticket home and punt your phone into the sea... just as soon as you Instagram one last cliffside sunset.
Positano
Population: 3,950
Claim to fame: John Steinbeck rhapsodized on it in 1953 Harper's Bazaar essay: "Positano bites deep. It is a dream place that isn't quite real when you are there and becomes beckoningly real after you have gone."
A trip to Italy without a stop on the Amalfi Coast is like going there and not eating 5lbs of pasta a day -- that is, unthinkable. Positano may be the jewel of the entire coast: a cliffside village whose glitzy visitors shouldn't deter you. Instead, savor the abundant citrus trees, narrow winding paths lined with shops selling handmade pottery and sandals (the town is also known for its skilled craftsmen), and the famous tiled dome of the Chiesa di Santa Maria Assunta church. The rich come here for a reason.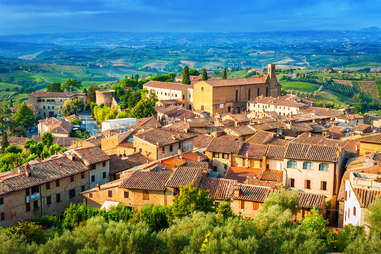 San Gimignano
Population: 8,000
Claim to fame: Franco Zeffirelli filmed parts of Tea with Mussolini here.
If Tuscany were to have a highrise-lined Downtown, this would sort of be it -- except all 14 of the towers within the walls of this town date to the 1200s. A short day-trip from Florence, the once-prosperous medieval hilltop town was said to be mostly wiped out by a plague in the 1300s; these days it's a must-see in rural Tuscany. Ascending the steps to the city is literally like stepping through time. Once at the top of the towers, you'll have arguably the best panoramic view of the Chianti region.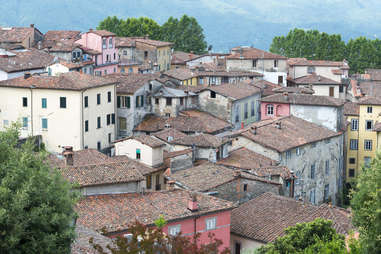 Barga
Population: 10,000
Claim to fame: Summertime opera and jazz festivals.
The chief town of the media valle (mid valley) in the province of Lucca, a Renaissance hilltop town in wine country that has been described as a "Venice without water." Barga is a village in this area that I luckily and quite literally stumbled into (there's a lot of cobblestone!). It has almost a Hogwarts look to it, with candle-lit dark stone buildings and a quaint merchant workshops on every corner. Barga's food is also so good it's scary; if you do make the visit, the Trattoria L'Altana Barga is about as authentic a Tuscan meal that exists.
Vernazza
Population: 1,200
Claim to fame: A virtual absence of cars anywhere on the steep streets.
Whether or not you believe heaven is real, Cinque Terre ("five towns" in Italian) may be the closest thing to it. The quintet of coastal villages are connected by walkable mountain paths that wind through vineyards and all have ludicrous views of the Mediterranean. Vernazza's the most charming, or at least the most picturesque. If you opt to hike there, you'll walk down down into the town, nestled like an Easter egg in a little cove right on the sea, arrayed with pink, yellow, and blue-hued buildings and rowboats lining the water. One of the best-known fishing villages on the Italian Riviera, it's a fantastic spot to refuel with mussels, fresh catches, and lots of wine.
San Teodoro (Sardinia)
Population: 4,000
Claim to fame: The views of the nearby island Tavolara, an imposing shank of limestone cliffs.
One of the most postcard-ready crescents of sand anywhere is La Cinta, a beach to put others to shame. It's almost too pretty, as if someone constructed it in Downtown Disney. But let me assure you its soft white sand is very real, sloping ever so gently into the warm, gin-clear water. If you can actually remove yourself from this sunny playground -- which will be very hard -- this is also a great town for boating, water skiing, and horseback riding and mountain hiking. The tourist-friendly Downtown really picks up after dark, perfect to sip on some Sardinian mirto or limoncello and do some quality people-watching.
Castelluccio
Population: Fewer than 300
Claim to fame: A summertime flower festival.
Land in this breathtaking mountaintop town and you'll start cackling "poppies … POPPIES" like the Wicked Witch of the West. The reason: a massive field of flowers (including, yes, poppies) like something from Oz. The season from May to June here is called "flowering" season, but if you miss it, you're still in for scenery: as the highest village the Apennine Mountain Range, at 5,000ft above sea level, Castelluccio is also bordered by snow-capped mountains.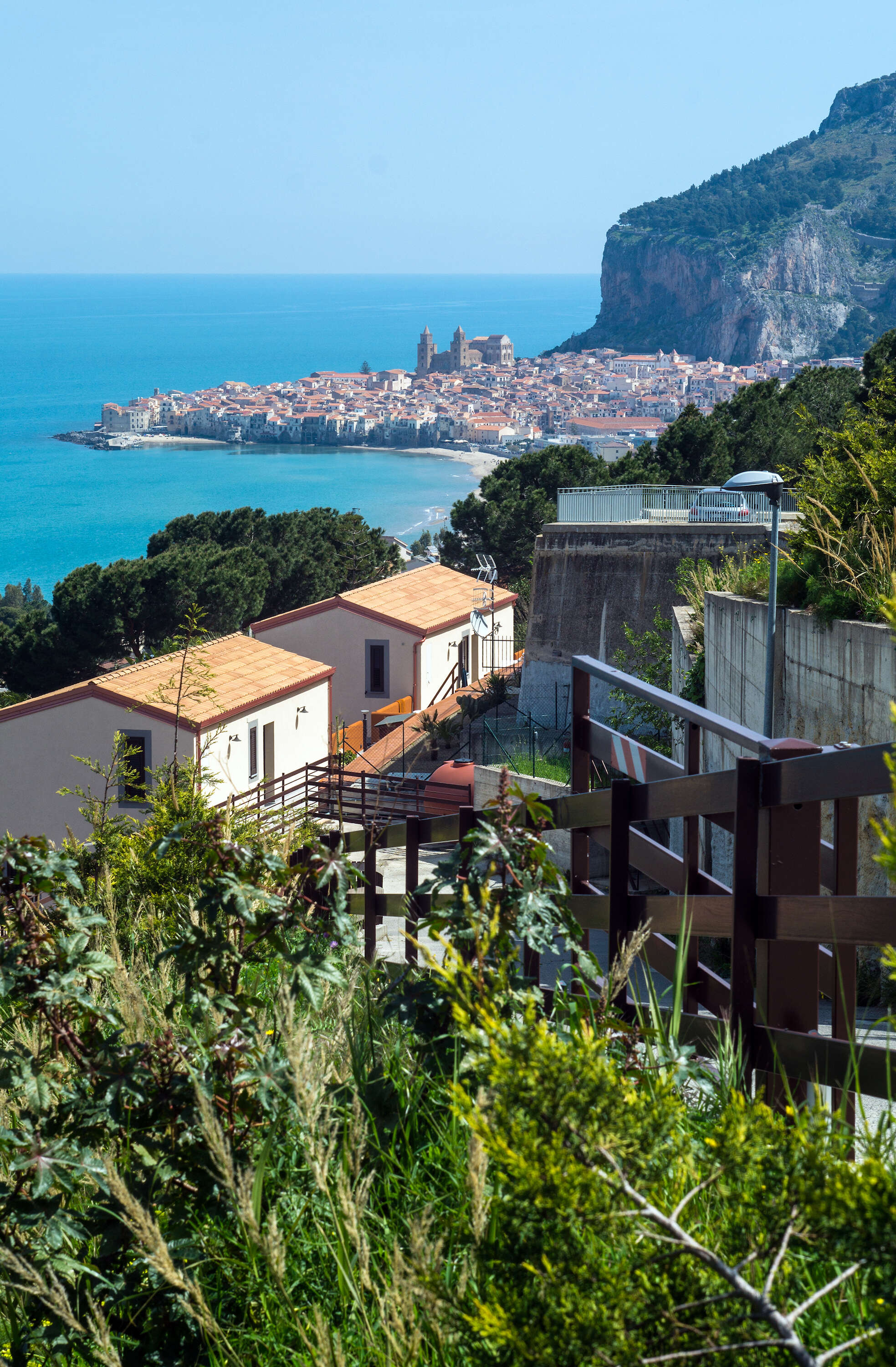 Cefalù (Sicily)
Population: 14,000
Claim to fame: The Cathedral-Basilica of Cefalù, an UNESCO World Heritage church with Norman and Arab influences.
Holy flipping sunset, Batman! This Sicilian beach town is what #nofilter shots are made of, with something prettier than the next at every turn. Sicily feels completely different than the rest of the country -- and that's because it used to actually be its own country. The white sand beaches and crystal clear waters are reminiscent of Greek isles, except with that same Italian charm -- and same awesome food.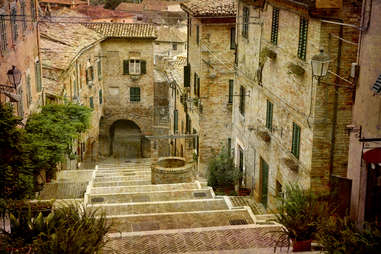 Corinaldo
Population: 6,000
Claim to fame: Outstanding neoclassical architecture.
Yes, there have a few medieval towns that are enclosed by massive walls on this list. Corinaldo, though, has stood the test of time better perhaps than any other city in the country. Built in the 14th century as ornate ramparts, the walls remain almost perfectly intact. The setting could hardly be more fitting for the city's renowned annual Halloween festival. In a town literally thousands of years old -- and built to stand another thousand -- the atmosphere is tailor-made for spooks and haunts.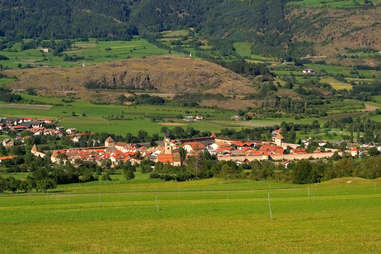 Glorenza/Glurns
Population: 1,000
Claim to fame: Townsfolk who speak German.
A village so nice, they had to name it twice. Set deep in the alpine Venosta Valley, the smallest town in South Tyrol was once a bustling hub of trade in north Italy. It's a skip from the Swiss and Austrian borders, but it's the German influence you feel here most, so palpable you half expect to see Oktoberfest tent pop up while strolling the alleyways. You won't, alas, but sipping wine while taking in the majestic architecture and vast countryside will more than make up for it.
Sign up here for our daily Thrillist email, and get your fix of the best in food/drink/fun.
Liz Newman is a contributing writer to Thrillist, and is pretty sure if she goes back to Italy she won't ever return. Check out more pics from some of these towns on her Instagram and tweet her your favorite at @lizn813.