Winter's well and dandy, but by the time March rolls around, pretty much everyone's fed up with the whole "bitter cold and bubble jackets" thing. Now that spring's near, rather than just watching leaves come back, which is nature's equivalent of watching paint dry, why not go somewhere extra awesome to punctuate the season change?
With that in mind, we've put together a list of 13 unbeatable springstinations (that should totally be a word) ranging from North Africa to South America.
Recommended Video
Please Don't Hang Up: The Best Things to See, Eat, and Do in Seattle, WA
Tel Aviv, Israel
Why you're going: To soak up the Middle Eastern sun and hit on Israeli stunners.
Flights to Israel's second-biggest city are a lot less expensive than you'd think, especially if you're bypassing the peak seasons (summer and Christmas). While the temperatures definitely are starting to rise come spring, the worst you're looking at is a 78-degree day, which is nothing by Middle Eastern standards. They won't reach unbearable levels until the depths of summer roll around, so laying out on the sand at Banana Beach is still a reasonable proposition -- especially considering the number of dead-sexy singles in this town.
Lake Tahoe, CA
Why you're going: To shred corn snow and get your aprés on.
If you thought skiing was exclusively a winter activity, well, stop thinking that, because most of the slopes at Lake Tahoe's 12 mountain resorts are still decked out in powder well into April, and thus are still open. The snow around this time of year is referred to as "corn," either because of its granular shape or because skiers thought "cauliflower snow" just sounded unappealing.
Whatever the reason, this springtime snow has a unique consistency that makes it not only fun to ski on, but a lot safer and less avalanche-prone as well. Unless, of course, you're skiing later in the afternoon, at which point the prolonged exposure to sunlight makes it a lot soggier and not at all fun. But at that point, you should already be in full aprés mode at one of the world's best party mountains, so who cares!
Cartagena, Colombia
Why you're going: To bump around the Caribbean coast in a raucous party bus.
Hit the town on a Wednesday night in Cartagena and you'll wonder if a time warp fast-forwarded you to Saturday. Surprisingly, hump day's the biggest party night of the week, with hoards of tourists, hawkers, and students alike lining the streets of the Getsemani neighborhood, particularly around Calle Media Luna, where cheap hostels and bars abound. Head just a block over to the Plaza de la Trinidad where even more people will be mingling and slugging street beers. When a liter of cerveza costs just $1.50, it's hard to say no. And to get some culture with your booze, hop on a Chiva bus to drink during an open-air city tour. It's not the safest thing ever, but it sure is a good time.
No matter the day of the week, it's nearly impossible to walk five minutes without having someone try to sell you... well, that stuff Colombia used to be famous for. Everybody's got a connection, and is willing to offer. Politely decline -- unless you're OK with potentially having police escort you to an ATM, where they'll pocket your max withdrawal as a tradeoff for not ending up in a Colombian prison.
When you need a break from all the partying, take a bus or taxi out to Playa Blanca -- a serene respite from a city built on having a great time.
Whitsunday Islands, Australia
Why you're going: To walk on squeaky sand and swim in a natural wonder.
On top of being intoxicatingly beautiful, Australia's Great Barrier Reef is one of the seven natural wonders of the world, and truth be told, you can't go wrong no matter which of its 1,400mi you visit during the dry season. That being said, your move has to be the Whitsunday Islands: they've got the only commercial airport in the Great Barrier Reef (on Hamilton Island, the largest inhabited island in the group), which makes for easy access from pretty much every major Aussie city, and thus wherever you're flying from.
Catch a helicopter or seaplane to view the reef from above, or hop a boat from Hamilton to Whitehaven Beach. The impossibly white sand is made of 98% pure silica and actually reflects heat, so it won't scorch your toes if you walk barefoot. What it will do is squeak when you walk on it, making it the most adorable sand in the world.
Phoenix, AZ
Why you're going: To eat killer BBQ and watch baseball games.
When it comes to Spring Training, there's no competition: the Cactus League beats the Grapefruit League, every time. This is indisputable, practically speaking, since the Cactus League's stadiums are all conveniently located within the Phoenix metro area, while the Grapefruit League's stadiums are strewn haphazardly across South Florida. By hitting up the Valley of the Sun, you not only ensure you have easy access to whatever games you damn well please, but you're also at the doorstep of one of the hottest towns in the country (literally and metaphorically).
It's not all about baseball here, though -- Scottsdale is home to the Arizona BBQ Festival, which is as excellent as it sounds: live music, bourbon for days, and of course, all the sticky short ribs you can get your grubby mitts on. Which is a lot, since you've got mitts instead of normal hands.
Sapporo, Japan
Why you're going: To drink sake, look at cherry blossoms, and drink more sake.
Sure, you could go visit Washington, DC to get a look at some cherry blossoms, but the Japanese don't play around when it comes to blossom-gazing, called hanami: it's basically a national tradition that involves hanging out with friends, looking at cherry blossoms, and drinking sake. The national weather service actually releases an annual "blossom forecast" that predicts the peak time for scoping out pink petals throughout the country (timing matters, since they fall off the trees after only a week or two). Hokkaido's blooms appear relatively late in the season, thanks to its higher latitude, which gives you more time to plan your visit around local highlights -- like, say, the Sapporo Beer Museum in Sapporo (of all places).
Mahé, Seychelles
Why you're going: To scuba dive and chill with a giant tortoise or two.
It's time to strap on your tank and mask/get scuba certified in the first place, because once the Seychelles trade winds calm down in April, there's about a month-long period where the tranquil seas make for truly spectacular diving conditions. Underwater visibility can reach nearly 100ft, perfect for spotting angelfish, octopi, and mantis shrimp around the inner reefs, while the more remote islands in the Seychelles archipelago can be home to sailfish, manta rays, and even some hammerhead sharks. Because if there's any kind of sea creature you want to see coming when you're not in a dive cage, it's definitely a shark.
Munich, Germany
Why you're going: To drink strong seasonal beer and gorge on schnitzel.
Oktoberfest gets all the press, but the real jam actually happens months earlier at the start of spring. Beginning in early March, when winter's still got a bit of bite to it, Munich throws a three-week beer fest called Starkbierzeit -- literally, "Strong Beer Time." God, German is a beautifully pragmatic language.
The fest's a local tradition dating back to the 17th century, when the Paulaner monks first whipped up their world-famous Salvator double bock (or doppelbock) as a substitute for solid food during Lent. Don't worry if you can't make it in time for Starkbierzeit, though; strong doppelbocks continue to be the brew of choice through early May, when the breweries transition to lighter hellesbocks and maibocks (literally "May bock") as the weather starts to get milder.
Fun fact: While the Bocks poured during Starkbierzeit definitely do pack a punch, the "Strong" part actually refers to their high calorie count, not the amount of alcohol. Get fat, not tipsy!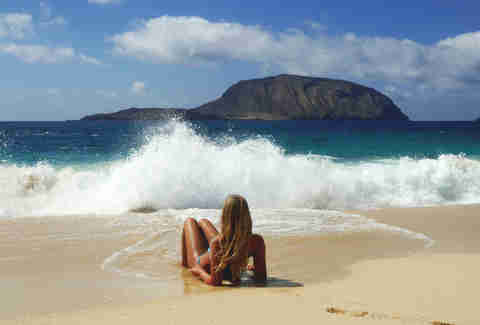 The Canary Islands
Why you're going: To experience radical microclimates and Spanish beaches that aren't actually in Spain.
Hop over to this string of tiny islands off the western shoulder of Africa and you'll hear more German and Scandinavian spoken than Spanish, since pasty northern Europeans flock here not for the wealth of museums or cultural highlights, but for the staggering variety of microclimates. Wanna check out an arid flatland with amazing beaches? Head to Fuerteventura. Wanna explore a woodland mountain in the morning and a protected desert in the afternoon? Hit up Gran Canaria. Tenerife, the largest and most populous of the islands, has a massive volcano at the center that can be viewed from pretty much anywhere on the island. It's like California, all rolled into one archipelago... just without any place like Fresno.
Miami, FL
Why you're going: To hit the beach (duh) and meet friends at ULTRA.
March, April, and May are Miami's sunniest months, and while the temps and humidity aren't quite as mild as they were in January, the absence of winter crowds more than makes up for it. Couple that with Miami's Fashion Week, and the ratio of talent to tourists tips even more in your favor. 
If Fashion Week's too late in the season, it's still worth dropping in for ULTRA: arguably the biggest EDM festival going on this time of year, with a veritable who's who of headliners ranging from David Guetta to Knife Party. Yes, the festival's organizers recently banned selfie sticks and backpacks, but is that really a bad thing? You're already surrounded by shirtless bros and girls with neon dreadlocks, half of whom are rolling on ecstasy -- the last thing you need is for them to be wielding long sticks when they realize you don't know what "PLUR" means.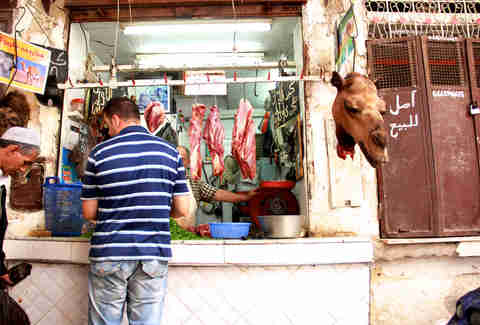 Fez, Morocco
Why you're going: To haggle for a rug and inhale tannery fumes in a Medina.
In "That '70s Show," Fez is the dim-witted virgin for the first couple of seasons. But this Fez is anything but inexperienced. In fact, the city claims the world's oldest university and the best-preserved old city in the Arab world, the sprawling Fes el-Bali medina. There you can easily spend days and plenty of dirham, and there's a great chance you get lost in the labyrinthine layout. But don't worry, plenty of opportunistic loiterers will soon be shouting, "My friend," and offering to help show you around -- for a price, of course. And everything in the medina comes for a price -- the potions in the Berber pharmacy that claim to make your manhood bigger, the rugs you'll need to haggle for, or even the fine leather goods made on premise.
And saying they're made on premise is an understatement. The vats full of animal hides and tannin stink to high hell, and you'll want to stuff mint leaves up your nose to counteract the stench. Again, don't worry, someone will sell you the mint. But buy a satchel or wallet as a keepsake -- you won't find better leather goods at such a price anywhere in the world.
Santiago, Chile
Why you're going there: Public Frenching, the Andes mountains, and free dogs everywhere.
You're just dying to book a flight to Rio now that Carnival is over, but that's exactly what everyone else is thinking, too. Instead, pull a wildcard move and turn your attention to the Chilean capital city: it's undergone a bit of a renaissance after the country's bicentennial in 2010, and now boasts improved infrastructure, sprawling green spaces, and cultural highlights like the Centro Cultural Matucana 100. And unlike Rio, Santiago doesn't require you to buy a $160 travel visa, which is a nice little cash savings.
Weeknight partying doesn't really extend past happy hour, but the weekends see Chilean young folk boozing at bars and partying at nightclubs into the wee hours. This, plus the country's notoriously open stance on PDA, means you could very well end up getting lucky on your way back to the hotel (and then, presumably, again in the hotel).
US Virgin Islands
Why you're going here: To hit a tropical US island chain that isn't Hawaii.
Spring's the ideal time to book a trip to the Caribbean, avoiding the peak tourist season earlier in the year and the soaked hurricane season later on in the fall. But what if your passport's expired, or (gasp!) you never got one in the first place? Never fear: the US Virgin Islands offers pretty much everything you want in a Caribbean paradise, from white sand beaches to crazy sport fishing, except with no passport required! What's more, English is the official language, and the official currency is the good old US dollar, so exchange rates are a thing of the past. Or a thing of other countries in the Caribbean, more accurately. Either way, this is part of the good ole US of A... and an underrated one, at that.

Gianni Jaccoma is an editorial assistant for Thrillist Travel. He's still not entirely sure what PLUR means, but he'd love to get his hands on some of those neon dreadlocks. Follow him on Twitter @gjaccoma.