We really don't give America's state fairs the love they deserve. We love them, for sure, but we love them with an irresistible and morbid fascination for carnival ride freak accidents, and for the painstaking sculpture of hundreds of pounds of butter, and also for the food. Even when it comes to that food, we love them for their very specific genre of excellent and disturbing foodstuffs, the most notable of which are Food, But Deep Fried, And On a Stick. In other words, we love them as punchlines.
So while state fairs have our attention, they often do not quite have our respect. This is silly, because state fairs are wonderful events that are best attended earnestly. Many of them go back 100, 150 years, showcasing the very best that their respective state's farmers, ranchers, artists, bakers, and local governments have to offer. And you should, of course, respect what they represent in terms of sheer ambition. State fairs are where we find what new heights the human race can reach, what ideas can be willed into corporeal form by those who dare to look at foods they have already fried and wonder if they could perhaps fry them again, or differently, or more. 
Here are 10 of the biggest, boldest, and best of the country's state fairs, eager to sell you something On A Stick, ready for you to fall in love.
Recommended Video
Please Don't Hang Up: The Best Things to See, Eat, and Do in Seattle, WA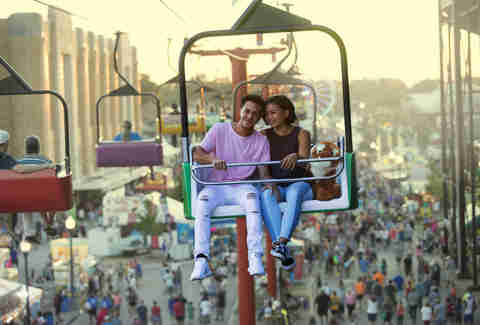 When is it: August
The Indiana State Fair is one of the country's oldest. Especially famous is the Swine Barn, where each year you will find the state's largest hog, which is about 1,000 pounds. That is the size of a medium horse, a grand piano, or a small-ish giraffe. This year's food creations included bison hushpuppies, waffles shaped like pinwheels, and a grilled cheese with hash brown patties where one traditionally expects bread. Lotta farmers at this particular state fair, too, which makes sense considering, y'know, which state you're in. Keep an eye out for tractors… driving through the crowds. To date, no one has been run over. Do not be the first.
When is it: February
Florida switches it up a bit by hosting its state fair in the wintertime -- or as wintertime as things get in Florida -- making it the first one out of the gate each year. Held in Tampa, the Florida State Fair drew more than half a million people in 2019, and also a visit from those Budweiser Clydesdales. You can expect equestrian shows, every conceivable barnyard animal, and more than 110 rides, not least of which is the largest traveling Ferris Wheel in North America -- 155 feet tall. Newcomers on the food scene included a red beans and rice funnel cake, as well as a taco grilled cheese. Or if you prefer to stick to the classics, you can always go for a Pizza Cone.
When is it: Late October
Acrobats, livestock shows, extremely large pumpkins, a life-sized pirate ship, and loads of live shows like a five-day Folk music competition and the much-beloved Homegrown Music Fest. If you should have any questions -- any at all -- about milking cows, the Mobile Dairy Classroom will answer them for you while you munch on your deep-fried Jello (or deep-fried Cuban rolls, or deep-fried strawberry cream puffs …). Or go milk a cow yourself at the State Fair Ark, so named because that is where you will find a whole lot of animals. Oh, and remember that big-ass Ferris wheel? Yeah, it gets around.
When is it: Around Labor Day
The Great New York State Fair is held each year in Syracuse, and as of this year includes a "Sudden Death" burger comprising two mac 'n' cheese-stuffed patties, plus some pork belly, all wrapped up in bacon. Maybe hit the rides before you do that rather than after. While you're digesting, what about some bird shows? Equestrian shows? Rodeos? Hay bale-throwing competitions? What, you've seen all that before? Fine, what about Hollywood Racing Pigs? What about bears? What about a literal wolf pack?
When is it: August
Another of the country's best-attended state fairs, Iowa's pulls in more than 1 million visitors each year. It is also especially famous for one thing, a thing of which you've probably seen photos. Heard tales. Lore, if you will. That thing is the Butter Cow. This year there was also a Butter Big Bird, and a Butter Oscar the Grouch, even a Butter TV. Speaking of butter! What sorts of Food On Stick would you most like to consume during your state fair outing? Cookie Dough In A Waffle On A Stick? Smoothie On A Stick? Pie (Apple, Cherry, Pecan) On A Stick? Bologna On A Stick? Salad On A Stick? All is possible at the Iowa State Fair.
When is it: Late July or August
Let's see. We got … pork butt tots, deep-fried tofu, and the Extremely Ohio buckeye funnel cake. You can get your deep-fried mac 'n' cheese either in ball form or On A Stick form. It seems someone has also taken gummy worms, made them into tiny burger patties, deep-fried them, as is the law this time of year, and finished them off with Fruity Pebble cereal topping. And, okay, so here is the thing about the Butter Cow. Iowa is not the only state fair that does it, which is fantastic news for anyone living outside Iowa. Ohio, for instance, also does a Butter Cow. This year, it also had a Butter Apollo 11 Crew. The Ohio State Fair also has professional pogo stick...ers. Pogo athletes? People On Sticks.
When is it: August, usually
We could talk about a lot of cool stuff from the Wisconsin State Fair, like the Milwaukee Mile -- the oldest continuously operating race car track in the world -- or the iconic Giant Slide. But by this point in the list you're probably pretty hungry? Maybe I'm just hungry. Anyway! Let's talk deep-fried stuff. Deep-fried garlic cheese curds. Deep-fried milk (with cookie dip). Still hungry? Have some Breakfast On A Stick, which goes as follows: First, a sausage is battered. Then, deep fried. Then, wrapped in a pancake. Finally, it is put On A Stick, and served with syrup. Special shout-out to a food that is not fried, but in my opinion the best thing any of these fairs did to a taco this year: the bug taco. Cleanse your palate with a grasshopper popsicle.
When is it: October
In extremely 2019 news, this year's Arizona State Fair will include, for the very first time, 
ESports Gaming World -- 18 days of video game tournaments, vendors, and demos. Balancing this out will be retro arcade, rodeos, arm-wrestling championships, and a monster truck showdown. Hm? Oh, you wanna know about the food? You can probably expect fried butter. Some pickle shooters. Chocolate-covered Tamales On Sticks. Cheetos On Sticks. Entire Pigs On (Big) Sticks. Maybe a deep-fried watermelon or two, not On Sticks so far as we know. Yet.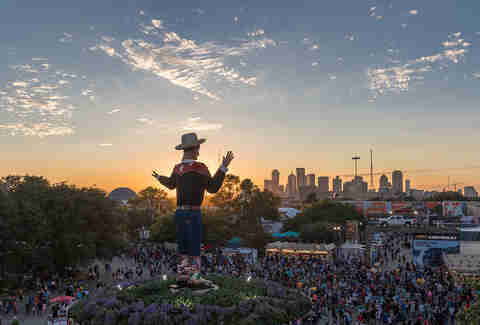 When is it: Late September and most of October
Joke all you want, but things really are bigger in Texas. The Texas State Fair is the largest in America, beginning around the last Friday in September and carrying on almost an entire month. It is attended each year by more than 2 million people. After six years away, the 2019 fair will see the return of SOAR, a beloved bird show that involves the likes of falcons performing choreographed dives very close to your head. I have heard whispers of cotton candy tacos at the Texas State Fair. Butter sculptures, most certainly. Last year's new foods included deep-fried nutella custard stuffed French toast, which sounds like several separate foods but is one, and which presumably tastes different from the deep-fried chicken cordon bleu stuffed waffles. Or perhaps, if all the elements of the state fair are in balance, working symbiotically as intended, harmonious in their essential nature, the two will taste the same.
When is it: Around Labor Day
Minnesota, a state known for not messing around at all when it's time for winter, goes just as hard in the late summer, when it's time for what's known as the Great Minnesota Get-Together. The Texas State Fair might be largest in terms of overall attendance, but that's sort of on the basis of a technicality -- it lasts like twice as long as the Minnesota State Fair, which draws in more people per day and thus, in this respect, is the true most popular state fair in America. Entertainment this year included a Traveling Reptile Show, which is not to be confused with the entirely separate Snake Zoo. There was a thing called a Joey Mary, which is like a Bloody Mary, but instead of tomato juice it's a coffee slushie and instead of tiny hamburger garnishes it's tiny gluten-free baked goods. Minnesota also did a lot of things with tacos this year, such as deep-frying them and putting them On Sticks, or deep-frying them into the shape of ice cream cones, or filling them with brisket, which I think is the only one that actually bothers me. There's BBQ sauce, something about the nature of which strikes me as … not belonging on a taco. America, however, clearly thinks otherwise, and I'm not gonna argue with that. Yes, there is sculpted butter to be found here, too.