Nevada's Best Parks for Alpine Lakes, Desert Hoodoos, and Brilliant Stars
National parks, who?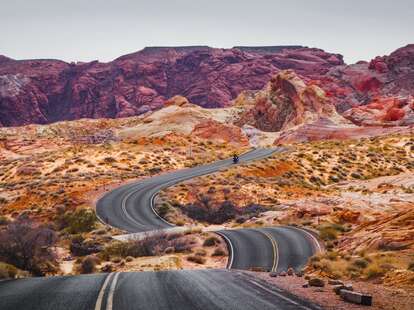 The drive through Valley of Fire state park

| Unsplash/Jannes Glas
The drive through Valley of Fire state park

| Unsplash/Jannes Glas
Nevada is home to some utterly stunning, world-famous national recreation areas (see Red Rock Canyon and Lake Mead), not to mention surrounded by scores of ultra-popular national parks in neighboring states, just a few hours' drive away: Zion and Bryce Canyon in Utah. Joshua Tree and Death Valley in California. Grand Canyon in Arizona. You get the picture.
With all that going on, it's easy to understand why outdoor enthusiasts might be tempted to skip Nevada's smaller state parks in favor of their flashier federal cousins—except it totally make no sense at all. While the national parks stay packed to high heaven, the state parks are seriously beautiful yet utterly quiet reprieves even at their busiest, some so underrated that you may get the wilderness all to yourself. And at night, when the time comes to stargaze beneath America's darkest skies, the sense of isolation and views of the firmament you'll find will give you that scary-yet-magical feeling of insignificance compared to the grandiosity of space, both terrestrial and cosmic.
There are 27 parks in Nevada's state park system. Here are 10 to add to your bucket list.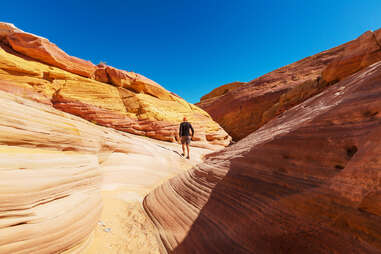 By far the most famous of Nevada's state parks, Valley of Fire gets its name from the striking red Aztec sandstone that covers much of its 46,000 acres. The way the light hits the stunning rock formations around sunset makes the valley look like it's on fire—making it a very popular area for all manner of photographer and influencer, especially since it's a relatively short (about one hour) drive from Las Vegas.
Established in 1935, it's the oldest state park in Nevada, but its history goes back much farther. The vibrant red sandstone was formed by shifting sand dunes 150 million years ago, which is easy to imagine when gazing out at formations like the sprawling Fire Wave or the equally impressive White Domes. You'll also see ancient, petrified trees and 2,000-year-old petroglyphs. And again: lots and lots of influencers.
When you want the best views of a starry night, there's only one thing to do: hop in your car and take a drive to Nevada. A trip with friends on the open road will be the stargazing adventure you don't want to miss out on. For the best spots to see your favorite constellations alongside your favorite people, visit Travel Nevada
Located on the Nevada side (and, let's be honest, the better side) of Lake Tahoe—North America's largest alpine lake and one of the best lakeshores in the US and beyond—Sand Harbor has some of the best this area has to offer: Crystal-clear aquamarine water, a sandy beach that stretches for half a mile, and the stately cedars, pines, granite rock formations emblematic of the Sierras. Pack a picnic, rent some kayaks at Sand Harbor Rentals, or ride your bike on the paved Tahoe East Shore Trail.
Note: Sand Harbor is closed until September 17th due to poor air quality caused by the ongoing Caldor Fire.
Imagine if Bryce Canyon and Badlands had a baby and hid it in rural Nevada where no one would think to look for it—that's Cathedral Gorge State Park in southeastern Nevada. The cathedral-like spires and hoodoos that jut out from the bottom of the canyon floor hide winding slot canyons that can get claustrophobically narrow. You'll find yourself surrounded by towering walls formed tens of millions of years ago by layers of volcanic ash hundreds of feet thick, and you'll want to explore the shallow, pitch-black caves carved into those walls by time.
There is a haunting beauty to this lesser-known park, between the spooky slot canyons and the stately, mostly abandoned stone structures built by the Civilian Conservation Corps in the 1930s. Plus, this part of Nevada boasts some of the darkest skies in the state, making this an excellent place for stargazing against the dramatic backdrop of the spires. The Las Vegas Astronomical Society even hosts seasonal star parties.
Located in the southernmost tip of Nevada on the shores of the Colorado River, Big Bend of the Colorado is an extremely popular spot in the summertime for sweaty Las Vegans looking to cool off. For better or worse, this is a party river, with two miles of beach, a boat launch, shaded picnic areas, and year-round campgrounds. You'll see plenty of kayakers and jet skiers, and even more people just hanging out. This is not the state park to visit when seeking solitude and serenity, but if you're raring to socialize with a cooler full of beer in tow, this is your spot. It's also 15 minutes away from Laughlin, which is basically a Las Vegas-by-the-River (but, like, a very quirky, semi-tacky version of Vegas). During the winter months, it gets a lot quieter, and hikers will enjoy exploring the many canyons in the area.
Kershaw-Ryan is a true desert oasis: a lush, green park filled with wild grapevines, fruit tree orchards, rose gardens, white oaks, and willows, surrounded by the colorful 700-foot walls of Rainbow Canyon. Natural springs run through the canyon, providing a natural irrigation system for all of the gardens and greenery and also feeding a small pool and koi pond.
The park and its picnic areas and trails are very well-developed; its hiking trails are short but incredibly scenic, and experienced hikers can venture further out into the backcountry above the canyon. Mountain bikers can check out the newly established Barnes Canyon Mountain Biking Trails system, and campers will be spoiled by the recent total overhaul of the campgrounds, which now include coin-operated showers, RV sites, horseshoe pits, and volleyball courts. Overnighters will definitely want to make the 1.5-mile hike on the Overlook Trail to the top of the canyon rim for some outstanding night sky vistas.
Located in the foothills of the Schell Creek Range just 15 minutes south of Ely, all of Cave Lake's facilities, including its campgrounds, are essentially brand new. Surrounded by lush forests of aspens, pines, and evergreens, jagged limestone formations, and alpine lakes, the high-altitude park is a popular spot for year-round fishing. Cast a line before trekking along established trails or going backcountry hiking in the surrounding mountains and forests.
In the summertime, swimming, kayaking, and flat-wake boating are the move. Greater Ely is also popular with mountain bikers, with Cave Lake's 20 miles of solid single-track offering up some of the most scenic routes in the state. Come fall, leaf-peepers should make a beeline for the 40-mile Success Loop Scenic Drive, and in the winter, visitors can take on cross-country skiing, ice skating, and snowmobiling. And with its location situated between Great Basin National Park, a gold-tier Dark Sky Park, and Ely, known for some of the darkest skies in the lower 48, Cave Lake is also an extraordinary place for stargazing.
Also located just south of Ely, this historic preservation site is named for the six beehive-shaped charcoal ovens that were used for silver processing in the late 1870s. After the mine dried up, the ovens were used as shelters for cattle and travelers, and rumor has it that stagecoach bandits sometimes used them as hideouts. Now, they're open for tourism, and the park has plenty of facilities for camping, picnicking, hiking, and fishing in the surrounding area. Visitors should keep an eye out for big game like elk and mule deer, large birds of prey like hawks and eagles, and an abundance of other wildlife. While here, you'll also find yourself in the stretch of Eastern Nevada with the same stellar night skies as Cathedral Gorge, Kershaw-Ryan, and Cave Lake; plan to stay overnight and marvel at the cosmos, if you can.
Nevada's newest state park, Walker River, is comprised of four century-old ranching properties that were privately owned and inaccessible to the public for over 125 years prior to the park's designation. The ranches are opening in phases as the state completes development and infrastructure; currently, Pitchfork Ranch and the "Elbow" of Nine Mile Ranch are ready for exploration. Several sections of the Walker River are considered world-class by fishing enthusiasts thanks to how pristine and primitive it remains, while the East Walker, specifically, is ideal for floaters and kayakers. If you want unspoiled serenity that looks like it's been frozen in time, look no further.
If you want remote—and my God, I'm talking remote—head north to Wild Horse State Recreation Area. Rural, rustic, and (once again) remote AF, Wild Horse features a huge reservoir surrounded by rolling meadows that burst with vibrant wildflowers come summer. The park is open 365, as are the campgrounds and three rental cabins. (There are no RV hookups, but they do have restrooms and showers). Fishing is the activity of choice here year-round, with boating and hiking gaining popularity during the warmer months. Developed hiking trails are limited, but you can follow miles and miles of game trails through the vast expanse of land. In the winter, ice fishing, snowmobiling, ice skating, sledding, and skiing are all on offer, but be prepared for extreme cold and harsh conditions. This is the high desert, and it gets ICY.
Nicole Rupersburg
is a freelance writer covering food, travel, arts, culture, and what-have-you. She winters in Las Vegas and summers in Detroit, as does anybody who's anybody. Her favorite activities include drinking beer and quoting
Fight Club.