The Coolest Suburb in America's 35 Biggest Metro Areas
When we undertook this piece, we had a simple goal. Tell someone moving out of a particular city the coolest potential smaller community to live in nearby (and since publishing this article, we've also endeavored to find the most obnoxiously rich suburbs in America, which is probably a more entertaining project). In doing so, we weighed three major factors:
1) A good (or at least respectable) food/drink scene, with enough places to go close to home to not always have to trudge back into the city.
2) Not so far away from the city that the commute is awful
3) A place with a history or its own unique elements that separate it from just planned suburban sprawl
In the end, the actual task of choosing these places was much more difficult. For one, as you'll see in some of our write-ups, the size and shape of what constitutes a "suburb" varies greatly across the country. Suburbs range from 2k to 300k people, to somewhat nonexistent, depending on which part of the world you're in. Two, everyone's opinions varied widely. For each selection, we asked our local editor in the area, or someone on staff from said place to weigh in and make a case for a pick. Arguments ensued. Lots of them. Places that seemed like natural suburban choices 10 years ago are essentially retirement communities now. Some places are still technically boroughs within city limits, but feel like their own towns. And honestly, some cities just don't have great suburbs, and pickings are slim.
So consider these picks starting points in your search. Feel free to use that bastion of democracy at its worst known as the comments section to tell us which picks are wrong, and why the town you live in deserves top billing. Or just lavish us with praise and monetary donations for making your move out of the city that much easier. Either way, call your real-estate agent now:
Atlanta, GA: Decatur
Population: 20,086
Where to eat/drink: Brick Store Pub, Revival, The Pinewood
Granted, Decatur is one of those ITP (inside-the-perimeter) suburbs that a lot of people consider an extension of the city, but that doesn't change the fact that this town of 20k on Atlanta's east side is the gold standard to which all other ATL 'burbs -- both inside and outside 285 -- aspire. Sure, you could point to its progressive vibe, arts scene, easy access to Downtown (via East Ponce and dual MARTA subway stations), and colleges -- Agnes Scott is in town and Emory not far away. Almost 60% of the population is under 44 years of age. Or, you could credit its historic districts, bungalows, lively town center, and giant farmers market.
But what really puts Decatur on the map is a ridiculous food and drink scene that blows away cities five times the size. By our count, it has three of Atlanta's must-hit bars (Brick Store Pub, The Pinewood, Leon's Full Service) and three of its top restaurants (Revival, 7 Hens, and Rezagarse). Plus, a whole slew of craft beer establishments like BlueTarp Brewing and Three Taverns Brewery, as well as its own distillery, the Independent Distilling Co. Just make sure that when you're done stuffing your face, you catch a show at Eddie's Attic, the live-music venue that pretty much started the Decatur renaissance back in the early '90s. -- Dave Baldwin, Travel editor

Austin, TX: Round Rock
Population: 105,547
Where to eat/drink: Greenhouse Craft Food, Tortuga Flats, Hoody's Sub Shop, Round Rock Donuts
For burgeoning families and, as our former Austin editor put it, "defeated young professionals priced out of Austin proper," Round Rock is your last hope to have a semblance of the food/drink scene of the city proper a short walk from your cheaper and larger home. But the cheaper land comes with some serious culinary perks, including the first brick-and-mortar locations of both crazy-popular taco truck Veracruz All Natural (opening April 22nd) and Svante's Stuffed Burgers. Combine that with upscale chains like Hopdoddy, and more classic RR spots like Greenhouse Craft Food and Round Rock donuts, a minor league baseball stadium, and a Flix Brewhouse ("the only first-run movie theater in the world to incorporate a fully functioning microbrewery"), and suddenly having that commute doesn't seem all that bad, huh? -- Kevin Alexander, national writer-at-large
Baltimore, MD: Towson
Population: 55,197
Where to eat/drink: Bread & Circuses, Cafe Troia, Pho Towson
All of you nattering nabobs of negativity shan't hate on Spiro Agnew's hometown. At right around 50k people, it's that perfect middle size, plus it sits less than 30 minutes from the city that spawned a million Omar references, has two colleges (aka more space for kids to play/watch games for free), and a ton of restaurants, including an entirely underrated pho spot IN A BEST WESTERN MOTEL. -- KA

Boston, MA: Hingham
Population: 22,157
Where to eat/drink: The Snug, Scarlet Oak Tavern, Bloomy Rind
Let's first start with some places we couldn't choose. Namely, Newton, Brookline, and Somerville, which are all basically their own standalone cities, and didn't feel like they could really count as suburbs. All of those places are great, so if you can afford to live in them, go do that. While we're at it, here's another caveat: commuting via car from Hingham to Boston can be terrible. For much of the day, 93 is essentially a parking lot, where people have a better chance of getting on the air during Felger and Mazz's show to yell about the Bruins than getting anywhere else in a timely fashion. But, friends, in Hingham, you can commute to work in Boston by ferry. Trust me, the ferry is the most glorious and rare of all ways to commute.
And once you get to Hingham, you feel like you're in that made-up town from Dawson's Creek. Like a New England fishing village they created specifically to be as damn pretty as possible (and with seven local historic districts, they plan to keep it that way). Downtown Hingham has a very real food scene (there are over 40 restaurants in the town) with sandwiches and cheese from Bloomy Rind, cherry-glazed pork chops at Scarlet Oak Tavern, Wahlburgers at... Wahlburgers, pints at The Snug. Basically everyone I grew up with has moved there or is in the process of trying to figure out how to get there eventually, and you may want to jump on that, too. -- KA

Charlotte, NC: Davidson
Population: 10,944
Where to eat/drink: Kindred, Flatiron Kitchen + Taphouse, Toast Cafe
Never mind the fact that this town looks like it is the setting of one of Nicholas Sparks' novels I totally haven't read, and never mind the fact that the best basketball player in the world went to the beautiful college where you can bring your kids to watch basketball and tell them about him; never mind that it sits on a beautiful lake and has a Downtown that will make you weep with aesthetic joy, or that it is only 20 miles from Charlotte; just get the skillet burger at Kindred (it has infinity accolades nationally) during lunch, and you will understand. I actually might just move there by the time you finish reading this. -- KA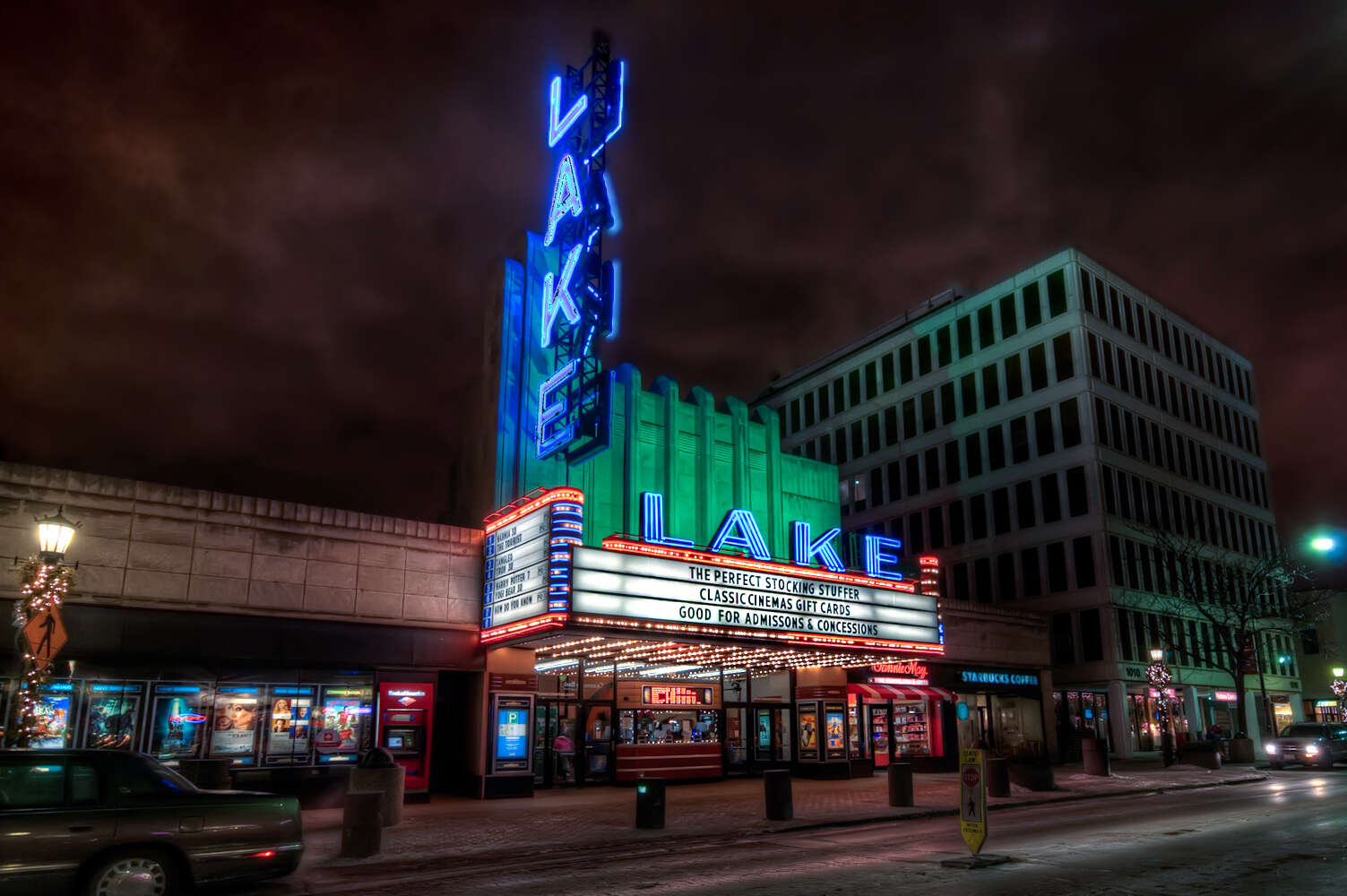 Chicago, IL: Oak Park
Population: 52,066
Where to eat/drink: Maya Del Sol, Poor Phil's, Kinslahger
Oak Park is rich with history and culture few suburbs -- of any city -- can match. Tour the home and studio where Frank Lloyd Wright spent much of his early career and then check out all the spectacular homes he built his neighbors up and down the street. Not far from there you'll find Ernest Hemingway's childhood home and museum. But what if you HATE history and culture? Fear not, you can still distract yourself browsing the cheese display at Marion Street Market before sitting down to some lamb sliders and chicken-fried mussels, downing margaritas (or rare anejos) and cochinita pibil on Maya Del Sol's sunny patio, or housing free popcorn while you ponder the 36 taps at Poor Phil's. Speaking of beer, Kinslahger is a new lager-centric brewery to keep an eye on. Throw in the fact that Oak Park is connected to the CTA and a shorter trip to Downtown Chicago than some of the far reaches of actual Chicago (pretty much due west of Downtown), and life is good. -- Matt Lynch, executive editor

Cincinnati, OH: Covington, KY
Population: 40,640
Where to eat/drink: Bouquet, Inspirado, Old Kentucky Bourbon Bar
As the popular adage goes: if you can buy land at the confluence of two rivers, preferably in the Upland South region of the United States, do it. And so it goes for Covington, which sits at the absolute top of Northern Kentucky on the Ohio and Licking Rivers. Here in MLB umpire Randy Marsh's hometown, you're getting the benefits of being a short jog away from Cinci (literally less than two miles over the Ohio River from Downtown to Downtown) but in a smaller town with 12 historic districts and cheaper property taxes (for homeowners) than you'd pay on the Ohio side. In the MainStrasse historic district, you'll find legit city food at places like chef Stephen Williams' Bouquet and serious brunch (get the BLFGT) at Otto's. Plus, before hitting Madison Theater (an old-timey movie house restored into a concert venue), get drinks and street tacos or Sriracha wings at Inspirado, which features local art you can buy during dinner on the walls, complete with an on-site curator. And, you know, drinks and stuff. -- KA

Cleveland, OH: Lakewood
Population: 51,143
Where to eat/drink: Melt (the original location), Deagan's, Winking Lizard
Everyone in Lakewood already knows that Lakewood has been the place to live in Cleveland for a hot minute now. Blocks from the waterfront (depending how south you live), minutes from Edgewater Park, and a handful of more minutes to Downtown, it's a prime location that's undergone incredible development that's legitimately good for the community. Everything you could ever want is now on Detroit Ave. Feel like seeing a cool touring band, but also have a couple pesky kids you gotta drag along? Set 'em up with a lane (and chaperone) at Mahall's while you catch the show in the bar. Or tell 'em to go stare at the live lizard inside the Winking Lizard while you check three beers off the Tour of Beers. Or just hang out in your cute-ass, relatively affordable home in a bike- and pedestrian-friendly area, like you live in a goddamn utopia or something. -- Leanne Butkovic, cities editor
Columbus, OH: Powell
Population: 11,500
Where to eat/drink: Kraft House No. 5, Local Roots, Liberty Tavern
Though Powell and Dublin seem to be in some sort of suburb fight over which could lay claim, Powell was almost disqualified based on just how many hilariously upscale-planned-village-sounding neighborhoods it has, like "The Retreat," "Canterbury Estates," and -- no joke -- "Woods on Seldom Seen." But in the end, the pure convenience of the commute into the city (14 regular, 12 nautical miles away!) coupled with the restaurants like Kraft House No. 5, which actually won Columbus Monthly's 2014 Best New Restaurant (in all of greater Columbus) made Powell the necessary choice. -- KA

Dallas/Forth Worth, TX: McKinney
Population: 161,905 (as of 1/1/2016)
Where to eat/drink: Cadillac Pizza Pub, Spoons Cafe, Square Burger, Harvest, The Celt, Zin Zen
For decades, the undisputed king of Dallas' substantial suburban sprawl was Plano, which in two generations went from farmland, to its own city with a population approaching 300,000 and more Fortune 500 headquarters than most countries, and... its own sub-suburbs. While the popular pick today might be Frisco with its absolutely ridiculous growth, it's too sanitary to be great, which is saying something given its impending status as ground zero for Jerry Jones' flock of professional, um, athletes.
Instead, McKinney's the better pick, and not just because Money magazine decided it was the single best place to live in the entire country. Sure, it has its share of Planoian/Friscoite homogeneity, but it also has a legitimate and very old-school Downtown that's perfect for people-watching outside at The Celt, where the passing throng melts into the scenery with every sip you take. The obligatory meat and bread at Square Burger is nothing to laugh at, and booze plus pizza plus live music at Cadillac Pizza Pub is about as classic a combo as you get -- especially on Harley night. For the kind of upscale that doesn't mean undoing a button on your pants, Zin Zen wine bar has a marvelous selection, and Harvest offers up a bit of farm-to-table that definitely tilts more Dallas than Paris (Texas). -- Aaron Miller, Cars editor
Denver, CO: Golden
Population: 19,393
Where to eat/drink: D'Deli, Barrels & Bottles, El Callejon, Woody's Wood Fired Pizza
Once the capital of the Colorado Territory before backstabbing Denver ripped that title from its grasp in 1876, Golden City (what they originally called it, and such a great name that I will continue to use it) is basically a paradise for all those people with really toned calves and tan forearms who reside in Colorado. It has a whitewater park, silly-beautiful hiking and mountain-biking trails all over the town (24 miles' worth), snowshoeing and cross-country skiing in the winter, 10 museums, the Coors Brewery (the largest single-site brewery in the world), plus several other craft breweries and beer bars (we like Barrels & Bottles), a dozen extremely solid restaurants (honey-crusted pizzas at Woody's), and a unique old-school look you can't fabricate in a planned community. Oh, and it's 14 miles from Denver. It is truly, infuriatingly special. -- KA

Detroit, MI: Ferndale
Population: 20,000
Where to eat/drink: Imperial, The Fly Trap, The Oakland, New Way Bar, Como's
The epicenter of cool in Southeast Michigan has definitely shifted into the city of Detroit itself (some say it was there all along), but as far as actually cool suburbs go, Ferndale is the best (and possibly only) choice. There are fancier restaurants in Birmingham and douchier bars in Royal Oak, but Ferndale has the best mix of trendy new hangouts like The Oakland or neighborhood favorite Imperial, along with classic haunts like New Way Bar (since 1935) and the patio at Como's. Ferndale has a solid music venue in The Magic Bag, and if the M-1 Rail ever makes its way past the city limits, Ferndale stands first in line to benefit. -- Bison Messink, deputy editor
Houston, TX: Pearland
Population: 108,715
Where to eat/drink: Killen's Barbecue, Killen's Steakhouse, possibly other places not affiliated with Ronnie Killen
Like most of sprawling Houston, which seems to stretch its traffic-tentacles illogically farther than you'd think, fast-growing Pearland has its share of what city-planning types like to call "mixed-use shopping and lifestyle" complexes, which just end up becoming cluster beacons for national retailers. And interesting that ain't. But there is more to this Houston 'burb than Bass Pro Shops and Cracker Barrels. Namely, some fantastic food. Ever since Ronnie Killen opened Killen's Barbecue, the entire food world has been making the pilgrimage to eat his unrivaled beef ribs, and THEY COULD BE IN YOUR HOMETOWN. On top of that, his steakhouse is one of the best in the country, and I haven't even mentioned the very underrated pho joints and other non-mixed-use-affiliated spots that give Pearland a real flavor. -- KA

Indianapolis, IN: Zionsville
Population: 14,127
Where to eat/drink: Traders Point Creamery, My Sugar Pie, Salty Cowboy, The Friendly Tavern, Patrick's Kitchen & Drinks
About 25 minutes northwest of Downtown Indy, Zionsville aggressively channels the whole small-town charm thing with a gloriously walkable, brick-paved Main St that draws people in from the general Indianapolis area for an afternoon of shopping and generally being adorable. That must be why so many Colts players and coaches live here, as football players are notorious suckers for aesthetically pleasing brickwork (that said, homes here remain pretty attainable). Is there a burger-slinging, homey, super-friendly, "every town should have one of these"-type tavern? Of course! It's called The Friendly Tavern. My Sugar Pie delivers one of the finest renditions of a signature state dessert that you'll find anywhere. Of course, it's not ALL small-town charm. Traders Point Creamery runs a "restaurant and dairy bar" heavily supplied with goodies from its ample farmland. OK fine, that's pretty charming, too, but there's a definite cosmopolitan feel to choices like hand-rolled linguine with roasted fennel and dandelion greens or grass-fed steaks with herb fromage mashed potatoes and bearnaise butter. But don't worry, it's still served real friendly-like. -- ML
Kansas City, MO: Prairie Village
Population: 21,892
Where to eat/drink: Tavern in the Village, Story, Blue Moose
Now, many people might argue that Mission Hills is the place to go, and yes, it is fancy and nice, BUT it is so damn expensive, and basically just houses with big lawns and surprisingly handsome-looking Buicks. And per our rules, just houses will not cut it. Which is why Prairie Village is the choice. Just 10 miles from Kansas City, it is a damn easy commute, has the Village Downtown for shopping and drinking and eating, and is not rife with new developments cookie-cuttering their way through the town. And you can get back into the city and hit The Plaza in 10 minutes. Some decisions are just easy. -- KA

Las Vegas, NV: Henderson
Population: 270,811 (!!)
Where to eat/drink: I Love Sushi, Gold Mine Tavern, a bunch of weird places in casinos
So look, Henderson is huge. It's 270k people. That's bigger than Reno. So it's hard to really say Henderson is a suburb, but, as our contributor and Vegas resident Nicole Rupersburg explains, there is basically no other choice in the Vegas area: "Henderson is pretty much THE suburb. Las Vegas proper encompasses pretty much everything else (like Summerlin, the fancy neighborhood everyone knows about). There is also North Las Vegas, but... no. So Henderson is super suburban and there are the fancy places in Henderson up in the mountains where the fancy people live (Anthem), and it's got the District at Green Valley Ranch which is a growing "planned" shopping/dining/entertainment district built around an anchor casino where they're now building housing, which is where everyone goes in Henderson, if one is to be going somewhere in Henderson.
"Then there's Downtown Henderson which is actually kind of weird and cool with a biker bar that is rad and really old/weird out-there casinos no one would ever have any reason to go to otherwise. It also has the distinct designation of being THE safest city in the entire country, according to some sort of crime stats in the last few years (ED NOTE: Actually No. 2, according to Forbes). Because it's right next to Vegas and because all of Vegas save for Downtown looks like a suburb anyway, it's pretty indistinguishable from Vegas proper but for the fact that that all the strip malls and tract housing looks nicer (and it does). Good trail systems too."
Los Angeles, CA: Studio City
Population: 37,000 (estimated)
Where to eat/drink: Black Market, Sugarfish, Oyster House Saloon
OK, so it's not a traditional suburb, but nothing in LA is: the city's made up mainly of 'hoods that sort of relate to each other in a much different way than the traditional suburb/city relationship, which means that Studio City is both near a major tourist destination (Universal Studios) and place of business (uh, Universal Studios). But the housing is affordable, which means it's where millennials and Gen-Xers are raising families, which also means a slew of new and great restaurants, including selections from Top Cheftestants (Black Market) and some of the best sushi in LA (Sugarfish FTW). It's also just a 15-minute drive or so into Hollywood and about 20 to Downtown LA, though the beach can be a hike -- but in LA, no matter where you are, there's some geographic downside; here, it's absolutely livable. -- Jeff Miller, senior Los Angeles editor

Miami, FL: Coral Gables
Population: 49,630
Where to eat/drink: Uvaggio Wine Bar, The Local, La Casita, Ortanique on the Mile
There is nothing that infuriates Coral Gables more than being called a suburb of Miami. "We're our own city," they cry, as they pedal by in their Hurricanes tank tops holding a takeout bags filled with pollo asado from La Casita. But considering it's less than seven miles to Downtown Miami, has beautiful Mediterranean architecture designed by George Merrick in the mid-1920s during the "City Beautiful" movement in America (history!), its own fantastic Downtown with a slew of restaurants that can go toe-to-toe with those in Miami proper, the added benefit of being able to take your kids to a bunch of UM sports, and, unlike Miami Beach, will not be underwater in 20 years, there is really no better option. -- KA

Minneapolis/St. Paul, MN: Excelsior
Population: 2,397
Where to eat/drink: Coalition, Excelsior Brewing Company, Licks Unlimited, The Suburban
If we were voting on superlatives for these suburbs, Excelsior (in the summer) would be a lock for "best-looking." There are places closer (the town sits right on Lake Minnetonka 20 miles west of Downtown) but none that have everything you could possibly want. So let me ask you: what do you want? Do you want an extensive trail network? One of those fancy supermarkets that has very good free samples and craft beers? A Downtown restaurant scene with more than a dozen great options within walking distance of each other? A local brewery? A huge town common right on the water? Concerts? A new library? Parking meters at the town dock for boaters? Gorgeous Victorian homes? A DAMN STREETCAR BOAT pulled out of Lake Minnetonka, restored, and used to shuttle people between Excelsior and Wayzata? WHY DON'T YOU JUST TELL ME WHAT YOU WANT? -- KA
Nashville, TN: Franklin
Population: 68,886
Where to eat/drink: Puckett's Grocery & Restaurant, Mantra Artisan Ales, Buttermilk Sky Pie Shop
Franklin has labeled itself "America's Main Street," which, yes, can sound kitschy and like the slogan of a planned community desperate to attract new residents, but, for this suburb, it's oddly fitting. In the last 30 years, the population has boomed, and that boom took place with the old Main St preserved at its center, which gives Franklin the incredibly inviting aura of a sweet, small Southern town. That it actually is this, while also standing as the smaller, Civil War battle-scarred version of Nashville (complete with a Puckett's Grocery for that go-to comfort food, and solid access to nightly shows) but without any fear of running into the weekly influx of tiara-wearing bachelorette parties, makes this escape even more worth its 20-minute commute. -- Liz Childers, senior cities director

New York, NY: Montclair, NJ
Population: 37,669
Where to eat/drink: Turtle + the Wolf, The Corner, Egan & Sons
Oh man, the fights surrounding NY suburbs were terrifying. People who live in Westchester yelling at people who live in Connecticut. Everyone yelling at the Jersey people. It was mayhem. But then a truce arrived in the form of a town that almost everyone admitted they were on board with. And so we come to Montclair. First off, it's only a 20-mile drive into the city. But if you're taking NJ Transit, it only takes about 31 minutes to get into Penn Station. You can't beat that from most neighborhoods in Brooklyn.
Would you like to discuss the food scene perhaps? Maybe you want a restaurant from the former culinary director of Tom Colicchio's restaurants? You can have it at Lauren Hirschberg's Turtle + the Wolf. Or a place that actually makes fresh chocolate chip cookies every day at 2:30pm? Hit The Corner. Or a legit coal-oven pizzeria? Voila, Mancinni's. There is a minor-league baseball stadium. Two movie theaters (one to watch superhero stuff, the other for when you're feeling artsy). An actually diverse community makeup. Lots of bars along and off of Bloomfield Ave. Four skating rinks! A 20-minute drive to Newark Airport. Two local papers, somehow. Other suburbs may be able to top Montclair in one particular category, but none of them are this well rounded. -- KA

Orlando, FL: Winter Garden
Population: 34,568
Where to eat/drink: alFresco, Moon Cricket Grille, Crooked Can Brewing Company, Taquitos Jalisco
I'm not going to lie. I wanted this to be Dr. Phillips, mostly because I couldn't believe there was a town called Dr. Phillips, and I had a lot of jokes surrounding this premise. But unfortunately, actual research prohibited that pick and left us with Winter Garden, aka "a charming little city with a juicy past" that sits right on Lake Apopka. What separates out WG from most of the frankly bland Orlando suburbs is its historic Downtown with a row of solid restaurants, and the Plant St Market, which basically functions as a totally refurbished indoor marketplace featuring a brewery, a European bakery, a juice bar, a specialty butcher shop, a whole-bean coffee shop, coal-fired pizza, and a freaking oxygen bar. -- KA
Philadelphia, PA: Wayne
Population: 51,548
Where to eat/drink: White Dog Cafe, The Silverspoon, John's Village Market, Teresa's Next Door
One of my friends (I'll call him Ramsey) is obsessed with food. Always keeps a running list of the best places to eat steaks or sandwiches within a 50-mile radius of wherever he currently is. And because he lives outside of Philadelphia, his list perfectly aligned with our needs for this story, and he proceeded to break down all of the edible and otherwise glories of Wayne.
Some hits from his list:
Commute:
"Train ride into Center City Philly is 28 minutes on express. One of handful of express stops in Philadelphia suburbs with direct access to Philadelphia."
Restaurants:
"Minella's Diner: Wayne institution, place is pretty money even for a diner."
"Margaret Kuo's: they have a lot of awards."
Delis:
"John's Deli. Place is money."
Bars:
"Teresa's Next Door bar: voted best whiskey bar in all of Philadelphia by Philly Mag. Look it up."
Attractions:
"We have a super-old vintage movie theater."
"There is a casino one mile away."
"Valley Forge Park. George Washington passed through here, a lot of people died. Google it."
He also said stuff about schools being No. 2 in the country and taxes being low, but the point is, if Ramsey can't sell you on moving to Wayne when you have to get out of Philly proper, you should probably just move out of Pennsylvania.

Phoenix, AZ: Gilbert
Population: 239,277
Where to eat/drink: Barrio Queen, Zinburger, Joyride Taco House, Arizona Wilderness Brewing Co.
This is one of those problems we only seem to run into in the West. Gilbert is a town in the metropolitan Phoenix. But it also has over 200k residents. Scottsdale, which we didn't include because it's its own city, connected closely to Phoenix has only slightly more people. And so again, we find ourselves in splitting-hairs territory. But enough nerd worries!
In 2014, the Phoenix New Times called Gilbert "one of the hottest dining mini-hubs in the Valley" and that was BEFORE they added a bunch of new restaurants Downtown. That Downtown area is now a veritable restaurant row, with places to get chicken and waffles, "Mexico City soul food," coffee and donut pancakes from the breakfast spot Snooze, a wine and burger bar from the Fox Restaurant people, and a pizzeria Napoletana. Oh, and ice cream. And this is before we even get to the bars. Pretty good for the former "Hay Shipping Capital of the World." -- KA

Pittsburgh, PA: Dormont
Population: 8,593
Where to eat/drink: The Dor-Stop, Fredo's Delicatessen, Jamison's, back in Pittsburgh
If you haven't read everywhere, Pittsburgh is the NEW. HOT. FOOD. TOWN. So it's likely important, if you're forced to move out of said hot food epicenter, that you have a way to quickly get back into the mix. Dormont (not to be confused with dormant) does, thanks to its access to Pittsburgh's light rail, which can put you into the middle of the city in nine minutes. That is a record for any of our suburbs, by the way. It is just one square mile long (wide?), but has those silly-handsome craftsmen homes I always see on the wish list during House Hunters, from which you can walk to its completely respectable "Downtown" dining area (less of a concern here considering you're NINE MINUTES from the city). Oh, and it also has one of the "largest municipal pools in Pennsylvania." Win-win-win. -- KA
Portland, OR: Forest Grove
Population: 21,000
Where to eat/drink: Maggie's Buns, the Grand Lodge, Scottie's
Portland's suburbs are rife with great things -- historic Downtown Hillsboro has the Venetian Theatre, Beaverton has the best Korean food north of LA, Gresham has... um, a combination A&W/Taco Bell AND a combination Ford/KIA dealership. But to get to those things, you have to get through all the detritus that makes people cringe at the thought of suburbs. Which makes Forest Grove ideal. It's one of those suburbs that wasn't designed as such, a Rockwellian little agrarian town that the sprawl just kind of crept up on as Nike and Intel took over other towns, but remains just out of reach, meaning you can still have a quiet cup of coffee amid the Pacific University students at Maggie's Buns, or get a combo movie/bluegrass show/dinner at the Grand Lodge, a McMenamins property based in an old Masonic lodge.
There's still a little small-town newspaper on the main drag, and a little community theater, and a bunch of art galleries, and enough bars to sustain local rumors. It's the last sign of civilization you'll see in a while as you get lost in wine country or the coast mountains, a suburb that buts up against the big-box madness of Hillsboro and that can still be reached by Portland's public transit. But it's still a quiet little 'burb with its own identity. That might not last forever. But for now, it's the closest thing to small-town living you can get while in view of the city lights. -- Andy Kryza, senior Food & Drink editor

Sacramento, CA: Folsom
Population: 72,203
Where to eat/drink: Pretty much anywhere on Sutter St
IT'S NOT JUST THE PRISON, OK? Folsom is weirdly pretty, mostly thanks to the fantastic job the city has done with its Historic Sutter Street Revitalization, which makes it seem like you're still living in a gold-mining town, but one with a great British pub (Fat Rabbit), taquerias, and a juice bar.
In terms of a commute, you're about 20 miles from Sacramento, so there are definitely closer options, but none with the sort of unique style and offerings of Folsom. Plus, if people don't know it, you can always be like, "you know... like the prison?" -- KA
San Antonio, TX: New Braunfels
Population: 66,394
Where to eat/drink: Alpine Haus, Gristmill River Restaurant & Bar, Faust Hotel and Brewing Co., Pour Haus
Most San Antonio residents (and Austin residents, for that matter) are quite familiar with New Braunfels as a go-to launch point for some sweet tubing on the Guadalupe and Comal Rivers, and as the hometown of six-time MLB all-star Lance Berkman. But beyond that, there's some serious history here -- the German (how'd you guess?!) settlement ranked among Texas' biggest in the 1850s, and that legacy lives on in its annual autumn Wurstfest, as well as German restaurants like Alpine Haus, where you can get your schnitzel on year-round. Or, should your tastes lie more Southern comfort than German, there's Gristmill River in historic Gruene (which lies within the city limits and also boasts a much-beloved music hall). If tubing in naturally occurring rivers isn't enough for you, there are always the water slides at massive water park Schlitterbahn, and if that doesn't get your heart racing, two words: SNAKE FARM! -- ML

San Bernardino/Riverside, CA: Chino Hills
Population: 76,572
Where to eat/drink: Mes Amis, Oke Poke, Oh Queso
Just to be clear: this is not Ryan Atwood's Chino. But if you're going to be spending your time in San Bernardino County you could do much worse than Chino Hills, which was basically all rolling hills and meadows and horses and bootleggers and people Ryan Atwood unintentionally hurt emotionally until, like, 1989. On top of driving by the home of Vine sensation Cameron Dallas, Chino Hills gives you options. You might be working in San Bernardino now, but maybe you get transferred to Anaheim, or LA, or, ugh, Apple Valley. If it's any of them aside from Apple Valley, you can stay put, as you're relatively equidistant. Unfortunately, as with much of this area, there is a high concentration of chains amongst the fancy ranch-esque-sounding neighborhoods, but there are also a few gems, including Mes Amis, which offers up quality Lebanese food. Oh, and belly dancing. -- KA

San Diego, CA: Solana Beach
Population: 13,236
Where to eat/drink: Pizza Port. All the time.
San Diego is another strange place where the county sucks up almost all of the surrounding suburbs pretty far north. Basically until you get to North County and go through Del Mar to get to Solana Beach. But SB is an easy choice here anyway. Not quite as obnoxious and filled with horses as Rancho Santa Fe, or as obnoxious and filled with dudes in cherry-red M3s as Del Mar, or as damn far up north as Encinitas, Solana Beach is the more subtly cool North County town, with a fantastic beachfront, a subtle arts community, the OG Pizza Port (aka the grandest place to drink amazing beer, eat solid pizza, and play video games), and handsome people with toned calves walking around everywhere. And before you're like, "But Kevin! Del Mar has so many more restaurant options!" Well, look, you're right next door, so you can go eat and drink at them, too. -- KA

San Francisco/Oakland, CA: Larkspur
Population: 12,204
Where to eat/drink: Picco, Farmshop, Silver Peso, Perry's
Larkspur is one of those Northern California towns that seems made up, with that grand old-timey Downtown with a vintage theater, redwoods everywhere, and dads wearing straight-brimmed hats carrying longboards. But it is a real place, friends. And it truly is grand. Trying to get into SF for work? How about you commute via the Larkspur ferry, which takes you right to Downtown in 25 minutes. Or maybe you're trying to go to Oakland? The Richmond Bridge connects almost directly from Larkspur too. Food you crave? Picco is one of the great Northern California restaurants anywhere, and has a next-level casual pizzeria next door, Farmshop has fantastic cocktails and pizzas, Donut Alley has the best old-fashioned donuts in the country, and food trucks from SF and Marin come to Marin Country Mart on Sundays. Bars? The Silver Peso is a dive bar institution, and legendary SF bar/restaurant Perry's opened a satellite location this year, so you can get beers and watch games on a 60in TV hidden in a damn mirror.
There are great spots all around the Bay Area, but none combine location (for both cities), unique historic aesthetics, and their own great food/drink scene like Larkspur. Game over. -- KA
Seattle, WA: Woodinville
Population: 11,318
Where to eat/drink: The Hollywood Tavern, The Herbfarm, Redhook Brewery, all the wineries
With all due respect to the OG suburbs Mercer Island and Bellevue, Woodinville is the more interesting (and less outlandishly expensive) option for people just making the move outside of Seattle. And it is more interesting, partially because you're basically moving not that far out of the city, but right into wine country/the hometown of 2006 Miss Washington Tiffany Doorn. I mean, 90 wineries right there. Ninety! That's 75 more than 15, which would be a ton of wineries. Don't like wine? Well, that's stupid, but it doesn't matter, because you'll have a dozen breweries right there too, including Redhook, Sumerian, and Triplehorn. Because you'll be living there, and need restaurants, there's a killer lineup of those too, with everything from an amazing coffee and lunch spot (The Commons), to burgers and booze (The Hollywood Tavern), to the famously fancy Herbfarm. We didn't even check to see if there are schools, but who cares, your kids are going to be famous wine barons anyway. -- KA

St. Louis, MO: Chesterfield
Population: 47,484
Where to eat/drink: Balaban's, EdgeWild Restaurant & Winery, Bishop's Post, International Tap House
St. Louis has lots of old money suburbs like Town and Country, and Ladue and Glendale. And if you have the money and want to head there, grand. But Chesterfield has the most potential. In the midst of a construction boom now, it's also a bigger town, and with that larger population comes more action (but still a very low crime rate!), like concerts at the Chesterfield Amphitheater (haven't you always wanted to see a Journey tribute band?!!?), the original location of International Tap House for lots of beers, griddled burgers at Bishop's Post, and every wine you can possibly think of during date nights at Balaban's. Oh, and they're also in the process of approving a $20 million Brew Hub for craft brewers to work as partners to expand into new markets. As nice as it is, that is not happening in Ladue. -- KA

Tampa Bay/St. Petersburg, FL: Dunedin
Population: 35,321
Where to eat/drink: Eli's Bar-B-Que, Kelly's, Bon Appetit
Dunedin was one of the easiest picks on this list. Of course you're going to pick a place that has one of the best beaches in the world (on Caladesi Island State Park), clear views of the Gulf of Mexico, spring-training baseball from the Toronto Blue Jays to bring your kids to, a huge fine-arts center, a public library with a damn delivery service, many breweries, arguably the best BBQ in Florida at Eli's (get the chopped pork), and a cool Scottish history dating back to the 19th century and involving pigs running rampant. Also: do you think there are other places outside of Florida that could have restaurants named "Kelly's, For Just About... Anything" that actually really work well? -- KA

Washington, DC: Takoma Park, MD
Population:17,721
Where to eat/drink: Republic, Roscoe's Pizzeria
DC suburbs are hard. You can't count Arlington or Alexandria (otherwise the Del Ray section would've garnered some serious votes) because they are really their own cities. Bethesda and many of the other NoVa staples give you the standard nice suburb cliches: conveniently planned shopping villages with upper-middle-class chain-store amenities and the occasional "boutique" standalone shop to make you kind of feel like you're getting something independent. Which brings us to Takoma Park. Long known as a hippie-ish community thanks to its "nuclear-free zone" proclamation, TP has a slightly different, funkier flavor from the other surrounding 'burbs, and that brings with it food and drink you can't get elsewhere. Take the exceptional Republic from Jeff Black, for example. It's got food from Takoma native Danny Wells, amazing oysters and chorizo crostini, and cocktails with names like Fascist Killer and Sammie Abbott, named for the TP activist. What other suburbs are you going to move to with cocktails named after its leaders, huh? HUH? -- KA
Sign up here for our daily Thrillist email, and get your fix of the best in food/drink/fun.
Kevin Alexander is Thrillist's national writer-at-large and wants to move to Davidson. Or Golden. Or Excelsior. Follow his attempts to move to three new towns: @KAlexander03.