Most years summer vacation begins way before the actual trip. Office cooler water starts tasting salty, car honks on your morning commute have that Carribean offbeat, and your boss' "be better" starts sounding like "be-eeer." Your thoughts turn to road trips and Mexico and music festivals filled with beautiful people with great accents. Guys, it's time. It's time to start thinking summer.
If only it were so simple. The problem with summer vacation is that it's riskier than a weekend trip. You probably have, like, five vacation days that aren't already committed to holidays and weddings and other planned hangovers, so you don't want to spend half your liberated life in a resort that some guy named Keith five-starred online for "the softest bathroom towels around." Choice overload is real, as is the temptation to staycation. Part of you may not even really want to bother with a trip. To that voice of inertia, we say only, in the true spirit of 2018, resist.
We asked a stable of wandering writers to dig up their favorite summer vacation spots, and rounded up the best escapes for all kinds of mid-commute daydreams. We got back turquoise Mediterranean seas and life-changing Michigan sunsets and hardcore Australian art festivals and gentle Canadian high desert. You get to travel the world at your desk, and then, we hope, get out and make summertime legends of your own.
Recommended Video
This is the World's Longest Zipline
Sardinia, Italy
A compact, tranquil version of everything you love about Italy, plus fabulous beaches
Take everything that you love about Italy -- the great food, architecture, sublime weather, and charming, fiery locals -- and condense into a Mediterranean island that abounds with prodigious, endless beaches, sea caves, ancient castles, and Spanish villas. Like a stress-free version of Rome, with more idyllic terrain, the Italian island promises the slow life. Fly (or be really fancy and sail) into the capital Cagliari, a city low on tourists and and rich on vibes. Stay with locals and discover how hospitably chilled everyone is. Journey outside the city, and follow the coastline and turquoise-colored seas, or go inland with the quaint train (always go by train), to discover the island's surprisingly rugged interior. Or don't. Just sit on the beach and eat seafood, because really, this forever is the reason to go to Sardinia. -- Daniel Cole
The California Coastal Trail
The ultimate road trip requires only two wheels
Even the word California evokes hours spent in quagmired traffic, obsessively checking Google Maps to make sure you don't end up in, say, Rancho Cucamonga. The most obvious vacation hack in this car-clogged state is also the best: bike-pack your way along some of the state's 850 miles of public coastline. A network of hiking, biking, and walking trails called the California Coastal Trail traverses the entire West Coast; it's easy to navigate as a main throughway. Push off near San Francisco and cycle towards Half Moon Bay to camp above bluffs that spill into private beaches and coves. Come morning, you might spot humpback whales.
In the central coast between Monterey and Ventura, a slower pace of life may lure you off your bike for more than a water break. Doodle around in antique stores, ice-cream parlors, and independent bookstores on Main Street drags. In Cayucos, chatty surfers will point you to Ruddell's Smokehouse where fish tacos and beer are served with a panoramic view of the Pacific.
San Diego County may be your best bet for SoCal. Bicycle lanes are the norm, so families and hardcore cyclists crowd even the busiest roads during weekend rides. Near Oceanside, marines will be preparing for combat when you ride across Camp Pendleton towards Oceanside to see the Top Gun house. (Yes, it's still standing.) Then, hell, keep on rolling into Mexico. Pack a passport and cross the border into the Baja Peninsula, only 20 miles away. -- Ryan MacDonald
Chiang Mai, Thailand
The part with the best temples and food is the part your friends haven't been to already
Chiang Mai affords travelers a true sense of Thailand removed from the chaos of Bangkok and the tourist traps of the islands. Sitting as it does in the country's mountainous, more temperate region, it's the cooler alternative in terms of both climate and general vibe. You can spend the whole day just lazily snacking from vendor to vendor at the city's many food markets -- if you must prioritize, try the night market at the North Gate or the exceptional Sunday Walking Market at Wat Sam Phao. If you like elephants, which I am going to assume you do, set aside a day for the Elephant Nature Park where you can feed, bathe, and play with elephants that have been rescued from various settings of abuse.
Rent a scooter and take a day-trip to the neighboring Chiang Rai, where you can browse a new lineup of food markets (yes!) and see the city's famous golden clock tower. You'd think it would look its best with sunshine bouncing off it, but you'll probably enjoy it most at night, when different-colored lasers aimed at its facade activate for a series of light shows. -- Kastalia Medrano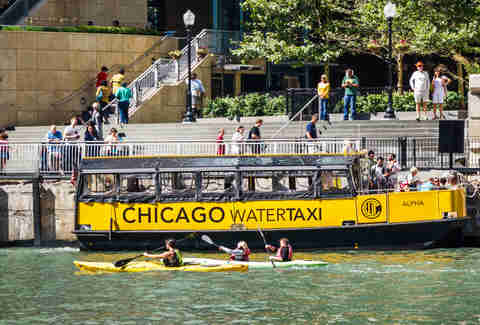 Chicago, Illinois
One of the worst winter towns in America goes all-in during its hyperactive summers
Chicagoans will tell you, it's the summers that get us through the unforgiving winters. The transformation between frozen tundra and urban oasis can make it feel like two cities on opposite sides of the planet, but when the thaw inevitably breaks circa May, the party starts.
Almost nightly Millennium Park's twisting Frank Gehry-designed Pritzker Pavilion hosts to the likes of Broadway performers, concerts, and regular movie nights on a 40-foot LED screen donated by Oprah herself. Relax in riverfront restaurants and wine bars, or rent a kayak and glide through the canyon of skyscrapers. The adjoining bike path leads to lakefront beaches, and a quick jaunt on the blossoming 606 bike path delivers you directly to trendy neighborhoods like Logan Square and Wicker Park. Rattle up the El to take in a Cubs game from the Wrigley Field bleachers. There's no human zoo in America quite like Wrigleyville on game days, unless perhaps you count the ridiculous summer festival scene in the city, including Pitchfork, Lollapalooza, and Riot Fest. Everyone's outdoors, all the time, and they literally could not be happier to go sleeveless. -- Josh Mellin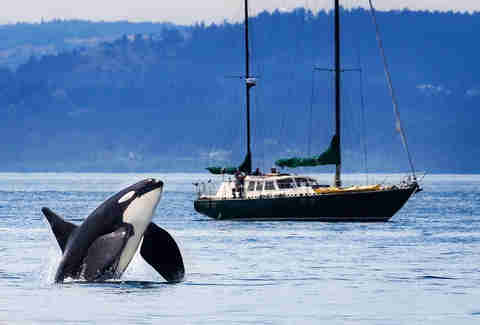 San Juan Islands, Washington
Island time is mountain time in this rugged Pacific Northwest gem
At the north end of the Puget Sound, allllllmost to Canada, speckling a sprawling waterway known as the Salish Sea, some 400 islands compose the rocky, piney archipelago of the San Juan Islands. Four of these islands are bigger than the rest and accessed from mainland Washington by an old-school ferry system. There, you'll find a motley assortment of eccentric humans -- rich hippies in early retirement, real hippies in moldering yurts, working farmers, fishermen, artists and authors, a former Defense Secretary.
In topography and temperament, Shaw, Orcas, Lopez and San Juan are all just as varied. Lopez is flat, great for cycling, home to a rustic food scene that includes at least one restaurant with a manifesto. Orcas is the largest, rugged and Middle Earthy, crowned by Mount Constitution, fed by a Beard-winning woodfire pizza joint, rocked by one of America's most scenic music festivals. San Juan Island, which was once advanced upon by the British Navy during an inflated dispute over a dead pig, is all rolling open hillsides, secluded beaches, and grand seascape vistas. Folks run about in between in motorboats, sailboats or kayaks, hike or swim or bike, basking in the glaciered countenance of Mount Baker on the eastern horizon and the jagged Olympic Peninsula to the southwest.
Like all of the Pacific Northwest, summer weather is perfect. A mere 15,000 years ago, the whole area was under a mile-thick sheet of ice. Today it's a maritime jewel set a million miles from anywhere and a 55-minute puddle-jump from Seattle. -- Jonathan Zwickel
Basque Country, Spain
A distinct land for those who like to explore nature and art in equal doses
Spain's most intriguing corner, situated in the northern greenery along the French border, Basque Country is decidedly a thing apart. The indigenous Basque language finds no relations; it predates even Latin. The separatist movements of the past have quieted, aside from stray street art and stickers that remind you from time to time: "This is not Spain. This is not France." No, it's only home to some of the continent's most distinct nature and culture. The romantic city of San Sebastián may quietly be Europe's dining capital, trading in pintxos, an elevated cousin to tapas. The coast is a flurry of beach towns, the animated Oma forest, and even Game of Thrones locations to explore, e.g., San Juan de Gaztelugatxe in Bermeo, which doubles as the castle at Dragonstone. In the art hub of Bilbao, situated along Nervión river, is architect Frank Gehry's masterful Guggenheim Museum. Guarded by Jeff Koon's giant flowered Puppy and Louise Bourgeois' most famous Maman spider, the grounds also boast reality-bending works by Anish Kapoor and Salvador Dalí. -- Josh Mellin
Cape Cod, Massachusetts
A classic New England treasure that never gets old
The stereotypes are true, regrettably: Cape Cod is essentially a synonym for New England beach summers. Think lighthouses, shingled cottages, cranberry bogs, and miles of seashore. New Englanders come for the simple pleasures -- relaxing at the National Seashore, braving the Atlantic's rough ocean waves, and biking along the sand dunes out to Race Point. Vacationers bring their kids for the same easy joys as they once discovered: mini-golf, a drive-in movie, and fried clams from Mac's on the Pier overlooking Wellfleet Bay. (Order at the window, scout out a picnic bench in the sand.)
The best late-night drinking is in LGBT-friendly Provincetown, where every night is a party, especially in August, during Carnival. For a more chill vibe, head to the Lower Cape to Chatham or Brewster for quiet nights and walks to town for homemade salted caramel ice cream or mint milkshakes at Buffy's. Local food writer Sam Hiersteiner recommends Chatham Bars Inn overlooking Pleasant Bay, "the iconic granddaddy of Cape Cod seaside resorts" if you're looking for a home base, a good beer and a great dinner: "You can still get all the classics, like lobsters and clam bakes, but dishes with farm vegetables from the garden take things to the next level," he says. -- Jennifer Mattson
Wales, United Kingdom
An epic summer awaits in the overlooked dark horse of the UK
Keep England's rolling countryside and Scotland's highlands; I'll keep Wales. You get history, culture, epic coastal adventures, and a leisurely pace best described in the enchanting local language with the proverb araf deg mae mynd ymhell -- or "go slowly and go far" to your ears. Little wonder people come to this New Jersey-sized country simply to walk, far and slow.
So unspool time at your leisure. Explore ancient castles, some of which offer free tours, and its charming towns where you might feast on traditional live-off-the-land Welsh dishes (tuck into a hearty bowl of cawl if you like lamb and potatoes). To really ring in the summer, attend one of the country's larger-than-life music festivals -- the magical HowTheLightGetsIn, perhaps, where music meets philosophy meets Medieval feasts meet masquerade balls.
Then make like King Arthur -- lore has it that he was, in fact, Welsh -- and take to the coast to carve out your own legend. Head to Pembrokeshire for coasteering (that's when you jump off a cliff into freezing water before scrambling back onto the rocky coast), to Rhoscolyn to climb the craggy sea cliffs, and to the small parish of Llanwrtyd Wells to try bog snorkeling, an activity almost as fun to do as it is to say. But to truly conquer this land, keep on walking until you've covered the 850-mile Wales Coast Path. Even in modest Wales, you can indeed go far. -- Michelle Rae Uy
Traverse City, Michigan
The most versatile small-town summer escape in the Midwest
Michigan has no shortage of timeless coastal towns along the Great Lakes, yet the most idyllic retreat of them all falls on Michigan's lower peninsula in the form of Traverse City. It's cherry country -- the Cherry Capital of the World (kind of a big deal). It's one of the best small beer towns in America, an unexpected destination for fine dining, a cultural hub rich with museums, host to the altruistic Traverse City Film Festival, and a prime place to spend the day doing nothing more worthwhile than just prowling shops and galleries.
Also, there's adventure. The tranquil waters of Grand Traverse Bay prove a serene setting for sailing, canoeing, and paddleboarding. The area is framed by sprawling sand dunes including those of Sleeping Bear Dunes National Lakeshore, the climbing of which remains a rite of passage for any current, or aspiring, Michigander. Along the Old Mission Peninsula, you'll be at the epicenter of Michigan's booming wine country, with nearly 30 wineries such as Bonobo, Chateau Chantal, and Brys Estate, all available for tours and tastings. You simply can't plan a more satisfying small-town itinerary of biking, boozing, and taking in the sunset. -- Sean Cooley
Tel Aviv, Israel
A Mediterranean beach town gets wet and wild in the summer
Year-round, Tel Aviv is known for its 9-mile stretch of steamy beaches, but in the summer things really heat up. The party starts in June when the city hosts the largest gay pride parade and festival in the Middle East. This debauchery is really a week-long celebration, but it officially starts on Friday, June 8 in Me'ir Park and pushes south along a parade route to Charles Clore beach, where more than 180,000 people gather for an outdoor concert by the water.
Later in June, Tel Aviv hosts another epic all-nighter called Laila Lavan ("white night" in Hebrew). The city's traffic grinds to a halt as revelers, dressed in white, stay up for a 24/7 party at top cultural sites and museums, including the Tel Aviv Museum of Art and Sarona Market. Bars and restaurants get in on the fun too, as places like Bellboy and Miznon offer up "secret" menu items for the party. Lest you worry about the Middle Eastern heat, in July, Tel Avivians cool it down for an all-out water gun fight appropriately dubbed Water War. While there's been both funding and city permitting issues, it seems a giant Super Soaker battle in one of the city's largest fountains, Habima Square, always cuts through government red tape. -- Tim Ebner
Islamorada, Florida
A snail-paced tropical paradise where shirts and shoes really aren't required
Barely 20 miles long, this Florida Keys village is surrounded by sparkling, teal water. Its infamous Tiki Bar inspired a Beach Boys song ("Kokomo," obvi), while its best-kept secret (an 18-acre dreamland resort situated on a former coconut plantation) was home base for Emmy-nominated Netflix show, Bloodline. I grew up there, running barefoot on rocks and steering jet-skis through mangroves before I knew how to drive a car. Besides the addition of a few restaurants and hotels, the place hasn't changed much in the years since.
Islamorada embodies easy living. Take it all in with a bottomless boat ride or swim with dolphins at an outdoor theater that's been teaching awareness and conservation for 70-plus years. Snorkel near protected coral reefs with tropical angelfish and befriend sea cows (just don't feed them!) before cruising on the bay through Toilet Seat Cut; people have been planting personalized toilet seats in the ocean here for decades. Scarf down crab cakes and crispy calamari on the sand. Witness a purple sunset to the sound of steel drums. If you're lucky, your visit will coincide with the Full Moon Party, where locals exchange wild stories, booze it up and dance off the alcohol on a monthly basis.
  
If you came to relax, well, that's OK, too. Laidback luxury means drinking a cold one in a hammock by the ocean. And speaking of beer, there are plenty of places to get one (or two or a few). Hang with regulars at Florida Keys Brewing Company, a locally owned, dog-friendly business that features live music in a garden with brightly-colored furniture. -- Allison Ramirez
Interior British Columbia
Canada's only desert isn't what you expect
Coastal BC is a 10/10 stunner, no doubt, and the province's mountainous eastern edge is home to possibly North America's most jaw-dropping mountains. But between those overcrowded areas you'll find the big, vast middle of this huge province, an area of high, arid plateaus and bounteous vineyards and orchards. Kamloops is an unheralded city of 90,000 built by down-to-earth folks, a melting pot of loggers, miners, ranchers, and techies who all converge in handcrafted brewpubs. Drop by August for Ribfest, Kamloops' annual free three-day riverside music festival. It's surrounded by beer gardens.
An hour east of Kamloops, Salmon Arm is a lakeside town attracting savvy Canadian tourists that stays authentic with joints like Shuswap Pie Company. Its 25-years-strong Roots and Blues Festival, also in August, features hypnotizing collisions like bluegrass, traditional Irish bands, and Cuban stars sharing one of three stages amid acres of food and drink bacchanalia.
And between the more famous resorts in Whistler and Banff, four-season Sun Peaks Resort is a simplified Alpine paradise. Summer-music throwdowns include Retro Concert Weekends (think Bad Company, Janis Joplin) while thin-air golfing at 4,000 feet enhances anyone's score. Sun Peaks' 700 residents send their elementary-aged kids to a school requiring a lift up the mountain from which they ski home. -- Bruce Northam, American Detour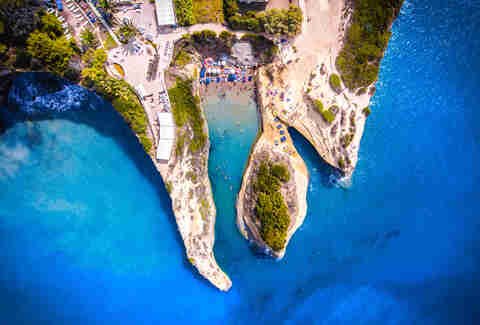 Corfu, Greece
Winter showers bless Greece's greenest island with sublime summer scenery
Corfu gets some of Greece's gloomiest off-season weather, but it's not for naught -- those torrential rains allow flora to flourish come summertime, giving Corfu the nickname of Greece's greenest isle. Ancient olive trees and leafy mountain groves bloom between rocky coastline and beaches. The landscape yields an unforgettable Mediterranean diet: the local delicacies include kumquats, fresh seafood, and wild produce foraged not because it's gourmet trendy, but because that's always been the way of life. A close proximity to Italy, and the island's one-time occupation under Venice, means Corfiot chefs knows a few things about good pasta, too.
Considering Corfu is also one of Greece's largest islands, vacation mode can be whatever you like. It might be lazing on a pool floatie in the translucent blue unfolding across Paleokastritsa Beach (extra points for revisiting your high school copy of The Odyssey, since this is right where Odysseus made his mythological landing). Rent a motorboat and jet up around the Albanian coast. Evenings can be uproarious or tranquil depending on the village: listen to plucky bouzouki in a lemon tree garden, clutching a glass of local white, or discover the Venetian architecture of Old Town, a UNESCO World Heritage Site. -- Barbara Woolsey
Oaxaca, México
Mexico's trippiest cornucopia is an all-universe destination for food, drink, and surf
It takes a genuinely badass state to earn a reputation as both the cradle of Mexico's best-on-the-planet food scene and the undisputed champion of mezcal. That's Oaxaca, a mecca for sensual travel. Take the eating and drinking in Oaxaca City, the state capital: Criollo, which turns one this year, is an obvious new dining favorite (a project of chef Enrique Olvera, of Pujol fame); and In Situ, Archivo Mezcal, and the Mezcaloteca will move even skittish drinkers off predictable spirit lists into the wild world of agave and local terroirs. Start with morning coffee and a pastry at Boulenc, stroll through the botanical garden, and hit up Lanii, purveyor of fair trade handicrafts (palm top hats! oversized jute bags!).
Then, to the bus. A day of winding roads lands you in the sands of Puerto Escondido, where you can snog fresh oysters at Bacocho Beach or dine at Almoraduz, which offers Puerto's finest tasting menu. In the mood for something a little weirder? Head towards San José del Pacifico, a high mountain town known for offering mushroom trips guided by local dames, then bust down to the state's most laid-back beaches of Mazunte and Zipolite. I defy you to return home unchanged. -- Luz Corral
Cologne, Germany
The Austin of Germany, minus the 100-degree temps
Locals here say that Cologne is a feeling, a vibe. The Kölsch, as residents (and their beer) are famous in Germany for their outright friendliness, which makes Cologne the ideal location for travelers who prefer actual conversations to shooting Instagram loop videos of fizzy lagers (and yet, you're still in one of the world's best beer cities). Germans themselves love vacationing in this huge college town, a city of 1 million with the 50,000-student University of Cologne keeping it young, artsy, and deliriously weird. Double back in November to see for yourself: The city's annual Cologne Carnival is a kaleidoscope of costumed debauchery. Never have you seen so many people dressed up as inflatable dicks.
In the 75-degrees-and-cloudy summertime, you'll no doubt head to the Rhine, which runs straight through town (and is the city's raison d'être; the Romans started building here almost 2,000 years ago). You can Rhine and Dine, Wine and Rhine, or, if you're jet-lagged as all hell, you can Rhine and Whine. For art and cute cafes and vintage shops, head to the district of Ehrenfeld, the hippest neighborhood in possibly the hippest city in Germany. Once you find yourself feeling too cheery, you can always double back toward the central train station's neighbor, the Cologne Cathedral, an imposing city centerpiece and the most-visited landmark in the country, which took only 650 years to complete. -- Ruby Anderson
Tasmania, Australia
One of the wildest corners of the planet has a growing art scene to match
Gently cool and off-season cheap, this Ireland-sized island 150 miles south of the Australian mainland is shaking its rep as a backwater, one pinot noir at a time. You'll fly into in Hobart, a cosmopolitan port city with an affordable food scene, where you'll find the mind-blowing Museum of Old and New Art. In this wonderfully bizarre trip art museum odyssey, skeletons boink, an ultra-tattooed still model redefines still, a waterfall flashes timely words, trick-of-the eye exhibits test your balance, and the restaurant's entrees are served upon "living tables" made of micro herbs and mosses.
The MONA is the brainchild and plaything of accidental countercultural guru David Walsh, an eccentric local billionaire, who parlayed a huge gambling fortune into the museum and a festival called Dark Mofo (late June). Hobart's version of Burning Man, now in its sixth year and aimed at drawing Tasmanians out of "wintertime" hibernation, is a deep dive into ancient mythologies, interactive art, unrehearsed theater, a nude Solstice swim, and musical acts that vibe on renewal. The music/art/weirdness jubilee includes polarizing public statements (last year, participants of a sacrificial bull ritual painted themselves in its blood) and psychedelic costume balls. The hopefully tongue-in-cheek subtitle on Walsh's Moo Brew Pale Ale can says, "American style, but not loud or annoying at all." Cheers, mate. -- Bruce Northam, American Detour
Sign up here for our daily Thrillist email and subscribe here for our YouTube channel to get your fix of the best in food/drink/fun.