Austin's Best Hikes, Parks, and Swimming Holes to Beat the Heat
If you're even thinking of being in Austin, check out the rest of our DestiNATION: Austin guide. It's stacked with expert advice from locals on what to eat, where to drink, and what to do.
So you're visiting Austin and you want to know what to do while you're here. As an Austinite, the unspoken rule is that I should be semi-helpful without giving too much away; that I should tell you the generic stuff you probably already know (check out the shops on South Congress!) or trick you into something actually awful (sign up for a downtown Segway tour!). The thinking goes, if I reveal my local knowledge about the best parts of Austin -- the spots in town that don't feel like you're in town, the beautiful natural splendor within easy reach of the city's ever-expanding concrete footprint -- you'll make the dreaded decision to move here.
Well, some things can't be helped. And you know what? I like you. Austin is the gateway to the best damn part of the entire Lone Star State: the Texas Hill Country. Heed this insider's advice and explore the unique karst topography, or beat the heat with a dip in one of our many spring-fed swimming holes. And if you have time in the itinerary to get out of town for a minute, head out west. Just don't tell anyone I'm the one who sent you.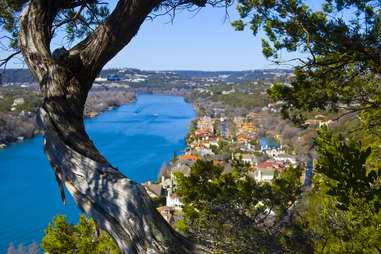 Mount Bonnell
The 102 steps from the parking lot to the top of Mount Bonnell -- the highest point in Austin -- don't exactly qualify as a hike. You're in Austin, not Yosemite, but it's just enough to get you sweating out some of last night's tequila and make you feel like you've really earned those panoramic views of Downtown, Lake Austin, and the hill country. It's an easy jaunt from Downtown and a great spot to catch a sunset.
Do as the locals do: Hang a right at the main overlook pavilion and follow the trail about 30 yards or so. Duck down one of the smaller trails on the left, into the underbrush and down onto the rock cliffs, where you'll find a variety of less crowded seating options. Just consider sharing those smokes you so-diligently prepared in advance with the college kids whose turf you're on.
What to bring: A tape deck with Marvin Gaye's "Ain't No Mountain High Enough" on cassette. Sneakers.
Directions: Get to 35th St and go west until you cross over TX-1/MoPac Expwy, continue past Camp Mabry Rd, take a left on Old Bull Creek Rd, then a right on Mount Bonnell Rd. Parking will be at the top of the hill on your left.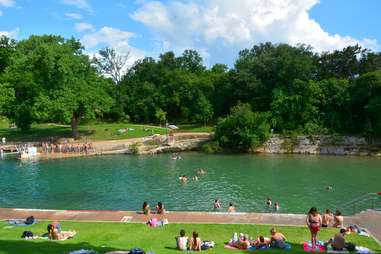 Barton Springs
If you only go swimming once in Austin, you'd be wise to take a dip in Austin's crown jewel of swimming holes, Barton Springs. Within Zilker Park resides this illustrious watery gem, a three acre spring-fed pool surrounded by sloping lawns for lounging. Barton Springs is fed by the fourth largest spring in Texas, and the water emerges from the Edwards Aquifer at a brisk 68 degrees year round. This may seem cold, but in fact, it is precisely chilly enough to scare off the weak-willed and counterbalance the scorching death rays of the Texas sun. Rumor has it that Robert Redford learned how to swim here. Ladies who like to sunbathe topless will find themselves in good company here. If you're lucky, somebody might do a gainer off the diving board.
Do as the locals do: Outside food and drink (read: beverages) and smoking (read: weed) are monitored closely by a staff of vigilant teenage lifeguards, so imbibing before entry is wiser. Water bottles are allowed inside the pool if you'd like to camouflage a cocktail, but maybe you should actually be drinking water for once.
What to bring: Three dollars for the entry fee. Sunscreen, sunhat, towel, goggles for fish-watching. Fellas who might like to gaze respectfully upon the free-range tatas should bring sunglasses so that nobody knows how creepy you are.
Directions: See Zilker Park. From Zilker, walk across Barton Springs Rd and down the hill towards Barton Creek. The pool is open 5am to 10pm, with free-swim hours the first and last hour of each day. The pool is closed to the public 9am to 7pm on Thursdays for cleaning.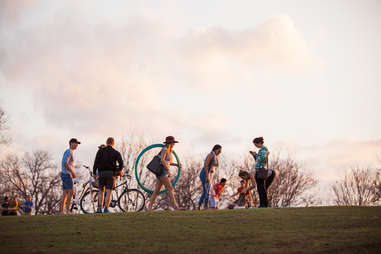 Zilker Park
Zilker, Austin's biggest and most beloved park, consists of 300 acres of pristine turf just minutes from Downtown. It's the perfect place to kick back and people watch on rolling lawns surrounded by adorable pups with a prime view of the skyline. If you get bored, there are a number of attractions on the grounds. Plant lovers can check out the Zilker Botanical Garden, while art lovers should head to Umlauf Sculpture Garden across the street. The only real downside of Zilker's glorious grasses is that they tend to attract festivals. If the thought of 10,000 people flying 10,000 kites doesn't sound freaky to you, the Zilker Kite Festival is March 5. Don't expect the grass to be nice on March 6, but feel free to retrieve one of the 1,000 kites tangled in the heritage oaks.
Do as the locals do: Drinking alcohol in Austin parks is not what you'd call "legal," but boy is it nice. Follow these local-approved guidelines closely and all should be well: 1) Keep it in a can, and keep that can in your brand new Texas flag koozie! 2) Don't crack a beer in front of a cop. 3) Keep empties out of sight and pick up your trash when you leave. 4) Don't get white-girl wasted and start yelling about Donald Trump. 5) Keep it classy and draw straws for DD.
What to bring: A blanket to sit on and a frisbee. Pick up some snacks at Thom's Market along the way.
Directions: From Downtown, take South Lamar south, turn right on Barton Springs Rd, drive over Barton Creek and take the first right onto Lou Neff Rd, which loops around the park. Parking is available in small lots for a $5 fee. If you're cheap like yours truly, park for free off Stafford Dr, which borders the park to the west.
Deep Eddy Pool
Deep Eddy Pool is the oldest swimming pool in Texas, dating back to 1915, and features very lovely aquamarine waters and a depression-era bathhouse built by the Works Progress Administration. Deep Eddy is spring-fed like Barton Springs, but without the marine and plant life and with more of a family friendly environment. Refine your backstroke in the dedicated swimming lanes, or just kick back and relax in the shallow end.
Do as the locals do: Deep Eddy Pool is located directly behind one of Austin's most venerable dives, Deep Eddy Cabaret. Head in after your swim to shoot pool with the omnipresent cast of barflies, who will respect you all the more if you play some old country standards on one of the best jukeboxes in the city.
What to bring: Cash money for the entry fee, a towel, and that Olympic full-body swimsuit you bought on eBay in 2009.
Directions: Go west on W. 6th until you pass under TX-1/MoPac Expwy. At this point W. 6th becomes Lake Austin Blvd. Deep Eddy Ave will be .2 miles ahead on your left.
Ann and Roy Butler Hike-and-Bike Trail
The best thing about Downtown Austin -- besides all the live music and great restaurants and yadda yadda -- is its proximity to Town Lake. The Hike and Bike Trail is a 10-mile pedestrian and cycling trail that runs along the north and south shores of Town Lake as it passes through Downtown. Both sides are beautiful, but on the south side, the trail takes you either through or near Zilker Park, Butler Park (climb the big hill by the splash pad for an awesome view), Auditorium Shores (check out the Stevie Ray Vaughan Statue), and the Long Center for the Performing Arts. Should you finish that stretch around sunset, join the rest of the hordes on the South Congress bridge to watch the 1.5 million Mexico free-tailed bats fly off into the night. I've heard guano can be used as a sort of pungent hair mousse, but I would wear a hat, and maybe keep my mouth shut.
Do as the locals do: Nobody calls Town Lake by its actual name, Lady Bird Lake. And nobody calls the Hike-and-Bike Trail by its actual name, the Ann and Roy Butler Trail.
What to bring: Binoculars, sun hat, sunscreen. Water bottles can be filled with water fountains along the trail.
Directions: Find Town Lake. The trail will be the gravel path with people and bicycles on it near the shore. To explore the trail along the south side of the river, cross over on the S. Congress Bridge, the S. 1st St Bridge, S. Lamar Bridge, or the pedestrian bridge under MoPac Expwy.
Kayaking on Town Lake
You won't find a more convenient and beautiful place for kayaking, canoeing, or stand-up paddle-boarding than Town Lake, aka Lady Bird Lake, aka the Colorado River. You have three options for renting appropriate watercraft. Check out the Rowing Dock to the west if you want to explore the less urban, steep-cliffed waters upstream of Downtown. Via Zilker Park Boat Rentals, you can kayak a short stretch of Barton Creek with the turtles before emerging just west of Downtown, and paddle underneath the city's bridges with a nice view of the skyline. Feel like paddling upstream first and letting the current bring you back? Congress Avenue Kayaks is just east of Downtown, and if you don't care about paddling next to skyscrapers, paddle downstream to explore the less developed eastern portion of Town Lake. If you're in decent shape and can keep a straight line, expect to paddle about 3mph taking into consideration that the current flows from west to east.
Do as the locals do: "Can we swim in the river?" you ask. "Look at all the people swimming in the river!" And I hear you. I've swam in the river. But I would invite you to consider the fact that "(urban) runoff into Austin's Town Lake has led to high levels of lead, fecal matter, phosphorus, nitrogen, and pesticides." The lesson: Drink a few Lone Stars instead of swimming in Town Lake; you may think they taste like shit-flavored water, but at least it's not actual shit-flavored water.
What to bring: Have I mentioned the sun yet? The Texas sun will literally try to cook you alive, so sunscreen and a sunhat are a must. All of the rental places should have a place for you to leave your stuff, but bring Ziplocs for valuables. I like to bring a backpack with a towel inside for my shoes, shirt, and Ziploc o' valuables -- if that goes overboard, at least it won't immediately sink. Said backpack is also a great home for that sixer of Lone Star (no glass bottles!) and makes it easy to pack out your empties (no littering!).
Directions: If you're Downtown, go south until your feet are wet. You're now standing in Town Lake. Congress Avenue Kayaks will be to the east, where S. Congress crosses over the river (rental fees for a one-person kayak are $10/hr). Zilker Park Boat Rentals ($15/hr) is located right next to Barton Springs in Zilker Park. The Rowing Dock ($10/hr) is just west of Zilker: take Barton Springs Rd and turn right just after the park onto Stratford Dr. Follow Stratford under the MoPac bridge and down the hill and the Rowing Dock will be on your right.
Sculpture Falls in the Barton Creek Greenbelt
The Barton Creek Greenbelt is a 9-mile urban oasis of hiking, climbing, mountain biking, and swimming. The Edwards Aquifer supplies this stretch of the Colorado River with ample amounts of clear, cool spring water... which luckily comes in upstream of the aforementioned lead and fecal matter. Because these swimming holes require you to actually hike to find them, they are far less popular with tourists, so it would be pretty stud of you, dear visitor, to spend a day at Sculpture Falls. The exposed limestone rocks in the river form little hot tub-esque pools where you can sit back and keep cool in the blazing sun. It's a young, cheap beer/420/canine-friendly crowd, but the scene skews much more tranquil than raucous.
Do as the locals do: Go early; by mid-afternoon the best spots are already mobbed. There is no bathroom here or anywhere in the Greenbelt, so wear your swimsuit, apply sunscreen, and do your business before you leave home. Also, there's always a lady trying to hike down the exposed rocks in inappropriate footwear and having a hard time of it. Don't be that lady. Eschew your flip-flops for tennis shoes or thick-soled outdoor sandals.
What to bring: Sunscreen, 1L of water for every 2 hours you intend to be out, protective sun hat, appropriate footwear, a lightweight cooler or ice-filled backpack with snacks and canned beverages, a towel, dry change of clothes left in the car so you can stop by P. Terry's Burger Stand on Barton Springs as you head back into town.
Directions: The trick is finding the best trailhead to park your car, so you have the least amount of hiking to do. To get to Sculpture Falls from Downtown: Take MoPac Expressway (aka TX-1 Loop S) south. Take the exit towards Texas 360 Loop N/Capital of Texas Highway. Turn right onto TX-360 Loop N. Turn left off of HWY 360 onto Scottish Woods Trail. After half a mile, you'll reach Camp Craft Rd. Turn right and the entrance will be on the left. This entrance is in a suburban neighborhood, so you may have to park off Scottish Woods Trail and walk to the entrance.
From this point it's a 1.5 mile hike to Sculpture Falls. Proceed down the rocky "Hill of Life." Once you get to the bottom, you'll find mile markers to gauge how far you've come. Don't be seduced by the waterfalls and wading pools along the way -- you're not there yet. When you come to Sculpture Falls you'll know it by the limestone rock formations and hordes of people.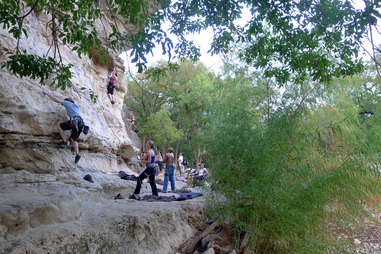 The Seismic Climbing Wall in the Greenbelt
If you've got some time for climbing, check out Austin's largest bouldering gym on the East Side or this badass climbing gym in South Austin. If you'd prefer to climb outside and have the appropriate gear, Seismic Wall, aka Maggie's Wall, is an easily accessed and popular rock climbing destination in the Greenbelt, and a great way to meet like-minded individuals. The routes range from 5.6-5.12, but the majority are of moderate difficulty in the 5.10 ballpark. Did I mention that it's free? This article should provide you with everything you need to know.
Do as the locals do: Arrive before 10am to beat the crowds and the afternoon sun. Many local climbers dislike Seismic because the routes are pretty well polished by this point, so if you're more hardcore, go to Reimers Ranch Park.
What to bring: You provide all your own climbing gear at Seismic. At the minimum you'll need climbing shoes, a rope, a harness, a helmet, a belay device (and belayer), some locking carabiners, and a chalk bag. REI's Downtown location should have everything you need.
Directions: Take MoPac Expressway (aka TX-1 Loop S) and proceed south. Use the left lane to take the Texas 360 Loop S/Capital of Tx Hwy exit. You'll have about a quarter of a mile to get into the far left lane and at the first intersection, take a left into what looks like an office park. Once inside the office park you'll take your first left and proceed onto a gravel road with a sign denoting the Barton Creek Greenbelt. Once you park, follow the main trail down to the creek, cross over the creek and you will arrive at Seismic Wall. From the parking lot to the Wall is about a 5 minute walk.
Hippie Hollow
Tan lines got you down? On the shores of Lake Travis just west of Austin is the only clothing-optional public park in the Lone Star State, Hippie Hollow. Lounge on the rocky shoreline and introduce the paler parts of your anatomy to the cool waters and warm Texas sun. It is impossible not to have a weird time at Hippie Hollow, but it's an experience you won't soon forget. And you should certainly check it out sooner than later before Lake Travis dries up again. Entry is restricted to people 18 years and older, and the park asks that you get permission before taking photographs. And while nudity is permitted, "lewdness" is not and will get you arrested.
Do as the locals do: Embrace the weirdness.
What to bring: Your birthday suit and an open mind, and enough sunscreen to cover your delicates. Maybe some liquid courage (in cans or plastic, not bottles).
Directions: Get on Tx-1 Loop N. Use the right two lanes to take the RM 2222/Northland Dr exit. Use the left two lanes to turn left onto Northland Dr. Go under the freeway, up the hill, and use the right two lanes to turn right onto Ranch to Market 2222 W. From here you'll go 8.5 miles until 2222 becomes Bullick Hollow Rd. Continue straight for 1 mile and take a left on Oasis Bluff Dr, then a right onto Comanche Trail. Hippie Hollow will be a mile up ahead on the left.
Blue Hole
The city of Wimberley, 30 miles southwest of Austin, sits in a lush valley surrounded by rolling hills in all directions, at the confluence of two beautiful bodies of water: the Blanco River and Cypress Creek. Blue Hole Regional Park is a public stretch of Cypress Creek that makes for some incredibly scenic swimming; the brisk spring waters have been feeding the enormous cypress trees along its banks for hundreds of years. And while climbing up into the cypress trees to jump off the thick branches is no longer allowed, their sturdy limbs still sport two irresistible rope swings -- one of which involves jumping from the banks and catching a suspended metal ring as it swings out over the water. One suspects this rope swing exists more for the amusement of the spectators than the swingers themselves.
Do as the locals do: Maybe hang out awhile. Downtown is full of shops that will have your grandmother thinking she died and went to heaven: embroidered kitchen linens, watercolor paintings of cowboy boots, "Hunky Dude Aprons" and their "Sexy Bikini Girl" counterparts, you get the idea. Cap off the day with a quick trip to one of the wineries outside of town.
What to bring: Swimsuit, sunscreen, small cooler with snacks and beverages. Bring some courage for the rope swing, and some dry clothes to change into.
Directions: Take note that the swimming hole doesn't open until May 8. From Austin, it's just over an hour to Wimberley if you live in the Upside Down parallel-universe Austin where traffic isn't soul-crushingly horrible from sunrise to sundown. There are a few routes to Wimberley, but the backroads are prettier and it's the same distance. From Downtown Austin, take TX-1 MoPac Expwy South and continue onto TX-45 W. Use the middle lane to turn left onto Farm to Market Rd 1826. Turn left onto Ranch to Market Rd 150. Turn right onto Elder Hill Rd, then left onto Ranch Rd 12 S. In 8.5 miles you'll arrive in Downtown Wimberley. From Downtown Wimberley, head southeast on Ranch Rd 12 S. and turn slightly left onto Kyle Rd. In half a mile you'll turn left onto Blue Hole Rd and voila!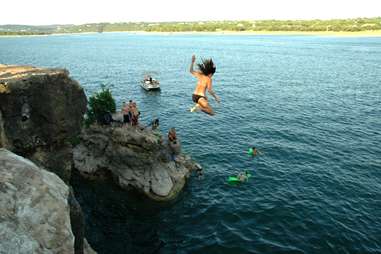 Camping at Pace Bend
This Texas State Park is located in the Hill Country, about an hour and a half west of Austin, with 9 miles of shoreline on Lake Travis. The west side of the park is where it's at; here you'll find limestone cliffs and rocky coves with amazing views. For the adrenaline junkies who want to try their hand at cliff-jumping, take the 50ft plunge off Pale Face Cliff, but be forewarned that the climb back up is not the easiest and shoes would be wise. Or try the smaller cliff to the left for an easier climb back up. I've heard some people have had bad experiences with nosey Park Rangers ticketing their off-leash dogs and open containers, but I've never had a problem imbibing discreetly. For the record though, "Public display of consumption of alcohol is prohibited."
Do as the locals do: Entry is $10 per car for the day or $15 to camp overnight. If you're coming to camp on the weekend, get there early to get a good campsite. While the RV crowd is fighting over the campsites with electrical and sewer hook ups, you'll be happier with a primitive campsite on the west side of the park. On weekends and in the summer, hordes of frat bros and large Mexican families will party until 3 in the morning, so cruise around a while to make sure you've got a satisfyingly secluded campsite with a good view of the lake.
What to bring: The park is primitive, so bring your own toilet paper and drinking water. If you intend to stay after dusk: mosquito repellent. Otherwise, sunscreen, a camera for sunset pictures, water shoes, sandals, or tennis shoes you don't mind getting wet.
Directions: Take MoPac Expressway (aka TX-1 Loop S) and proceed south. Use the right two lanes to merge onto Tx-71 W/US 290 W. Keep to the right to continue onto HWY 290, then take a slight right onto TX-71 (signs for Llano). Stay on 71 for 18 miles and then take a right onto Pace Bend Rd S. This road dead ends into the park.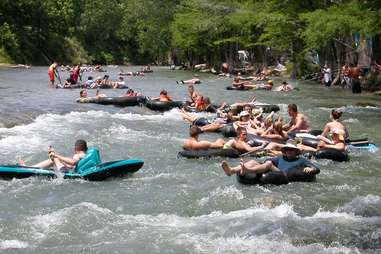 Floating on the Guadalupe River
Tubing, aka floating, aka "toobing," involves floating along the surface of one of Texas' breathtakingly beautiful rivers in a giant inflatable inner tube. Traditionally, one takes in this magnificent scenery while drinking copious amounts of Lone Star beer. If you want a slightly more tame, less crowded float, I'd recommend the San Marcos River or the Comal. But to float "the Guad" is to join 10,000 co-eds, college kids, rednecks, hippies, and any combination of the above on a debaucherous floating shitshow through rapids, around boulders, and through fast-moving tube chutes that will likely tip you over and cause you to lose your beer and your sunglasses. It's heavenly.
Do as the locals do: Floating the Guadalupe mostly revolves around heroic levels of day-drinking. The last time I floated, a shirtless 400lb man in a John Deere trucker hat was pouring Jim Beam shots into the mouths of passersby using a giant leaf as a sort of funnel. It was awesome, but some of those giant leaves are poisonous. Be advised. Also, draw straws for who in the group is the DD back to town. This is probably the most important aspect of a tube trip. A DUI in Texas can cost you more than $10,000 in fines and legal fees, so take it seriously.
What to bring: Listen closely. 1) Cash, a driver's license, and a credit card in a plastic bag. Some guides will ask for collateral for the tube rental, typically a license. 2) Another plastic bag for your keys and phone. Place this plastic bag inside another plastic bag and wrap it in a towel in a backpack. 3) Water shoes, sunscreen, snacks, and beverages, especially water. Consider investing in a floating cooler. The river will be full of idiots who brought 60 beers and zero water. Do not make this mistake or you will black out in the Texas sun. 4) Some outfitters will have mesh bags for trash that you can attach to your tube, but bring a trash bag or three just in case.
Directions: Good tube outfitters serving the Guad include River Sports Tubes, Shanty Tubes, Whitewater Sports, Tube Haus, and Armadillo Tubes. Call around to see which is cheapest based on your party size and tube needs. Personally I'm a tube with a bottom kind of guy; I like that I don't scrape my bottom when it's shallow and that my things don't immediately sink if I drop them inside the tube. Though I understand some folks prefer a bottomless tube.
Sign up here for our daily Thrillist email, and get your fix of the best in food/drink/fun.
Thomas Allison is a photographer and writer from Austin, TX. When he's not riding a bicycle for two years from Alaska to Argentina, you'll find him in Austin eating breakfast tacos and enjoying the sunshine. On Instagram @thomasryanallison