The Coolest New Theme Cruises Hitting the Water This Season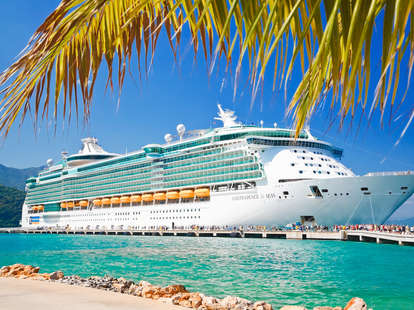 In case you missed it, cruise ships have actually gotten cool. But maybe you need more than a giant Angler fish waterslide and a shipload of booze to keep you entertained while on the high seas. Sometimes you need a week with a band, celebrity, or week of events based around your favorite hobby. They're called theme cruises, and are nothing new with everything from Zumba to swingers having their own chartered ships over the years.
But you know what makes those new ships even cooler? Coolio. Or a bunch of pro wrestlers. Or crossword puzzles. Or any of the awesome new themes on eight new cruises launching this year. All prices quoted are for the lowest-priced available cabins, per person.
January 11-15, 2018 out of Miami
Ship:Carnival Sensation
Itinerary: Miami - Key West - Miami
Price: $699
Relive your awkward middle school dances, and maybe even dance with someone this time, when the likes of Vanilla Ice, Sisqo, Young MC, Tone Loc, and Coolio converge on the Carnival Sensation for four days of Clinton-era nostalgia. There'll be plenty of meet-and-greets, '90s hip-hop-themed activities, and performances where everyone promises not to play anything "off the new album."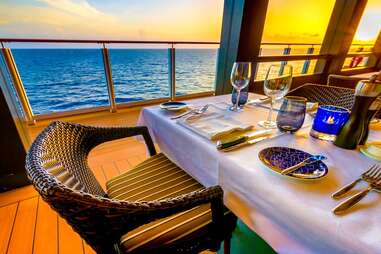 Meet the Winemaker Cruise
December 2 and February 17, 2018 out of Miami
Ship:Norwegian Escape
Itinerary: Miami - Falmouth, Jamaica - Grand Cayman - Nassau - Miami
Price: $379
For years, drinking great wine on a cruise meant bringing your best stuff aboard and paying the absurd corkage fee. Norwegian Cruise Lines is trying to change that, both by partnering with Michael Mondavi for their onboard wine bars, and by offering these themed cruises. The last two of the season will have you rubbing elbows with TV celebrichef Aarón Sánchez, the ambassador for Terrazas de los Andes wines, on December 2. The February 17, 2018 sailing will be hosted by Gérard Bertrand, vintner of Languedoc-Roussillon.
March 10-15, 2018 out of Fort Lauderdale
Ship: Royal Caribbean Independence of the Seas
Itinerary: Fort Lauderdale - Costa Maya - Cozumel, Mexico - Fort Lauderdale
Price: $899
Once football season is over in Wisconsin, it's just a long, cold, Packers-less winter to look forward to. Unless, of course, you jump on board with Packers legends like James Lofton, Dorsey Levens, Ryan Longwell, and Najeh "Dumptruck" Davenport. They'll be on hand for meet-and-greets, inspirational panels, inside looks at Super Bowl XXXI with some of the guys who lived it, and a Green Bay talent show. Not sure what that'll entail, exactly, but practice your Lambeau Leap just in case.
May 6, 2018 out of Vancouver; July 7, 2018 out of Copenhagen; September 22, 2018 out of Montreal
Ships: Holland America Westerdam, Zuiderdam, and Veendam
Itineraries: Alaska, Northern Isles, Northeast Canada
Price: Vancouver $699; Copenhagen $2,899; Montreal $1,299
Food show fans, rejoice! You can spend up to two weeks learning the secrets of better cooking from the stars of America's Test Kitchen on cruises through North America and Europe. You'll not only get to meet your favorite cast members, but also learn during cooking demos and hands-on demonstrations, as well as play ATK trivia and attend presentations on developing your own recipes.
December 7-15 out of New York
Ship:Cunard Queen Mary 2
Itinerary: New York to Southampton, UK
Price: $649
In perhaps the punniest cruise title in history, the venerable NYT celebrates the 75th anniversary of its famous crossword puzzle with a transatlantic... CROSSING! Each day you'll get a new crossword to complete slipped under your door, then a chance to go over it with a New York Times crossword editor to see how you might get better. You'll also learn how to create your own puzzles, submit a group puzzle that might find its way into the Gray Lady, and participate in crossword puzzle tournaments.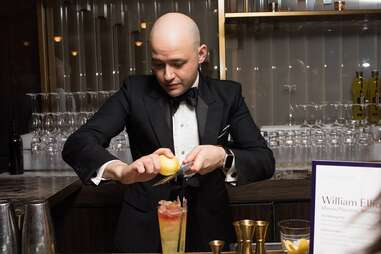 James Beard Culinary Cruises
December 9-16 out of San Juan, Puerto Rico; January 20-February 3, 2018 out of Hong Kong
Ship:Windstar Star Pride, Star Legend
Itinerary: December 9: Culebra, Puerto Rico - St. Barth - Montserrat - Guadeloupe - Martinique - St. Lucia
January 20, 2018: Hong Kong - Halong Bay, Vietnam - Da Nang, Vietnam - Nha Trang, Vietnam - Ho Chi Minh City - Ko Kut, Thailand - Bangkok
Prices: Puerto Rico $999, Hong Kong $3,399
Acquaint yourself with the onboard gym before setting foot on one of this small-ship cruise line's voyages boasting food from James Beard Award-winning chefs. The Puerto Rico itinerary will include food from Mario Pagan, plus a visit to the Bacardi distillery and stops in some of the Caribbean's best islands. The Icons of Southeast Asia sailing from Hong Kong to Bangkok is an indulgent trip through the cuisines of Southeast Asia with Pok Pok's Andy Ricker. The two-week trip goes through Vietnam and Thailand, where Ricker will offer up his insights -- and creations -- gained from living in both countries.
May 1-12, 2018 out of Vienna, Austria
Ship: Crystal Mahler
Itinerary: Vienna - Krems Austria - Melk, Austria - Passau, Germany - Linz, Austria - Bratislava, Slovakia - Esztergom, Hungary - Budapest, Hungary
Price: TBD
This cruise along the Danube examines some of Europe's most important sites for Jewish history. Tours of the cities will highlight important sites like synagogues and schools, as well as visit Oskar Schindler's house and the Chatam Sofer memorial in Bratislava. The 11-day voyage is a scenic float along the Danube, in some of the region's most beautiful cities. And a fascinating look at a culture that almost vanished.
October 27-31, Y2Jericho (2018) out of Miami
Ship: Norwegian Jade
Itinerary: Miami - Nassau - Miami
Price: $749
It'll be like four days Monday Night Raw when Jim Ross and Jerry "The King" Lawler run the show for Chris Jericho's inaugural cruise. Much like pro wrestling itself, the cruise will combine music, comedy, and physical mayhem, complete with a ring right on the pool deck with matches put on by Ring of Honor. Though not competing, you'll still have a chance to socialize with guys like Mick Foley, Diamond Dallas Page, and Ricky "The Dragon" Steamboat. It'll also have live band performances, and live podcasting from some of the top podcasts in wrestling.
Sign up here for our daily Thrillist email and subscribe here for our YouTube channel to get your fix of the best in food/drink/fun.
Matt Meltzer is a contributing writer with Thrillist who hopes Tone Loc brings Alex from Stroh's onboard. Follow him on Instagram @meltrez1.