20 Reasons to Go to the Caribbean, Besides Just Sitting on the Beach
We all have a very specific visual that flashes in our heads when we hear the word "Caribbean." Johnny Depp in a puffy shirt. Turquoise waters. White sandy beaches. Resorts where everyone calls you "Mister" and asks if you'd like another piña colada. Why thank you, don't mind if I do.
But beyond the pristine beaches and luxe resorts, the Caribbean is a culturally rich, fascinating little corner of our hemisphere where every island has something surprising to offer. Sure, posting up on the beach and never leaving sounds like paradise, but isn't that what Florida's for? Take advantage of all this dynamic region has going for it: Here are 20 things to do in the Caribbean that have nothing (or almost nothing) to do with a beach.
Swim with stingrays
Cayman Islands
Typically, guides at your local aquarium warn you about the dangers of stingrays, and you're forced to view them through half a mile of safety glass. Not in Stingray City, a shallow sandbar just off the coast of Grand Cayman that's home to dozens of stingrays you can splash around with, pet, and feed. They kinda feel like touching slimy sandpaper, but are totally harmless nonetheless.

Hike through tropical forest wilderness
Puerto Rico
The El Yunque National Forest is the only tropical rainforest in the US National Park System. The ideal way to see it, should you be up for a challenge, is hiking to the top of El Toro peak, the highest point in the rainforest at 3,533ft above sea level. About four miles round-trip, the trail is much less developed -- and less crowded with tourists -- compared to other trails in the park. The stunning views at the top are well worth what can be a difficult, muddy trek.
Go night diving under a full moon
Curaçao
Night diving is one of the biggest tourist attractions in the ABC islands (that's Aruba, Bonaire, and Curaçao). But if you're looking for something to really write home about, check this out: In late September/early October, the marine life around Curaçao's coral reef unleash millions of spawned eggs that attract nearly every species of tropical fish in the Western Hemisphere. That time of year, the event coincides with the full moon, making this one of the richest night dives in the world.

Walk the oldest city in the Americas
Dominican Republic
The DR has become a serious tourism hub, owing to its gorgeous beaches in Punta Cana and Puerto Plata. But the real cultural experiences are to be had in Santo Domingo, the oldest colonial settlement in the Western Hemisphere, dating all the way back to Columbus. A tour through the Zona Colonial will take you past the oldest cathedral and university in the Americas, and is a fascinating look at how Santo Domingo was effectively the gateway to European settlement of the New World.

Land on the world's most terrifying airplane runway
Saba
Finding a place to land a plane on an island that's basically just one giant boulder is pretty challenging, so seeing the feats of engineering it took to even create this runway is worth the trip alone. But the excitement of sitting in a tiny plane as it lands on the shortest commercial runway in the world (just 400 meters) at Juancho E. Yrausquin is equal parts thrill-ride and scenic tour. A part of you wants to enjoy the view, the other part is terrified you might slip straight off the other side into the sea.

Hear authentic roots reggae in Kingston
Jamaica
While reggae music took a decidedly pop-ish turn in the 2000s, the roots reggae movement going on in Kingston right now has stripped it back down to basics. "Dub," a rhythm-and-bass-focused style of reggae, is coming on strong in clubs throughout Jamaica's capital city. The best of the genre can be found at the annual Kingston on the Edge festival held in June, but all-year clubs like the Dub Club and Jamnesia see people opening their homes and turning them into all-night live music venues.
Swim with adorable wild pigs
Bahamas
The pink sand in Exuma is only the second-coolest pink attraction there. The beaches of Big Major Cay are home to a family of ridiculously cute wild pigs who enjoy a dip in the crystal-clear waters just as much as the visitors they frolic with daily. Can't get enough pigs? Head to the Domino Club in the hills of St. Croix where you can imbibe with the owner's infamous beer-drinking pet pigs out back.

Light up in a bioluminescent bay
Puerto Rico
The otherworldly paradise that is Vieques makes it tempting to plop yourself on the beach and never leave. But that would mean missing out on Mosquito Bay, the brightest bioluminescent bay in the world located on the southern coast of the island. Tiny dinoflagellates populate the water here, and especially around the time of a new moon when the sky is darkest, they light up like dragonflies when they come into contact with another organism and leave brilliant trails of neon blue. A nighttime swim here will literally leave you glowing.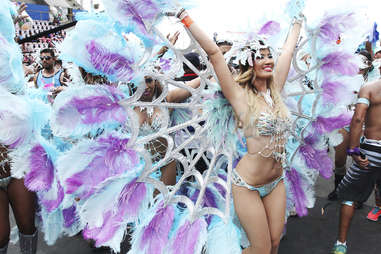 Jump in a Carnival parade
Various islands
Rio de Janeiro and New Orleans don't have the monopoly on uninhibited, steamy, sexy street parades. Nearly every island in the Caribbean has its own version of Carnival, where typically- eserved locals let loose in a fury of feathers, rum, and skimpy outfits. Trinidad hosts the largest festival, but Crop Over in Barbados has become another worldwide Carnival destination. Batabano, a weekend-long celebration in the Cayman Islands, is possibly the most authentic way to experience the culture of the islands.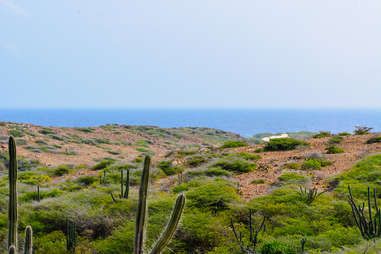 Hike through a seaside desert
Aruba
The Caribbean isn't typically known for its sweeping desertscapes, but a trip to the windblown isle of Aruba presents one of the most striking juxtapositions of scenery in the world. An afternoon hike through Arikok National Park takes you to rocky desert hilltops, where cacti and sand give way to the turquoise waters of the Caribbean at the shoreline. Or ride a horse through the desert only to arrive at a hidden swimming hole, splashing between the rocks on the coastline.

Experience Cuban nightlife as it was in the 1950s
Cuba
All of Habana Vieja is like a trip back to the 1950s, but nowhere do you feel more of a time warp than at an old-style nightclub show in the Cuban capital. Women in giant fruit hats and feather dresses dance on stage as real-life Ricky Ricardos and brass bands play Cuban jams that harken back to the '50s. It's not kitsch, it's just that nightlife there hasn't evolved much more than the 1950s Chevys on the street. Hit the Cabaret Tropicana for the full experience.

Catch some winter-league béisbol
Dominican Republic
You'd be hard-pressed to find a major-league roster without at least one player from the Dominican Republic, and winter-league games here often feature future or current major-leaguers getting some ABs in the off-season. Dominicans are passionate about baseball like the rest of Latin America is about soccer, and a game in Santo Domingo or San Pedro de Macoris isn't just a way to see MLB talent on the cheap; it's a way to experience this country's own special take on something quintessentially American.

Surf the most underrated spot in the hemisphere
Haiti
Put everything you thought you knew about Haiti aside for a second. It is, by most accounts, the best surfing country in the Caribbean. In the south, hit the Bay of Jacmel and Pistons Beach for the best-known breaks in the country. If a cold front is coming through, head up north to La Pointe, Ginsu, and Caracol.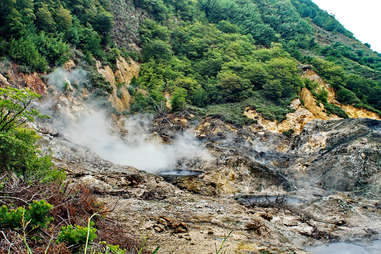 Drive through a volcano
St. Lucia
It might not be exactly what you're picturing, but the Sulphur Springs Park is a volcanic crater filled with bubbling water and steam rising from the earth. It's not due to erupt anytime soon, and cars can drive right through this eerie tropical moonscape. It's also home to a hot springs and mud bath, popular with daytime visitors.
Snorkel through Champagne
Dominica
At the famous Champagne reef in Dominica, bubbles forced up through the reef by a nearby volcano make you feel like you're snorkeling through a glass of Champagne. As you float atop one of the hundreds of springs on the reef, tiny bubbles tickle your skin as colorful marine life swims by.

Have a drink at a famous roadhouse bar
British Virgin Islands
A remote island of just over 300 people is the last place you'd expect to find a Key West-style roadhouse that hosts one of the biggest New Year's Eve parties on the planet. But on tiny Jost Van Dyke, Foxy's is a landmark bar that draws crowds of college kids and yachtsmen alike. The ceiling is draped in American college paraphernalia; leaving a banner or T-shirt is a rite of passage for visiting collegians. If the scene here gets old, it's a short ride to the White Bay, where you can bar-hop along the beach and make your own Painkiller cocktail at the drink's birthplace, the Soggy Dollar Bar.
Meet real, live, legit pirates. Of the Caribbean.
Petite Martinique
You have to really want to get here -- start in Grenada, hire a boat, steel your nerves -- but you can absolutely visit an island where the chief industry is gray-to-black-market transport and storage of ... goods. In Petite Martinique there's no customs office, no immigration authority, and the one time Grenada sent six officials to try to establish such bureaucratic trappings, locals met them in the streets carrying six coffins. So it remains a little slice of the Wild West set in an idyllic bathwater sea.
Bathe in asphalt
Trinidad
Trinidad has its own version of LA's famous La Brea Tar Pits. In a small town that shares the name of La Brea you'll find Pitch Lake, the world's largest natural deposit of asphalt. The 100-acre lake is an epic expanse of tar; the surface is solid enough that you can walk on it, but some areas allow shallow swimming. Asphalt is taken from here to pave roads and racetracks throughout the hemisphere, but this lake is your only chance to bathe in it.

Watch a game of cricket
Barbados
Chances are you tried to watch a cricket match on that weird international sports channel somewhere in the 260s, couldn't figure out what an "over" was, and gave up. But going to a match in the West Indies can be even more lively than a lot of US baseball stadiums, plus the stands are full of people who are happy to explain the game. Kensington Oval is like the Caribbean's Yankee Stadium and a match here will leave you talking about great batsmen like Darren Bravo as if you knew who they were all along.

Hold on for dear life at Princess Juliana International Airport
St. Martin
Visiting this island is like a trip through Europe; you can travel from the Dutch side to the French in a matter of minutes. But the coolest thing to do here is at Maho Beach, which sits right across a fence from the runway at Princess Juliana International Airport. As a jumbo jet gets ready for takeoff, grab ahold of the fence and see how long you can hold on against the backblast. Ear plugs are highly recommended.
Sign up here for our daily Thrillist email, and get your fix of the best in food/drink/fun.