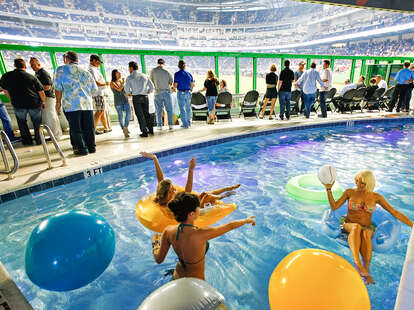 Clevlander pool at Marlins Park

| Mike Ehrmann /Getty Images Sport
Clevlander pool at Marlins Park

| Mike Ehrmann /Getty Images Sport
14 Things to Do in Miami Besides Party
If you're even thinking of being in Miami, check out the rest of our DestiNATION: Miami guide. It's stacked with expert advice from locals on what to eat, where to drink, and what to do.
When people come to Miami, they think of two things: the beach and LIV. Or really, waking up on the beach after a night at LIV. Either way, as much as us locals like that tourists stay to those areas (and out of our way), it pains us to know that they've barely scratched the surface of Miami.
Truth be told, our dear Magic City has matured from being a nonstop party scene to a nonstop party scene with actual cultural flair. These days you'll find artsy hangouts, cabaret, drag racing, disco bowling, mansion hunting -- and, of course, jai alai. Miami doesn't do things like anywhere else, so make sure you do all the things that you can only get here and here alone.
Visit the Pérez Art Museum Miami
Downtown Miami
One of America's newest (relocated in 2013) and sleekest contemporary art museums sits right on Biscayne Bay, looks out on to Miami Beach, and has a killer restaurant, Verde. Any given week you visit you will find events here, but keep your eyes peeled for "Third Thursdays," in which every third Thursday of the month, the museum stays open late, is free to enter, and hosts a special happy hour with art-making, tipsy scavenger hunts, and DJs. Plus, like all cool places, it has a nickname ("the PAMM"), which is the only thing you should ever call it around locals.
Escape to nature at Oleta River State Park
North Beach
Surprising to many, Miami does have some natural areas that are 1) not a beach and 2) used for things other than flexing your CrossFit muscles and taking selfies that we will later see on Tinder. At the north tip of Miami Beach you'll find Oleta River State Park: rugged, covered in mangroves, filled with mountain-biking trails, and home to a 1,200ft mini-beach that is NOT covered in beer bottles and spring breakers. Stretching for 1,000 acres, it's the largest urban park in Florida, and since a river winds right through it, it's a popular spot for kayaking or canoeing.
Do stand-up paddleboard yoga at the Standard
Miami Beach
Yes, blah blah it's cliché blah blah, but also, so what? Are you going to try this shit in Orlando? No, you go to a tiny barrier island in the calm salt water just west of Miami Beach, you get yourself on a paddleboard, and you yoga the hell out of it. Also, a visit to the plush, posh Standard is its own reward.
Go racing at "Fast Lane Fridays" at Homestead-Miami Speedway
Homestead
Forty miles south of Downtown Miami, Homestead-Miami Speedway is mainly only used for NASCAR races, like the Camping World Truck Series championship, and is usually only visited by Homestead locals or your farmer-tanned relatives from Daytona Beach. However, on certain Fridays, drag racers can get on the tracks, slam on the gas pedal, and, unlike their high school days, not get arrested this time. It's legal here. Come to spectate, or -- what the hell? -- enter your own ride. You can run as many times as you like so long as you're at least 18, have a driver's license, and can prove insurance and registration.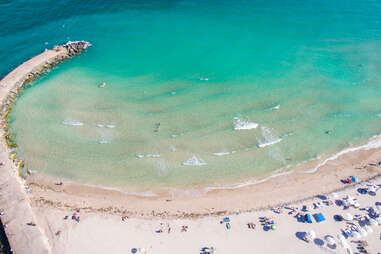 Hang out at Miami's only nude beach
Miami Beach
Haulover Park, home to Miami's only nude beach, is exactly that: a place where people (mostly dudes) strip to the buck and work off their tan lines. Baywatch it ain't -- everyone (big, small, really old, just old enough for you to stare at them and not get arrested, etc.) goes there, and for better or for worse… they have zero shame. Within a few minutes you'll forget you don't have clothes on, and after an hour (with good sunscreen on) the whole thing will almost seem normal. Almost.
Go disco bowling or ice skating in a Miami Beach hotel
Miami Beach
Miamians like to show off, so they do weird, but cool things like put an ice-skating rink and bowling alley in a flashy hotel bar, and then make guests pay tons of money to get in, so the scene at Miami Beach EDITION is simply cranking Miami up even further. Its club, Basement Miami, was designed to the tune of Studio 54 -- neon lights, hot DJs, $15 vodka sodas. But unlike most nightclubs, you can find scantily clad women doing their best Michelle Kwan on a legit ice rink.
See the million-dollar celebrity mansions on Biscayne Bay
Miami Beach
You might know Biscayne Bay from that time DJ Khaled got lost on a Jet Ski trying to visit Rick Ross and Snapchatted the ordeal, but we know it as our own backyard… one with gigantic mansions worthy of Rick Ross' presence. You can hop on one of the yacht tours around Fisher and Star Islands from Biscayne Bay, or if you feel like taking your car (and not paying for things), you can drive around Star Island yourself. The latter option means you can't take yacht selfies, but on the other hand, it's free.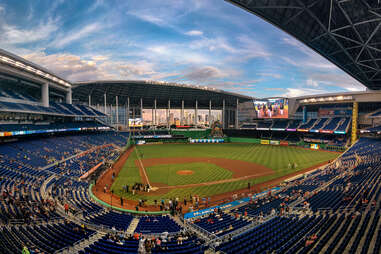 Go to a Miami Marlins Game
Little Havana
Save your well-founded reservations about the Marlins and go to a game at Marlins Park, aka the state-of-the-art baseball park the people of Miami paid $500 million for but never go to. Built in 2012, the dome stadium has a retractable roof, a dedicated "Taste of Miami" section, all of this good food, and if you go near right field, an outpost of the Clevelander. It might not have Ocean Drive or the hotel, but it does have a questionable pool, stadium seats to watch the game, and dancers wearing only body paint above the waist.
People-watch at the Hard Rock
Hollywood
The Seminole Hard Rock Hotel & Casino is a weird world where you can destroy your liver alongside an escort from Prague, but also bring mom and dad to a nice dinner and a show. From a people-watching perspective, you'll find every type of human, from poorly dressed grandpas and "cool moms" to bachelorette parties in 6in stilettos. Start the night at Murphy's Law (an Irish bar with a good cover band), head to the blackjack tables, dance salsa at Bongos, and when you get even more liquid confidence, hit the casino again with drinks from Center Bar. Wherever the night takes you… just go with it. A good story is pretty much guaranteed.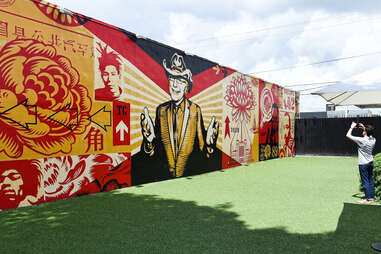 Tour Wynwood Walls
Wynwood
These six once-neglected buildings have since become a canvas for some of the world's coolest graffiti art, nudging the now-budding Wynwood neighborhood to basically form around them. Local artists lead tours of the walls at 2pm daily, so walk around, grab food at the nearby Wynwood Kitchen & Bar, and then start bar-hopping down 2nd Ave. Once you wind down, head to El Patio and camp. Its $4 wells during happy hour are a civic treasure.
Discover Miami at HistoryMiami
Downtown Miami
No big city in America has a shorter attention span than Miami. Spend an afternoon wandering through HistoryMiami, the only museum dedicated to preserving Magic City history, and you'll probably have a better sense of the city's history than the majority of its residents. Among the collections: 37,000+ tools, furniture, boats, aviation materials, clothing, musical instruments, religious objects, and more. It's a Smithsonian Affiliate, so you know it's legit.
See C'est Rouge! at Faena Miami Beach
Miami Beach
The Faena Miami Beach could win the title as Miami's fanciest, most over-the-top hotel based solely on the strength of its four-block art complex and multimillion-dollar gold woolly mammoth statue. It also has a velvet, 150-seat theater with glimmering chandeliers, and on the weekends you can go there to see a sexy-ass cabaret show that jams together Latin, jazz, and R&B influences. Tickets are $45 each, but you're getting a show choreographed by a dancer who got gold medals from the king of Spain, with dancers wearing Louboutins. Worth it.
Find out what jai alai is all about
Hialeah
Jai alai is like racquetball on crack, so naturally, we have it here in Miami. The Miami Jai-Alai fronton (read as: court) is actually America's most famous spot to watch and bet on this ancient Basque sport, but if you want to get out of the city, you can also watch it at the new Casino at Dania Beach. After a $60 million makeover, it's opening with 880 slot machines, a 21-table poker room, a simulcast area, electronic craps, blackjack and roulette, sports bars and restaurants, and a 500-seat jai alai court that streams live to the casino floor. Because if you're already at a casino, clearly you need more things to bet on.
Walk around the Miami Marine Stadium
Virginia Key
This small grandstand on the side of the Rickenbacker Causeway is one of the coolest abandoned structures in America. What was once the stadium for boat races and concerts on the water hasn't seen a live event in over 20 years, and since then has become a canvas for all types of street art, murals, and parkour. Fundraising for renovations and restorations has been underway for years, and locals hope it will be open for business again soon. But for now, it's an eerie, artsy stadium that's absolutely worth a visit.
Sign up here for our daily Thrillist email, and get your fix of the best in food/drink/fun.
Jennifer Agress is a Miami-based food and travel writer who particularly loves people-watching at Miami Jai-Alai. Follow her on Instagram @JenniferAgress to watch her watch everyone else.