The Best Things to Do in New Orleans Besides Eating and Drinking
If you're even thinking of being in New Orleans, check out the rest of our DestiNATION: New Orleans guide. It's stacked with expert advice from locals on what to eat, where to drink, and what to do.
Ah, New Orleans: a city where people roll out of bed and immediately wonder, "Where should I eat today?" followed soon after by, "Where should I drink today?" And while you can (and must, really) ping-pong between an extraordinary assortment of dives, oyster bars, cocktail hotspots, and white-tablecloth eateries during your time in the Crescent City, it's only fair to take a break every once and a while… if only to give yourself time to plan the next meal.
In addition to Sunday second lines and Mardi Gras parades (which, obviously, are not-to-be-missed occasions), below are ways to soak up all the natural and cultural wonders of New Orleans between meals, from getting funky -- like, seriously funky -- on a Saturday night, to diving deep into the world of the weird at a museum like none you've ever seen. And never fear! If you ever want to bail on the "not drinking" part, a daiquiri in a go cup is (whew) only a few blocks away.
One Eyed Jacks
St. Roch
Even for those of us who have sweated at the hottest, most bumpin'-and-grindin' dance parties around, I'm here to tell you: DJ Soul Sister's monthly throwdown at One Eyed Jacks is badass beyond your wildest dreams. Soul Sister is the reigning New Orleans DJ queen of all things soul, R&B, and funk, spinning the kind of lost '70s and '80s recordings, B-sides, and single issues that will make you boogie until the wee hours of the morning. Plus, old reruns of The Electric Company or Soul Train are almost always playing on the televisions inside the bar, adding an extra dose of psychedelic pizzazz.
City Park
Out-of-towners often skip over Mid-City, a neighborhood made for canoeing down the bayou and riding bikes along the recently opened greenway. Don't overlook it! Even if you have only a morning, start with City Park as your home base and get to exploring. Take a stroll through the marble halls of the New Orleans Museum of Art, followed by a visit to the Singing Oak, which tinkles with chimes when the wind blows through its branches. Play putt-putt if you feel so inclined, and then refuel with beignets at Morning Call while watching a few swans float by. See, wasn't this the right choice?
Explore Vietnamese New Orleans
Village de L'Est
New Orleans is home to one of America's largest Vietnamese populations, the majority of whom reside in two communities. One is located on the West Bank; the other, larger one can be found in New Orleans East. A 20-minute drive from the French Quarter might seem like a far distance to go, but is worth every mile once you crack into the most glorious bánh mì imaginable at the legendary bakery Dong Phuong, or slurp some of the best pho you've ever had (check out Pho Bang, just steps away from Dong Phuong). If you want to see the Vietnamese farmers market at its zenith, you gotta arrive Saturday morning painfully early -- or maybe the 6am start fits with your Friday night that's still going. It'll be picked over by 8 or 9am, but during that glorious window it's definitely a sight to behold, and the perfect place to get fresh satsumas and shrimp.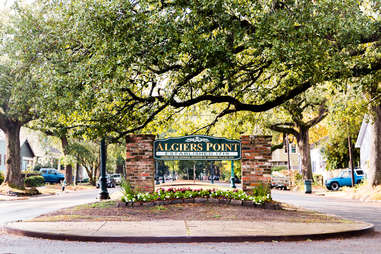 French Quarter
Quickie geography lesson. Orleans Parish spans both sides of the Mississippi River -- known as the East Bank (where most of the action takes place) and the West Bank -- with a whole charming-as-hell neighborhood known as Algiers Point anchoring the riverside just across from the French Quarter. Candy-colored houses and a village-like atmosphere make it perfect for an afternoon stroll, while some of the city's best neighborhood bars like Crown & Anchor and Old Point ensure you'll never get thirsty. Take the ferry across for an added dose of charm, and pick up a "West Bank Is the Best Bank" T-shirt if the spirit moves you.
Bywater
For some people, it's almost impossible to escape the chorus from R.E.M.'s hit song clicking on in our heads when we heard the words "end of the world." (It's OK! I feel fine.) For others, thoughts turn to aliens, who knows. For New Orleanians, though, the End of the World is a makeshift park of sorts in the Ninth Ward where the levee meets the industrial canal. It's as no-frills as that provenance would suggest -- but also perfect for picnics, meditation, reading, and checking out fireworks on the Fourth of July. Find it and feel like the last (wo)man alive.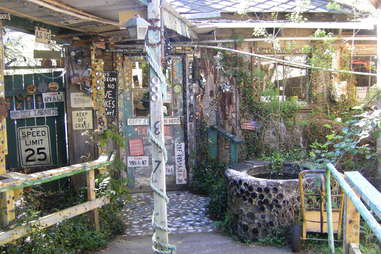 Abita Springs
As a kid were you obsessed with Ripley's Believe It or Not!? Do you love weird trinkets? Are you a sucker for wacky roadside stands? Well then, the Abita Mystery House (aka the UCM Museum) is the destination you didn't even know you needed in your life. With an unabashedly wacky folk-art aesthetic and thousands (really, thousands) of experimental taxidermy, found objects, quirky art pieces, and cobbled-together inventions, it amounts to a cathedral to kooky Americana. It may come off like a tourist trap, but more likely you'll be mingling with grinning locals. Bonus for the trip: You're only a five-minute drive from the Abita Brewing Company, with its tours and taproom.
Central City
Recently relocated and expanded into new digs along OC Haley Boulevard (a stretch of road that deserves an afternoon of exploring in and of itself), the Southern Food & Beverage Museum is a full-sensory (tasting events! Hands-on exhibits!) means of learning the ins and outs of Southern food history, from Kentucky bourbon to Louisiana boudin. The museum -- known as SoFAB because, you know, So Fab -- often hosts low-cost or free events, so check to see if there's a way to make your education even more edible. SoFAB does a remarkable job of placing the foods you're eating in New Orleans (and beyond) into a larger social and historical context, allowing visitors to leave as a fount of knowledge about everything from kitchen tools to Creole-Italian dishes. If you're looking to really geek out, there's a fascinating culinary library full of Southern cookbooks waiting to be explored.
Related side trip: A 25-minute drive away in St. Bernard Parish is the Old Arabi Sugar Museum (220 Hernandez Street, Arabi, Louisiana), which explores the centuries-long history of sugarcane in South Louisiana. Find it inside an old courthouse, near the Domino Sugar factory.
Bywater
The record store to end all record stores in New Orleans, Euclid is a Bywater gem beloved by legendary WWOZ radio hosts, jazz musicians, and everyone else with ears. Once you enter, be prepared to spend hours flipping through records and chatting with the supremely knowledgeable staff. Picking up something by a local musician is an easy way to support some of the most deserving artists in America, and a way to take a little piece of the city home with you when you're (sadly) far, far away.
Bywater
For some of the best riverfront views in New Orleans meander the recently opened Crescent Park: a 1.4-mile, 20-acre urban linear park that winds its way alongside the Mississippi. There's a unique balance of grit and green space that makes the park feel wholly unique, with a signature ambiance of metal-meets-florals.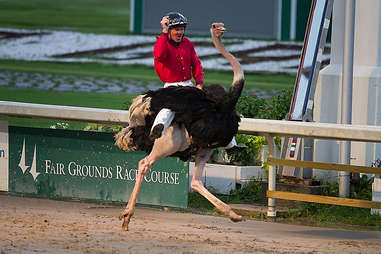 Fair Grounds
Nestled into its own neighborhood on the cusp of the Seventh Ward and Esplanade Ridge, the New Orleans Fair Grounds isn't just a place for betting on the ponies -- though you can certainly do that. The Fair Grounds offers up an almost demented variety of activities, from after-dark "starlight" racing events, to "exotic" animal racing, which swaps horses for the likes of ostriches. (Yes, really.) The best day to visit the track, weirdly enough, is Thanksgiving, when New Orleanians get dressed up to the nines and come out in droves to see and be seen. Don't even think of arriving without your sharpest look.
Marigny
You may assume voodoo lives only as kitsch, but in New Orleans it goes much deeper. Lucky for you, it's also available for you to explore at various establishments, like this self-described "magical pharmacie." Operated by the legendary Haitian vodou practitioner Sallie Ann Glassman, Island of Salvation Botanica is the place to go for spiritual guidance, medicinal herbs, tarot decks, or simply admiring Glassman's esoteric artwork. Looking to cleanse your house of bad energy or banish someone from your mind? This is your one-stop shop. Everything from healings, readings, and altars, to tinctures and custom-made gris-gris bags will ensure you have all the proper magik tools at your disposal to fix what ails you.
Central Business District
You think you've got problems, America? Take heart -- it's been worse, and this Smithsonian-affiliated museum will explain how your great-grands faced (and overcame) the greatest threats of the previous century. Since 2000, when it opened as the D-Day Museum, the institution has expanded into an exhaustive look at an array of American campaigns at home and abroad during the Second World War. You could spend multiple days here, but if you want the highlights, head to either the "Road to Berlin" or "Road to Tokyo" wings for an immersive, emotional account of European and Pacific theaters of battle. Both feature painstakingly detailed soundstages, audio and visual backdrops, and interactive areas, all of which put the enormity of the conflict into some semblance of perspective. After that, the US Freedom Pavilion displays a number of authentic land, sea, and air vehicles to ogle, perfect for the 5-year-old in all of us. Once you're properly wrung out, recuperate at the on-site restaurant and bar, the American Sector. Its sandwich-and-salad-heavy menu is not in German and its drinks are half-price from 4 to 7pm every day. Like MacArthur, you shall return. -- Andrew Paul
Cemetery tours
Yes, they seem touristy. And yes, they can get hot and crowded -- especially during peak seasons. But cemeteries are integral to the very fiber of New Orleans, and there are few better ways to commune with the city than by paying your respects. St. Louis Cemetery No. 1 might be the most popular (after all, a scene from Easy Rider was filmed there), but don't be shy about embarking on some lesser-known tours, like Lafayette Cemetery No. 1 and Odd Fellows Rest. Looking for expert advice? The local nonprofit Save Our Cemeteries is your best bet for recommendations and tours, and its preservation work is nothing shy of exceptional.
Sign up here for our daily New Orleans email and be the first to get all the food/drink/fun in the Big Easy.
Sarah Baird is a writer and editor based in New Orleans, currently on a reporting fellowship in Tokyo. Follow along @scbaird and be prepared for plenty of ramen lust.