Brooklyn Grange

| Courtesy of Robert Deitchler
Brooklyn Grange

| Courtesy of Robert Deitchler
The Coolest Things to Do in NYC That Aren't Overrun by Tourists
If you're even thinking of being in NYC, check out the rest of our DestiNATION: New York City guide. It's stacked with expert advice from locals on what to eat, where to drink, and what to do in the Greatest City on Earth.
New Yorkers get a bad rap when it comes to our relations with out-of-towners. True, we may come off as a little, er, impatient -- especially if you take too long asking for directions or slow us down on the sidewalk. But in a city this fast and frenetic, this magnificent and merciless, with infinite fun things to do and so much to miss out on, you'll excuse us for being a little rushed. As John Updike put it, "The true New Yorker secretly believes that people living anywhere else have to be, in some sense, kidding."
So while you're here, try to experience New York as New Yorkers do. By all means, see the tourist attractions listed in your guide book (here's how to know if they're actually worth it), but don't be afraid to strike out on your own. Where to begin? We polled our friends and Thrillist colleagues, NY-lifers and recent transplants alike, for their favorite things to do in the city and deep-cut recommendations. These are the places we go to kick off our most memorable New York days and nights. Start here, and let the city do the rest.
Experience some immersive theater you can't get at home
Chelsea
If you have the appetite for the weird, the best immersive show in the city for several years running is called Sleep No More, set across five floors of a hotel-like converted warehouse, the McKittrick Hotel. It'll have you feeling like you're starring in a fever dream of a 1930s-era pulp-detective Macbeth remake. Tickets sell out, so buy in advance, line up for your show early, carry as little as possible, wear shoes you can run stairs in, and brace for bare asses and fake blood. -- Sam E.
Seek out Manhattan's teeny-tiny bars and speakeasies
Around Manhattan
Dark and/or tiny bars are some of the best places to imbibe. First, the coolest bathroom I've ever been in is at Smith & Mills in Tribeca, a low-ceilinged joint (it was an old horse stable apparently) that feels elegant and old-timey. Beer-lovers should 100% seek out the underground Rabbit Club on Macdougal Street. There's barely enough room for the bar itself and it's nearly pitch black, so you have to read the massive beer list by candlelight, and they've usually got good tunes playing. In West Village, you'll spot Little Branch by its maroon door and the bouncer outside, and if it's a weekend with live jazz, the line for entry. Downstairs there's a dark bar, stand-up piano, and some very lethal Dark & Stormys. -- Keller P.
Sing karaoke at Montero's
Brooklyn Heights, Brooklyn
Montero's is an old-school, honest-to-goodness longshoreman bar tucked down on Atlantic Ave near the BQE that's been operating in its current location since 1939. It's the kind of dive newer bars dream of emulating, with walls covered in nautical decor, saucy bartenders, a strict cash-only policy, and coolers jammed with Bud Light. But it's the karaoke nights (Thursday, Friday, and Saturday at 10pm) that make this survivor bar such a beloved gem of the city's past and present. The neighborhood may have changed, but the fact that a joint like this could continue to exist is a testament to the city itself. -- Zach M.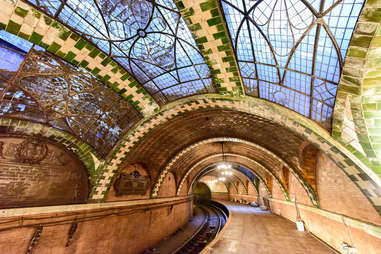 See one of NYC's abandoned subway stations
6 Train, Lower Manhattan
The beautiful Old City Hall train station is a relic from the very first NYC subway system in 1904, with fancy tiled ceilings, brass fixtures, and skylights. It's been abandoned since 1945 but you can catch a glimpse -- you just have to be a little sneaky about it. Take the 6 train heading downtown to its final stop, Brooklyn Bridge/City Hall, but be discreet and don't exit. As it U-turns back uptown, the train will loop through the old station. -- Dan R.
Go to Gospel Sunday brunch at Sylvia's
Harlem
Start your Sunday in Harlem for Gospel brunch at Sylvia's Queen of Soul Food restaurant. From 11 to 2 you can eat the best fried chicken and waffles you'll ever have and clap along to some soul-soothing live entertainment. -- Dan R.
Party at the Gay Beach at Riis Beach
Queens
The loudest, liveliest party in New York happens every weekend all summer long at the far east end of Riis Beach, and everyone is generously welcomed. Expect few clothes (like, really few) and good vibes as gay, lesbian, and trans New Yorkers of all stripes live their very best lives. From the Riis Beach parking lot or shuttle drop-off, walk to the left side of the beach as you look out at the water and then, well, you'll know when you get there. -- Bison M.
Get lost in Central Park
Uptown
Central Park is no tourist trap. In reality, it may be the most New Yorkian spot on this whole damn list. It's an 843-acre marvel of pastoral escapism inside the most prime real estate in the entire world. Most tourist rubes wait in the standby line for Shakespeare in the Park (you aren't getting in!), take a horse-carriage ride (cruel!), or stumble around the underwhelming Strawberry Fields (Lennon would have hated it!). Instead, do what every real New Yorkian does in the park: Get lost. Follow random trails in the Ramble, or inspect gazebos tucked inside the branches that line and wind around the Lake. Look for the hidden waterfall in the Upper West side quadrant (hint: It's by the public pool). Climb the rock formations that form against most bodies of water for photo-ops the guidebooks don't tell you about. Or, embrace your inner Kevin McCallister, and befriend every pigeon-feeding derelict you can find under the park's many gorgeous bridges. Then, and only then, you can head out to midtown to eat a plain cheese pizza all by yourself. -- Wil F.
Spend the day eating in Coney Island
Coney Island
It's certainly not tourist-free, but New Yorkers appreciate a day in Coney Island as much as anybody. Ride the Cyclone first, to get it out of the way -- it just turned 90 years old -- then eat tacos and tostadas at Doña Zita's, pizza from Totonno's, and gelato from Coney's Cones (they brought a gelato maker over from Venezia, Italy to run the place, so you know it's legit). Grab a drink at the Coney Island Brewing Company's tasting room, and hope that they're doing trivia/yoga/showing a movie, which they do often. Then ride the Wonder Wheel, because you gotta. -- Maggie R.
Catch the Rocky Horror Picture Show
Chelsea
Come do the Time Warp every Friday & Saturday at midnight at the Rocky Horror Picture Show at Cinépolis Chelsea Cinemas. A long-standing New York tradition, volunteer actors dress up and play out scenes in front of the screen -- it's a double feature, in a manner of speaking! So damn it, Janet, go see it. -- Matt C.
People-watch at a quintessential New York Italian restaurant
Little Italy
A few blocks outside of Little Italy, on a part of Baxter Street you'd probably never find yourself on unless you were in need of a bail bond, is a red neon sign that reads "Forlini's" in script. The place has been around since the '40s, and seems perpetually frozen in that era, with red leather booths, white tablecloths, gold-framed oil paintings, and semi-gruff Italian-accented waiters who have probably been there from day one. You'll enjoy your massive chicken Parm encased in a thick layer of cheese just fine, but the crowd is the true selling point. Thanks to its proximity to the courthouse, on any given night you'll find judges, policemen, lawyers from opposing sides of cases, and probably a couple old mob guys, all happily occupying the same space, chatting with the staff, and shouting over carafes of red wine. -- Lucy M.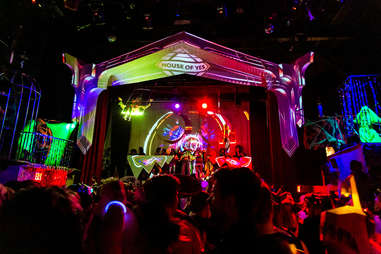 Dance and get weird at the House of Yes
Bushwick, Brooklyn
The House of Yes is a hedonistic dance party that's essentially a scene from a Baz Luhrmann movie. The theme varies, but you can count on elaborately dressed staffers, cage dancing, and trapeze performers. The performance is the experience is the performance: A woman walks up to you wearing a trench coat. She opens said coat to reveal a corseted corpus and a series of neon drinks contained within test tubes that you may purchase. Fire jugglers, barkers, laughers, screamers. By the time you figure out that you're part of the show, and contemplate the fact that you just paid to well, see yourself, it'll be too late and your young funk head will explode into 1,000 pieces. -- Matt C.

Browse books at the Strand
East Village
Home to over 100 miles of books (vertically, not lengthwise -- this isn't a major workout), The Strand bookstore has three stories of ceiling-high shelves packed with bestsellers, obscure imprints, foreign titles, and even first-edition treasures to admire behind locked glass cases. Tables of books curated by famous faces may help you pick what to read. Want a discount? Sell the book you just finished at the back desk to earn store credit, redeemable for whatever you purchase. -- Melissa K.
Check out a Lower East Side skater bar
Lower East Side
Max Fish has somehow survived the arrival of the button-down business bros and economic transformation of the neighborhood. It's changed locations -- albeit just by a block -- but the vibe hasn't changed since its heydey. Think blaring hip-hop and psychedelic fixtures hanging from the ceiling while you sip on gloriously cheap cans of beer. Hanging there will help you feel like less of a tourist. -- Sam B.
Explore the waterfront neighborhood of Red Hook
Red Hook, Brooklyn
It feels like an isolated fishing village; people are friendly, businesses are local, and you'll quickly forget you're in New York. You should duck into shops along Van Brunt Street and hope to catch some live tunes in the back room at Sunny's, a venerable dive that's been around since 1890. From Manhattan, take the IKEA water taxi from Wall Street's Pier 11 (free on weekends, just five bucks on weekdays). -- Keller P.
Also in Red Hook, the shack-tastic Brooklyn Crab is busy as hell on humid summer days, but for good reason. Eat a bucket of crab legs, play some lawn games, down pitchers of beer, and you'll be surprised after 12 hours have passed in a blip. -- Sam B.
Watch a live Japanese-style game show
East Village
Batsu in Astor Place is a Japanese game show parody where improv theater-trained performers compete in various challenges to avoid all manner of bizarre and painful punishments. If you are brave enough to be a contestant, be prepared for some weird tasks like drinking soy sauce out of a hairy man's belly button. It will keep you both entertained and a little uncomfortable, and really it's just a good excuse to drink a ton of sake. -- Alexandra S.
Order a chopped cheese at Hajji's
East Harlem
New York offers so much when it comes to music, theater, fashion, and art, it can be easy to forget that one of the greatest original contributions of the past few decades comes in the form of a $3.50 sandwich from a corner bodega. In every way, the chopped cheese is the city's side-eyed-grin gift to the world: ground beef chopped up with a spatula on a grill, topped with melted American cheese, and dressed in a hero with lettuce, tomato, hot sauce, and mayo. No, it's not a Philly Cheesesteak, and yes, the name above the door says Blue Line Deli, even though everyone calls it Hajji's. Ask any true New Yorker and they'll tell you how proud it makes them that one of the best meals you can get in town comes wrapped in tin foil and served with a bottle of Poland Spring. -- Zach M.
Try your hand at old-school shuffleboard
Gowanus, Brooklyn
The Royal Palms Shuffleboard Club in Gowanus is outfitted with legit cruise-style shuffleboard lanes and other amusements like giant Jenga and Connect Four. Try your hand or just watch the fun from a cabana with a tropical umbrella-adorned cocktail. Then head next door to Ample Hills (open late) and eat the best dang ice cream this side of the Gowanus on a plant-lined rooftop. -- Eliza D.
Wander around Green-Wood Cemetery
Greenwood, Brooklyn
Bill the Butcher is buried there and it's just a really beautiful area. Then hit up the massive beer garden Greenwood Park for a drink and bocce ball, or try Korzo, home of literally the best burger I've ever had. -- Maggie R.
Upper East Side
Go early for a seat and scribble down your song request on a cocktail napkin for the gamely, legitimately talented performer behind the piano, then throw your head back and sing along with the crowd. There's a two-drink minimum so it gets fun fast. It's an intimate space that's divey bordering on dirty and feels like a part of New York that doesn't exist anymore. The staff is a little grizzled in the best way, and your waitress will happily take a break from serving you mediocre negronis with crushed ice to belt out a bangin' Broadway number. -- Carrie D.
Brooklyn Navy Yard
You certainly don't come to New York City for its farm culture, but that doesn't make this fully functional 2.5-acre urban farm on the roof of the Brooklyn Navy Yard any less incredible. From May-October, you can buy $10 tickets for a tour (either at the Brooklyn location -- which happens to be the world's largest rooftop farm -- or the original in Long Island City, Queens), take in the skyline views, and pick up some fresh produce while you're there. -- Lucy M.
Drink on a boat in Greenpoint
Greenpoint, Brooklyn
A good summer-sun activity is to stake out a seat at the Brooklyn Barge bar, right on the East River next to Transmitter Park, with primetime skyline views and good tunes. Get some tacos and stick around for sunset. If the rockin' barge gets you seasick, there are picnic tables and cornhole to be played on land. Then go for the best damn wood-fired pizza in Brooklyn at Paulie Gee's (wait times are no joke, so kill time around the corner on Broken Land's back patio). And say hi to Paulie, he's usually wandering around. -- Keller P.
Check out the Queens Museum
Queens
It's worth taking the trip to Flushing Meadows for the Queens Museum to check out the giant panorama model of NYC from the 1964 World's Fair (among other cool artifacts from that time). Also, go in the summer to check out the Unisphere while the fountain's on. -- Gianni J.
Take a ferry to Governors Island
New York harbor
The ferry won't be more than 2 bucks round trip. There's mini-golf, a zip-line, a rock-climbing wall, a hammock grove, and a hiking hill that takes you up to views of the Statue of Liberty and Manhattan. You can also explore the abandoned military base, have lunch at their food stands, and rent bikes to ride around the island. And there's a farm with goats! -- Cole S.
Hang out in one of Brooklyn's dog-friendly bars
Around Brooklyn
Grab your dog (or borrow someone else's) and head to either Pig Beach (Gowanus) for fantastic BBQ, or Lucky Dog (Williamsburg) for beer-and-shot combos. While you drink/eat, you can revel in the company of a crowd of pups, all of whom likely have better social skills than most New Yorkers. -- Eliza D.
Take cocktail and wine classes at Astor Center
NoHo
Astor Center has positioned itself as a low-key epicenter of beverage knowledge, providing a state-of-the-art education center for the city's thirsty masses. Looking to get more information on the wines of Burgundy? Need to brush up on your tiki cocktail game? Want to be able to taste the difference between Japanese and Irish whiskey? Astor hires top beverage professionals like Robin Robinson, Tess Rose Lampert, and Jenn Smith as instructors for their diverse course catalogue. It's as much of a draw for the city's top service industry professionals as it is for a solid date night. -- Zach M.
Sing your heart out in Koreatown
Midtown
In New York City, life-changing experiences are as common as dirty water hotdogs. But nothing -- let me just reiterate, NOTHING -- can or will ever be as fun as renting out a private room in one of the many Karaoke clubs (bars? venues?) in the neon light-soaked, Blade Runner-esque urban canyons of Koreatown. Unlike most karaoke experiences, the individual rooms guarantee you are only embarrassing yourself with people of your own choosing (because in true NYC fashion, fuck other people, right?). The songs are your choice, the B is BYOB, and you can jump on the tables and couches with the reckless abandon of an '04-era Tom Cruise. There are many of these upper-level, sometimes hidden, Karaoke joints to choose from, but choose Gagopa. The lights are trippy and the Tootsie Roll Pops at the front desk are complimentary. To quote my own personal favorite karaoke song: "At the love shack, we can get together." Gagopa is NYC's own personal love shack. -- Wil F.
Spend a sunny day on Rockaway Beach
Queens
It's not a true New York summer without a day at Rockaway. This laid-back beach community offers swells for year-round surfers and a unique food scene all its own. Start with a stroll along the boardwalk, where you'll find vendors serving everything from Venezuelan arepas to Peruvian-style burgers. Claim your piece of beach real estate before noon -- it gets crowded on weekends. Surf lessons, kayaking, and jet skiing are available, but most New Yorkers are content with a bluetooth speaker and a backpack of cold ones (open containers are technically illegal on the beach, so bring some cups and keep an eye out for the fuzz). If you stay until sunset, grab tacos at Rockaway Surf Club and then snag a frozen piña colada in a styrofoam cup to go from beloved dive bar, Connolly's. Rockaway Beach is accessible by subway (the A train), ferry, and party bus (you'll have to book that one in advance, and they give you a free beer to enjoy on the ride!). -- Melissa K.
Kill time at the best dive bar/bowling alley combo known to man
Williamsburg, Brooklyn
If you're stuck with a rainy day in Williamsburg, my advice is to work your way through pitchers of cheap beer at the diviest, dirtiest bowling alley and all-around stellar establishment, Gutter. Remember that ebola scare in NYC? Yeah, that was Gutter. -- Keller P.
Have a picnic in Prospect Park
Prospect Park, Brooklyn
Pick a good Celebrate Brooklyn concert in Prospect Park and bring a picnic to the 15th Street entrance, where you'll be able to hear the concert perfectly without buying tickets AND you can take advantage of the decriminalization of open containers (without paying for the $9 beers inside the actual venue). Prospect Park was designed by the same team that did Central Park and is just as beautiful. Another cool secluded semi-secret spot for a picnic is the Vale of Cashmere at the northeast end of the park. -- Eliza D. and Dan R.
Sign up here for our daily Thrillist email and subscribe here for our YouTube channel to get your fix of the best in food/drink/fun.