Turns Out Bigfoot's Hometown Is in Northern California
Sasquatch for mayor!
Find this evidence and more at Willow Creek's Bigfoot Museum

| Gary Crabbe/Enlightened Images/Alamy Stock Photo
Find this evidence and more at Willow Creek's Bigfoot Museum

| Gary Crabbe/Enlightened Images/Alamy Stock Photo
The tales are as tall as the trees in the tiny town of Willow Creek, California. Located about an hour southeast of Redwood National Park's ancient giants, the town sits surrounded by the dense forests and rugged mountains of Northern California, an outdoorsperson's haven to boot and a far cry from the usual Golden State weekend trips. This is not a place you "accidentally end up" or "go on a whim." More likely than not, if you're headed to Willow Creek, you know exactly what—and who—you're after: Sasquatch. This is, after all, the beating heart of Bigfoot Country.
Though rumors about unusual, giant, humanoid creatures in the area have circulated for centuries, it was the Patterson–Gimlin film—a 59 second, yet-disproven clip of a massive figure walking along the banks of nearby Bluff Creek—that put Willow Creek on the map and established its reputation as the Bigfoot Capital of the World. In the time since the tape was released, researchers, journalists, and serious believers alike (not to mention brave and curious tourists) have come here in hopes of coming face-to-face with Bigfoot. And though few have succeeded, those who have are forever changed.
Although you won't find the trappings of a traditional tourist destination here (just a handful of bars, restaurants, and shops lining the main strip), you'll find that what Willow Creek lacks in big-city amenities, it makes up for in big nature—not to mention big secrets. Here's what to do if you find yourself passing through Bigfoot's very own hometown.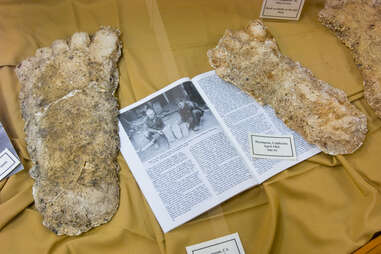 Get acquainted with Bigfoot Country
Much like Roswell embraced its reputation as a UFO capital after the famous 1947 incident, so did Willow Creek swell with Bigfoot pride after the release of the Patterson–Gimlin film and the dozens of other sightings that happened before and since. (Locals would argue, though, that while aliens probably never actually touched down in New Mexico, a small population of sasquatches does genuinely exist in the backcountry of Northern California.)
Scattered throughout the town, you'll find a score of local spots themed after Bigfoot: there's a museum, a steakhouse, a bookstore, a motel, and more. But the Bigfoot Museum, the town's biggest attraction, is the undoubtedly best place in town to learn about the more than 300 sasquatch sightings that've been recorded in the area. Inside, you'll find sections on Willow Creek's history, as well as a room full of artifacts and evidence of sasquatch's existence, including plaster casts of alleged Bigfoot tracks and a collection of stories about firsthand encounters. (There's also a stellar gift shop and, out front, a tktk-tall Bigfoot statue you can use to convince your friends you managed to have a sighting.)
The fun continues along the Bigfoot Scenic Byway, which stretches for 153 miles through Bigfoot Country beginning in Willow Creek and heading north to Yreka. You'll drive through the natural beauty of the Hoopa Valley Reservation (stop at Hoopa Tribal Museum for exhibits on the history and culture of the local Hupa, Yurok, and Karuk tribes); past Bluff Creek and Clear Creek (where, in the summer, you can take a dip in crystal-clear swimming holes); and up to the former boomtowns of Happy Camp and Yreka, the latter now home to historic buildings and museums, old-timey cafes, and craft breweries. Along the way, you'll find plenty of beautiful spots to camp out and bask in nature—as well as plenty of places to park it for the night in hopes of running into a certain cryptid.
You can also time your trip for the annual Bigfoot Daze Festival. Over Labor Day weekend each September, the town of Willow Creek comes together to celebrate all things sasquatch with logging competitions, food, vendors, live music, a parade, a horseshoe tournament, a Bigfoot Call contest (!!!), and more. After a two-year hiatus due to the pandemic, the party is back on for 2022; prepare to do your very best primal scream.
Take a day trip to Redwood National Park
Just over an hour north toward the Pacific Coast, go humble yourself amidst some of the tallest, oldest trees on the planet at Redwood National Park. Technically a combination of one national park and three state parks, this truly immense, deeply mossy old-growth forest is similar to the Grand Canyon in that it's difficult to comprehend the immensity of nature until you've actually witnessed it.
Within, you can hike paths like the Boy Scout Trail and Tall Trees Grove that'll take you winding through acre after acre of California redwoods, some of which reach heights of more than 370 feet (that's 65 feet taller than the Statue of Liberty!) and have existed for thousands of years. Once you're out of the woods, wander out onto the park's foggy beaches—far closer to the moody Pacific Northwestern coasts of Oregon than the cheery sand and surf of SoCal—to explore Endert's Beach or False Klamath Cove, where you'll find tide pools abundant with sea life like urchins, mussels, and slimy sea stars.
Back in Willow Creek, the nature appreciation continues: go on a scenic whitewater ride with Bigfoot Rafting or Six Rivers Rafting, or hike through nearby Six Rivers National Forest, where the Patterson–Gimlin film was shot at Bluff Creek.
Enjoy a healthy dose of wine and weed
If you really do have a Bigfoot sighting, chances are you're going to be pretty damn shaken up afterward and in the need of total relaxation. Luckily, outside of Willow Creek in greater Humboldt County, you'll find plenty of opportunities to chill out with a deep pour of wine or a full day with your head in the clouds.
Aside from its status as a Bigfoot destination, Humboldt County was once also a major hub for the Golden State's weed industry. From June through October, hit up Humboldt Cannabis Tours in Eureka to go on half- or full-day guided tours of outdoor farms, greenhouses, and/or dispensaries; you'll get a chance to learn all about California cannabis, from deep dives on history and culture to an in-depth look at the cultivation process. You can also check into Valkyrie Farm, an Airbnb located on a cannabis farm surrounded by redwoods, where you can enjoy a cozy studio, a wood-fired soaking tub fit for two, seasonal tours, and—most importantly—free samples with your stay.
As it goes in Northern California, you'll also find top-notch beer, wine, and cider all throughout Humboldt County. Beer aficionados should hit decades-old, award-winning Mad River, one of the first Native American-owned breweries in the country; Six Rivers, a self-proclaimed "Brew with a View" overlooking the Pacific and slinging cocktails, too; and Redwood Curtain on Arcata Bay, where Belgian-style brews get paired with tasty tacos. Meanwhile, winos (and cider-os?) can make a beeline for any number of vineyards in the area. Closer to Willow Creek, Miles Garrett—though not technically open to the public—offers a basic tasting and tours with advance notice, while Moonstone Crossing in Eureka and Wrangletown in Arcata are worth making an afternoon trip for.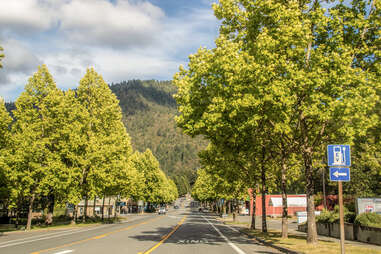 Where to eat and stay in Willow Creek
As previously mentioned, you're not going to find massive hotels or upscale bars—or anything remotely close—in Willow Creek itself. For the most part, you'll need to forgo the creature comforts in order to meet the creature; roughing it is a part of the experience. The area is replete with campsites including Camp Kimtu, Boise Creek Campground, and East Fork Campground, all surrounded by hushed, verdant woods. If you'd really rather hop into a cozy bed at the end of a long day, you can make it happen, but heads up: though the name may tempt you, skip the Bigfoot Motel for now and head to Coho Cottages or China Creek Cabins instead, where all the windows and private decks peer into the surrounding forests.
As far as libations go, you've got a few options in town: Grab breakfast or a light lunch at Osprey Cafe, or grab a diner-style bite at Ol' Rusty's. In the evenings, head to Raging Creek Brew-Pub next door to the Bigfoot Museum, before ending your evening amongst fellow Bigfoot believers sipping drinks at Forks Lounge. Of course, there's also the aforementioned Bigfoot Steakhouse; despite the name, we promise you are not dining on the very same legendary animal you came all this way to see.
Tiana Attride is Thrillist's associate travel editor. She's also a burgeoning Bigfoot expert.