How to Get the Cheapest Holiday Flights, According to Data Experts
Theoretically, holidays shouldn't be stressful. Of course, theoretically nobody should line up in the cold at midnight to save $10 on a Tickle Me Elmo, but the last six weeks of the year have a special way of eschewing basic logic. So yes, they are stressful, and one of the biggest stresses is figuring the best time to book flights for Thanksgiving and Christmas.
When will you get the best deal on holiday airline tickets? When will the fewest people be on your plane? When will your family NOT make up excuses to avoid picking you up at the airport? We asked a couple of people who'd know: Patrick Surry, the chief data officer at Hopper, who took historical data from millions of flights and compiled its holiday travel index; and David Solomito of Kayak, who just came out with a holiday travel hacker guide. Together, they dished on the best times to book holiday travel, the best days to fly, and other helpful tips on how to make your trip home a whole lot easier.
joyfull/shutterstock
The best time to book flights for Thanksgiving & Christmas
You're in luck! The second half of October, Surry says, is generally the best time to lock in the cheapest Thanksgiving week flight prices. But he warns that prices tend to start climbing by about $10 a day two to three weeks before Thanksgiving.
Just as you want to book Thanksgiving tickets a little before Halloween, you want to book your Christmas tickets just before Thanksgiving, Surry says. Christmas prices tend to stay flat until a month out, when they rise about $5 a day for a couple of weeks. Wait until 14 days out, and you'll see increases of $7 a day.
Kayak's findings echoed this; the sweet spot for Christmas travel was booking four to six weeks before the holiday, Solomito says. He did add, however, that if you wait to fly last-minute for New Year's, you'll typically find a deal.
The easiest way to save money: Fly when no one else is
Flying on days like Thanksgiving and Christmas are particularly inexpensive, as are red-eye flights on New Year's Eve. Dates long before and after each holiday are cheaper too, if you can stand to be away for that long. The key is to stay flexible and, like going to Costco on a Tuesday at 10am, try and do things when no one else does.
"Thanksgiving happens at the same time for everyone, so the airlines know they have you over a barrel when it comes to pricing. They go high and stay high," Surry says. "The only way to save is to vary your dates." This might mean taking the kids out of school for a few days or, heaven forbid, using your actual vacation days to go see your mother.
The cheapest days to fly for Thanksgiving
"The more convenient a time is, the higher the cost will be, so the least desirable days you'll be able to score a deal," Solomito says. The cheapest day to fly? Thanksgiving Day. The second-cheapest day to fly? The Monday before Thanksgiving.
Under no circumstances should you fly out the Sunday after Thanksgiving, one of the most expensive days of the year to fly. If you're cool dipping on your family as soon as possible, Friday is the best day to return. If you'd like to overstay your welcome in your in-laws' guestroom, Hopper shows the Tuesday after Thanksgiving as the next time median flights drop below $400.
The cheapest days to fly for Christmas
With New Year's right behind it, flying out and back for Christmas is a little trickier. "Right now, we have flying out on Saturday, December 16 or Tuesday the 19th as the cheapest dates," says Surry. "Then returning on January 4."
If staying for two weeks is a bit too much quality time, Solomito says the sweet spot is to fly in on the 23rd and out on the 26th.
"Flying in or out on Christmas Eve or Day is actually the cheapest," he adds. "But assuming you don't want to do that, the 23rd to 26th is your best bet."
Use the best flight booking sites and apps
Logging onto your favorite search engines every day and obsessively checking airfares might be a good way to procrastinate at work, but tools exist now to make finding the best deals way more efficient.
Here's a handy list of the best booking sites we've found that are proven to be kickass cash-savers. Hopper, for example, allows you to enter your travel dates and preferred airports then alerts you when flight prices drop. Kayak has a "flex search" option, which shows airfares the day before and after the dates you requested, in case prices are drastically cheaper. Other great options include Momondo, which searches airlines you've probably never heard of, or Skiplagged, which displays "hidden city" flights if a "stopover" city is actually your final destination.  
Don't discount the discount airlines
If you miss the optimal times to book, start looking to smaller airlines to bail you out. Simply put, discount airlines' model doesn't rely so much on ripping you off at the last minute.
That doesn't mean you won't be paying for carry-on bags or legroom if you fly a budget airline. It just means they may not have as steep of price increases as the holidays get closer. Just remember to always factor in extra fees when comparison shopping, and before you book be sure to learn the ins and outs of flying the Spirits, Frontiers, and Norwegians of the world.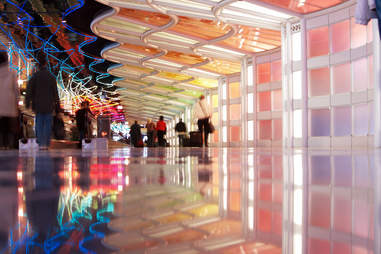 Marcin Moryc/Shuttertock
If you want to fly cheap? Fly into (but not out of) a big city.
You ever wonder where those people going over the river and through the woods to grandmother's house are coming from? Probably a big city. Whereas grandma, who hasn't been on a plane since they stopped letting her smoke, isn't schlepping to the city. Ergo there's a lot less demand going into a major metropolis than most times of year.
"There's a big outflow from major cities during the holidays," says Surry. "So you may get a better deal flying into New York or Chicago or one of those places." He also recommends looking into less-convenient airports that traditionally have better deals, though that applies year 'round.
Book your rewards earlier
Frequent flyer and card rewards programs, even if they don't have blackout dates around the holidays, often "price" their rewards tickets in parallel with regular seats. Book early to make sure you get one of the limited seats airlines reserve for customers who are paying with points or miles.
When you see a deal, book it
"There's no exact science to this," says Solomito. "So if you see a flight that's in your price range, on the days and times you want to go, just take it. Across the board, you won't spend much more." If you plan ahead, know when you can travel, and have an idea of what you can spend, the savings you find by tracking your flights or waiting a few days will likely be negligible. So don't overthink it, click that exciting "purchase" button, and open up your family group text to see who's picking you up at the airport.
Sign up here for our daily Thrillist email and subscribe here for our YouTube channel to get your fix of the best in food/drink/fun.

Matt Meltzer is a contributing writer to Thrillist whose hobbies include obsessively tracking airfare. Follow him on Instagram @meltrez1.