The Very Best (and Not so Best) Times to Visit Walt Disney World
"Best day EVER!"
Those words scream out at you all over Disney World, from slogans emblazoned on T-shirts to ecstatic park-goers unable to contain their intense love for all things Mickey. There's a general consensus that every day of a Disney vacation must be the Best. Day. Ever.
That's a ton of pressure, and you know what? It's completely unnecessary. Disney's legendary hospitality and customer service makes every experience feel like five-stars, be it a quick-service Mickey waffle, or a FastPass for Space Mountain.
But that doesn't mean you can't maximize your time in the House of Mouse – in fact, you totally should. The best time to visit Disney totally depends on what you're looking for -- if you prefer to avoid as many children as possible, for instance, or if you're food-obsessed, or if you're down to clown at holiday celebrations. Here are the pros, cons, and coolest events at Disney for every season.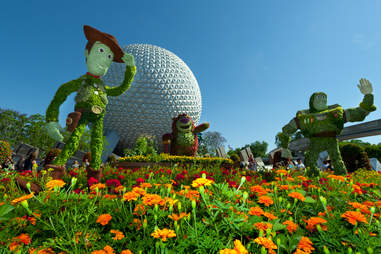 Epcot, Walt Disney World, Orlando, Florida

| Blaine Harrington III/Corbis Documentary/Getty Images
DISNEY WORLD IN SPRING
Although MTV wants you to believe Spring Break only takes places where alcohol, toplessness, and reckless behavior reign supreme, Disney World is currently the number one destination for college students and young adults looking to blow off steam in mid-March to early April. Be prepared for crowds drinking their way around the world at Epcot and long waits for hip, adults-only watering holes like Trader Sam's.
Epcot International Flower & Garden Festival
March - May
The blockbuster attractions of this festival are the show-stopping topiaries dotted across Epcot, sculpted to look like Mickey and friends. They are, of course, social media gold, so expect a fight to get a snap without someone accidentally-on-purpose photobombing in the background. The festival also sees 15 pop-up outdoor kitchens open across the park, each serving their own specialty. Stop by the Berry Basket for lamb chops with a blackberry gastrique, La Isla Fresca for Jamaican braised beef with pigeon pea rice, or Jardin de Fiestas for chorizo chilaquiles.
Disney's Magic Kingdom, Orlando, Florida

| Gregg Newton/AFP/Getty Images
DISNEY WORLD IN SUMMER
The heat! The humidity! The afternoon thunderstorms! (Seriously, it's like EVERY afternoon). Underestimating the weather in the Sunshine State is one of the biggest mistakes you can make at Disney. You'll need to carry an umbrella with you everywhere you go unless you feel like dropping cash on a Mickey poncho every time it starts to pour. The heat is also physically taxing. Take it from someone who knows -- always carry a water bottle with you, too. I visited Epcot in mid-July and ended up on the floor of Mouse Gear, crying, because I couldn't tolerate it. Don't be like me.
Since they scrapped the Star Wars Weekends in preparation for the opening of Star Wars Land in 2019, there currently aren't any annual summer events at Disney World. In 2018, there was a one-off Incredibles bonanza -- check back on the official website to find out what's planned for next summer.
Mickey's Not-So-Scary Halloween Party

| Gerardo Mora/Getty Images North America/Getty images
DISNEY WORLD IN FALL
This is for real the best time of the year to visit Disney. Kids have started the school year, the extreme heat has given way to a gentle warmth, and thanks to the months-long duration of the Halloween Party, you can get your spook on without fighting the throngs. You may encounter more weekend warriors during the fall, so plan the majority of your must-dos and can't-miss reservations on the weekdays.
Mickey's Not-So-Scary Halloween Party
August 17 - October 31, 2018
Although the Haunted Mansion in Orlando doesn't get that sweet "Nightmare Before Christmas" overlay like its counterpart in Anaheim, there are tons of spooky events and activities. Anyone who's ever blessed their timeline with a GIF of Bette Midler in Hocus Pocus will enjoy 'gramming the Hocus Pocus Villain Spectacular in Magic Kingdom. I'm generally iffy on Disney parades, but their Halloween version is pretty awesome, not least because it's marshaled by the Headless Horseman and features the Haunted Mansion's grim grinning ghosts. Tykes will be trick-or-treating, so expect larger crowds on Main Street come sundown. The time-honored trick of cutting through the Emporium helps you avoid the hordes.
Epcot International Food & Wine Festival
August 30 - November 1, 2018
Yo foodies, this one's for you. Where better to stage a gigantic celebration of global cuisine than at Epcot's World Showcase? In addition to the 30 marketplaces offering gourmet treats, bites, and drinks, you can book a variety of packages for specialty dining and exclusive parties. Fanboys and girls of all ages can watch a roster of celebrity chefs creating culinary delights, including appearances by Iron Chef Masaharu Morimoto, Top Chef Richard Blais, and Kelly Kapowski herself, Tiffani Thiessen. Before you book your tickets though, hear this: the festival is Epcot's most popular annual event, so if you can't stomach the crowds it's best to hit up Disney World at a different time.
Thanksgiving
November 22, 2018
Somewhat unbelievably, Disney World has no dedicated Thanksgiving events or festivities. But to quote Admiral Ackbar from Star Wars, "IT'S A TRAP!" Disney will be slammed this week, so unless you have a strong desire to be in Orlando instead of with your alt-right aunts and cousins in Wherever, USA, it's probably better to deal with their conspiracy theories. If you insist on visiting Disney during Thanksgiving, you should make your reservations, like, yesterday. Dining will be crazy busy for obvious reasons, and tables can be claimed up to six months in advance. Don't say we didn't warn you.
'Disney Parks Christmas Day Parade'

| Handout/Getty Images Entertainment
DISNEY WORLD IN WINTER
Florida in January can be surprisingly cold, especially when you've been conditioned to expect perfect sunny skies and warm weather from years of watching Disney World commercials. Bring an actual coat. And close-toed shoes. And a scarf and gloves and hat. 45 degrees in Florida can sound downright balmy to New Englanders and Midwesterners, but take a loop in the exposed-to-the-elements Animal Kingdom at that temperature, without the essentials outlined above, and tell me you're not freezing your ass off. Thought so.
Mickey's Very Merry Christmas Party
November - December
If you thought Cinderella Castle at night was magic, just wait until you see it decked out in icicle lights. Christmas at Disney is peak magic, and I'm totally jealous of anyone who's going this year. Especially if you're going on Jungle Cruise, because it's called "Jingle Cruise" during Christmas and the whole ride is holiday-themed. If you're bummed at the idea of staying in a hotel room with no Christmas decorations, you can arrange for a delivery of balloons and holiday gifts to get in the spirit. Obviously, the crowds will be insane, and you should plan accordingly, aka six months in advance. Happy ho ho!
Valentine's Day
February 14, duh
Disney is one of the most popular places to propose to a significant other (you can even plan it with their wedding division), so you and your boo might want to avoid Valentine's Day if you're not ready to pop the question. Speaking from experience, it's hella awkward to witness with a partner who's nowhere near ready for the next step. But if you're ready to get down on one knee in front of Cinderella Castle, we say go for it. Make those dining reservations way in advance. Three to six months is the rule of thumb if you're ready to pop the question now and can actually wait that long.
YEAR-ROUND EVENTS
Marathon Weekend
Check the official website for dates
It completely sucks to be in Disney during a marathon if you're not participating. Being held in the central hub of Hollywood Studios for over half an hour with a few hundred other non-running guests, while watching the actual runners huff and puff their way past us, was a total waste of time. But if you're a fitness freak, get your sweat on at one of several themed marathon weekends, like "Star Wars" or "Disney princesses." Mad respect to anyone who completes the Dopey Challenge, in which finishers take home six medals for completing the 5k, 10k, half marathon, and full marathon back-to-back, clocking in at over 46 miles in total. I'll stick to the monorail and Minnie Vans, thanks.
Sign up here for our daily Thrillist email and subscribe here for our YouTube channel to get your fix of the best in food/drink/fun.