Why Now Is the Best Time Ever to Visit Disneyland Paris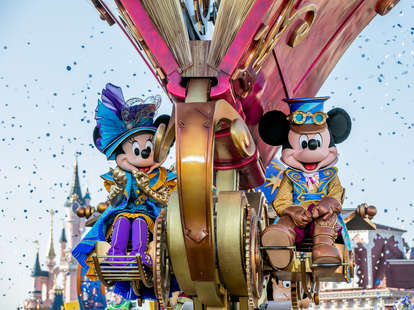 Marc Piasecki/Getty Images Entertainment
Marc Piasecki/Getty Images Entertainment
American theme park fans have been watching Disneyland Paris with interest for a while: the bumpy early '90s rollout, the financial drama, the ooooh we-want-one Ratatouille ride. Now it's time to get off the sidelines and actually go. Leaving Paris proper to visit a Mickey Mouse house may sound like heresy, but let's face it, museum fatigue will set in by day two. If you're in the area during the coming year and have at least nine hours free to see a stunning turreted Barbie Dream House of a castle, Disneyland Paris is worth a day out of your Euro trip.
Fans will appreciate its imperfections and quirks as much as its triumphs. Here, Tomorrowland is subbed out for a Jules Verne-inspired Discoveryland that looks hella cool at sundown. Its Space Mountain, though one of the roughest rides you'll experience, has actual inversions. If you think the Eiffel Tower glimmering at night is a spectacle, hoo boy, brace for the nightly show at Sleeping Beauty Castle, the most awe-inspiring royal structure Disney has ever built. Your favorite childhood films are projected against water that blasts out from the moat and projection-mapped onto the castle walls. Even its trees are delightfully square-shaped, like a greatest hits of fantasy entertainment.
Everything is unexpectedly more scenic here. Big Thunder Mountain lives on its own sort of island, while Adventureland is packed with waterfalls and massive pirate ships. The castle's interior hosts two walk-through attractions as well as a noteworthy treacherous beast. Even some baby rides are kickass, like the adorable Casey Jr. -- le Petit Train du Cirque that's more of a coaster than a railroad -- and, believe it or not, It's a Small World. Yes, yes, I am telling you to spend your precious vacation hours away from Paris on a notorious earworm of a Disney ride, but it's glimmering, gorgeous, and cannot be missed. No wonder this American import has become Europe's most-visited tourist destination, with nearly as many annual visitors than the Louvre and the Eiffel Tower combined.
Yes, we are technically talking about Euro Disney
It wasn't always this luxe at Disney's European outpost. If you're anything like Thrillist's travel editor, you're probably aware of Disneyland Paris mostly through its dark early days, starting with a mocking portrayal on The Simpsons. (Editor's note: This is true; I am an old.) The park was never the crown jewel in Cinderella's tiara. The French, ever-sensitive to cultural encroachments, balked at Mickey Mouse setting up shop outside the City of Light, and the media piled onto the apparent hubris of CEO Michael Eisner. The first impressions Euro Disney made when it opened in 1992 were for low attendance, rapid employee turnover, and financial struggles.
But slowly and surely, the park kept adding new, cool stuff, and crowds turned out to see them. The park turned a profit. In 2002, sibling Walt Disney Studios Park opened. It took another solid decade to get the finances in order. The parks avoided bankruptcy, managed to restructure their debt, raised another $1 billion shot from investors, and, in mid-2017 sold full ownership back to the Walt Disney Company.
That's good news for visitors, for as it happens Disney goes all out for celebrations and milestones. Disneyland Paris' 25th Anniversary celebration, currently in full swing, is no different. In 2016 nearly every attraction closed down for an overhaul or refurbishment, so the park is a sparkling wonderland of up-to-date enhancements. Every ride is freshly painted, beautifully updated, and improved.
Getting to Disneyland Paris is easy, and tickets are cheaper than you'd expect
These days Disneyland Paris includes two theme parks: the utopian classic Disneyland Park and entertainment-centric Walt Disney Studios, a sort-of cinematic counterpart to Disney's Hollywood Studios outside Orlando. You can also hit up Disney Village, a bonanza of restaurants, bars, shops, and a handful of Disney's American-themed hotels. But with the parks in Chessy, France, a mere 25 miles outside of the center of Paris, this is rightly a day trip. They're an easy half-hour drive from Charles de Gaulle Airport or a 50-minute Paris Metro ride from the city centre to Gare de Marne la Vallée Chessy. The park's main gate is right off the stop. Security at the entrance is tight: people, bags, and even hotel luggage get scanned.
Disneyland Paris' tiered ticket pricing ranges from Mini tickets on less popular days up to Super Magic Plus tickets for bustling ones. The most expensive two-park one-day ticket tops out at $102 -- much cheaper than Stateside Disney parks. And the move here is definitely to see both parks.
The rides and attractions are a blast
Unlike most 25-year-olds, Disneyland Paris has its shit together. Its many stylistic differences aren't as jarring as, say, the Tokyo parks, but the culture surely is. Mixing Parisian inclinations with Disney's perpetual cheer gives a strange hard edge to the fantastical lands and staff demeanors, while the laissez-faire attitude of its hometown guests hangs in the air like the literal smoke they puff from dissenting cigarettes throughout the park. (There are zoned smoking sections that go widely ignored, but trash cans often have built-in ashtrays, who knows.)
As a whole, it's not the idyllic locale American parks have mastered themselves to be. The roller coasters are shockingly rough. An Armageddon-themed special effects attraction is basically just a haunted house with a fireball in its center. And the language barrier becomes burdensome on Phantom Manor, Disneyland Paris' answer to Haunted Mansion, which has a convoluted backstory that you have to Google ahead of time.
So, yes, Disneyland Paris has its quirks, but if you're ever going to see it with your own eyes, the time is definitely now. For the next year, that crazy upside-down Space Mountain even has a temporary Star Wars overlay mimicking X-Wing flights way better than Anaheim's did. And remember that hullabaloo about Pirates of the Caribbean reworking its famed wench sale scene? It happened here first, but won't arrive in the states until 2018. You won't want to miss Walt Disney Studios' impeccable, delightful Finding Nemo-themed Crush Coaster. If you don't love the idea of a pitch-black roller coaster with rotating cars that feel like a jaunt atop a Mario Kart turtle shell, the Ratatouille ride, which shrinks you down to the size of the film's four-legged star, is an all-ages delight so good it'll soon appear at Epcot.
Where to eat in Disneyland Paris? The restaurants and food are hit-and-miss.
Eating here is somewhat of a paradox, too. In a city known for its culinary prowess, dining at Disneyland Paris disappoints, with limited fast-food options and several sit-down restaurants but little between. The decor at table-service restaurants is stellar -- the Ratatouille-themed Bistrot Chez Rémy, with its wine cap chairs and cocktail umbrella tables, shrinks you down to the size of a rat -- but the menus are often coursed and can be wildly expensive.
On my last trip, I dined at the delightful and upscale Walt's; my cheeseburger and the nine fries (!) that accompanied it cost $58. Restaurants and food stands will often be closed for no reason, with no announcement, leaving you to chow on chicken nuggets, again, for another meal. Pack a snack.
Get right down to it: Should you go during your Paris vacation?
Spending longer than a day is excessive for anyone downwind of a casual fan, but that's likely soon to change. The company buyback of Disneyland Paris -- and a massive overhaul announced for Hong Kong Disneyland -- assures they're sending their black sheep to reform school to be transformed into perfect little theme parks like their siblings.
Still, its occasional rough-around-the-edges bits are what make it such an experience. The whole point of visiting foreign Disney parks is to see what's different, and for better or occasionally worse, this one still is. Its best and newest rides are exclusive to Paris and don't appear at any other Disney parks worldwide. Yet the Michael Graves pastels of the Eisner era are still on full display, especially at Walt Disney Studios, which is a low-key time machine back to the days when "MGM" remained within a park's name.
It may be insane to recommend exiting what may very well be the world's best city to see a bubblegum pink castle, space coster, and rat-themed ride, but hey -- if the best part of traveling is to see how other cultures live, this is a surprisingly good start. And anyway, the Mona Lisa is Italian.
Sign up here for our daily Thrillist email and subscribe here for our YouTube channel to get your fix of the best in food/drink/fun.

Carlye Wisel is a theme park journalist who loves the musty smell of old rides, dislikes character dining, and gets most of her calories from popcorn.