All aboard, y'all! It's
Trains Week
at Thrillist, which means we're celebrating our obsession with trains—fast trains, slow trains, wine trains, even snow trains. Throughout the week, you'll find off-the-rails stories and handy locomotive guides to help you plan your next great adventure. In the meantime, we'll see you in the bar car!
Visit Fes or Marrakech and you might be fooled into thinking of Morocco as a hectic place, perpetually abuzz with traffic and market negotiations. But in a country where long conversations over hot tea are the norm and much of the landscape is dotted by small towns amongst a vast sprawl of mountain, desert, and farmland, it's worth taking the time to slow down and look around.
If you really want to see Morocco, don't speed your way across the country by plane. Do away with the rigid itineraries. A much better option? Take a train or few.
Hop aboard the privately chartered Oriental Desert Express that runs north-south through the Sahara desert along the Algerian border (and often has to stop to get sand shoveled off the tracks), or travel easy on the fancy first-class bullet trains running along the breezy Atlantic coast from Tangier to Kenitra before crossing over to the ancient cultural capital of Fes. Grab a bunk on the classic overnight trains that carry sleeping passengers from Tangier to colorful Marakkech, if you're up for it. When you patch together train travel through Morocco, there's a lot to see as you watch your surroundings zoom by—and it's fun to plan routes that let you experience a range of destinations as you go.
While trains are an efficient and easy way to traverse Morocco, it can be a challenge to find updated, credible tourist information online, especially as many transportation websites are only available in Arabic or French. Fortunately, we've done our homework so you don't have to. Here's how to plan a memorable Moroccan adventure by rail.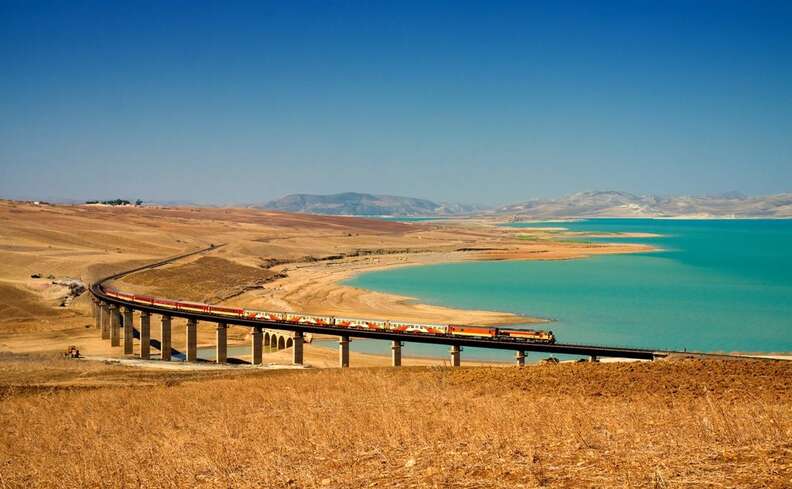 How to travel Morocco by train
Many a tourist (by which I mean me) has learned the hard way to not buy tickets online from just any third-party company. Yes, you might get sent an official looking confirmation. It may even have a scan code. But there's a chance that upon arrival at the train station, it could get rejected as a fake. Lesson learned; if you're going to book online, book with Morocco's state-owned national railway operator ONCF, which was created in 1963 by merging various private companies. Its website is designed for French speakers, but just use Google Translate to make your purchase and relax in the knowledge that your ticket is definitely legit.
ONCF bookings open three months before departure for standard seats, but if you want to book a sleeping berth for an overnight train (typically known as a couchette), be aware that you cannot book couchettes online. If you want a couchette, you'll need to book directly at the station within two months of travel—and be sure to have your passport with you, since Morocco requires them for overnight stays. If you're traveling with children via ONCF, kids up to age three travel free, and those aged four to 10 travel at half fare.
With ONCF, you have the option to travel on high-speed "Al Boraq" bullet trains or classic long distance "Al Atlas" trains. The classic trains have both first- and second-class coaches to choose from (both are air conditioned), and link Tangier and Casablanca with Meknes, Fes and Marrakech. If you don't want to pack your own food and drink, you'll find trolleys that sell tea, coffee and some small snacks on board the Al Atlas coaches.
The Al Boraq trains came onto the scene in 2018 on the new high-speed line that links three of Morocco's largest cities: Tangier, Rabat, and Casablanca. These double decker bullet trains run at super fast speeds of roughly 186 miles per hour, offering first and second class tickets and a cafe/bar. While these trains roughly follow the route of the classic line, they meet the Fes-Casablanca line at Kenitra, as opposed to Sidi Kacem (which only matters if you have any preference of where you'd prefer to connect). First and second class tickets are priced quite similarly on these trains, and first class tickets get you entrance into the bougie Al Boraq lounge at Tangier Ville, Kenitra, Rabat Agdal, and Casablanca Voyageurs while you wait for your train. Think cozy workspaces, rest areas, and unlimited free espresso drinks—totally worth the negligible price increase.
Those who decide to ride the Oriental Desert Express won't be traveling with ONCF—but more on that later.
Take the overnight train from breezy Tangier to busy Marrakech
Many travelers land in the port of Tangier on the Strait of Gibraltar after taking a ferry from Spain. Tangier has been a strategic gateway between Europe and Africa since Phoenician times, and it has a relatively calm, whitewashed medina that gives you a chance to acclimate before heading to the busier sights, sounds, and souks of Marrakech.
If you're traveling from Tangier to Marrakech on a budget, don't shell out for a hotel or hostel and a train ticket; instead, you can book an overnight train and kill two birds with one stone. It's a surprisingly cozy way to go if you book a couchette. The air-conditioned couchette car has 11 shared four-berth compartments, and each berth comes with a pillow, sheet, and blanket.
Couchettes can sell out, so book ahead (and in person) if you can. The overnight train leaves Tangier at 11:25 pm and arrives Marrakech around 9 am, meaning you'll likely wake with the rising sun to see the surrounding landscape shift from bucolic farmland to an urban jungle dotted with towering palm trees.
Make your way from the coast to Morocco's ancient cultural capital
No trip to Morocco is complete without visiting the palaces, museums, and winding alleyways of Fes. The city is rightfully known as the country's cultural capital, with medieval Marinid architecture, bustling souks, and more. From Tangier, take the Al Boraq high-speed train along the Atlantic coast from Tangier to Kenitra, where you'll have to change trains. Climb aboard an east-bound Al Atlas train to Fes and keep a keen eye on the window to see the rich cedar forests and mountains of the Middle Atlas zoom by, along with the nearby Sebou River, North Africa's largest river by volume. Departures from Tangier leave every hour from 6 am to 6 pm, and your trip should take about three and a half hours.
While you're in Fes, it's worth taking a little side trip to make your way out to nearby Meknes, just about 40 miles away. Meknes is the center of Moroccan wine country, producing about half of the country's wine, and has a highly agreeable climate—think sunny days, with the cooling influence of the Atlantic and the nearby mountains. The city is accessible by classic train, taxi or bus (there are 21 buses per day run by CTM that can get you to Meknes in just 50 minutes).
Get off the tourist track near the Algerian border
Rarely visited by tourists, the city of Oujda is worth a visit for anyone who wants a break from the hubbub of Fes and Marrakech. Despite being the biggest city in eastern Morocco, Oujda is located close to the Algerian border, which has been closed for about three decades. The border closing was a hit to the city's economy—and tourism—which means it's often overlooked by international travelers. Still, Oujda is home to a medina that—while not as large as others in the country—is refreshing because it appeals more to locals. This means you can take your time exploring without feeling pressured to spend your money. This more relaxed environment is perfect for catching your breath before heading down to the Sahara or back west to the Rif Mountains.
Because of Oujda's location way out east, you'll have to be sure to catch the single train that departs Fes daily in the late afternoon. The ride should take just under six hours. During your journey' you'll be hugged by the Rif Mountains to the north and the Middle Atlas Mountains to the south before the landscape opens up into vast desert plains.
Ride the rails through the desert like James Bond
If you want to take the train through a remote desert landscape—the kind that requires unexpected stops to shovel the sand off the tracks—you'll have to leave ONCF behind in favor of the privately owned Oriental Desert Express. Pulled by an old school DH Diesel locomotive, the train has only three coaches and runs just a couple of times each year. It follows a 120-mile route from Oujda to Bouarfa, meandering along at around 30 miles per hour through some of the most isolated desert landscape you can imagine.The expected duration is 10 to 12 hours, depending on how many times the train has to stop due to sand on the tracks (passengers are welcome to help shovel, if it appeals). You'll arrive in the small town of Bouarfa in the evening, a great place to spend the evening before continuing on to a more traditional desert tour.
If you're interested in riding on the Desert Express, the best way to book a ticket is through travel agencies, like Supratravel, which include the Desert Express as part of multi-day Morocco tours. Oh, and if the train looks familiar, it's for good reason; it appeared in the Bond film Spectre.