We're always on the prowl for new apps to make traveling easier, more fun, and cheaper (who don't like cheap-n-easy fun?). Here are three must-downloads that've hit the market recently.
SmileDrive -- Road-trip fun factor
Released by Volkswagen with an assist from Google (but for use in any vehicle), SmileDrive's a bluetooth-synched app designed to gamify driving and "maximize your fun" on the road; it records stats (distance, time, weather) for every leg, lets you earn awards for completing obscure, driving-related tasks, and lets you post road-trip pics & vids so your buddies can follow the adventure. Best of all -- it has a "find my ride" function for packed parking garages. Holiday season mall visits can now also qualify as road-trips!
Nightswapping -- Free sleeps with strangers
The latest in a growing line of sites developed to get tourists straight-up murdered allow tourists to stay local on the cheap. The room-bartering app (that kind-of-you-have-to-admit sounds like it involves partner sharing) lets you score free accommodation around the world, in exchange for sheltering random "nightswappers" in your crib. You'll get seven nights free upon sign-up, so go forth and try not to get yourself killed.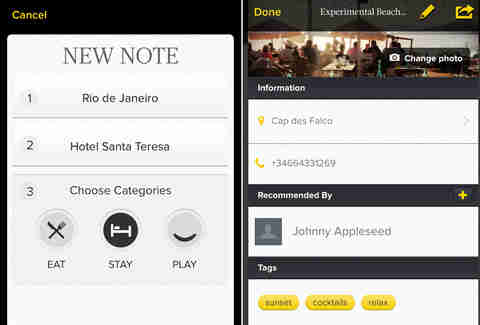 NOTED -- Jotting it all down
Digitally replacing the tattered Moleskin you use to feverishly scribble notes about all the cool places you want to hit on your next adventure, NOTED's a just-dropped "mobile notebook" iApp that will, umm... help you keep track of all the cool places you want to hit on your next adventure. It's broken down into three of our favorite subjects: "Eat", "Stay", and "Play".