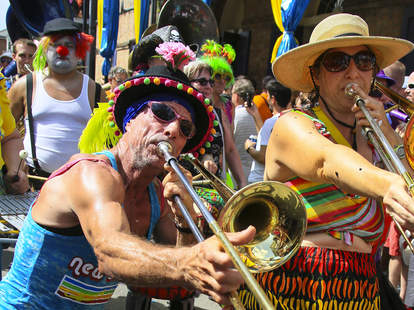 The Coolest New Things Worth Traveling for This Month
Summer may be shipping out soon, but cheer up: Early fall is quite possibly the best time of year to take a trip. Not only is the weather incredibly decent throughout most of the country, but with school back in session the beaches, theme parks, and tubing rivers are pretty much empty. With crowds down, prices are too! So take advantage: We scoured the world to find the coolest openings, deals, and events most worthy of your travel dollars this month.
Veronika Galkina/Shutterstock [Edited]
Book your Thanksgiving tickets NOW
Over the river and through the woods
Too early to think about Thanksgiving travel? Not according to the inspectors of the skies at
Skyscanner
. Based on historic data, they found that the week of September 6 is the cheapest time of year to book Thanksgiving airfare. So text the fam and let them know you're coming.
Chicago, Illinois
The Blackstone Hotel is offering a package that includes a charter in your very own private CTA train car. You'll have a customized itinerary and a bottle of Koval whiskey for you and 20 buddies to take around Chi-Town. Before the big train party, you'll also get a private pregame soiree in the Blackstone's super-luxurious Suite of Presidents, and a one-night stay for two to sleep off all the excitement.
Miami, Florida
The annual Miami Spice event continues this month, where more than 200 of the best -- and often out-of-your-price-range -- restaurants in Miami offer three-course, prix-fixe menus for only $39. We've even
figured out the best values for you
.
Bologna and Tuscany, Italy
Chef Gina Stipo is hosting tours through Tuscany and Bologna in October. Guests stay in an 18th-century villa on an olive estate in the Tuscan Hills, visiting local purveyors of wine, pecorino cheese, and of course, olive oil. The package includes cooking classes with Stipo on Italian basics and tours of villages and vineyards throughout the region. Pricing starts at $3,800.
Kyle, Texas
Wanna be part of a world record? Is your name Kyle or Kylie? As part of its annual
Pie in the Sky
hot-air balloon festival on September 2, the small town of Kyle, Texas is attempting to set a world record for the number of Kyles and Kylies in one place. You can
register here
, or just show up and eat pie in hot-air balloons.
Kent, Connecticut
Maybe you saw this video and thought "Hot dang! Boozy summer camp for adults! I need to sign up!" And then summer came and went and you never did. Happily, you can still hit up adult summer camp this fall. Club Getaway hosts its finale weekend October 13-15, where you can zip-line, mountain bike, and pub-hike your way through fall foliage for one last big outdoor hurrah.
Solvang, California
The Hitching Post -- the venerable steakhouse you may recognize from
Sideways
, or as the
best steakhouse in California
-- is hosting a BBQ Boot Camp from October 25-27 at the Alisal Guest Ranch in Solvang. Owner Frank Ostini will be hosting seminars on grilling methods, spice blending, barbecue equipment, and more. The weekend package at the ranch also includes horseback riding and golf.
Key West, Florida
The Sunset Key resort near Key West has opened The Southernmost Mermaid School, where for $500 ($700 for parent and child) anyone over nine can learn to be a mermaid. The package includes a custom mermaid tail fitting, a full hour of one-on-one training, underwater treasure hunt, and a waterside tea party with mermaid folklore storytelling.
Chincoteague Island, Virginia
To celebrate the opening of oyster season in the mid-Atlantic, the Chincoteague Oyster Festival takes over Tom's Cove Park on October 7. The $45 admission gets you all the fried, steamed, and raw oysters you can handle, plus clam chowder, fritters, and shrimp.

Courtesy of Amy Clark [Edited]
Washington, DC
The new centerpiece of Southwest DC -- the DC Wharf -- will open on October 12. It'll feature the District's first rum distillery and two-story tavern at Potomac Distilling Company, a revamped historic fish market, a 6,000-seat live music venue at Anthem, and a slew of new restaurants. Most notable among them: Jennifer Carroll and Mike Isabella's French collaboration Requin.
A Clockwork Orange and Springsteen come to Broadway
New York, New York
The critically acclaimed production of
A Clockwork Orange
premieres for a limited off-Broadway show at New World Stages starting September 4, running through January 6. And Bruce Springsteen will
star in a solo show
running for eight weeks this fall, premiering October 3. The Boss will perform five shows a week through November 29 at the Walter Kerr Theatre.
Marrakech, Morocco
A state-of-the-art fashion museum dedicated to the famed designer Yves St. Laurent opens at the Jardin Majorelle in October. The museum will house 5,000 garments and 15,000 accessories, drawings, collection boards, and photographs, as well as original sketches, design prototypes, warehouse records, and books.
There's a new ship wreck to dive in Florida
Pompano Beach, Florida
Shipwreck Park
, the scuba-diving attraction that's home to the
324-foot Lady Luck
, just got its latest addition: the 107-foot KT-1970 Okinawa was sunk last month and is ripe for exploring. Its wheelhouse is visible from the surface, and it features a "dive bar" with a 12-foot sculpted mermaid bartender and other characters.
Get self-guided Sex and the City and Seinfeld walking tours on your phone
New York, New York
The digital concierge service Porter 24 has partnered with a number of New York City hotels (Hilton Times Square, The Manhattan at Times Square, The Paul Hotel, Seton Hotel, and Econo Lodge at Times Square among them) to offer self-guided walking tours showcasing the sites from
Sex and the City
and
Seinfeld
, sent straight to your phone. Just enter your email or phone number and the tour is sent directly to your phone.
Atlantis' new resort will babysit your kids
Nassau, Bahamas
The Vegas-in-the-Caribbean that is Atlantis Paradise Island just opened its new family venture,
The Coral
. It features a swim-up bar with ice pops for the kiddos, a kids concierge to plan family outings and activities, and a designated babysitting service if mom and dad want to go play at the rest of the resort.
FooTToo/Shutterstock [Edited]
New Orleans, Louisiana
The Southern Decadence Festival has descended on the
Big Easy
for nearly 50 years, a six-day Labor Day celebration that has become known as "Gay Mardi Gras" and which last year drew 200,000 participants. Rainbow flags adorn the balconies on Bourbon Street as the LGBTQ community throws its last big bash of summer, culminating in a giant street parade through the French Quarter the Sunday before Labor Day.
Manchester, England
The entire city of Manchester turns into a food and drink festival from September 29 to October 9. Among the highlights: a Day of the Dead banquet, an independent winery festival, and the Manchester Tart Off.
Drink responsibly during Oktoberfest
Various locations
Though the name might be a little misleading, Oktoberfest actually starts September 16 and runs to October 3. If you can't make it all the way to Munich, some of the best Stateside celebrations are the
Zinzinnati Festival
in Cincinnati, the
St. Adolphus festival
in Chicago, the parade in La Crosse, Wisconsin, and the riverside celebration in Tulsa, Oklahoma.
Chicago, Illinois
Jazz lovers take... NOTE! The Chicago Jazz Festival returns to Millennium Park August 31 to September 3. Highlights include the Rebirth Brass Band and celebration of Ella Fitzgerald's 100th birthday.
Austin, Texas
The annual Out of Bounds comedy festival goes down over Labor Day weekend in ATX. In addition to the usual roundup of first-rate comics, former State Senator Wendy Davis will be the "guest monologist" Friday night at the
Spider House Ballroom
.
Palisade, Colorado
The biggest wine festival in the Rocky Mountain State happens from September 14-17. Dozens of Colorado wineries will be sampling their wares, while visitors participate in a grape stomp and chefs demonstrate wine cooking techniques.
Cincinnati, Ohio
The skyline of Cincinnati becomes a giant canvas for the nation's largest light and art festival. From October 12-15, the side of almost every large building in the city will host an art installation built around intriguing lights and movement.
Celebrate Mexican Independence Day… in Mexico!
Puerto Vallarta, Mexico
Believe it or not, Cinco de Mayo isn't Mexican Independence Day. That would be September 16, and in Puerto Vallarta they'll be throwing a weekend-long celebration featuring tons of music, dancing, parades, and cultural events, including a taco fair and National Charro Day honoring Mexican cowboys.
Cleveland, Ohio
NEOCycle, the largest urban cycling festival in the country, takes over Cleveland's Edgewater Park from September 8-10. Competitions include a triathlon, XC mountain bike race, velodrome races, and a cyclocross spectacular the festival recommends for "mud enthusiasts, thrill seekers, adrenaline junkies of all ages and paces."
Telluride, Colorado
Some of the best photo ops of the year are at the Telluride Festival of Cars & Colors festival September 21-24. Owners of classic cars from all over America bring their vintage autos to this tiny mountain town awash in the majestic Rocky Mountain autumn foliage.
Utopia, Texas
The small town of Utopia in Texas Hill Country is closing out summer with the last big camping music festival of the year. UTOPiAFest runs from September 22-24, and will be headlined by Dr. John and the Night Trippers.
Jersey City, New Jersey
The top 24 golfers in the world will square off for the bi-annual Presidents Cup at Liberty National Golf Course September 26 to October 1. Steve Stricker will lead the Americans while Nick Price captains the international squad.
Highland Perthshire, Scotland
The world's coolest showcase of sound and light emerges in the Faskally Wood from September 28 to October 29. The forest is illuminated by art installations that play the lights and sounds off the trees, a dazzling spectacle recognized as one of the UK's best cultural events.
Kent, Connecticut
Lovers of Luke and Lorelai the world over will converge on Kent, Connecticut from October 21-23 for the
Gilmore Girls
Fan Fest, getting as close to a real-life Stars Hollow as one possibly can. Highlights will include appearances by former cast members Sally Struthers, Liz Torres, and Keiko Agena.
Start growing that beard now...
Just a heads up, the
National Beard and Moustache Championships
are November 7-11 in LA. So if you've got any aspirations of competing, time to get on it.
Sign up here for our daily Nashville email and be the first to get all the food/drink/fun the Music City has to offer.
Matt Meltzer is a contributing writer to Thrillist who will be front and center at the
Gilmore Girls
fan fest. He's not joking. Follow him on Instagram @meltrez1.