Summer isn't over until September 21. Technically. Once those back-to-school sales begin and leaving work at 3pm on a Friday is no longer tolerated, summer is pretty much kaput. Which is why August is a precious, precious month not to be squandered. With so many legit things going on -- um, hello Burning Man and the first total solar eclipse in 38 freaking years -- you've still got plenty of excuses to ditch work and hit the road. Here are the biggest money-saving promotions, big events, and new attractions opening up so you can finish the summer out strong.
United States
To mark the 101st birthday of the U.S. National Parks, every park in the country will be offering free admission on August 25. So soak up some great outdoors before your schedule gets too busy.
Azores Islands, Portugal
The Azores Islands -- that small gorgeous group of islands halfway between Boston and Portugal -- are thirsty for visitors. So for just $879 per person, Azores Airlines will fly you there round-trip from Boston, and throw in six nights at a four- and three-star hotel on two islands. Not too shabby.
Dublin, Ireland
As part of Guinness' 200th anniversary of exporting to the U.S., Dublin's Merrion Hotel is teaming up with the 13th-century Ashford Castle to offer a unique Guinness-themed package. It includes two nights in Dublin, two nights at the castle, a tour of the Guinness storehouse, a meet-and-greet with a Guinness brewer, and of course, souvenir beers.
Miami, Florida
The annual Miami Spice event kicks off this month through September, where over 200 of the best -- and often out-of-your-price-range -- restaurants in Miami offer three-course, prix fixe menus for only $39. And we've even figured out the best values for you.
Helsinki, Finland
Helsinki ain't cheap. So to help offset the $11 beers and $20 burgers, the city if offering free admission to 22 attractions as part of its 100th anniversary celebration. Pick up the Helsinki Card and get in free to the Flytour, SkyWheel, art museums, river cruises, and more.
Andermatt, Switzerland
Not that hanging around the Chedi Andermatt is a bad vacation, but it's just that much better when you add in a drive through the mountains with the top down in a classic car. Book this package through October 15, and the hotel will loan you a Morgan Plus 4 for the day so your alpine driving dreams can come true.

United Airlines is now serving deep-dish pizza
The skies!
No more will you have to subsist on Biscoff cookies! United Airlines is now offering a deep-dish spinach and garlic pizza from Uno Pizzeria aboard domestic flights longer than 3.5 hours, and international flights departing North America. A deep-dish pie will run you $9.99, paired with a Miller Lite for $13.99.
Cleveland, Ohio
As part of a $15 million renovation, the Rock & Roll Hall of Fame is launching its new "Power of Rock" exhibit, which puts you in the front row of some of the greatest live music performances of our time. The 12-minute film highlights legendary induction-ceremony performances from U2, Bruce Springsteen, Prince, and more, and was the final project of the late director Jonathan Demme.
London, England
Check out over 25,000 costumes created for the Harry Potter movies at the new "Wizarding Wardrobes" exhibit at Warner Bros. Studios in London. Visitors have a chance to step into the armchair suit worn by Professor Slughorn in Harry Potter and the Half-Blood Prince, and also get a behind-the-scenes look at the hair and makeup used in the films. Runs through September 4.
Boxed, a membership-free online wholesaler, just launched its new Hotels division. Some deals are for big-name spots like the Fairmont San Francisco, Gansevoort Park Avenue, and SLS Beverly Hills, clocking in at 10-20% less than the usual suspects like Kayak. The deals extend to cheaper hotels too, so it's worth a look before booking your next trip.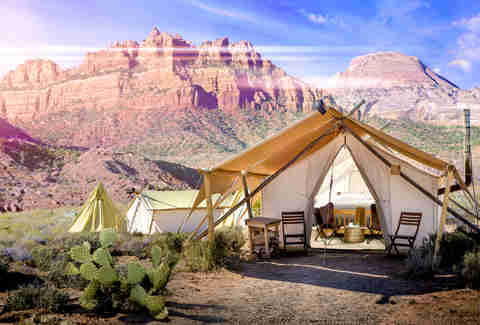 Zion National Park, Utah
The titans of luxury camping at Under Canvas are opening their 196-acre safari-themed resort near Zion National Park on August 17. The resort will feature tents with stargazing windows in the roof, and a campfire-inspired restaurant housed in tents called Embers. Starts at $189 a night and open through November 12.
London, England
It's been 50 years since Pink Floyd released its first album, and to celebrate, London's Victoria and Albert Museum is staging the biggest exhibit devoted to the band ever. "Pink Floyd: Their Mortal Remains" features over 350 artifacts including set and construction pieces, never-before-seen artwork, instruments, and hand-written lyrics. Runs through October 1.
San Antonio, Texas
Morgan's Inspiration Island opened in June, where people with disabilities get in free and can play in splash pads, a river boat ride, and underwater cannons. The park also features high-tech wheelchairs, free to guests, that run on compressed air -- so they're totally waterproof.
New Orleans, Louisiana
Perhaps no occupation is more synonymous with tattoos than chefs and bartenders. "Shakers, Knives, and Ink", a new photography exhibit at the Southern Food and Beverage Museum, examines how creativity in the kitchen and behind the bar extends to the skin. Runs through December 31.
McDonough, Georgia
Hilton's new foray into the mid-range market started in Oklahoma City this summer with the TRU brand. The second location opened in July in McDonough, Georgia (just outside Atlanta) and features millennial-approved touches like hammocks in the lobby, a 30-plus-item build-your-own-breakfast bar, and local snacks. Hilton is planning 425 of these nationwide.
Tortola, British Virgin Islands
Carnival is a time-honored Caribbean tradition, and the BVI celebrate theirs in August as part of the annual Emancipation Festival running from July 28 to August 9. In addition to the epic parade, there are donkey races, fishing tournaments, food fairs, and tons of music. It's about the only time one can visit the BVI and get a real feel for what the local culture is without hiring a guide.
Various Locations, United States
You don't have to be an astronomy nerd to be stunned silly when the moon completely blocks out the sun this August 21. The line of totality -- the only place you'll see the full effect -- runs from the Oregon coast southeast to South Carolina. There are tons of eclipse-watching events taking place -- here are the best places to be when it all goes down.
Des Moines, Iowa
The Iowa State Fair is right up there with Texas and Minnesota for artery-clogging awesomeness. The state's best event of the year runs from August 10-20, and will feature over 70 foods innovatively deep fried on a stick, as well as performances from Paramore, Flo Rida, and future U.S. Senator, Kid Rock.
Black Rock Desert, Nevada
The annual trip-fest that is Burning Man kicks off August 27, and though some claim the Silicon Valley tech billionaires have made it corporate, well, it's still drawing record crowds. Bring plenty of water and an open mind, and remember to truck out everything you truck in.
San Francisco, California
Nothing goes with summer better than oysters on the half shell, am I right? The ninth-annual Waterbar OysterFest on August 20 will feature eight of San Francisco's finest restaurants, each offering up oyster-based creations alongside local beers and California wines. An $85 ticket gets you all of the above in unlimited quantities.
Sign up here for our daily Thrillist email and subscribe here for our YouTube channel to get your fix of the best in food/drink/fun.