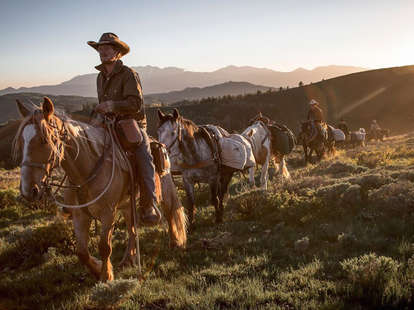 <strong>Unbranded |</strong>&nbsp;Implement Productions
<strong>Unbranded |</strong>&nbsp;Implement Productions
If your belly is finally full from the bottomless pit of food porn you've been blindly bingeing on like a couch-bound Caligula all these years, it may be time to shift your appetite to a topic that at least gets you out of the house. Even if you can't travel as much as you'd like to, you can still pretend like you've been to as many places as this guy without having to leave the cozy comforts of your microwave cheese-stained La-Z-Boy. Just fire up Netflix and away you go.
Unbranded
Documentary (106 min)
The story may be based around four young Texas cowboys (actual real-life cowboys, not frat dudes in Tony Romo jerseys) and their journey riding wild mustangs 3,000 miles from the Mexican to Canadian border, but the real star here is the great American West. Gorgeous scenery captured on film is everywhere you look as the crew rides through some of the wildest places in the West including the Grand Canyon, Yellowstone, and vast open spaces few have dared travel. The story of self-discovery and friendship among the cowboys may not be as captivating as the vistas, but it will inspire you to seek out wild places as the film seeks to spread awareness of the plight of wild horses living in captivity.
Antarctica: A Year on Ice
Documentary (92 min)
Unlike your typical Antarctica doc about penguins and glaciers, this film explores what it's like to live and work on remote Antarctic research stations while enduring extreme cold and four months of total darkness. Interviews with real workers in Antarctica's Ross Island region reveal insights such as "never confuse your pee bottle with your water bottle" and how tears freeze to your face when you're standing on top of a mountain for a group photo in temperatures of -80 degrees. The humanizing doc reveals what it's like to take a different path in life and how the small living quarters force intimate and intense relationships. Bonus: an outdoor dance party scene and amazing sunsets that look like the sky is on fire.
K2: Siren of the Himalayas
Documentary (75 min)
Mount Everest may get all the attention but, according to this doc focusing on a group of climbers attempting to ascend the world's second-highest peak, K2 is more difficult, steeper, has worse weather, and, due to its location in politically volatile Pakistan, comes with its own unique set of challenges just getting to the mountain. From dodging boulders the size of cars on the way to the village of Skardu to imposing vistas of K2 from the base camp at Askole interspersed with historical black-and-white footage, it's a reminder that while the peak moments in life are worth pursuing, we shouldn't chase them at the expense of all the other moments. As this film teaches us, there are "lessons learned in every rope climb."
Isolated
Documentary (85 min)
When the travels of a crew of young surfer dudes (and a beautiful surfer dudette) who scour the globe in search of unexplored areas for surf take them to Indonesia's remote West Papua region, they discover a declining native culture and human rights abuses at the hands of a US-owned mine. The heavier moments dealing with the steady erosion of one of the world's oldest cultures interspersed with footage of angry militant separatists are balanced out with more than enough gentle surf porn and light moments such as the Westerners teaching local village children how to surf, soundtracked by punk rock. The villagers want the world to understand their struggle and, walking the walk, main character Travis Potter goes on a media tour upon his return to the States, seeking to build upon the momentum of Norway recently disinvesting from the mine.
They Call It Myanmar: Lifting the Curtain
Documentary (84 min)
North Korea's exploits are well known (see The Interview, Dennis Rodman, et al.), but one of the world's other super-secretive regimes in Myanmar (otherwise known as Burma) gets far less attention. And that's the way the country's ruling military junta likes it. This film explores how, unlike in North Korea, there is no cult of personality in Burma -- which allows the faceless regime to maintain its grip on power in a more systematic and endemic fashion. (In its defense, the film posits there is no real way for people to make money in the poor country other than joining the military, who feel they are protecting their citizens from outsiders.) But what really makes this film stand out is how it spends the majority of its time interacting with the lovable local people -- taking Buddhist pilgrimages with them, learning about the clay they put on their faces to keep cool, and filming them smiling in pretty much every scene despite lacking basic possessions and basic rights like free expression. The people of Burma are the true stars of this doc.
Desert Runners
Documentary (99 min)
Yeah, marathons are tough. The Iron Man: a little tougher. But that's nothing compared to running 1,000km through four of the world's most grueling deserts… all in the same year. This film follows a group of non-professional runners as they attempt this "ultramarathon" while exploring what drives us (and what happens) when we push our bodies to the physical and emotional limit. Personal struggles like one man dealing with the recent death of his wife and another man's effort to train his mind offer insights into what motivates ordinary people to do extraordinary things -- paired with plenty of sounds of parched earth crunching under feet and views of the strangely beautiful hellscapes of the Chilean, Chinese, Egyptian, and Antarctic deserts they doggedly navigate along the way.

MILE... MILE & A HALF (trailer 1) from The Muir Project on Vimeo.
Mile… Mile & a Half
Documentary (87 min)
This low-impact doc stars a group of artists as they seek to hike and capture the beauty of the 201-mile John Muir Trail, which starts in the Yosemite Valley of Northern California and ends on the summit of Mount Whitney. It's got funny characters, stunning nature, and plenty of scenes of dudes playing ukuleles and xylophones around the campfire. Along the way, some fail to complete the trek while new friends (like a solo Japanese traveler) join the group, forming lifelong friendships in the process. The film reminds us that "you don't need to go to Mount Everest to find adventure, you can find it in your own backyard" as experiences like these are "what makes life amazing." But the thing you remember most from traveling, according to this doc, is the people.
180 South
Documentary (87 min)
If you seek to travel to learn something new and hopefully become a better person along the way, this film is for you. It tells the story of recently deceased North Face co-founder Doug Tompkins who, along with his wife, purchased over 2 million acres of wilderness to be set aside for conservation in the beautiful Patagonia region of Chile and Argentina by retracing the epic 1968 journey that first inspired Tompkins. Interspersed with stunning mountain vistas and feel-good shots of kayaking among seals, Tompkins recounts how he was "tired of making crap people didn't need" and "pushing consumerism," so he decided to dedicate his life to something larger. Conservation is clearly the theme here and, according to the doc, the solution is in all of us.
Departures
Documentary TV Series (three seasons, first two on Netflix)
The premise: regular Canadian 20-something friends Scott and Justin decide to travel the world for a year, along with cameraman Andre (who rarely appears on screen). The show ran from 2008-2010 over three seasons (the first two of which are available on Netflix) and follows their journeys drinking with villagers in Mongolia, entering the Muay Thai boxing ring in Thailand, pig hunting in the Cook Islands, and dealing with deep feelings of isolation while on a trip to the ultra-remote Ascension Island in the middle of the South Atlantic. The show may get a little too bro-y at times for some, but offers a nice way to live vicariously through a couple of dudes who actually took a year off (and then some) and traveled the world like they said they would. Unlike some people who (ahem) merely talked about it.
An Idiot Abroad
Documentary TV Series (three seasons)
Instead of the typical travel show about self-exploration and discovering deeper meaning in life, this show exists solely for Ricky Gervais' own twisted amusement. Rather than the cool-guy host who can get along with all cultures a la Anthony Bourdain, the show is centered around the international travels of a British bloke who has absolutely no interest in the world outside his borders. Producers Gervais and Stephen Merchant send a largely unwilling Karl Pilkington on international travels to the Seven Wonders of the World, only to have the unimpressed Pilkington bitch about how un-wonderful they are (i.e., complaining about trash on a visit to the Pyramids of Egypt). The show reaches a new level of absurdity in its third and final season, when Pilkington teams up with Warwick Davis (who genuinely enjoys travel and gets along with others) in the ultimate odd-couple pairing that has them dancing in Bollywood films, attending weird costume parties in Venice, and catching the sunrise over Varanasi (with, naturally, Pilkington bitching the whole time).
Long Way Round/Long Way Down
Documentary TV Series (one season each)
Who knew Ewan McGregor was such a badass? Long Way Round chronicles the journeys of the pretty-boy Scottish actor alongside friend Charley Boorman as they ride 19,000 miles on motorcycles from London to New York City -- the long way, i.e, through Asia. They're also joined by cameraman Claudio and a support team in offroad vehicles (neither of which appear frequently on screen), and the series is about friendship, exploration, and what happens when you spend four months traveling with the same person every day (remarkably, there are few fights between McGregor and Boorman). But there are plenty of accidents, bike breakdowns, and beautiful moments captured via helmet cams as the pair traverse many sections of Earth where there are no roads, while helping raise awareness for UNICEF in the process. If you want more, check out the sequel series Long Way Down, where the pair bike through 18 countries, from Scotland to South Africa.
Anthony Bourdain: Parts Unknown
Documentary TV series (five seasons)
There's a reason this show has won three Emmys and is the highest-rated show on CNN. (OK two, because anything beats Wolf Blitzer.) Parts Unknown is simply one of the best shows on television, with Netflix serving up a five-season, 40-episode slate of binge-worthy delights that takes the host into off-the-beaten-path locales in places like Iran, Beirut, Cuba, and up the Congo River, Heart of Darkness-style. While there's much to like, including the show's fabled cinematography plus Bourdain's well-established food knowledge and effortless interaction with locals, the series really shines when it's exploring less-exotic American locales like Detroit, New Jersey, the Mississippi Delta, and, in perhaps the best episode Bourdain has ever made, the host getting personal about dealing with heroin addiction in a visit to his native Massachusetts. (Not that it isn't fun to watch Bourdain hanging with Bill Murray in Charleston, which, of course, it is.) Bourdain fans can also Netflix both seasons of underrated series The Layover for maximum Bourdain bingeing.
Sign up here for our daily Thrillist email, and get your fix of the best in food/drink/fun.
Jay Gentile is a Thrillist contributor and he swears it wasn't him. Follow him: @innerviewmag.